Kids Dental Care
Do You Know the Facts About Pediatric Dental Care?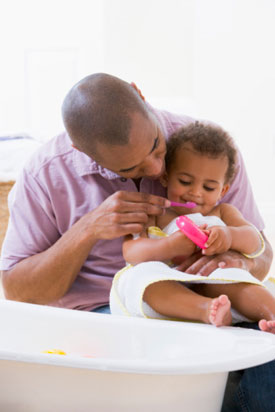 There's a lot to think about with new babies. Parents obsess about what they eat, how much they sleep, and about finding the perfect bottle. But many parents overlook one important issue: dental care. According to the Centers for Disease Control and Prevention, 20 percent of children between the ages of 2 and 5 years old have at least one untreated cavity.
The common misconception that cavities in baby teeth don't need treatment since they fall out anyway is completely wrong. Baby teeth do more than chew: they're important for jaw growth, proper speech formation, and they're the space savers for adult teeth. While baby teeth do fall out, infants and toddlers with oral health issues like cavities are at an increased risk of having the same problems with their permanent teeth. The reverse is true as well: starting a routine of good dental habits early improves their chances of a healthy mouth later.
Do you need to brush up on your dental care knowledge? Take our quiz to find out.
Do You Know the Facts About Pediatric Dental Care?
When should kids start seeing a dentist?