Kids in the Kitchen: A Guide to Cooking With Your Preschooler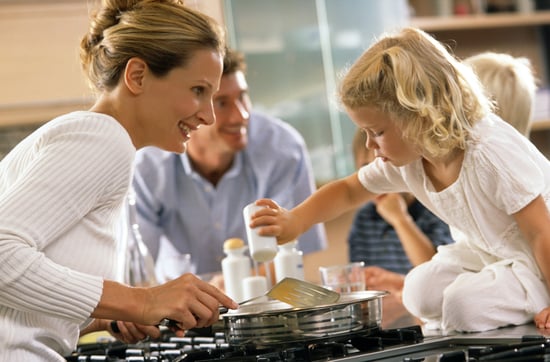 Since I cook every day of my life for work, people always ask me how I get my kids into the kitchen. I'd love to believe I have the secret formula, but truthfully I think it's a combination of things. Some children naturally flock to the kitchen, while others might not want anything to do with it. (I have one of each at home!) But even when children are very young, you can set a great example for them. Allowing your toddler or preschooler to watch you cook helps shape their impressions of food, and the importance of cooking in your home
Although it's fun for the little ones to watch you cook from a safe distance, I think the best time to really involve kids in cooking is between the ages of 3 and 5. Your children are old enough to have preferences about food, and they have the motor skills to perform a few helpful tasks. So if you're willing to get messy – and let go of any preconceived notions of what your kitchen will look like afterwards! – invite your kids into your kitchen. You might be surprised at how much they can do, and how proud they'll be of the finished product. (And here's a little secret…involving your children in the choices and the preparation of food really is the greatest way to get them eating new things!) So here are my tips for getting your preschoolers in the kitchen:
Let them choose what you're making. I love to think of recipes that allow them to get their hands messy, but don't require a lot of chopping. A few recipes that work really well are smoothies, pizzas, quesadillas, egg scrambles, simple salads, sandwiches, and pancakes.
Kids at this age can help measure, stir, crack eggs, and whisk. They can also use their hands to put ingredients into bowls for you, or pour liquids into and out of measuring cups. (Don't forget to have them wash their hands well before starting.)
Use a plastic knife to teach them how to cut bananas, hard boiled eggs, grapes, and other very soft ingredients. You'll probably need to hold their hands and help steady the food.
Let them help you set the timer, then monitor things in the oven. It's fascinating for them to watch the countdown and see their food come to life! I save chopping with real knives and cooking over heat for kids who are older than 8, and even then I make sure I'm around. During these early years, it's really about creating an environment where kids can participate and have some control over what's for dinner.
Amanda Haas is a cookbook author, teacher, cooking video host, and the founder of One Family One Meal, a website that helps families menu plan, grocery shop, and cook on a budget. She's also on Twitter and Facebook.
The views expressed in this article are those of the author and do not necessarily represent the views of, and should not be attributed to, POPSUGAR.