Kids Nutrition Calculator
Make Sure Your Kids' Nutrition Needs Are Being Met With Clif's Handy New Tool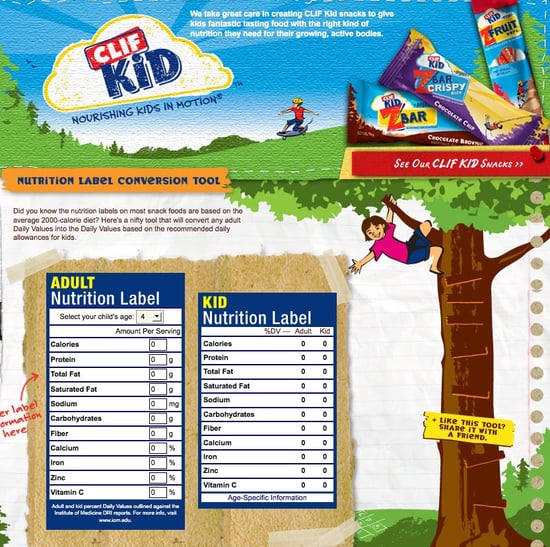 Like all parents, we're constantly doing our best to nourish our little ones with a well-balanced diet. But when the nutrition labels on packaged food are targeted to the average adult's diet (2,000 calories/day), it's not always easy to tell just how much (or how little) of the good stuff our kids are actually getting. That's why we're so excited to share this new tool from Clif Kid with you!
Here's how it works:
Head over to Clif Kid.
Grab a food package and identify the nutrition label on the back.
Under "Adult Nutrition Label," pick a nutrient you want to convert for your child, and enter in the grams from the nutrition label on the package.
On the "Kid Nutrition Label" side, you'll see the grams converted into the daily percentage this nutrient takes up in their diet for the day. Notice the difference as compared to an adult's — it's as easy as that.
Put the Clif Tool to work today, and tell us the most surprising finds you discover!