Kids' Pictures With Santa
Ho! Ho! Oh No! Kids Have Bad Reactions When Meeting Santa
Santa Claus is coming to town, and kids across the country couldn't be happier. Well, for the most part. For some little ones, seeing the man in red causes them to cry, scream, and beg for help. As parents, we hate to see them scared, but at the same time we can't help but laugh a little. Some even like to capture the moment on camera. Check out how these kids reacted when they sat on Santa's lap. If your tots had a not-so-jolly time with Santa, share your pics with us on Instagram by tagging #popsugarmoms!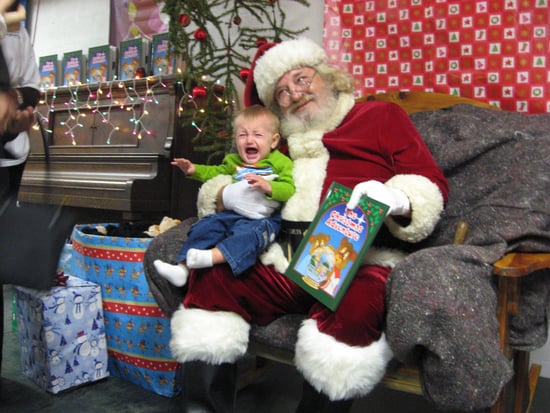 Even a book couldn't calm this baby down.
This little one did not care for Santa's house call.
We think Santa tried to give this girl back.
Check out more Santa pictures!
"Mom, get me out of here!"
At least the mom found this amusing.
Some kids scream till they're as red as Santa's coat!
Someone's giving Santa the stank face!
The best part about a big brother; he protects you from Santa.
If he closes his eyes, maybe Santa will disappear.
Even Santa is unhappy with this visit.
"Save me, dad!"
Not everyone runs from the man in red! This little one gave Santa a high-five for all he does during Christmas.
This little girl shows Santa some love. Let's hope Mrs. Claus doesn't get jealous!