Kids and Popular Music
10 Popular Songs Kids Love . . . but Shouldn't
Here's a post from our partners at BabyCenter! Every week, we bring you the best parenting and lifestyle stories from the experts at BabyCenter, including this post from Joyce Slaton about tots and popular song lyrics.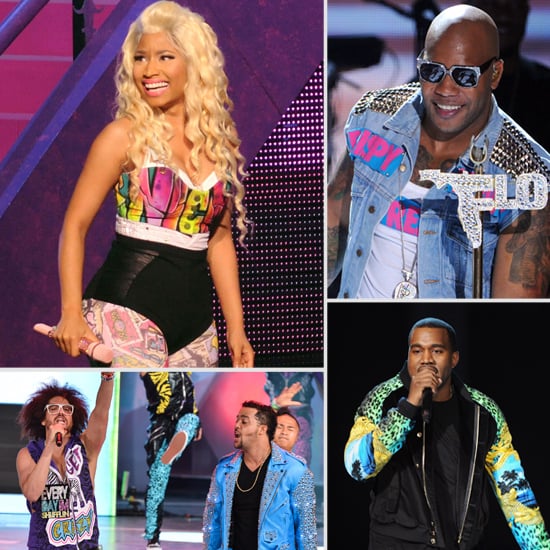 Something strange has happened to the music on the radio lately: suddenly it doesn't suck. By which I mean my 7-year-old daughter and I like the same stuff. The dance-pop made by Lady Gaga, Katy Perry, Rihanna, Adele, and their ilk appeal equally to middle-aged people and little kids, who both appreciate the thumping rhythms and catchy beats.
Related: 5 Reasons to Have a Baby After 40
The problem? The lyrics. They're not made for kids. And it's pretty icky to hear a little girl singing about how she wants to have a toast for the douchebags (Kanye West's "Runaway") or she wants to hear you scream all night (Usher's "Scream"). There are songs with lyrics vague/positive enough for everyone (I'm looking at you, Taio Cruz's "Dynamite"), but there are plenty of others with lyrics that make a parent cringe when they hear them coming out of a child's mouth. Such as:
"Starships" by Nicki Minaj has a ferociously infectious beat and a chorus that seems innocuous enough when Minaj is singing about starships that are meant to fly. Sounds great! Until you get to the part about being higher than a motherf*cker and Minaj is advising listeners to f*ck who they want and f*ck who they like. Yikes! The video, which features Minaj rolling around in a bikini, is also cringe-inducing for parents.
"Can you blow my whistle, baby?" Flo Rida asks on his admittedly extremely catchy single "Whistle." You just put your lips together and you come real close, he advises female listeners, who he says are talented with their lips like they blew out candles. Hmm . . . I do not think Flo Rida is really talking about whistling, do you?
OK, so maybe kids will not understand what Ke$ha means when she talks about brushing her teeth with a bottle of Jack in her hit "Tik Tok," and leaving the house for the evening means she is not coming back. But when she sings about boys trying to touch her junk, junk, suddenly you will be snapping the radio off and initiating a round of "Old MacDonald."
It is enough to try to explain to little kids what the F is in the band name LMFAO. The lyrics to their unbelievably popular song "Party Rock Anthem" are equally troubling, with the singer explaining that he is running through hos like Dramo and that the girl you are looking for is on his jock. There is a long night of explanations ahead for parents whose kids wonder what this means, exactly.
Keep reading for the rest of the list!
Flo Rida gets two spots on the list! "Wild Ones" is so danceable that it makes small kids absolutely lose their minds. Moms want to lose their minds too, listening to little ones sing about how they are a wild one, break me in, saddle me up, and lets begin. Additionally, Sia tells Flo Rida that if she took him home, it would be a home run. The video for the song, which features scantily clad girls bumping and grinding all over Flo Rida and friends, helps drive the message home. Parents beware!
The single "Runaway" by Kanye West is so hypnotically beautiful that you might be tempted to let kids listen . . . until you get to the part when West offers a toast for the douchebags and the assholes and tells his lady she has been taking his sh*t for way too long. Nope! Not for kids, this one!
"Glad You Came" by Wanted is huge with kids . . . who sing about going somewhere no one else can see and getting your date another drink with the lights off. This song is not nearly as dirty as some on the list, but it is still a little uncomfortable to hear a little one sing this.
Does the big Gotye hit "Somebody That I Used to Know" sound superstalkerish to anyone else? Gotye sings about the girl who cut him off and treats him like a stranger, which sounds sad until you think about the girl who maybe just wants to be left alone, not be sung about by some creepy guy who will not stop bugging her.
Jessie J sings about skintight love rocking her world until the sunlight in her big hit "Domino," dirty dancing in the moonlight and doing this all night. "What is she doing all night, Mommy?" Will they believe you if you just say dancing?
Possibly the most horrifying song on the list for parents to hear their kids singing, "Scream" by Usher hears the singer urging a woman to relax and get on her back, because he is ready to make her scream, all night long. He wants to take off all her clothes and put something on her. Hope the kids do not ask what that something is. Oh, baby, baby, indeed.
More great reads from BabyCenter:
Why I'm counting the days until back-to-school
Must we teach kids that pizza and french fries are junk?
7 tips for surviving a hotel-room stay with a toddler
7 chores your preschooler should be doing
5 safe toothpaste choices for babies and toddlers