Kids and Water Guns
Do Your Kids Play With Water Guns?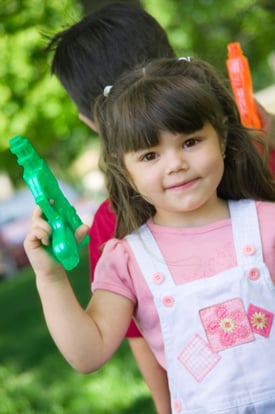 On the endless list of issues that polarize families, guns often rise to the top. It's part of our national debate and not one that shows any signs of dying down. Today is ASK (Asking Saves Kids) Day, a campaign created by the Center to Prevent Youth Violence with the American Academy of Pediatrics and designed to encourage parents to ask about the presence of guns in their children's friends' homes. According to the organization, over 40 percent of US homes have guns in them. They hope that the campaign will remind parents to keep them locked up and unloaded, with the ammunition stored separately.
The gun debate often extends down to play guns, too, with parents discussing the presence of toy and water guns in the home. With the official start of Summer today, and hot weather spreading throughout the country, tell me – do you allow your tots to play with water guns?