Kiinde Twist Breast Milk Feeding System
The Kiinde Twist: Ga Ga or Gag?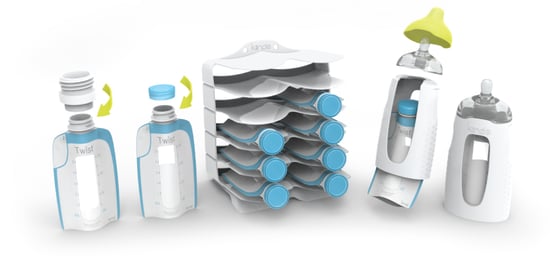 Any mama who's ever stood in the kitchen squeezing every last drop out of a pouch of frozen breast milk will appreciate Kiinde's latest creation. The company that brought us the Kozii bottle warmer will soon have parents rethinking how they store and feed pumped milk with the Kiinde Twist. The pumped milk feeding system centers around the Kiinde Twist Pouches ($10 for 20), which when connected to the company's Direct-Pump adapters ($7), attach to breast pumps made by all major manufacturers, allowing for leak-free pumping right into the pouch.
While other brands offer the same concept, Kiinde distinguishes itself when it's time to feed your infant. Rather than forcing you to transfer thawed milk into a bottle, the pouches slide right into Kiinde's new Squeeze bottles ($15), which baby can feed from directly when it is outfitted with the company's Active-Latch Nipple ($8) — meaning no drops are left behind. When pieced together, the entire system adds up, but given the value of mama's hard-earned liquid gold, it's hard put a price on convenience and effectiveness. So tell us, do you love the concept?