Laffy Laffalot Laughing Toy For Kids
Snort, Cackle, and Hoot With Laffy Laffalot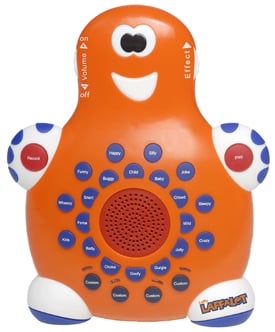 Every now and then a product crosses my desk that makes me smile just thinking about it. When Laffy Laffalot ($20) arrived last week, I didn't think much of it. A plastic toy that laughs is no big deal. Then I took out the literature, popped in the batteries, and watched as my kids burst into laughter.
The toy, designed by Steve Islava, a professional firefighter and paramedic in Orange County, CA, was created to distract tots suffering from injuries and trauma and help bring normalcy to their lives. Through 20 recorded laughs, and the ability to add four more, tots can benefit from the medicine of laughter, which releases endorphins throughout the body. Understanding the stress families experience when battling childhood illnesses, $3 from the sale of each toy benefits the National Children's Cancer Society.
Who is this product designed for? Really, the Laffy can be used by anyone. My 1-year-old can't get enough of it (he's worn through the batteries twice already), and I've seen the most serious grown-ups crack a smile when they play with him.
What sets it apart? Plenty of toys include a laugh here or there in their programming, but I've never seen another toy with the sole purpose of making kids laugh. With 20 prerecorded sounds — ranging from a gurgling baby to a jolly giggle — the creators have every chuckle, cackle, and guffaw covered. Plus, with four custom buttons, kids can record their own laughter for additional fun.
To see what could be better and if I would buy it, read more.
What could be better? The only issue we have with the toy is its ability to go through batteries at a lightning pace. I wish it would power down after a period of inactivity.
How long did my child play with it? My tots spent the better part of an hour trying to one-up each other with the laughs they selected. Every time one of their friends came over to play, they took out the toy and showed it off, much to the delight of our visitors.
Would I buy it? If I knew a family going through a rough period, or entering the hospital for a prolonged stay, I would buy it. Nothing beats the sound of laughter! That said, we live near a Ronald McDonald House and donated our Laffy Laffalot to the families residing there. When I demonstrated the toy for the receptionist, she couldn't wait to share it with some of her newest residents.

Share your favorite products, toys, and trends with other parents. Start sharing your opinion on millions of must haves for your tots in our Product Reviews group!