Laila Ali Interview on Her New Show Everyday Health
Laila Ali Talks Fitness, Motherhood, and Her New Television Show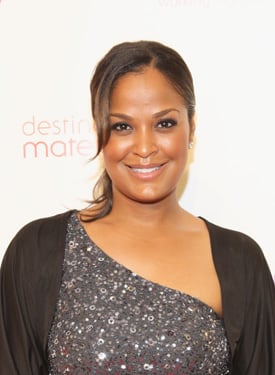 Fashion's Night Out is about more than shopping and good deals — it's a night filled with celebs and designers everywhere you turn. We caught up with mom of two and champion athlete Laila Ali at Destination Maternity, where she was hosting the store's Fashion's Night Out celebration. She shared her personal style and health tips, played pregnancy trivia games, and helped give away swag — all while dazzling us with her beauty and her incredible sense of humor.
Laila also posed for pictures on the red carpet and next to her one-of-a-kind celebrity embellished maternity jeans for "Celebrities 4 Maternity Denim" — an online auction to benefit the March of Dimes.
LilSugar: You look fantastic and your daughter Sydney just turned 5 months old. What have you been doing to get back in shape?
Laila Ali: I'm sucking it in and putting on my Spanx! (laughs) I've just been trying to eat right and work out. I also did a Facebook challenge on my Facebook page — the Get Fit Challenge — and I said, "Who wants to lose weight with me?" So I was like the poster girl for my challenge and so it made me do it. I have 10 more pounds to go!
LS: Tell us about your new television show, Everyday Health.
LA: It's an inspirational show, airing every Saturday on ABC affiliate stations. It's great! We're profiling everyday Americans that are doing extraordinary things, are overcoming or facing an illness, and they're paying it forward by inspiring and educating others to do the same. It's a feel-good show from the same executive producer that brought The Biggest Loser. I'm really proud and I know it's going to do well.
LS: You're a retired triple Super Middleweight Champion, but your dad wasn't too thrilled with your decision to become a boxer. What would you say to your daughter Sydney if she ever decided to follow in your footsteps?
LA: Hopefully that won't happen to me. (laughs) I don't want that!
LS: You know you're a mother when _____.
LA: I knew I was "mom material" because I was always mothering my friends. They were like "We're glad you're having a baby so now you can stop mothering us." They call me "mama bear." I was always taking care of everybody.
LS: I wish someone had told me ____ about motherhood.
LA: That I was never going to get to sleep again!
LS: The best trick my mama taught me is _______.
LA: She didn't teach me enough. (laughs) I don't know any tricks!
LS: Helicopter mom or free-range kids?
LA: Hoovering? Yes. I hate to say it but yes, probably too much. I'm going to be the mom that the girlfriends hate. (laughs)