Lazoo Introduces Creative Clothing Line at Babies R Us
Interview With David Gomberg: Inspiring Creativity Through Lazoo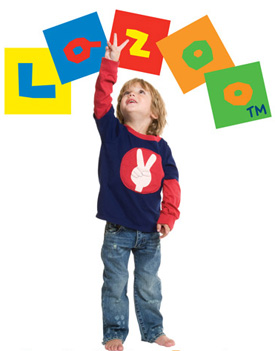 Do you Lazoo? Soon you will! Introduced in the US just last year, the popular Japanese children's books encourage tots to expand their creativity by taking coloring books to the next level – using doodles to create characters and seeing their creations carried out throughout a book. Now, the seven books that have been translated for American audiences are receiving another translation – into an adorable line of kids clothes and accessories.
Featuring many of the books' characters, the clothing collection incorporates different tactile experiences on each item – from sewn-on appliques on one shirt to varying textures on others. The clothes, backpacks, hats, scarves, and finger puppets, which will be sold exclusively at Babies R Us stores starting next week, are the brainchild of David Gomberg. I sat down with the NYC father of two to discuss the line and how to foster creativity in kids.
LilSugar: Tell me about Lazoo. What's the philosophy behind the brand?
David Gomberg: It's a brand focused on empowering children to use their imagination. It's about self-expression. It's about thinking outside the box. That manifests itself best with the books. They really stress creativity and imagination, making kids think in a completely new and different way. And then with the apparel and some other merchandise, we try to weave that into the product – things like the games on the t-shirts, or certain different hidden elements, peek-a-boo features on the clothes. There's just something very creative, happy and fun about it.
LS: The Lazoo brand has been popular in Japan for some time. What appealed to you about the brand and why did you think it would do well in the US?
DG: When I first saw the books, I really thought there was something more than just books. There was a mixture of the art, and the philosophy, and there really wasn't something like that in the market. I had two kids at the time, Robert [a business partner] has two girls, as well, and when we were talking about the books originally, we just thought these were the types of books we'd want our kids to have. Sometimes people sit on a gem and don't realize they have it. When we saw the books we said, "There's something special."
To see more of my conversation about Lazoo, and see images from the line read more.
LS: What makes the brand appealing to both adults and tots?
DG: It is a world; it's not just books or apparel. It's the fact that it all works well together, which is one of the things that Toys R Us saw. From an aesthetic perspective, it's just very fresh and fun and colorful. You look at what's out there and there's not that much that is like that. And the stuff that's character based is very Dora the Explorer – it's very tied to TV. The thing that's nice is that it stands on its own. I think they appeal to parents because it's a way for parents to get their kids thinking in a different way. Anything that will get kids thinking out of the box in this day and age will give kids a bit of an edge. Kids just find it to be fun.
LS: How do you hope to inspire creativity in kids?
DG: I think its one of the goals – to really get kids thinking in new ways. The books really highlight that. If kids start thinking in new ways, at the end of the day, when they become older, it makes everything better. This will inspire, in a sense, new ways of thinking of things.