Leaf Print Fall Cards
Craftastic: Welcome Fall Leaf Print Cards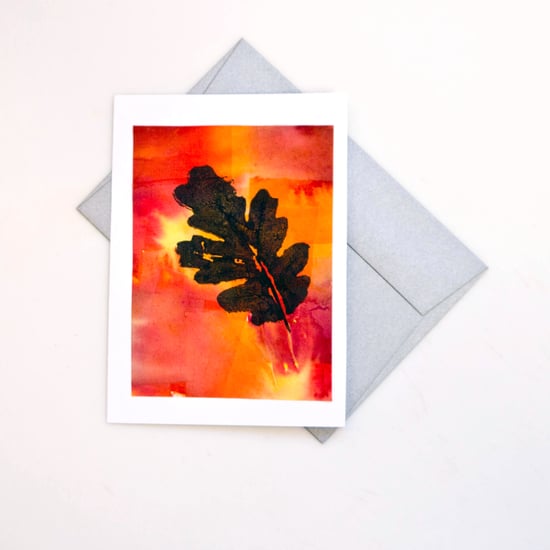 The official first day of Fall is right around the corner — why not make a colorful card with your lil one to send to a family member or friend to celebrate the season? These vibrant cards are easier to create than you think and will look lovely adorning someone's mantel. This project is also a great learning opportunity for exploring how letters and cards are sent through the mail. So get out the tissue paper and find a few fallen leaves for this craft that welcomes Fall.
Keep reading for the Fall-tastic directions!
What You'll Need:
White paper
Red, yellow, and orange tissue paper
Scissors
Glue
Water
Small container
Paintbrush
Leaves
Black tempera paint
Paper towel
Blank white card
Directions:
Cut several sized squares of tissue paper from the red, yellow, and orange tissue paper. If your tot is able to use scissors comfortably, invite her to cut the squares, making sure to cut various sizes.
Squeeze about one-quarter teaspoon of glue into a small container and thin with one-fourth cup water. Use a paintbrush to combine the water and glue.
Offer your child a sheet of white paper and position the cut squares of tissue paper, glue water, and paintbrush on the workspace. Invite her to place a square of tissue on the white paper and then brush with the glue water. She can continue layering the tissue and painting with the water until the entire paper is covered. The tissue blends together just like a big pile of Fall leaves!

Once the paper is dry, cut a section to use for creating the Fall card. Head outside and hunt for small leaves with your lil one that will fit on the paper. Squeeze a dollop of black tempera paint on a folded sheet of paper towel and invite your child to pick one leaf to use for making the print.

Now your child can gently coat one side of the leaf with paint and then press onto the section of colorful paper. Lift to reveal the leaf print.

Once the paint is dry, glue the finished Fall leaf print to the front of a blank white card. Discuss with your tot who the card should be sent to and include a special message inside before sealing it in the envelope. Help your child address the card and then adhere a stamp to the upper right corner.
Head to the mailbox or local post office and chat about how mail is delivered from one place to another. In a couple of days, call the friend or family member to see if the welcome Fall card arrived!