LeapFrog's LeapPad2 Explorer Learning Tablet Review
LeapFrog LeapPad2 Brings the Tot Tablet to a Whole New Level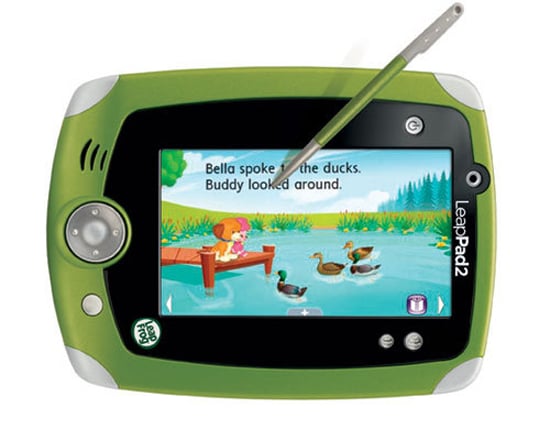 It's been a year since LeapFrog debuted the LeapPad and gave tots the first tablet of their own. And while the devices weren't exactly easy to come by (it was easily the hottest toy of 2011), those who did get their hands on them were easily impressed with the pad's touchscreen, built-in camera, tilt-sensor, and enhanced ereader.
That's not to say the LeapPad didn't have its detractors. Well, it appears that the company listened to some of the users' complaints, and less than 12 months after the original version hit the stores, the company is preparing to introduce the LeapPad2 Learning Tablet ($100 for pink or green and $130 for a Disney Princess Bundle) next week. While I've been more than happy with our first-generation LeapPads at home, I was eager to see where the company made improvements on the devices. LeapFrog sent us a tablet to try out; see what we thought below.
Who is this product designed for? After seeing preschoolers snag their older siblings' LeapPads last year, LeapFrog has expanded the age range to include 3- to 9-year-olds (rather than starting at 4 years old), meaning games and apps will also be available for the younger set.
What sets it apart? The original LeapPad made its mark with its tablet-like features that gave tots the feeling they were playing with a sophisticated system. With an accelerometer that transforms the tablet into a gaming console for motion-based games; a library of more than 325 games, apps, music, and videos; and the incorporation of Ultra eBooks, the LeapPad had virtually everything a kid could want. The next-generation version only improves upon those features.
While the screen size (five inches) and resolution (480 by 272 pixels) remain the same, the LeapPad2 now has a second camera installed in the tablet — a 2MP front-facing video and still camera that makes taking a self-portrait easier than ever.
The more powerful camera results in larger photo files, so the folks at LeapFrog increased the product's memory to 4GB of storage (up from 2GB) so more photos, videos, and apps can remain on the device.
A faster processor (550 MHz vs. 393 MHz) means apps and games load much faster than before.
A new music player (already preinstalled on the device) plays educational songs.
One of my biggest complaints about the original LeapPad was how quickly it burned through batteries. The new version not only extends battery life another hour (up to nine hours), but a rechargeable battery pack can also be purchased separately, so the device can be plugged in and charged when not in use. My wallet and the environment thank LeapFrog for that.
The new creativity app, Cartoon Director (included on the device), allows tots to place their mugshot onto cartoon characters and then turn them into movies.
All apps and games purchased for the original LeapPad are compatible with the new version too.
Keep reading to see what could be better an how long the tablet entertains a youngster.
What could be better? In the year since the original LeapPad was released, kids have spent even more time on their parents' iPads and smartphones playing games and watching videos with stellar graphics. Though the faster processor means apps load faster than before, it still isn't as fast and beautiful as mom and dad's gadgets. Also, the lack of WiFi (which makes perfect sense from a safety perspective) means parents still have to attach the devices to their computers to download new apps and check their tyke's progress. The LeapFrog Connect process can be slow and burdensome in an age where both mom and tot are used to instant gratification.
How long did it entertain my child? Hours! My kids are already familiar with the tablet (it was so popular in our home that we had to buy a second one once the holiday craze died down), so they were eager to get their hands on the new version. They love how fast the device is as well as the increased number of recognizable characters in the apps. In addition to LeapFrog's signature characters, there were more Disney and Sesame Street properties than ever before. Each LeapPad2 comes with four installed apps and one of your choice that can be downloaded for free. For testing purposes, our device came preloaded with several apps such as Kidz Bop 21, a Disney Animation app that taught them how to draw Mickey Mouse, Little Pim's foreign language videos, and an Ultra eBook that sounded out words for my new reader. They couldn't get enough of them and were begging to play with it throughout the day.
Would I buy it? Yes, and fast! At $100 — the same price as the previous version — the device continues to be less expensive, more durable, and more kid-friendly than an iPad. Sure, you could download educational apps onto your own device, but in an age where everyone claims their app is educational, it's reassuring to know that the educational experts employed by LeapFrog stand behind this product. Given the supply issues during last year's holiday season (the device is already sold out through preorders on the company's website but will be available at retail stores), I'd grab one when they hit stores next week and stash it away until December — you'll be a hero to your tot!
Share your favorite products, toys, and trends with other parents! Start sharing your opinion on millions of must haves for your tots in our Product Reviews group.