Lessons From Single Moms
5 Lessons Moms Can Learn From Single Moms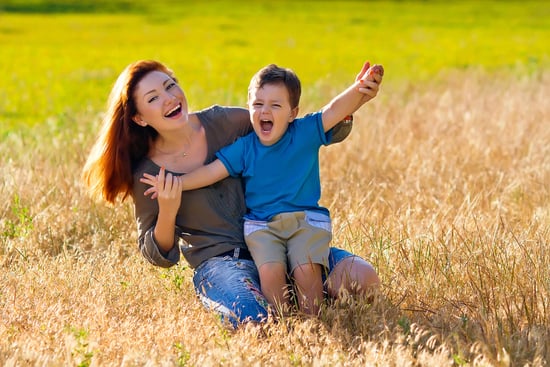 Like many single moms, Janet L. hears it all the time — co-workers or other moms on the sidelines of the soccer field talking about how stressed they are that their husbands are going out of town and bemoaning how they won't possibly be able to handle it all as a suddenly solo parent. "It really irks me when I hear married mothers complain about how stressful their lives are," she says. But instead of being bitter, she says she's learned some important life lessons and skills from her situation. "Having to do the 'father' duty has brought out my inner tomboy," she says.
"Welcome to my world," she adds. It's the world of single moms who have to manage work commitments, life's curveballs, and homework daily, and without spousal support. In that reality as "the one and only" parent, she and other single moms have had to rely on sheer necessity and grit to figure out some things that partnered moms may just learn from. Now she says she thinks many of her married mom friends might gain some insights from her "experiences handling it alone."
Here Janet L. and many Circle of Moms solo moms offer five life lessons that all moms might appreciate knowing about resourcefulness and how they make it work.
1. Enlist Little Helpers.
Think of it as a new form of outsourcing — calling on the kids to roll up their sleeves, help make dinner, clean up, and share in household chores, say Circle of Moms members like Jamie L. Not only is it "good for bonding," it teaches kids to have responsibility, she says. She enlists her kids for chores and they "hand wash dishes together" every evening, she says. Single or married, she believes having the kids to help is something that could ease the burden on all moms.
Single Mom Ckesa T. also has learned to call on her three children to help with household chores and says it is something all moms should focus more on. Not only was it a lesson for her not to do it all by herself, but it taught her kids one, too, she says. Now that they are 19, 10, and 7, they are "all very productive and have goals." She says: "Being a single mom is not as stressful as everyone thinks. People want to say that single-parent homes produce nonproductive kids, but that is not true."
Keep reading for more tips from single moms.
2. Appreciate the Little Things.
Many Circle of Moms members who are single moms like Amy L. say they have learned to be grateful for what they have, instead of complaining about a husband that "doesn't do enough," or isn't part of the household. She says she has also learned to focus on what her kids do have, instead of what they don't have. In her case, she says she's found other male role models for her kids since they don't see their dad much. "I am lucky to have my family," she says. "I have three brothers and a dad who love to spend time with my son. I think as long as you are doing good your kids will know that everything will be OK."
3. Accept Help From Friends, Teachers, and Neighbors.
"It takes a village" is an expression that could be a mantra for single moms, recommends Brenda K., and a lesson she feels is important to share about letting others help you with your children. "It's OK to breathe and to ask for help when you need to," she says. She says she's learned "to stop refusing help" and "this goes for all moms of all marital statuses."
Sherry S. says "it's hard being a single parent." But she's learned the power of connecting with other parents, something she says is important for all moms — single or married. "Try to connect with other single moms with kids the same age who are interested in share care," she says. "That is, trading times where you both watch each other's children. This saves a ton of money as well, and you could even trade overnights upon occasion if you want to have a night out."
4. Redefine "the Right Way" to Do Things.
Forgo the gold standard with things like creating Excel spreadsheets and detailed plans for everything — all the systems moms are told to use, and create your own ways of reminding yourself, recommends a mom who calls herself simply "the mom of Ella Claire." She says she ignored her peers who say she should have her daughter in preschool as a way to simplify and save money. "I took Ella out of home daycare for the Summer and hired a Summer babysitter. She's my friend's 13-year-old daughter who is very responsible for her age and has safety training. It's saving me a ton of money so I can afford a few extra hours to get more done, and it's been fun for Ella Claire to be home."
Sure, it is great when kids have two parents, but Sharee C. says that in her case, she has had to reinvent what parenting is and that her son might be better off because his dad is not present. "I have been a single parent for 15 years," she says. "My son's father has never been in his life, and I actually think my son is better for it. Yes, it has been hard, but would have been harder if his father had played a role. Every man is not a good man; he may have been decent as a boyfriend or lover, but that does not make him a father." Instead she has had to rely on her own dad to play the father role for her son. "My son has always had my father to play the male role. My dad had two daughters and always wanted a son — he found one in mine," she says. "It's important to look within your own circle to find support, love, and understanding. If you need help, you have to ask." 
Courtney B. also says she has tried to find alternatives to the traditional family and relies on her dad as a role model for her son. A mom of 1-year-old twins, she says: "I get so angry when my friends ring me and moan about how they are fighting with their partners or they won't do anything with the kids and so on," she says. "I accept that I'm on my own and that's OK. But I always wonder if people ever realize how good it must be to have that other parent around to even argue about the little things with. I sometimes wish my children had the joys of a father around," but instead, she says she appreciates what she and her kids do have. "There are other role models besides their father," she adds.
Circle of Moms member Donna W. also has had to improvise and create a family that is different than what she thought "was supposed to be." She says: "I have been a single mum since the birth of my boy, and yes, it is very, very hard and just occasionally you need someone to help you to take the emotional strain off your shoulders as anyone does. But as long as you can fulfill both sides of parenting, then it will not cause any harm to your children surely. I can teach my boy how to use a screwdriver as much as I can teach him to respect a girlfriend."
5. Accept Your Limitations.
In the end, Circle of Moms members, including Caran T., advise all moms — single and married — to accept their strengths and weakness and not judge themselves. As a single mom, she says she felt there are so many opportunities to feel guilt or failure, and all moms need to focus on that they are doing the best they can for their kids. "Accept your limitations," she says. "Yes, you sacrifice so much for your child. They need to sacrifice as well. You don't need to put them into every after-school sport, enroll them in every Summer camp, or make sure they attend every event set in front of them. You probably can't afford it either financially or emotionally." Instead, she says, use the challenging circumstances to teach your children lessons about the importance of just being together and that not having everything is OK. "Our children are too overscheduled as it is and are missing out on family time," she says. "Teach them to prioritize. Teach them to save. Teach them that having it all really isn't about having it all."
What lessons have you learned as a single mom that all moms could learn from?