Let's Rock Elmo Review
Let's Rock Elmo Sings and Dances Its Way Onto Holiday Hot Lists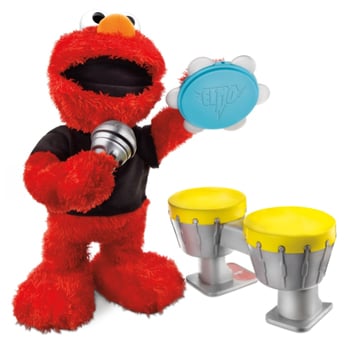 In the 15 years since Tickle Me Elmo was introduced to the market, adults and kids alike have been taken with the lil red monster's infectious laugh. With each additional version of the toy, Elmo's increasingly more complex movements and sounds have continued to make it one of the hottest toys each holiday season. Now, with Hasbro taking over the Sesame Street toy line, the company is introducing Let's Rock Elmo ($59), the latest, most complex Elmo to hit store shelves. The toy has already been named the hot toy of the year by Toys R Us, but should it top your holiday shopping list? Keep reading to see what I thought.
Who is this product designed for? Made for tots over 2 years old, Let's Rock Elmo is fun for kids up to 5 years old or really any age that is still taken with Elmo's charm.
What sets it apart? More than simply a doll that sings and tells stories, Let's Rock Elmo actually plays two instruments — drums and tambourine — and sings into a microphone, "recognizing" them as they are placed in his hands or under his feet each time. When Elmo's not using one of the included instruments, lil one's can play with them or join in with him on one of the six songs in his repertoire. Three additional instruments that are all sold separately — a guitar ($35), a keyboard ($20), and a working microphone ($15) — are also recognized by Elmo, so when kids pick them up and play them in Elmo's vicinity, he'll join in the new song.
Keep reading to see what could be better and if I would buy it.
What could be better? While Elmo plays popular songs like "It Takes Two," his playlist is limited given the number of instruments surrounding him. Also, I wish the toy offered various sound levels, so he could be played a little quieter when needed (such as when another child is sleeping). As with other technologically advanced toys, Let's Rock Elmo is also pricey once you start adding up all of the instruments.
How long did my child play with it? When Elmo arrived on our doorstep, my kids (ages 2 and 5) eagerly tore apart the packaging to unleash the rocking toy. While my older tot grew bored within the hour, the lil one couldn't get enough. It's the first toy he goes to each morning.
Would I buy it? If I had a lil Elmo fan in my midst, I would quickly grab one before stores sell out. With a massive advertising campaign under way (the toy was introduced in a rock-n-roll like atmosphere complete with American Idol's Randy Jackson introducing the new rock star) and many toy enthusiasts raving about it, Let's Rock Elmo is sure to be a holiday star, and you wouldn't want to be caught empty handed by waiting for after-Thanksgiving sales.
Share your favorite products, toys, and trends with other parents. Start sharing your opinion on millions of must haves for your tots in our Product Reviews group!