A Letter From Michelle Obama and Dr. Jill Biden to Military Families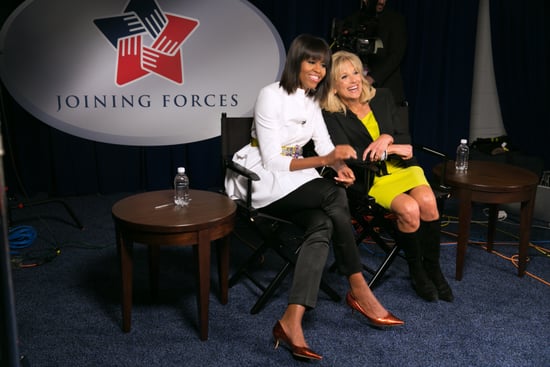 With Memorial Day quickly approaching, we want to take time to honor those that have served our country in military service. The First Lady and Dr. Biden have been leading an important initiative called Joining Forces that will pave the way for military professionals to obtain job security. POPSUGAR is thrilled to share this initiative with a letter from First Lady Michelle Obama and Dr. Jill Biden specially written for all the military families on POPSUGAR.
Dear Moms of Military Families,
Over the past few years, as we've traveled the country speaking with so many military spouses like all of you, we've been amazed by all of the ways you and your families serve our country every single day. We're constantly in awe of our military families — the troops who risk their lives to keep us safe; the veterans who continue to serve long after they've hung up their uniform; the military spouses who always manage to snap into action for your communities, even though you're already holding down full-time jobs and keeping your households running all alone while a loved one is deployed overseas.
But we also know that while you and your loved ones are sacrificing so much to serve our country, too often, you struggle to find the kind of jobs you deserve. Our troops have learned high-tech, high-demand skills and demonstrated them for years in the military, but can't get hired for similar jobs back here at home. They're Army medics who can't get jobs as EMTs, Marine welders who can't land a manufacturing job, and convoy drivers who can't get hired to drive a semi — all because they didn't have a civilian license or credential that reflects the depth of their experience in the military.
Military spouses like you face similar challenges. Every couple of years, your families are given orders to move from base to base, often across state lines. But if you're a teacher, or a nurse, or hold another job that requires a professional license, you often end up stuck in a maze of bureaucracy and paperwork that forces you to wait months or pay hundreds of dollars in fees just to continue the careers you love.
All of these delays and frustrations come on top of everything we've already asked of you and your loved ones — to spend months away from each other, to pick up and move your families across the country, and to deal with all the anxiety of another long deployment. And then, after you've done all of that, we ask you to repeat months of training for skills you've already mastered — or put your careers on hold and miss out on paychecks that mean a lot to your family's income.
This is unacceptable, and it's time for our country to step up and do something about it. That's why we started Joining Forces — and that's why we've been working hard to fix these licensing and credentialing issues all across the country. And we're making good progress. Since last year, the number of states that have passed legislation to support our military spouses has more tripled from 11 to 36. More and more states are supporting our veterans as well — since February, 13 states have passed laws that help our veterans find work. And we're not going to stop until all 50 states have enacted legislation to address these issues for military families like yours.
We're doing it all because we know that for you, this isn't just about bureaucratic headaches — it's about your family's financial security and your children's long-term future. And that's why we're more determined than ever to make sure that every single military family in America gets the honor and support that they've earned. We are going to do whatever it takes to make this happen — because we are determined to repay your service and sacrifice with service and sacrifice of our own.
So thank you all again for everything you've done for this country. Your example is an inspiration to us all.
Michelle Obama & Dr. Jill Biden
For more ways on how you can help with Joining Forces, click on the following links:
Help Military Spouses Find Jobs (aka License Portability Legislation)
Help Veterans and Service Members Transition to Civilian Careers
Say Thanks to a Hero: First Lady Michelle Obama Surprises a Military Spouse