Li'l Helper Bottle Holder For Babies
Li'l Helper Bottle Holder: Ga Ga or Gag?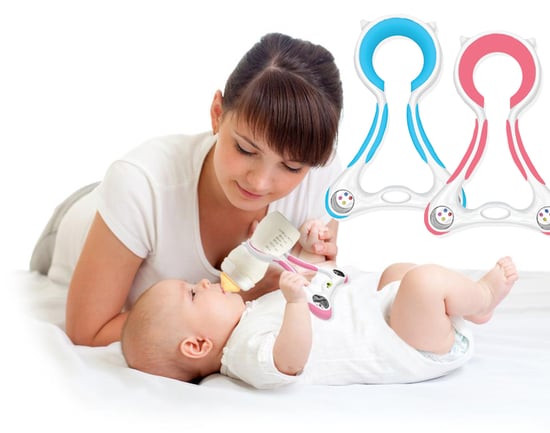 We've all been there, futilely trying to prop a blanket or lovie under baby's bottle so mom can have both hands for just two minutes. Dad Joe Murillo felt your pain, and after years of working with his hands as a jeweler, he felt like he could come up with a better solution. The result: the Li'l Helper Baby Bottle Holder ($13). Inspiration hit Joe at the supermarket, where he saw plastic clothes hangers and remembered how his daughter instinctively gripped his finger. He crafted a prototype, which his baby used and loved, and soon, friends started asking for their own. Thus, a business was born.
The Li'l Helper's ergonomic design matches your baby's natural nursing posture, making it easy for them to support their own bottles, giving you back both of your hands. The BPA-free construction, available in pink and blue, holds most bottles. So could you use a Li'l Helper? Weigh in below.