Lil Tip: On-the-Spot Tot Entertainment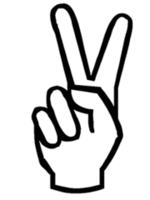 It's amazing what moms invent when we're standing in line with a fussy lil one at the grocery store or passing time in a waiting room at the doctor's office. I've invented a few foolproof ways to distract my two-year-old for at least a couple of minutes each. Try out these tricks on your own tot.
Hand Crocodile: If you've got a pen in your purse, your swamp creature will look even more authentic with a few doodled-in features. Purse your fingers together and flip the side of your hand toward your child pretending that your knuckle is the eye, and the line of your finger and thumb is the croc's incredibly powerful jaw.
Mr. Two: Mr. Two, the finger man, was invented when I tried to show my son how to create his age using his fingers. I form a Mr. Two, and then he follows suit and the two-hand people play all sorts of games. From going on hikes (on the back of waiting room chairs) or playing hide and seek (between the pages of magazines), they are always up for an adventure.
Zipper Train: My lil guy is a train enthusiast and noticed that the zipper of a hoodie resembles a track. So he zips it up and down pretending it's a train choo chooing down the railroad.