LilLuxe Sample Site For Kids
New Site LilLuxe Offers Celeb Baby Looks at a Discount
Nowadays, we're all sample sale crazy. Online flash sales can score you a great deal, and that includes for your lil ones! The new sample sale site LilLuxe.com focuses on providing high quality brands for kids.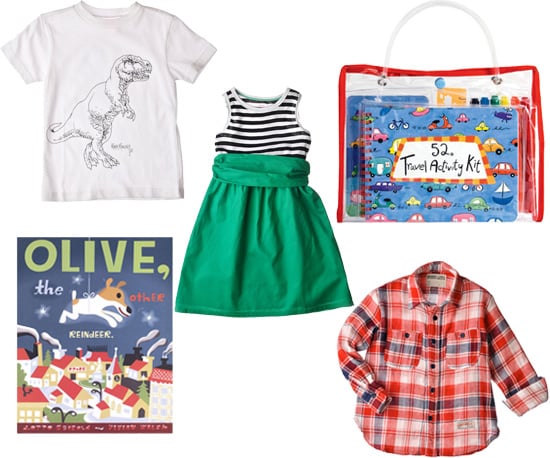 The site, which debuted earlier this month, is a membership-based service much like Gilt, except their products are solely for the lil set. Founder and CEO Deap Ubhi started the company after realizing that he and his expectant wife were faced with the exciting prospect of "thinking of all the stuff they'll not only need for their child, but all the stuff they'd want for their child."
What makes the list? Brands made from high quality fabrics, like Baby Eggi, which counts Brad and Angelina's daughters as fans, trendy tops like Beckham boy favorite Kid Republic, or eco-friendly products like Green Toys. LilLuxe offers brands like these, in addition to accessories and décor, at up to 70 percent off. Membership is free by invitation or by signing up on the website.
To find out more about the new site and its offerings, I spoke with vice president of merchandising Deb Millard and buyer Anu K. Gill.
LilSugar: How would you say that your service is different than others on the market?
Deb Millard: What we're trying to do is not inundate [customers] with a million different events every day. We're really trying to build partnerships with our brands so that not only are we selling great products at great prices but we're also trying to tell a story about who these brands are that we're working with. It's more than just throwing some items on a website and saying "here, buy them for cheaper."
Find out more about LilLuxe as well as Anu and Deb's hot celeb trends for the holiday season after the break.

LS: Who's the typical mom you're going for?
DM: It's not just the mom, it's the grandparent, it's anybody who is at this stage of their life dealing with children. We're trying to provide for people who are savvy with the computer, that can get on there and do a quick transaction where they're not going to be confused by a million different items.
Anu Gill: There are three events a day at five days a week so you can really go on and find something of value and quality for someone who is at that age range. It's a really great way to access a lot of great brands in one place without having to go to several different sites or several different stores.
LS: What kind of trends have you noticed this holiday season for children?
DM: I think in general some of the things moms have been asking for when they've been posting on Facebook are great outfits that they can use for their kids' holiday pictures. The holidays definitely are a time where moms might spend a little bit more or look for something different than they do during the rest of the year in terms of fancier dresses that you potentially don't wear every day, like the one special outfit.
AG: We're definitely noticing that children's trends are now following what the adult trends are like, so you see a lot of skinnies even for babies [like] straight leg pants. We've also been seeing a lot of layering. So that's something we're trying to emphasize that people can get not only a great product but something that can transcend seasons [like layering] a vest or a tank dress over something long sleeved.
DM: Colors have become a lot bolder. It's not so pastely anymore. And then also fabric, parents are really paying attention more to things that are 100 percent cotton or organic cotton or pima cotton. Things of better quality.
LS: Are there specific celeb baby trends that you have seen?
AG: Now that we're getting into Fall I feel like for little girls it was definitely a lot of really nice dresses, whether they'd be dressed up or dressed down they'd be that very soft material that is comfortable. A lot of the celeb boys we are following were into the graphic tees that have really great cool prints. Kids Republic is worn by Tori Spelling's kids and also by David Beckham's boys. I think at that age young boys are really into the graphic tees and layering and funky looks.