Literary Classics Adapted For Kids
Classic Literature Baby Books: Kid-Friendly or Are You Kidding?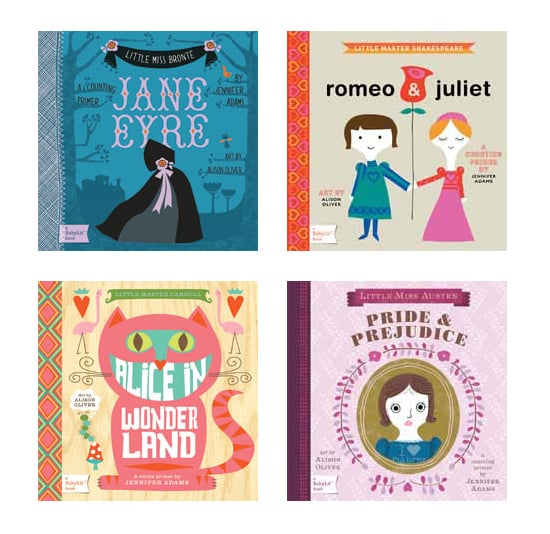 If you're a bibliophile, chances are you're eager to move on from Goodnight Moon and Pat the Bunny to meatier fare. I love Eric Carle's books, but we recently added Have You Seen My Cat? to my daughter's collection, a book in which every single page says, "Have you seen my cat?" and "This is not my cat!" Absolute torture after three readings.
You can entertain your baby and be reminded of your days reading books with actual chapters if you pick up BabyLit's new collection of literary classics-turned-board books ($10 each). Lewis Carroll's Alice in Wonderland, Charlotte Brontë's Jane Eyre, Jane Austen's Pride and Prejudice, and William Shakespeare's Romeo and Juliet have all been gorgeously reimagined for lil ones with clever, simple text by Jennifer Adams and stylish illustrations by Alison Oliver. Pride and Prejudice and Romeo and Juliet are also available as eBooks for your iPad ($4 each).
While I'm seriously digging these interpretations of some of my favorite classic books, I'm not sure the stories of star-crossed lovers and tortured orphans are quite baby-appropriate. What do you think? Are these BabyLit board books kid-friendly or will you stick to Karen Katz and Sandra Boynton?