Lotty Dotty Paper Doll T-Shirts
Lotty Dotty Interactive Paper Doll Shirts: Ga Ga or Gag?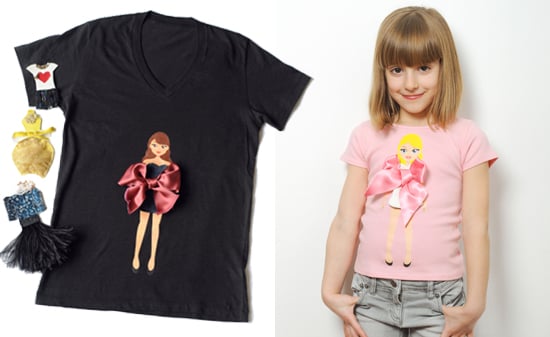 Telling your tot to "stop fidgeting with her clothes" takes on a whole new meaning these days. Paper dolls have moved off the table and onto the computer, so why shouldn't they jump to your lil one's shirts as well? Paris-based Lotty Dotty's doll shirts ($45) are just the thing for budding fashionistas who can't get enough of designing.
The interactive t-shirts allow kids to pick one of five "girls" to be silk-screened onto organic shirts. Clad in a Velcro bathing suit, the girls can then be dressed up in the included signature tutu dress and an accessory of their choosing. Additional dresses, outfits, and accessories ($12 - $30) can be purchased separately, allowing for multiple outfit changes throughout the day. The children's shirts — ranging from sizes suitable for kids three and up — are also available in adult versions. Would you buy one for your kid?