Maclaren Introduces Dylan Candy Bar Stroller
Maclaren's Latest Collaboration Is Its Sweetest Yet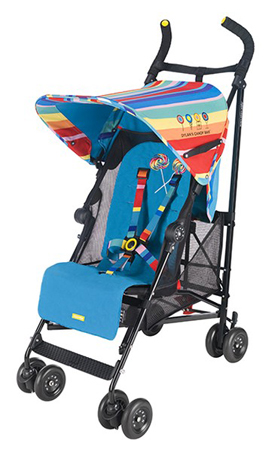 Now that's sweet! Just in time for Summer, Maclaren is introducing the latest addition to its designer stroller line – the Dylan's Candy Bar Buggy ($150). The NYC candy emporium's signature rainbow color palette and candy prints will cover the popular lightweight Volo frame for a fun, Summer travel pushchair.
With a striped hood, candy-adorned seat liner, and candy-print rain cover, the bright buggy joins a long line of fun themes produced by the stroller giant, including the Beatles-themed Yellow Submarine stroller introduced last year. The umbrella buggy will be sold exclusively at Maclaren showrooms and Dylan Candy Bar locations beginning this month, meaning it's only a matter of time before tots start screaming, "I want candy!"
What do you think of the new buggy?