Make That Baby Fertility Kit
Make That Baby Kit: Ga Ga or Gag?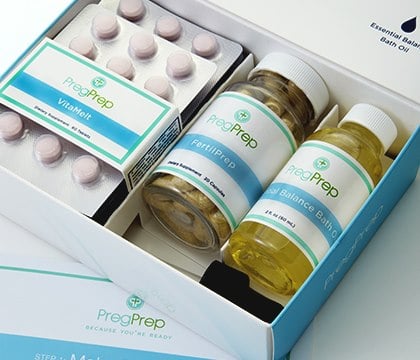 Patience may be a virtue, but when it comes to baby making, couples that are trying to conceive try to give themselves every possible advantage. If temperature taking, mucus testing, and calendaring aren't your cup of tea, perhaps the Make That Baby Kit ($40) is.
When sisters-in-law Dr. Lara Oboler and Marjorie Goldner found themselves impatiently waiting to conceive, they developed PregPrep, the company behind the Make That Baby fertility kit. Each kit contains a two-month supply of FertilPrep, a capsule packed with chasteberry extract and evening primrose oil, which are said to help thin cervical mucus to increase the chance of fertilization; VitaMelts, a prenatal vitamin to help prep the body with essential vitamins; and Essential Balance Oil, a mix of lemon, grapefruit, juniper, and lavendine to help relax couples. The kits have yet to be approved by the FDA, but contain many of the same ingredients of commonly used fertility enhancers. So tell us, if you're trying to conceive, would you try the Make That Baby Kit?