Martha Stewart CraftStudio App Review
Martha Stewart's New CraftStudio App Turns Everyone Into Graphic Designers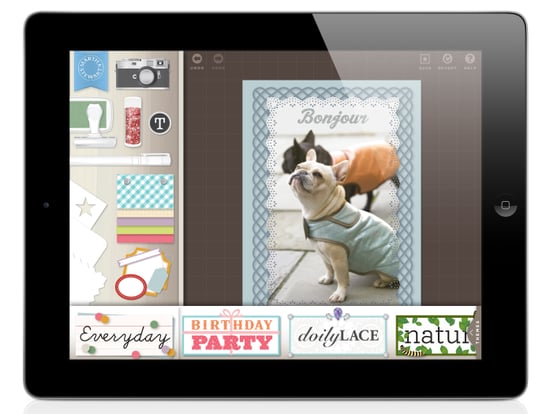 With all of the beautiful parties we see around here, it's easy to start thinking that every mom seems to have design talent but me (unless you count the stick figures I draw so effortlessly). That's all about to change though. Today, the new Martha Stewart CraftStudio App (free, for a limited time) for iPad launches, and it will instantly turn grown-ups and kids alike into Pinterest-worthy designers.
The app brings all of Martha Stewart's crafting tools to the digital space, allowing users to design digital cards, announcements, invitations, and thank-you notes based on one of four included theme bundles (Everyday, Birthday Party, Doily Lace, and Nature) — additional theme bundles are available for in-app purchase at $2 each (currently, Elegant Celebrations, Spring, Summer Fun, Vacation Adventure, and The Great Outdoors). Simply select your background "papers," add virtual stickers, punch shapes out of corners, "glue on" glitter (my favorite feature on the app because you literally have to shake it off the paper after it is sprinkled about), add text in any font you can dream of, and upload personal photos to create customized stationery pieces. Once the designing phase is done, the creations can be emailed, posted on Facebook or Twitter, printed at home, or sent to SnapFish for professional printing by simply tapping a button.
While the app will certainly help moms create custom birthday party invitations, birth announcements, and scrapbook pages, I foresee crafty kids commandeering it to simply express their creativity (without any cleanup afterward!). With all of the crafting tools available, it's a lot more fun than simply drawing apps, and the end results look really beautiful — whether you choose to print them or not.
Keep reading for a video demonstration of the app.