Matching Mom and Daughter Swimsuits
Faux Leather Bikini For Girls: Ga Ga or Gag?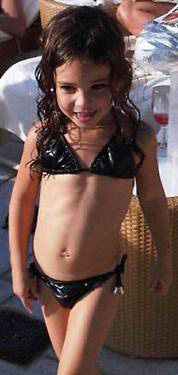 Oh, put this in the category of "what will they think of next"! Matching mom and tot apparel isn't reserved for the preppy Lilly Pulitzer set. Now mamas who like things a bit more on the edgy side can outfit their lil ones in the same bohemian-style resort wear they wear. INCA, which counts hot moms such as Kate Hudson, Halle Berry, Naomi Watts and Salma Hayek as fans, has introduced mom and daughter versions of its faux leather bikini ($75 for the children's size and $175 for the adult) just in time for Valentine's Day shopping. The company is even marketing the mini version as the perfect gift for "Daddy's little girl."
For some reason, I don't expect to see Nahla or Valentina wearing the two-piece anytime soon.