Maxwell Drew Jessica Simpson's Baby
Would You Use a Traditionally Male Name For Your Baby Girl?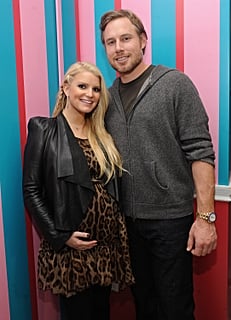 Jessica Simpson recently gave birth to Maxwell Drew, a healthy 9-pound, 13-ounce baby girl, who sports two traditionally male names. The Maxwell came from the tot's dad, Eric Maxwell Johnson, while Drew is the maiden name of Tina Simpson, Jessica's mother. In the April issue of Elle (posed nude on the cover), she talked about the name, saying, "It's nothing shocking and nothing you'll have to add to the dictionary. Still, when people hear it they'll know . . . why."
Maxwell — or "Maxi," as it's been rumored the babe will be nicknamed — joins Charlie O'Connell (daughter of Rebecca Romjin and Jerry O'Connell), Mason Grammar (Kelsey and Camille's daughter), Rowan Henchy (Brooke Shields's daughter), and Sam Sheen (daughter of Denise Richards and Charlie Sheen) in the league of little girls with cute boys' names.
Would you give your daughter a traditionally male name? Weigh in below.