Melissa D'Arabian's Kid-Friendly Pasta Recipe
Dinnertime Crunch: Melissa d'Arabian's Quick and Affordable Crisper Drawer Pasta
Our tasty and easy Dinnertime Crunch series continues with celebrity chefs and restaurateurs sharing their favorite 30-minute weeknight dinners that help Mom and Dad spend more time with the kids each night. Today's recipe comes from Melissa d'Arabian, host of the Food Network's Ten Dollar Dinners and author of Ten Dollar Dinners: 140 Recipes and Tips to Elevate Simple, Fresh Meals Any Night of the Week.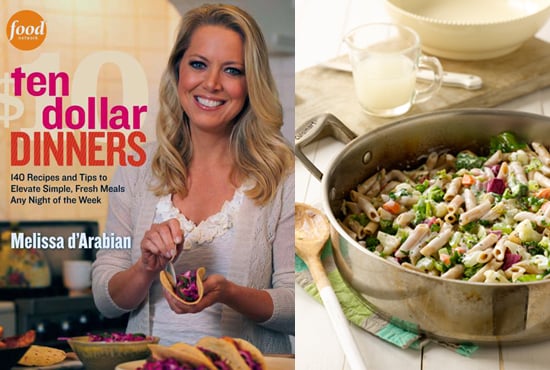 With four daughters running around her home, Melissa d'Arabian knows about the chaos that can occur at dinnertime. The Food Network host and author of Ten Dollar Dinners also knows that busy moms can't always remember what's hiding in the corners of the refrigerator. That's how she came up with "Crisper Drawer Pasta," a quick and productive weeknight meal — the whole recipe can be made in 30 minutes — that helps use up everything in the crisper drawer.
"The most expensive food is the one you have to throw away because you forgot to use it," Melissa says. "Once a week, be sure to take a quick peek into your crisper drawer to take stock of veggies and herbs. My two favorite ways to use the odds and ends from the crisper drawer is to make either an anything-goes pasta or a kitchen-sink–style soup (also in the book!). This is a plug-and-play recipe, meaning you can use any of the vegetables you have in the house simply by following the parameters given."
Keep reading to get Melissa's recipe.
Crisper Drawer Pasta
From Ten Dollar Dinners. Copyright © 2012 by Melissa d'Arabian. Published by Clarkson Potter, a division of Random House, Inc.
Ingredients
2 tablespoons olive oil
1 small red or yellow onion, finely chopped
½ teaspoon dried herbs, such as basil, marjoram, oregano, thyme, plus a squeeze of lemon juice, or herbes de Provence
2 garlic cloves, finely minced or pressed through a garlic press
1 to 2 cups soft vegetables or leafy greens (sliced bell peppers, corn, chopped and salted eggplant, escarole sliced crosswise, sliced fennel, sliced mushrooms, peas, chopped spinach, chopped Swiss chard)
Kosher salt
14.5-ounce box pasta
1 to 2 cups cut-up hard vegetables (chopped beets, carrots, celery, zucchini, green beans; broccoli or cauliflower florets)
2 tablespoons sour cream
½ cup grated Parmesan cheese, plus extra for serving
1 tablespoon finely chopped aromatics or fresh herbs (basil, chives, crushed red pepper flakes, dill, fennel fronds, flat-leaf parsley, lemon zest, scallions, tarragon)
Directions
Heat the olive oil in a large skillet over medium-high heat. Add the onion and cook, stirring occasionally, until soft, about 3 minutes. Stir in the dried herbs and the garlic and cook until fragrant, 30 seconds to 1 minute, and then stir in the soft vegetables or leafy greens and ½ teaspoon salt. Cook, stirring occasionally, until the vegetables are tender and the greens are wilted, 30 seconds to 4 minutes, stirring often. Turn off the heat and set aside.
Bring a large pot of water to a boil. Add the pasta and 1 tablespoon salt and cook for 3 minutes. Add the hard vegetables and continue to cook according to the package instructions until the pasta is al dente. Reserve ½ cup of the pasta water, then drain the pasta and vegetables and return them to the pot. Stir the sour cream and the remaining ½ teaspoon salt into the pasta, then add ½ cup of the Parmesan, the aromatics, and ¼ cup of the pasta water. Stir to combine, add the cooked soft vegetables or leafy greens, and add more pasta water if needed. Serve with more Parmesan on the side.
Serves: 4
Preparation time: 10 minutes
Cooking time: 20 minutes
Information
Category

Pasta, Main Dishes

Cuisine

North American