Men's Attitude Toward Child Care
Do Traditional Gender Roles Still Come Into Play When Caring For Baby?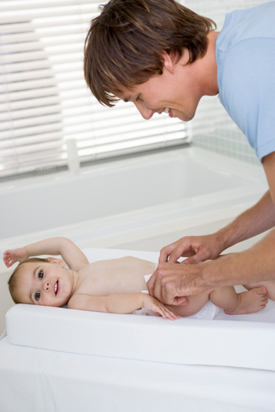 Have we really come a long way, baby? The recently released International Men and Gender Equality Survey conducted by the International Center for Research on Women found that many men still hold a traditional view about gender roles when it comes to caring for their children. According to the study, 61 percent of men surveyed in Rwanda and more than 80 percent surveyed in India agreed with the statement: "changing diapers, giving kids a bath and feeding kids are the mother's responsibility." In Brazil, only 10 percent were in agreement.
In industrialized nations, we appear to have come a long way from the days when men sat in the waiting room to learn about their child's birth and simply cooed at their lil one's before handing them off to their mamas. Are there more barriers to be crossed?