Michael Douglas Undergoing Cancer Treatment
Michael Douglas Shields Children From Cancer: Would You?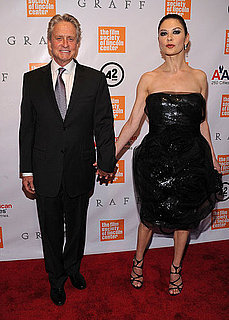 While out promoting Wall Street 2: Money Never Sleeps, Michael Douglas recently announced that he has Stage IV throat cancer. On Tuesday's Late Show With David Letterman, he said that Catherine Zeta-Jones and their children, Dylan and Carys, are vacationing in Bermuda while he undergoes treatment. Catherine has said that seeing Michael look fatigued during chemotherapy has been hard for the family. The couple are keeping the children away from seeing the effects of the treatment, but Michael was able to tell their children the news of his cancer before they heard it elsewhere.
How would you handle hard times with your child? Would you share the experience with them or try to protect them from the truth?