Michelle Obama Announces Let's Move Active Schools Program
Michelle Obama Announces Let's Move! Active Schools Initiative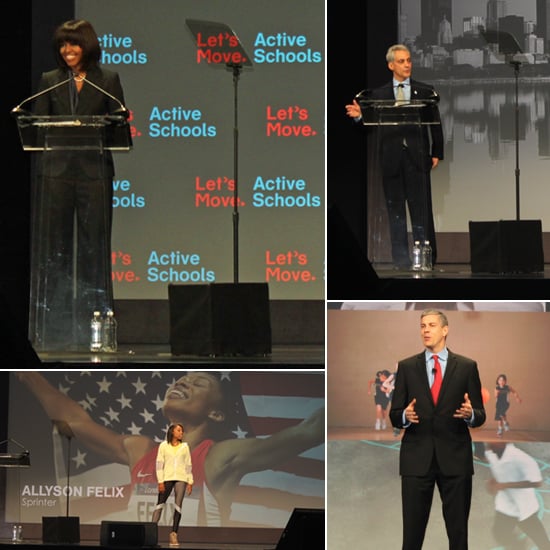 Fact: Today's kids are the most sedentary generation in America's history. Only one in three children is active on a daily basis, and only four percent of elementary schools offer daily P.E. "That's not just bad for their bodies, it's also bad for their minds because being less active can actually hurt kids' academic performance," First Lady Michelle Obama said at an event we attended today announcing the new Let's Move! Active Schools initiative. The program aims to help schools create active environments where students can get 60 minutes of physical activity before, during, and after the school day, and the goal is to reach 50,000 schools during the next five years.
"This is about so much more than keeping our kids physically active," Obama said. "And it's about more than making sure that they do well in school. I mean, this is about giving our kids the structure and support they need to thrive in every single aspect of their lives. It's about giving them something to strive for, something to hope for, somewhere to belong. And physical activity is a critical part of that broader effort."
While Obama stressed that we don't need "new sports leagues or fancy equipment" to get kids moving (she suggested after-school running clubs or dance flash mobs between classes and cited her own love of double Dutch), the far-reaching program does come with some major expenses, and to help out, Nike has pledged to invest $50 million in the effort over the next five years. Keep reading for more exciting info about Let's Move! Active Schools.
The Chicago press conference also included talks by Nike CEO Mark Parker, US Secretary of Education Arne Duncan, Chicago Mayor Rahm Emanuel, and Olympian Allyson Felix. It ended with more than 6,000 Chicago public school students participating in a huge gym class with Obama and famous athletes including Gabby Douglas, Colin Kaepernick, Bo Jackson, and Dominique Dawes, along with trainers including Bob Harper. A performance by Jordin Sparks capped off the excitement.
But it was Obama's speech to the children that left the biggest impact. The first lady told the students, "It's important each of you realize that you, and you alone, have the power to choose the life you want . . . Whether you fill your bodies with chips and candy or fruits and vegetables, that's on you. Whether you sit around playing video games or get up and move . . . these are choices that determine what you can achieve."
"Remember this: although I am the first lady of the United States, I am no different from you," she continued. "I did everything within my power to prepare myself for great things. And eventually all of my hard work paid off." Her pep talk made me want to sign my daughter (and myself) up for gymnastics, soccer, and swimming tomorrow, and thousands of kids seemed just as entranced.
So what do you think about Obama's latest initiative? Do you worry about your kids getting enough physical activity in and out of school? Do you think the first lady's efforts will help? Leave us a comment below.