Michelle Obama Talks About Her Daughters
Michelle Obama: "I Give Them as Long a Leash as They Can Handle"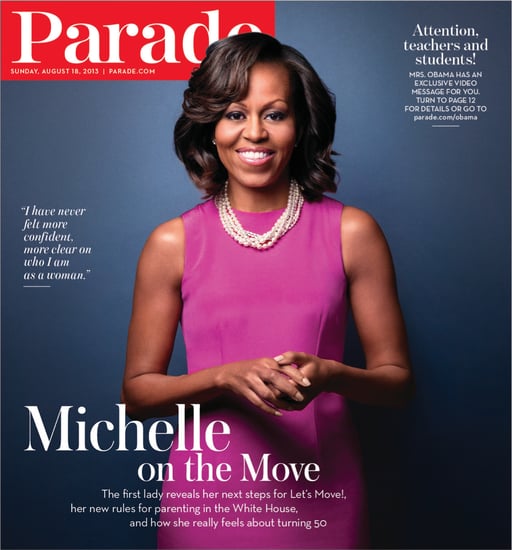 Michelle Obama has the eyes of the world on her — and they're not just watching her changing hairstyles and enviable arms. In addition to being the first lady, Mrs. Obama is the nation's first mom, and parents everywhere look to her to set an example for good parenting. And if how your children turn out is the final evaluation of your parenting skills, then we give the first lady an A+. You don't have to look much further than Malia, 15, and Sasha, 12, to see the positive results of the Obamas' child rearing.
Appearing on the cover of this weekend's Parade magazine, Mrs. Obama shared how she sets rules for tween and teen, saying:
"I give them as long a leash as they can handle. What I tell my kids is, I'm preparing you for college and for life. So, having independence, knowing how to set your own boundaries, figuring out how to make that balance. We still have screen time rules."
The first lady goes on to talk about raising her girls in the public spotlight, her fight against childhood obesity, and why she's going to be a "fly" grandma one day. Keep reading for more highlights from the interview
On why she chose a leadership role on the issue of childhood obesity in America:
"When we started, there were people who were thinking, 'Oh, that's not an issue. Why is she picking that?' But in a short amount of time we have turned a challenging problem into one where there are glimmers of hope and change. Our goal is to see the numbers reduced in a generation."
On thinking about where Malia will go to college:
"You know, I am really trying to tone that way down. Because kids are under unreasonable pressure, and it can destroy a high school experience."
On whether her recent description of herself as "a single mother" was an acknowledgement of the pressure that comes with always making the decisions about her kids:
"That's absolutely right. When you have a husband or a partner who's either traveling for work or has huge responsibility . . . and I give my husband credit — he knows who their friends are, he knows what their schedule is. But he's not making the calls to the dance studio to figure out what classes they're taking next year . . . I think it's important for both parents to shoulder that [responsibility]. I tell my kids, 'I am thinking about you every other minute of my day.'"
On whether she thinks having an African-American family in the White House has moved the needle:
"Absolutely. Children born in the last eight years will only know an African-American man being president of the United States. That changes the bar for all of our children, regardless of their race, their sexual orientation, their gender. It expands the scope of opportunity in their minds. And that's where change happens.
On her thoughts about turning 50 in January:
"I have never felt more confident in myself, more clear on who I am as a woman. But I am constantly thinking about my own health and making sure that I'm eating right and getting exercise and watching the aches and pains. I want to be this really fly 80-, 90-year old."