Milk It Kit For Breastfeeding Working Moms
Milk It Kit: Gaga or Gag?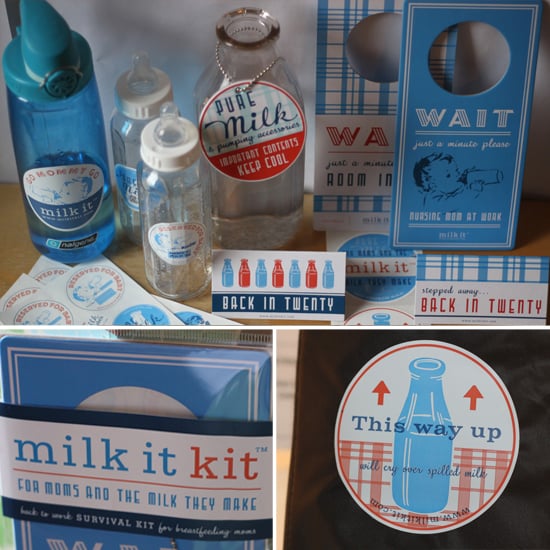 National Breastfeeding Month is over, but milk-producing moms — especially working moms — know they need breastfeeding support every day. Enter the Milk It Kit ($17). Created by Courtney Uyeshiro, a mom of two and certified lactation educator who believes that "pumping milk while working should be less daunting and could be more fun and rewarding," the product is touted as a back-to-work survival kit for breastfeeding moms.
"As a working, breastfeeding mom, I became intimately familiar with pumping . . . and pumping . . . and pumping," Courtney says on the Milk It site. "I accumulated quite a list of places I have pumped. Nearing the bottom was the restaurant bathroom stall where another woman heard my pump chirping about and claimed, 'Is that a bird in there?' I became determined to create a kit that would give moms some tools to help them feel good about pumping milk at work."
Included in the Milk It Kit is a supercute door-hanger privacy sign, a pump bag luggage tag, two desk signs, 32 milk labels, and three Milk It stickers. The labels are waterproof, freezerproof, and easy to remove and can be written on with a regular pen.
So what do you think? Is it worth $17 to make your pumping-at-work a little more private and fun? Weigh in below.