Milky Lactation Enhancement Tea
Milky! Lactation Herbal Supplement: Ga Ga or Gag?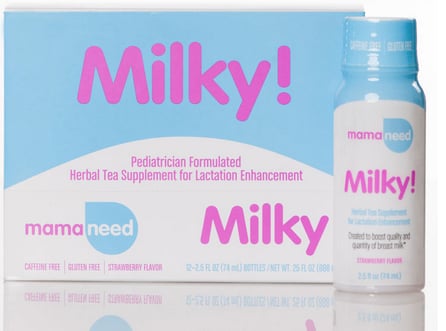 Eat, sleep, poop, and milk production. Pop into any new mom group and these four topics are sure to be the most discussed of the session. When it comes to milk supply issues, moms are willing to try almost anything to get their bodies producing. The problem is, many of the most time-tested methods are barely palatable to even the strongest stomaches — fenugreek tea anyone? While some turn to lactation cookies, others still want something they can drink. That's where Tia Mowry-Hardrict and Tamera Mowry-Housley's new Milky! ($36 for 12) comes in. The herbal tea supplement is derived from lactation-enhancing fenugreek, but instead of a strong licorice-like taste, the formula was designed in a strawberry flavor and conveniently packaged in grab-and-go bottles so mom can drink them on the run.
So tell us, would you try it?