Mima Kobi Stroller
Double Up! Rumble Seats Are the Way to Stroll With Two Kids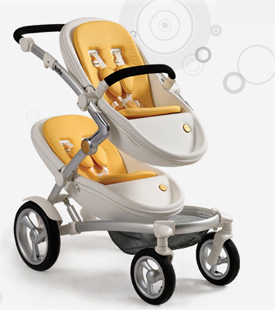 Two's the way to cruise! The rumble seat, a chair that attaches below the stroller seat to carry a second child, is becoming the way to roll. Moms with two or more tots can push easy in this narrower approach (compared to side-by-side strollers) to doubling up.
When Phil & Teds first introduced the concept, moms snatched the cool buggies up and other companies took notice. The compact design since been adopted by companies like Baby Jogger and Uppa Baby.
The latest to enter the fold will be the Mima Kobi, created by a new Spanish baby product company that plans to introduce its sleek and adaptable buggy later this Summer. Designed by the man behind the Bloom Fresco high chair, the Kobi can be configured with one seat, two seats, or a seat and a bassinet and will easily convert back and forth from a seat to a bassinet.
Check out other rumble seat rides below!