Miniature Milk Baby Clothing Made of Milk Fiber
Miniature Milk Milk-Fiber Clothing: Kid-Friendly or Are You Kidding?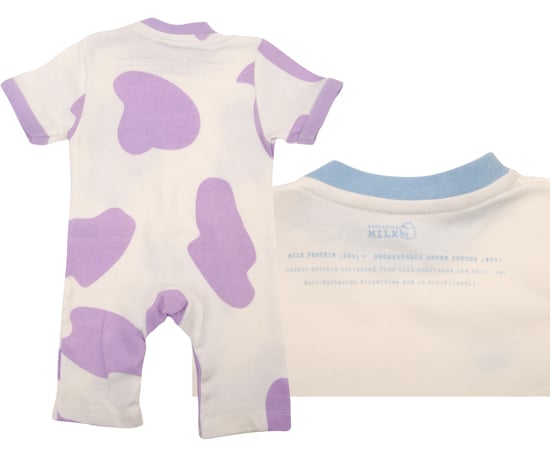 Sure, your baby often sports a milk-covered face, but would you cover his entire body in milk? That's exactly what Miniature Milk, a brand-new eco-friendly infant clothing line, suggests. The New York-based company debuts a layette collection this week, and the cow-print rompers, onesies, striped bibs, beanies, and blankets (prices range from $15 to $60) are all made from organic cotton and — get this — milk fiber, a protein that's extracted from cow's milk.
According to Miniature Milk, milk fiber is perfect for baby clothing because of its antibacterial and anti-inflammatory qualities. "We wanted to create a simple and stylish range of baby clothes that not only looks great but also incorporates a fabric that has positive attributes for the sensitive skin of babies," said Jamie Archer-Perkins, founder of Miniature Milk, in a press release. So would you let your baby drink his milk . . . and wear it, too?