Modern Babycotpod Metro Swinging Crib
Babycotpod's Metro Swinging Crib: Ga Ga or Gag?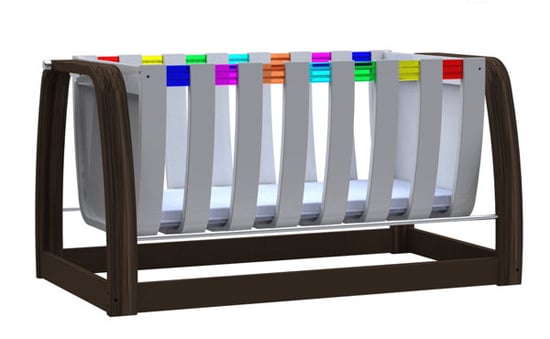 Rockabye baby! Babycotpod, the futuristic baby crib design company, has introduced its latest entry to the world of modern nursery design. Resembling a cradle more than a crib, the Metro ($575) merges a wooden frame (available in light, dark, or white finishes) with a white swinging bed. Between the crib's wide slats, the company injects a rainbow of colors in the form of acrylic panels. Unlike traditional box-like baby cribs, the Metro features warm, curved slats to comfort newborns.
This isn't the first time Babycotpod has given us a contemporary crib to ogle — its egg-like Cascara crib caused quite a stir last year. Would the Metro crib work in your nursery?