Modern Dads Reality Show
Would You Watch a Reality Show About the Life of a Stay-at-Home Dad?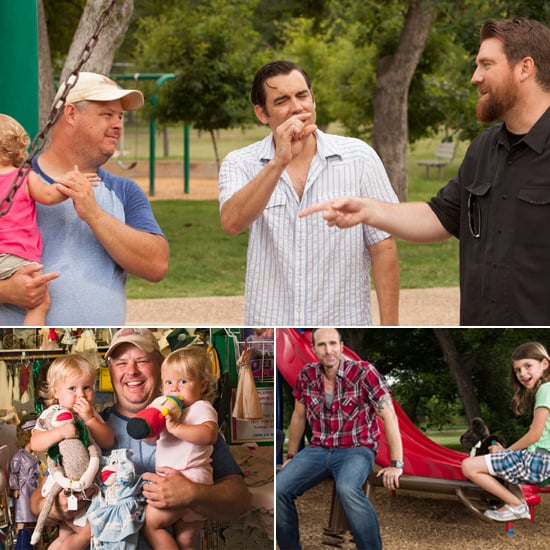 Call it the antidote to The Real Housewives of . . . everywhere. A&E's Modern Dads have arrived, and they're not afraid to tell it like it is when it comes to the inner workings of their unique family dynamics. Premiering on Wednesday, Aug. 21, at 10:30 p.m. Central time, Modern Dads chronicles the adventures (and misadventures) of four Austin, TX-based stay-at-home dads. The real-life group of friends has "stuck together from hanging around bars as college students to strolling around the neighborhood park as trophy husbands and dads," according to A&E.
Wondering who the doting dads are? There's Nathan Hall, the overprotective dad of 1-year-old Cormac, whose wife is a high-profile medical director. It was natural that Nathan, a professional music and portrait photographer with a flexible schedule, take over the family's child care duties. Rick Lucas, who's been called the "MacGyver of Dads," has his hands full with four kids under the age of 10 (including a set of 1-year-old twins)! As a cancer survivor, Sean Kent lives life to the fullest, entertaining (or humiliating) 8-year-old Arwen and 5-year-old Joopsy with antics like sporting a full-on costume to pick up his girls at the bus stop. And finally, there's single dad Stone Slade, who has done everything from touring with the Grateful Dead to raising two older children. Now, it's all about his little girl, Danica. "Raising a 5-year-old is a lot like dating: the puppy-dog eyes, the mixed messages . . . I pay for everything!" Slade jokes.
So tell us, are you intrigued? Will you be tuning into Modern Dads on Wednesday night? Share your comments below!