Molly Sims Interview About Pregnancy
Molly Sims on the Most Surprising Thing About Pregnancy, Her Glam Maternity Style, and More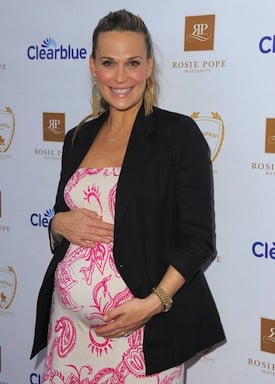 She may be 34 weeks pregnant, but that didn't stop mom-to-be Molly Sims from squeezing time into her hectic schedule to chat with us. In addition to her acting and modeling work, Molly was recently named the Global Ambassador for Population Service International (PSI)'s child survival program, Five & Alive, and she's counting down the weeks until the birth of her baby boy.
LilSugar: Congratulations! How are you feeling?
Molly Sims: I'm coming into the end of my third trimester, and there's been a lot of swelling. I've been putting my feet up and soaking them in freezing cold water. That seems to work. We just went on the hospital tour and that made me a little nervous. I kept asking, "What's that?" and Scott [Stuber, Sims's husband] was taking notes on his BlackBerry. I said, "Can you tell we're first-time parents?!"
LS: Any other pregnancy tips and tricks that have worked for you?
MS: My back has been bothering me the whole time and the best investment I made was the Sleep Number bed. You can sleep with your feet up! It's great for my husband and I, and it means that he can rest without my waking him all throughout the night.
LS: You just had your baby shower — how was that?
MS: It was so great, just so much fun. We didn't really have a theme, but afterwards, we had a Cinco de Mayo party with everyone.
LS: Any favorite gifts?
MS: I love [online retailer] Layla Grace, and they sent me this supersoft rocking horse. I also got three great strollers — a Bugaboo that I'll use in New York, the Orbit System, which is supposed to be really easy to take apart, and then Baby Trend sent me a custom one — it's the coolest thing! I walk and hike a lot, so it was important to me to have a really good jogger. What's been great is that all of my friends have been giving me the products that they found really worked. There's so much out there, so that's been really helpful. I've also been working with Margot Stuart at Ready Me Baby. She helped me narrow down my Amazon Wish List to the 15 or so things that I really need.
Keep reading to see what's been the biggest surprise in Molly's pregnancy and her cravings.
LS: What's been the biggest surprise about pregnancy?
MS: How much I love someone who I haven't even met yet. I think back to the things I used to stress about, and it's amazing . . . your life just becomes so different. From the way I'm eating to becoming more eco-friendly, I've become a lot more conscientious. It comes from a different place.
LS: Do you have a name picked out yet?
MS: We're working on it. Scott wants to wait until we meet him. We're down to about eight.
LS: Have you been having any cravings?
MS: Yes, sugar! Anything that's cold and sweet. It's amazing how much you think about food. I've never eaten so much, or thought about food so much.
LS: But, you've looked amazing throughout your pregnancy. What's your secret?
MS: I've never had to try so hard to look hot in my life! I've found that wearing things that are tighter around my belly look better. I've also been wearing a lot of belts to separate my boobs and my belly. Everyone carries so differently, it's hard to say there's any one trick. Lots of stretch!
LS: What are you looking most forward to about motherhood?
MS: I really hope that I can breastfeed. I have so many great friends who have told me if it works, it works, and if it doesn't, that's OK, too. If you look on my bedside table right now, I have a whole stack of baby books. On top is The Happiest Baby on the Block. I have my weekly app that tells me if he's a pomegranate seed, or a lemon, or an eggplant. Up until now I've only been a mom to my dogs, so this is all just so exciting!