Most Expensive Baby Bath Tub
MagicBath Baby Hot Tub: Kid-Friendly or Are You Kidding?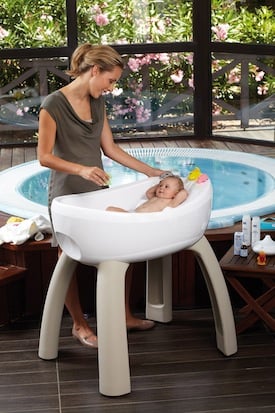 We all want to give our little ones the very best that money can buy, right? Sometimes, though, there's a fine (or not so fine) line between what's within reason and what's absolutely ridiculous.
Enter the MagicBath Baby Hot Tub from BluBleu, an Italian company that specializes in high-end whirlpools and stylish tubs. Ten air jets spew out bubbles, while underwater LED lights emit "chromatherapy" light rays. The tub is designed for newborns to 6-month-olds in a reclining position and for 6- to 12-month-olds in a sitting position.
Wondering what the MagicBath will set you back? A whopping $2,186. While the absurdly high price tag probably takes the tub out of range for most of us, we wonder if any of this year's new celeb moms will treat their little ones to the at-home spa (Maxwell Drew and Blue Ivy, we're talking to you!)