Mountain Buggy Duet Double Stroller Review
Mountain Buggy Duet Double Stroller Proves Good Things Come in Small Packages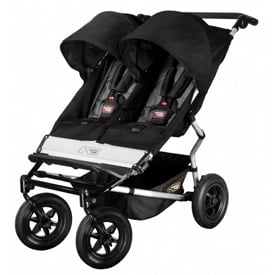 Double stroller pushers are often faced with a dilemma: sacrifice comfort for the convenience of a compact stroller, or choose a wide side-by-side carriage that is often unwieldy and hard to manage in crowds. The newest crop of double strollers is out to solve that dilemma with side-by-side pushchairs that mimic the size and maneuverability of classic single strollers. The latest to enter the market is Mountain Buggy's Duet ($600). The company sent us one of the first strollers off the assembly line for testing purposes. See how it measures up.
Who is this product designed for? As the narrowest side-by-side double stroller on the market, the Duet is perfect for parents of twins, or tots close in age, who use their stroller around town, not just for walks through the neighborhood.
Is it practical? The Duet gives double stroller-pushing parents more flexibility than ever before. It easily fits through the standard 32-inch door frame and maneuvers as smoothly as lightweight stroller down both nicely paved paths and torn up city streets. Able to accommodate two car seats (one seated slightly higher than the other) and two bassinets, the pushchair can be used from birth on up. The fully-reclining seats provide lil ones with plenty of space to stretch out and rest while the seats' independent canopies feature "flick-out sun visors" that provide extra protection once tots lay down. An adjustable handlebar provides both taller and shorter-than-average parents comfortable pushing positions.
Keep reading to see what sets the Duet apart from other double strollers and where it could use some improvements.
What sets it apart? At just 25-inches wide — the same width as many singe strollers, including Mountain Buggy's Urban Jungle, and five inches narrower than the full-sized Mountain Buggy Duo — the Duet is the narrowest side-by-side double stroller on the market today (the Bugaboo Donkey is a full four inches wider when set in the double position). It may hold two tots, but it maneuvers like a single stroller, probably because it rests on 8-inch air-filled tires. The "twist & slide" 5-point safety harnesses allows parents to easily tighten and loosen straps with just one hand.
What could be better? Though Mountain Buggy suggests that the stroller can be used from birth to 5 years old, my tall, but very lean 5 year old couldn't comfortably fit in the seat — it was just too narrow. That said, most 5 year olds (and for that matter many 4 year olds) aren't spending much time in a stroller, so I'd say it is best for parents with two children under 3 years old, especially twins. Also, the buggy's under seat basket, which is nice and large, is difficult to get to due to a strap that hangs smack down the middle of it. Finally, for $600, it would be nice if the stroller came with a rain shield, rather than asking families to shell out extra for it.
Did it make baby happy? Yes! I had trouble prying my lil one out of it. For the first time in ages, he would climb in by himself when I said we were going out, rather than fighting me. He rode comfortably in it and slept great too.
Would I buy it? If I had twins on the way or kids that were less than two years apart, I'd buy it in a heartbeat. The Duet's compact configuration and comfortable stroll make it a winner in my book.