Munchkin's Naughty Mouth Soap
Munchkin's Naughty Mouths Soap: April Fool or Awesome Idea?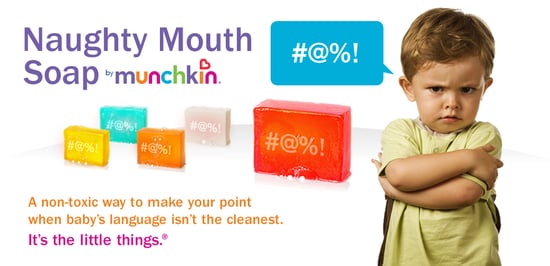 Do you find yourself having to punish your kids for using bad language? Munchkin just may have the solution! The brand's new Naughty Mouth Soap Bar is a nontoxic but oh so nasty tasting way to scold your troublesome tots. The product is offered in five extremely icky varieties — Whining Wasabi; Lying Liver; Spoiled Child, Spoiled Milk; Vulgarity Vomit; and Extra-Strength Sour Pout Face (for extreme cases).
"Munchkin has always been committed to finding the simplest solutions to make parenting easier, and we know 'it's the little things' that make a big difference in parents' lives," said Steven B. Dunn, chairman and CEO of Munchkin, Inc. "Recognizing that parenting brings its fair share of challenges, we are thrilled to pay tribute to a good, old-fashioned parenting technique by offering a safe way to rid your tot of bad language. The valuable life lesson provided by our new foul-tasting Naughty Mouth Soap will be remembered for years to come."
If a mouthful of Spoiled Child, Spoiled Milk doesn't teach your tot to clean up their behavior, we don't know what will. Now the only question is . . . is this stuff for real?!