My Kid Wants to Join the Military
When Your Teen Wants to Join the Military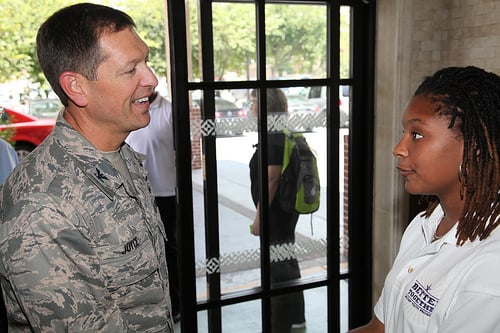 Every parent wants their child to grow up brave and strong, but how do you put on a brave face when your teen wants to join the military?
"When my oldest son, Timothy, decided what to do when he graduates this year, I did not expect he would ever say, 'I am joining the Army.' I was shocked. Then I cried for days," Julie G. says. 
Similarly, Jennifer says her 16-year-old son has been talking about joining the military for a couple of years, but as he gets closer to reaching an adult age, she is worried. "He is my baby and I am so scared of him leaving and not coming home. It is very honorable and brave for him to want to defend this country and I am so proud of him. But I am scared," she says.
If you, too, are wondering how to respond when your child wants to join the military, Circle of Moms members offer four tips.
Keep reading to see them all.
1. Show Your Support
When your child expresses interest in wanting to join the military, it's important to first show support, Circle of Moms member say.
"Do not rail against it," Lisa G. cautions. She explains: "They become adults and can join with or without your consent, and it is far better for them to go with your love and support than to go without it and be distracted by worries of home when they should be focused on what they need to learn, know, and do," she says.  
In fact, by being supporting in her daughter's decision to join the navy, Barbara M. was able to put in one request: that her daughter wait until after college before serving her country. "My daughter knows that I will support her in whatever decision she makes. . . . I want her to experience a little bit of life before she is willing to put that life on the line," she says.  
2. Ask Questions
Cyndee G. agrees that with adult children, all you can do "is support them, even if we may not agree 100 percent with their decisions." However, with a decision as serious as joining the military, she would make sure he "was dead-set on joining and had done all the research, asked the right questions, and was going in with open eyes and an open heart." She says: "Just be sure it's not a passing fad, and that your child is more than serious." 
One way to do that, Brenda P. suggests, is to ask your child pointed questions, such as "1. What's in it for you? 2. What do you see yourself doing? 3. How will this help you out at the end when your time is up and getting ready to get out? And last one . . . 4. [Do you want to make being in the military a] career, or not?"
If your child determines that the answers still have her wanting to join the military, then encourage your child to "follow what his heart is telling him to do, but also ask him to wait 48 hours after getting all the info before making any decisions," Rebecca T. says. And as mentioned earlier, "Remind your kids that you will stand behind them always and love and support them with what ever decisions they make."
3. Temper Your Fears
Even if you may be fearful of what could happen while your child is serving her country, don't share all of your fears with her, moms recommend. The number one rule, Kayli M. explains, is "don't worry our soldiers when they are over there [because] it interferes with their duty and distracts them." 
"It is scary," Stacey S. says, "but you need to support him. Just let him know you're scared for him, but you'll always be there, you love him, and will pray for his safety."
4. Set Plans to Stay in Touch
Because both you and your child might have a difficult time being apart, military families recommend you make plans to stay in touch. Lisa G. suggests parents send their children a prepaid phone card, $150 in cash to make phone calls, and self-addressed stamped envelopes with paper so that they can "quickly and easily send you a letter back." She also recommends finding out whether your child's unit has a Facebook page, which, if it does, is likely to includes lots of updates during basic training. "Some of the pictures will make you laugh, and others will make you cry, but they will all keep you in the loop," she says.
Many teens move out of their parents' house when they become adults, whether it's to join the military or to just have more independence, Circle of Moms members remind. "As much as we would love our children to never move away, they have to grow on their own," Allie R. says. For parents, "it will be like the first day of school with having to let go, but in time you readjust." And ultimately when your child wants to join the military and serve her country, it's something a parent should be proud of, she adds. "The army or any service branch is a wonderful experience and helps the children learn responsibility and how to take care of themselves."