Nanny With Personal Hygiene Issue
Mommy Dearest: My Nanny's Breath Stinks!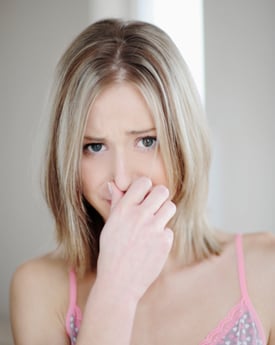 Mommy Dearest —
We love our nanny — she takes amazing care of my son every day. But all of a sudden, her breath is so bad, that I honestly can't be around her and I actually think it's really gross that my son is around it all day. How do I address this with her?
Any money she makes, she sends to her kids back home, so I doubt that she wants to pay for a dentist, but it's so gross that I am at the point where I have to position myself away from her and I feel really badly for my son.
If I make her a dentist appointment, then do I need to pay for it?
— Sweet-Talking Mama
Keep reading to see Mommy Dearest's response.
Dear Sweet-Talking Mama — 
Sound like you've got yourself quite a stinky dilemma. An employer has a right to expect good personal hygiene from their employee, especially if she is interacting with people (your son) every day. Though it may be uncomfortable, you certainly have the right to bring it up in conversation, but it should be done tactfully. Given the way many nannies end up being like a member of the family, approach it the same way you would tell your own spouse. Just be prepared to pony up cash for the appointment when she says she hasn't gone because she can't afford it, because otherwise it can spiral into a conversation about her compensation.
— Mommy Dearest
Have a question you need answered? Submit it to the Mommy Dearest Group in our Lil Community.