The Naptime Chef's After-School Snack Ideas
The Naptime Chef Serves Up Healthy and Quick After-School Snacks
Our tasty Snack Attack series continues with celebrity chefs sharing their favorite after-school snacks that won't spoil kids' dinner appetites. Today's recipe comes from Kelsey Banfield, The Naptime Chef.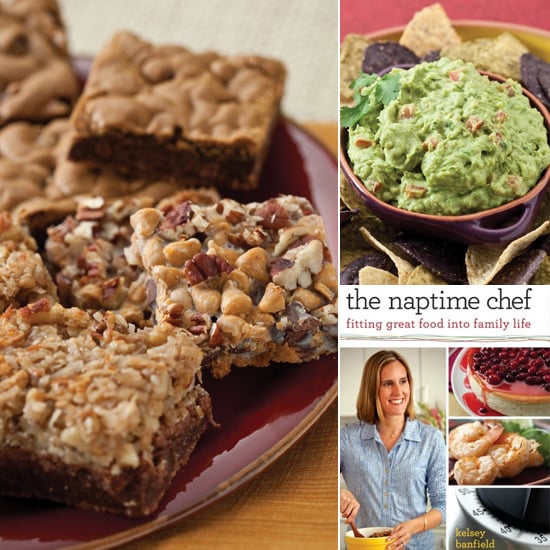 Kelsey Banfield gained an instant following when she started blogging on The Naptime Chef about the meals she cooked while baby Daphne was sleeping. Knowing how hard it was to cook a meal with a baby underfoot, she did as much work as she could during the blissful nap hours. Daphne's now entering kindergarten, which means after-school snacks are a must, but with an infant son at home, she's still counting on naptime as her cooking time and still relies on recipes she can whip up during that time.
For after school, Kelsey suggests both a seven layer bar and some guacamole as both will give kids energy to get through the rest of the afternoon. "This authentic Texan guacamole is a delicious and healthy snack for kids," Kelsey adds. "It is rich and creamy with a spicy kick from the jalapeno. I like to serve it up with lots of chopped vegetables or mini tacos for a snack."
Keep reading for Kelsey's quick and easy recipes.
Notes
The childlike appeal of these bars makes them perfect for family gatherings, school treats, or picnics.
Ingredients
4 ounces (1 stick) unsalted butter, melted and cooled
1 cup graham cracker crumbs (from about 8 crackers pulsed in the food processor)
1 cup shredded sweetened coconut
1 12-ounce package semisweet chocolate chips
1 12-ounce package butterscotch chips
1 14-ounce can sweetened condensed milk
1 cup coarsely chopped pecans
Directions
Preheat the oven to 350°F.
Pour the melted butter into the bottom of a 13 x 9-inch baking dish and swirl the pan so that the bottom is evenly coated with butter, paying special attention to the corners.
Sprinkle the graham cracker crumbs evenly over the butter and press down with your fingertips to form a very thin crust. Create even layers on top of the graham crackers with the remaining ingredients in this order: shredded coconut, chocolate chips, butterscotch chips, sweetened condensed milk, and chopped pecans on top.
Bake the bars for 35 to 40 minutes, or until the ingredients have completely melted together to form one uniform batter.
Remove the pan from the oven and allow it to cool to room temperature. Then cover it with plastic wrap and place it in the refrigerator for 2 hours, or until the bars have chilled and are completely solid.
Cut the bars into 2-inch squares with a sharp knife and store them in a container lined with waxed paper.
Information
Category

Snacks, Kids

Cuisine

North American

Yield

2 dozen bars
Notes
Mimi's Guacamole Tips: When shopping for avocados always choose ones that "give" just slightly. Only black Hass avocados will do, either smooth-skinned or pebbly. If all you can find are bright green Florida avocados, skip the guacamole and make stuffed mushrooms instead! If you must make a choice between buying over ripe or under ripe avocados, always choose over ripe. The under ripe ones have no taste. To ripen an avocado at home put it in a brown paper bag with a banana for one day.
Ingredients
3 medium, ripe Hass avocados
1 medium ripe tomato
1 Vidalia onion, chopped
1/2 fresh jalapeno, seeded and finely chopped
1 tsp. chopped fresh cilantro
2 tsp. salt
1 tbsp. sour cream
Juice of one lime
Optional: 2-3 dashes of hot sauce
Directions
Peel and scoop avocados into a large bowl. Mash with a fork and immediately add lime juice. Keep one avocado pit, set aside for later.
To the avocados add the tomato, onion, cilantro, sour cream, jalapeno and salt. Mix together and taste ingredients for saltiness. If it needs more salt add a dash or two and taste again.
Serve with fresh tortilla chips. If you make the guacamole ahead, nestle the saved pit in the dip to prevent the avocado from turning black. Cover dip tightly with plastic and keep in the fridge until ready to serve.
Information
Category

Snacks

Cuisine

North American