Nature Crafts For Kids
7 Nature-Based Craft Ideas For Kids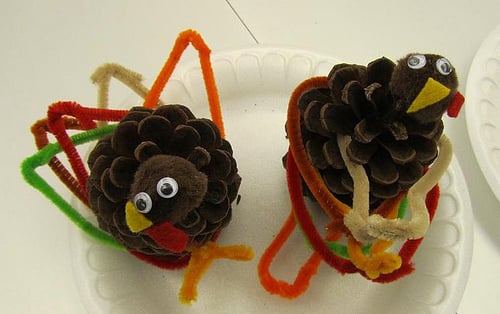 Summer is a great time to head outdoors and enjoy the sunshine and warmer weather. But what activities can you do with your children to keep them entertained once you're out there?
Here, Circle of Moms members suggest their top craft ideas using things found in nature.
1. Art Using Natural Objects
An obvious choice while outdoors is to have children collect things, then create something to treasure with the objects. Joyce C. purchases picture frames from a thrift store, then glues on what her children find in nature as decoration, while Mona B. simply fills a jar with what her children find, plus a small strand of Christmas lights to make a "very pretty centerpiece or night-light."
Cathy H., meanwhile, lets her daughter gather leaves of different shapes and sizes. Then when they get home, she wipes them down with a baby wipe and draws a big tree trunk on construction paper. "My daughter likes to take her time to glue each leaf onto the tree to create a little piece of 3D art for the house," she says. In a similar vein, Jennifer D. has her children glue what they find onto a larger sheet of paper and make a collage.
2. Leaf Rubbings
Amy A. suggests having children take note of the textures they find, such as those of different rocks, leaves, and bark. Take an old crayon and sheet of white paper, then rub the crayon lightly over the paper to capture the texture. "Have kiddies compare and see if they can guess what is what," she recommends.  
Cecilia B. also likes to create leaf rubbings. To "take it a step further, you can use watered-down food coloring and let them paint over the whole thing," she says. "It makes a really nice design and something anyone would be proud to hang on their wall."
3. Coffee-Grounds Fossils
Offering another idea, Cecilia suggests creating coffee-grounds fossils. She mixes a batch of one cup of used coffee grounds with half a cup of water, one cup of flour, and half a cup of salt in a large bowl. Once combined, she rolls the mixture out onto wax paper and presses leaves, twigs, etc. into the "dough," and lets them dry overnight. "This works for making handprints, too," she says. 
4. Bird Feeders and Nests

Several Circle of Moms members recommend creating crafts that help feed Mother Nature's living things. Amy A., for instance, suggests slathering peanut butter on pinecones and rolling them in birdseed. String it up on a tree and it's an instant bird feeder. And Elizabeth suggests going on a scavenger hunt and creating a bird's nest or house out of found sticks.
5. Wax Paper Creations
Becky B. makes a mobile out of leaves after placing them between wax paper and ironing them out. Then she pokes a hole at the top of the pressed leaf, attaches a string, and hooks the strings to a stick to hang them. Meanwhile, Gloria B. likes to iron leaves between two pieces of wax paper to make placemats.
6. Little Playthings
Some moms suggest letting children use their imagination to make natural toys with which they can play. Morgan E. says her goddaughter recently got some glue and made a "magical" wand out of such things, while other moms suggest creating rock or pinecone figurines.
Christy M. also creates tiny "fairy houses" out of sticks and decorates them with other items, as well as flower wreaths for her girls to wear on their heads.
7. Planting a Garden
Elizabeth also suggests introducing children to gardening during the Summer. "Also planting seeds with your child and creating a little garden is always a good idea. Just find out what is in season," she adds. 
No matter what you do with the things your children discover outdoors, remember to appreciate your time outside, Ronnie D. reminds. One of the best activities involving nature, she says, is to just go for a walk and teach your child about the beauty of and appreciation for nature.