The holidays are coming a bit early for parents who drool over new baby gear as much as we do. We just returned from the ABC Kids Expo in Las Vegas — the largest annual juvenile-products trade show in North America — where we got a sneak peek at all of the baby and kiddie gear coming out in the new year.
From the world's smallest stroller [1] to one that could be the largest one we've ever seen, there was something for everyone. We spied a very stylish designer collaboration with a car seat company, a popular swaddling blanket that is expanding into the nursing pillow category, potties with tots' favorite characters on them, and more.
Read on to see which of the 140-plus products you'll want to put on your wish list, and stay tuned for even more coverage of the event.
Maxi-Cosi Pria 85 Rachel Zoe Collection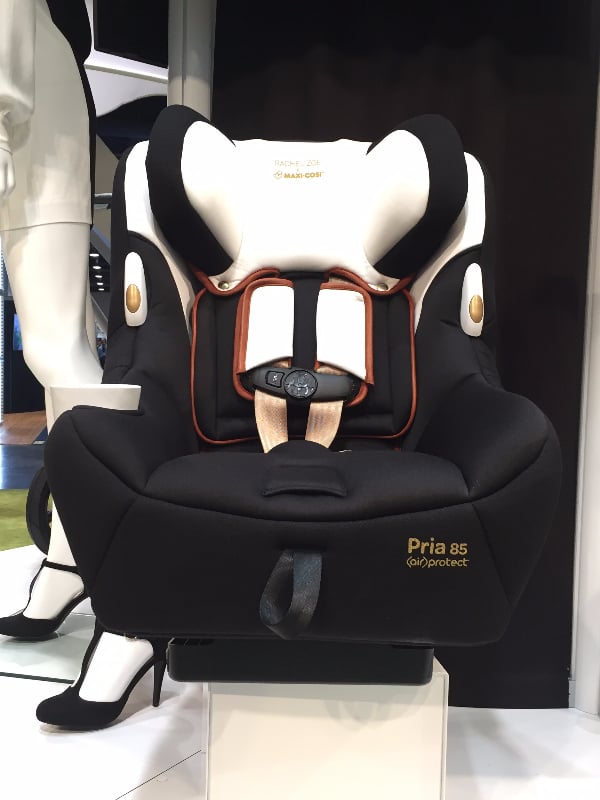 Maxi-Cosi is injecting a dose of high style to several of its products next year. Designer and stylist Rachel Zoe [2] has designed a collection that reflects the tailored look she's known for wearing herself. The products feature a new black-and-white fabric with stunning real-leather trim and oversize gold details throughout (the company created the gold just for her). Among the pieces in the collection (which ranges from $200 to $850) is the Pria 85 car seat. The pieces should hit stores in Spring 2016.
Aden + Anais Red Daydream Blanket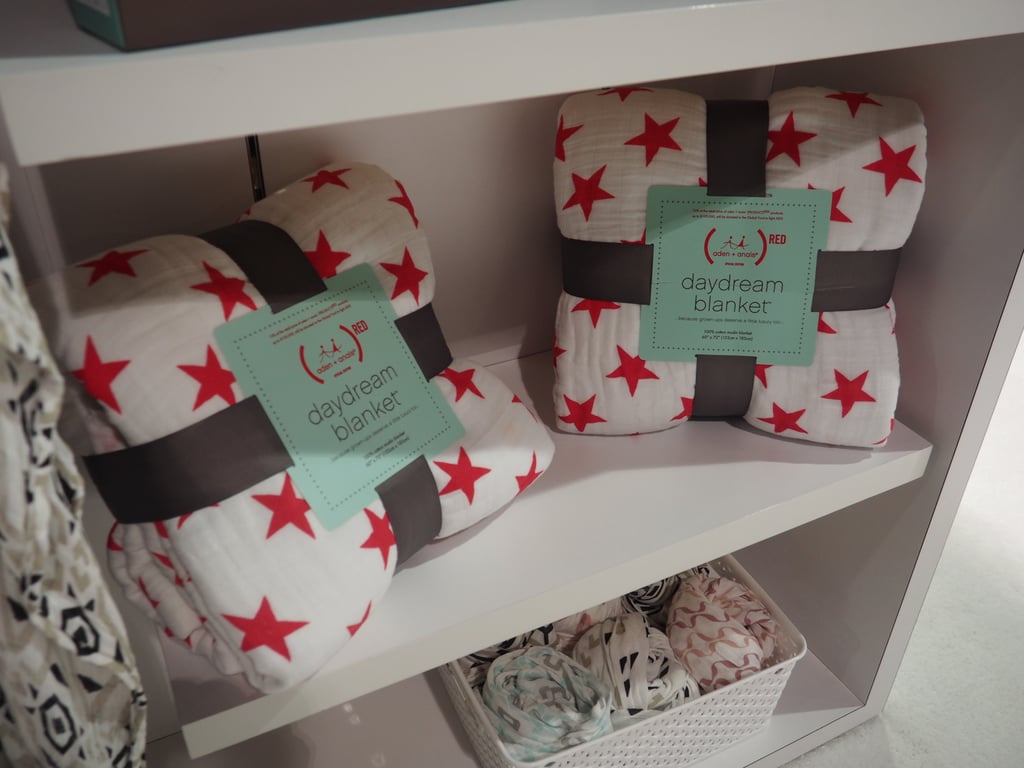 The grown-up version of the 100-percent cotton Aden + Anais muslin blankets is for a good cause! Proceeds from the sale of the red-starred Daydream Blanket ($100) help fight AIDS.
Maxi-Cosi Mico Cover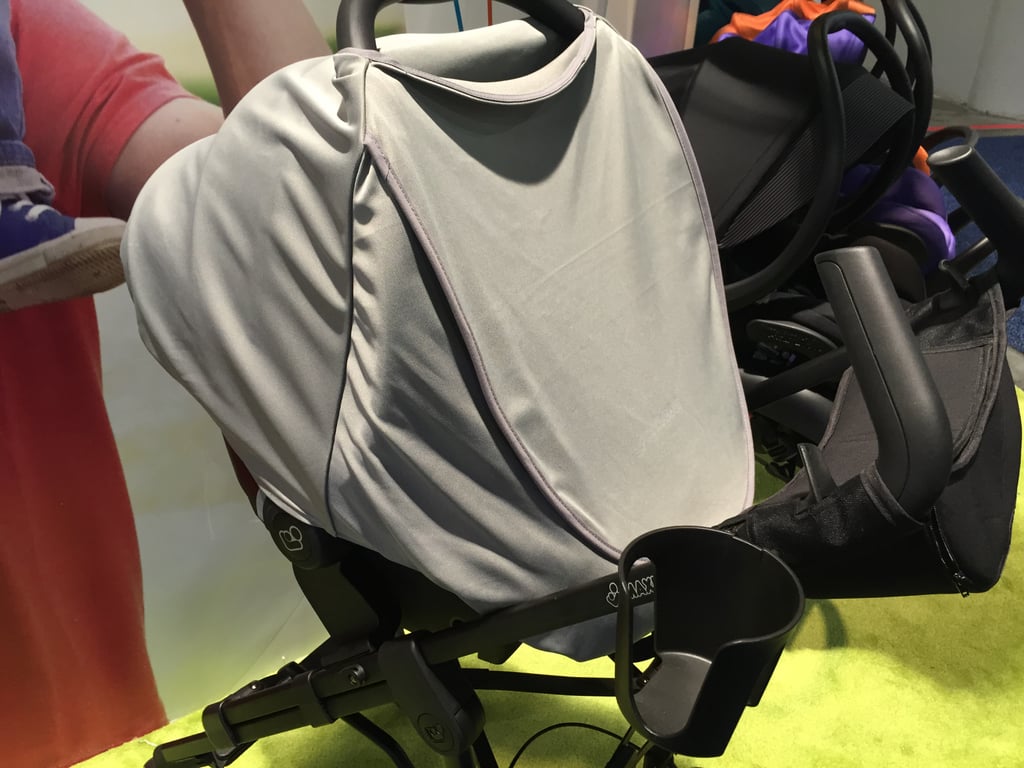 The Maxi-Cosi Mico Cover will have UV protection and a slightly weighted front flap so wind won't blow it open.
Phil&Teds Smart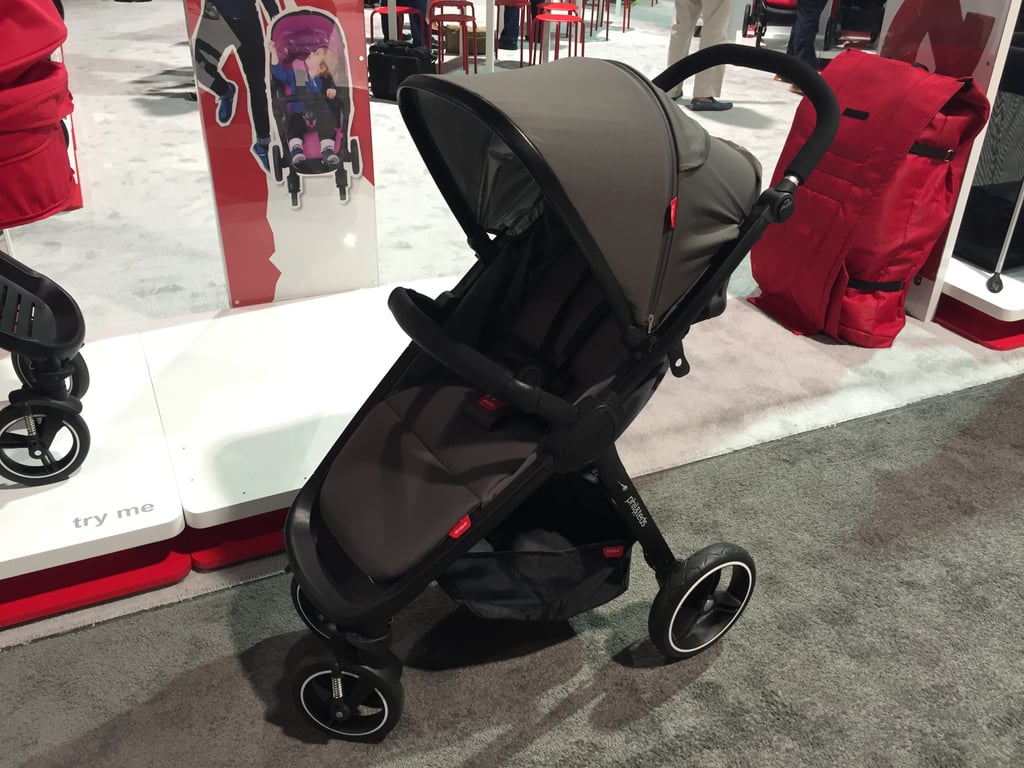 In early 2016, Phil&Teds will introduce an updated Smart stroller. With a new bigger seat, the stroller ($300) will work with newborns on up.
The First Years Minnie Tub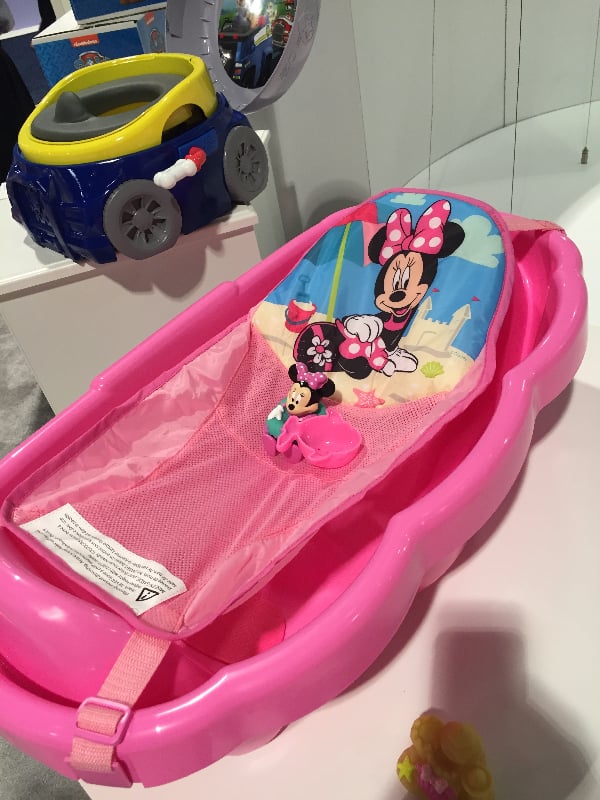 A simple and sweet Minnie Mouse tub will be introduced in February.
The First Years Miles From Tomorrowland Feeding Sets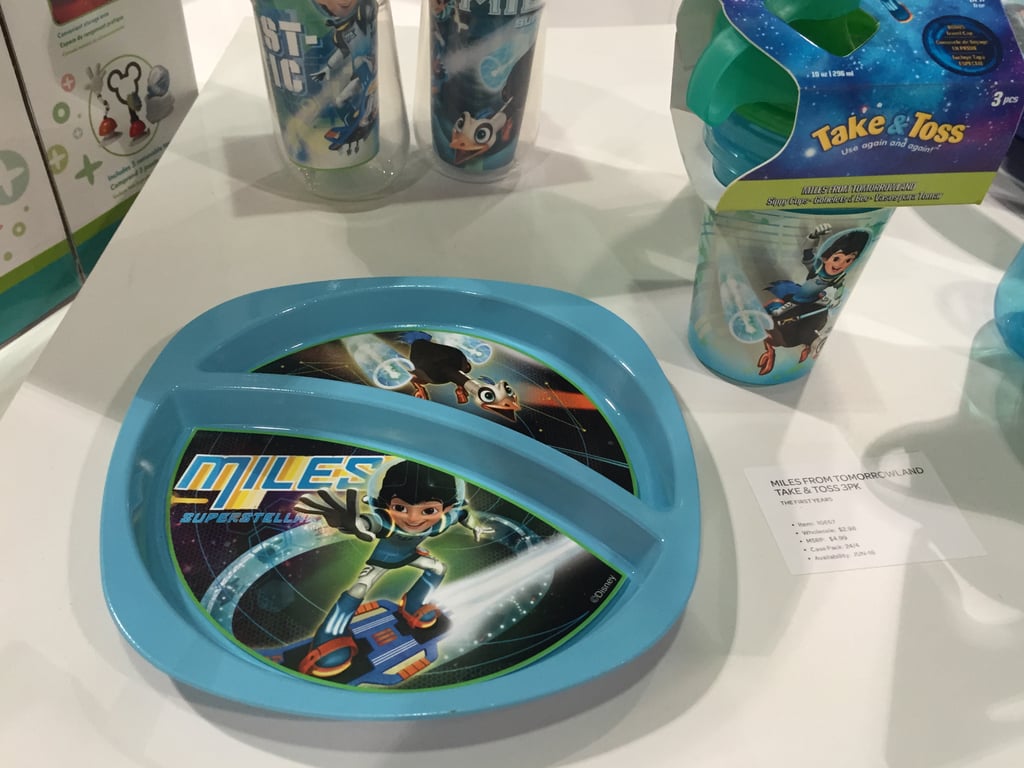 In June, The First Years will introduce a line of Miles From Tomorrowland feeding products.
Little Giraffe Metallics Collection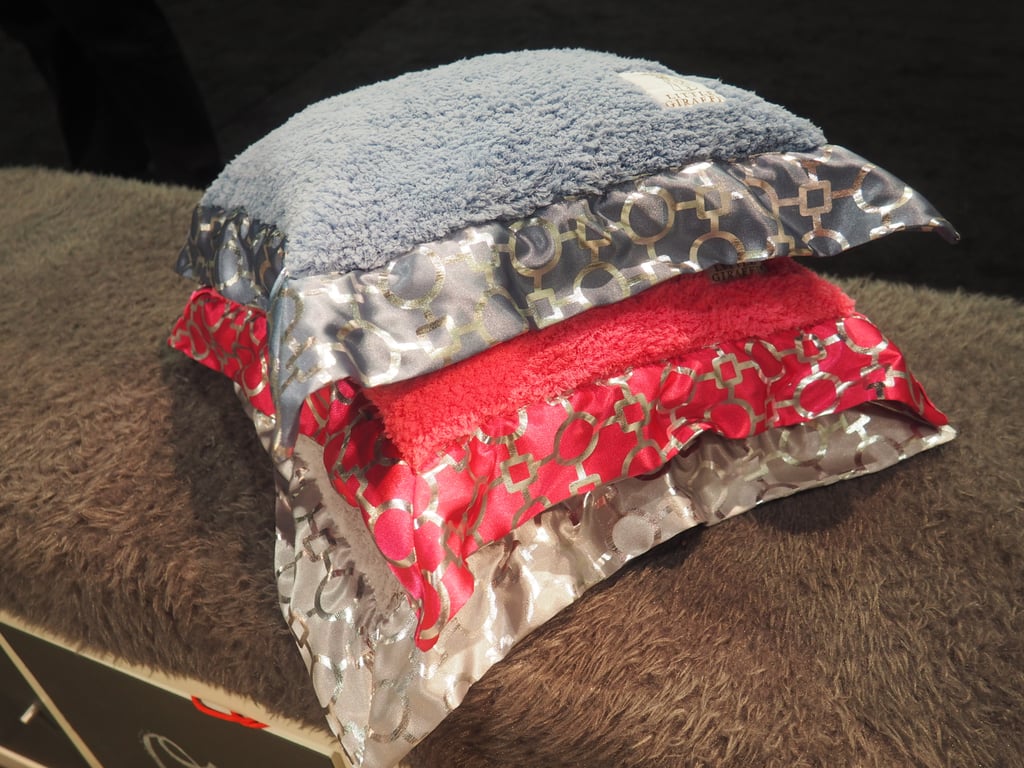 The plush blankets from Little Giraffe are getting an upgrade! The new line of metallics — an emerging trend in interiors — is a first for any baby linen company because of the surprising difficulty in sourcing the nontoxic dye necessary to make the fabric shine while still meeting safety standards.
Quinny Moodd Rachel Zoe Collection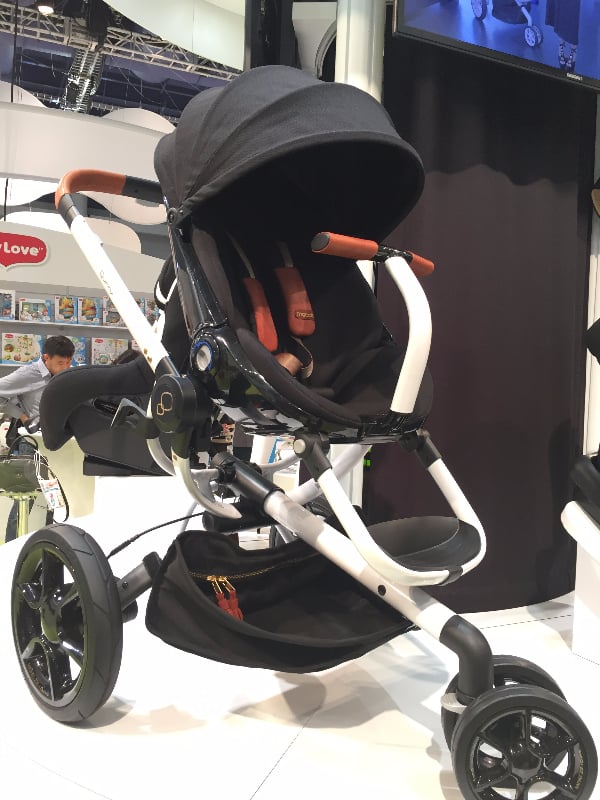 The Rachel Zoe [3] Collection will also include the ultramod Quinny Moodd stroller — complete with leather tassels on the undercarriage basket and gold lettering on the frame.
JJ Cole Nexus Carrier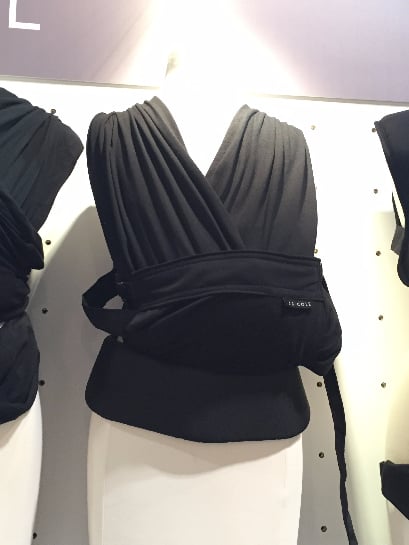 The new Nexus Carrier is a cross between a baby carrier and a baby wrap.
Mountain Buggy Cosmopolitan Geo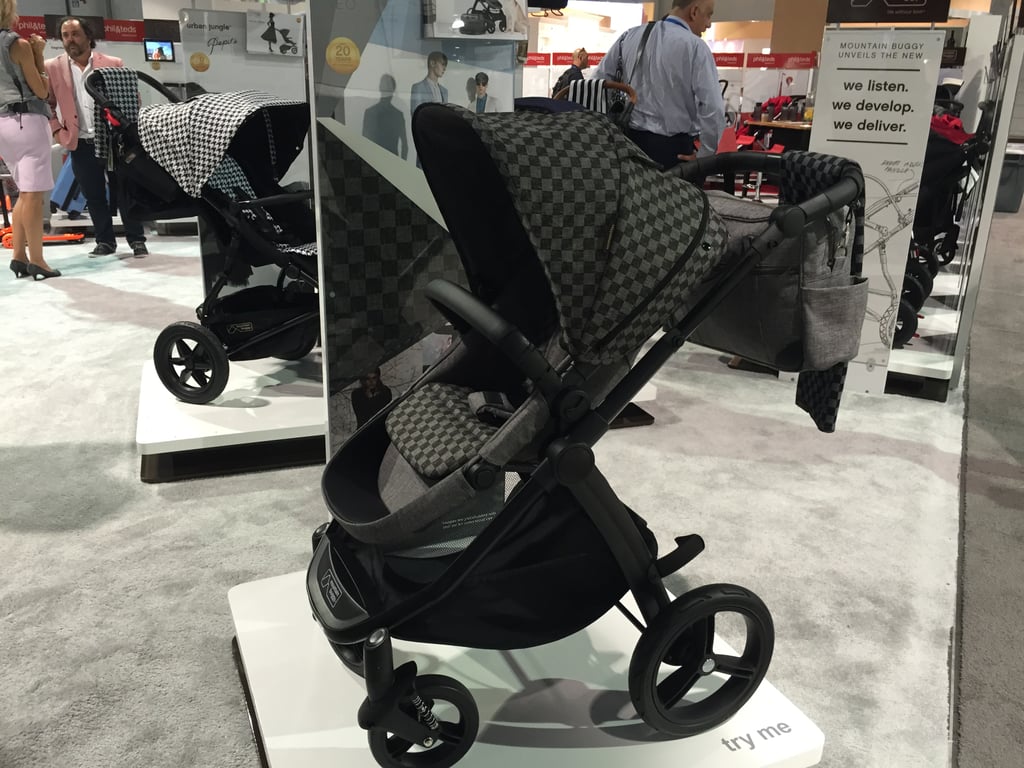 Mountain Buggy's latest addition to its luxury stroller collection will be the Cosmopolitan Geo. Featuring leather trims and a matching bag, the stroller hits stores by the end of March 2016.
Oeuf Desk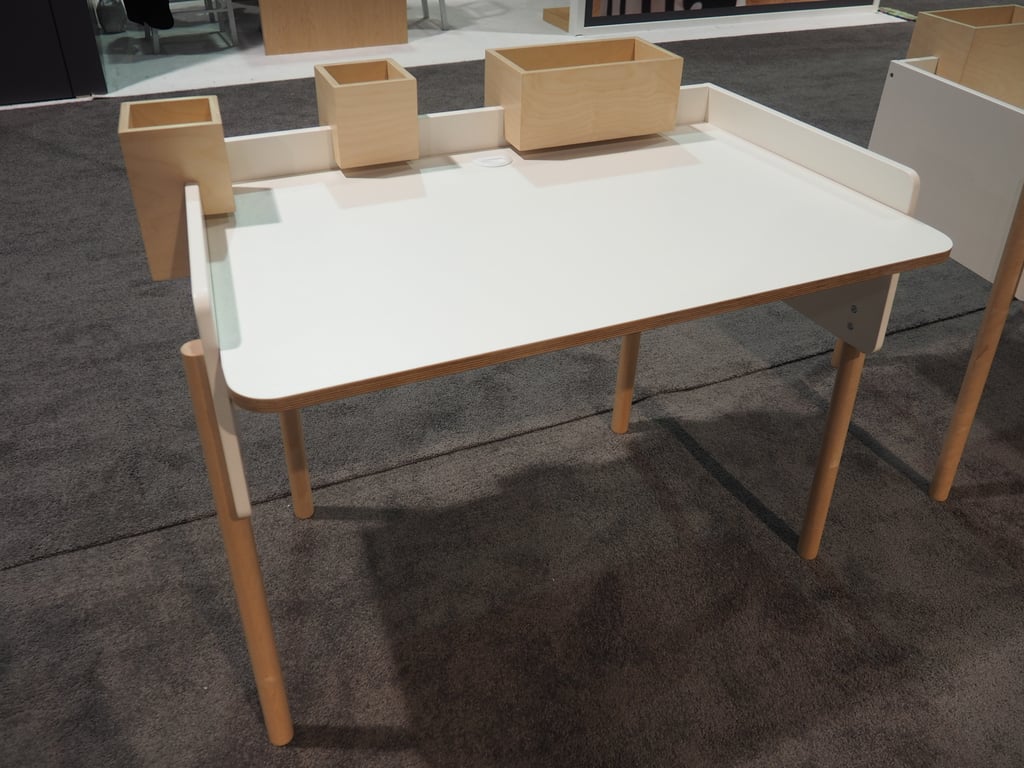 Coming in January, this Oeuf desk ($575) has cool storage boxes and three different heights that make it just as suitable for a 4-year-old as it is for a high school student.
GB Maris Plus Stroller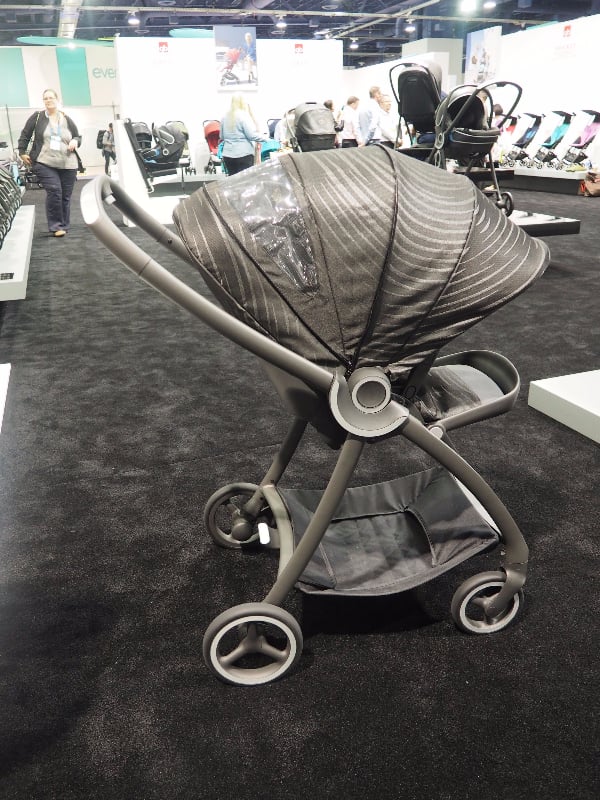 Unofficially billed as the perfect celebrity stroller, the GB Maris Plus, which will be released this Summer, has a full-coverage canopy to keep paparazzi cameras away.
Prince Lionheart Evo Wipes Warmer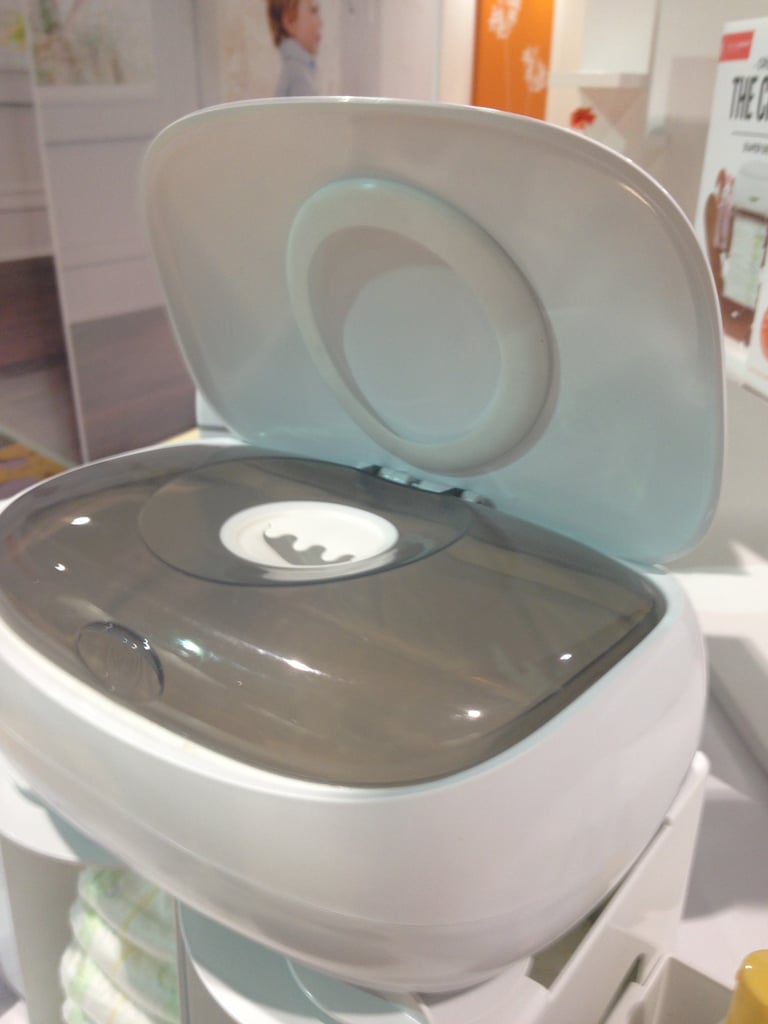 Plenty of high-end wipes warmers only manage to keep that top wipe warm, and for diaper changes that involve several wipes, there's not much point. The technology behind the Prince Lionheart Evo Wipes Warmer manages to permeate the warmth throughout the entire stack of wipes, so the top and bottom ones are just as toasty as the center of the stack.
Nursery Works Novella Crib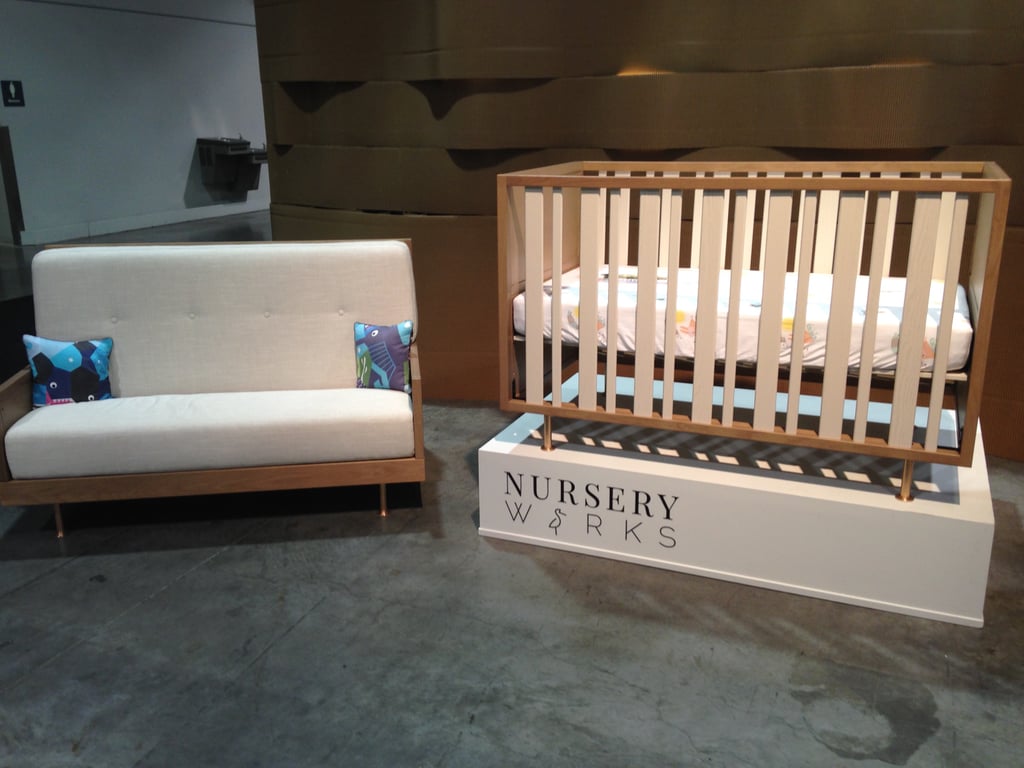 This Nursery Works Novella crib ($1,000) is certainly expensive, but consider the investment: the brass-footed crib transforms into an all-ages reading nook that would look chic in any room in the house!
Graco Cozy Duet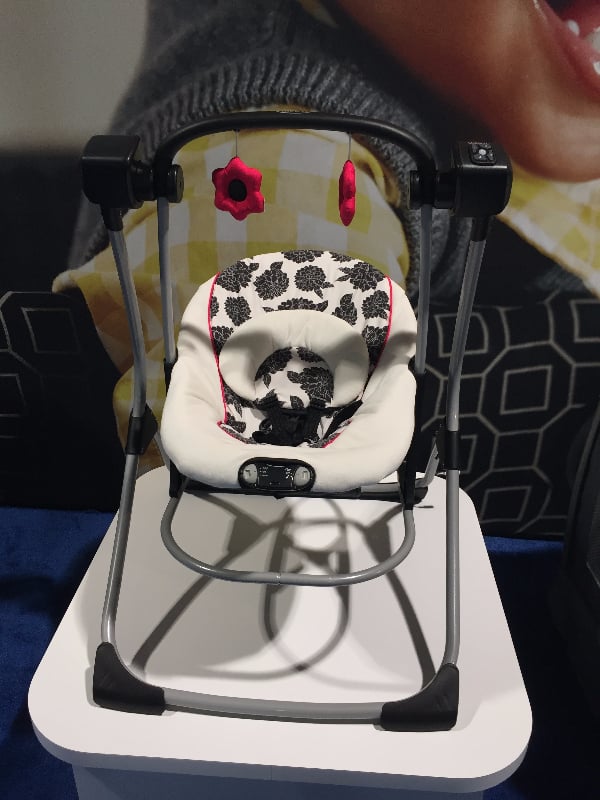 The Graco Cozy Duet ($119) is a combination swing and baby seat. The seat can actually be removed from the swing and stand on its own on the floor.
GB Idan Plus Car Seat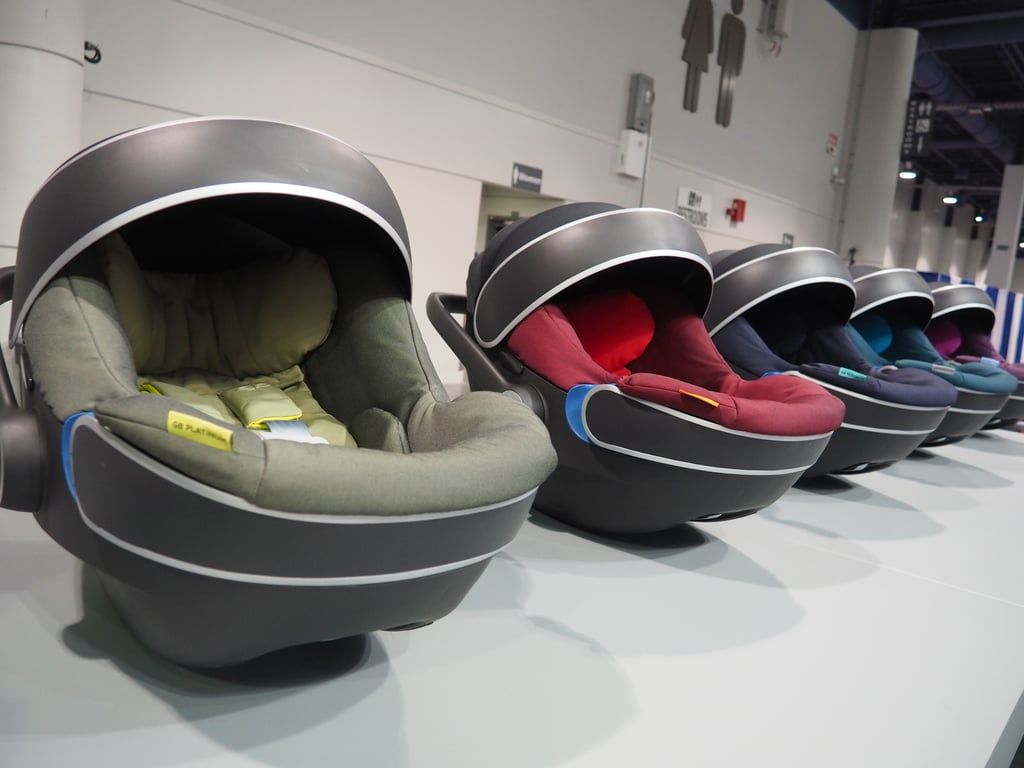 Not only does the GB Idan Plus car seat look futuristic, but it's got serious functionality, from the canopy with UV protection to the 11-point adjustable headrest to its threads harness.
Bumkins Superhero Silicone Teethers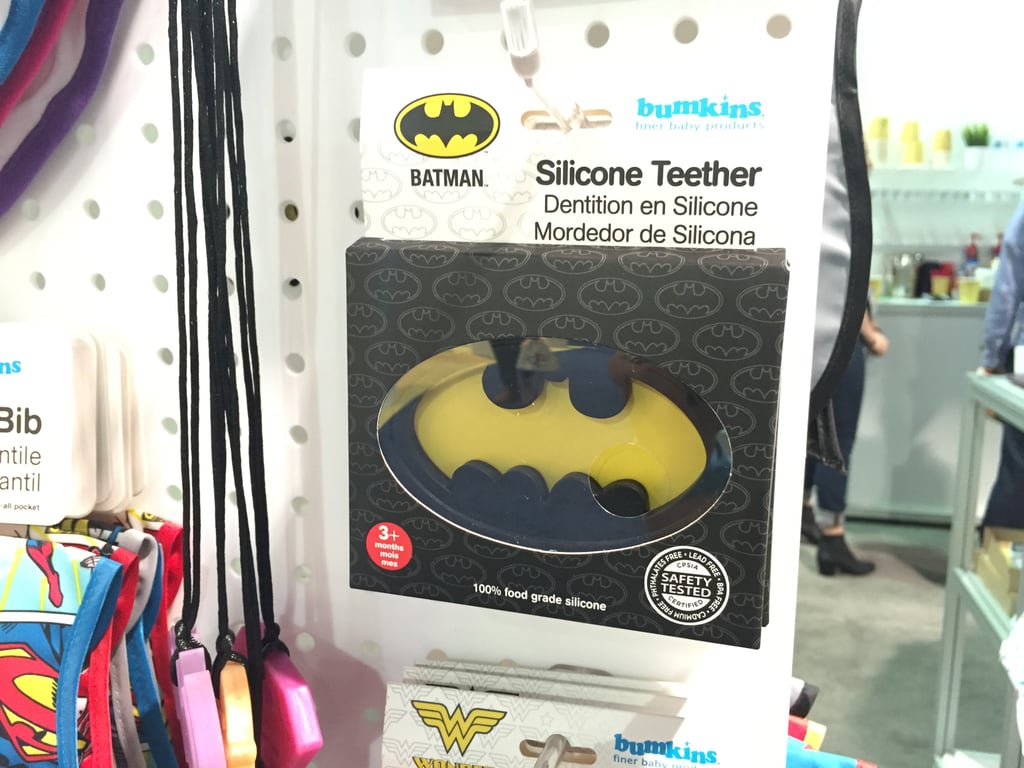 Just in time for Batman v Superman: Dawn of Justice, Bumkins is introducing adorable silicone teethers in both motifs.
Maxi-Cosi Mico Max 30 Rachel Zoe Collection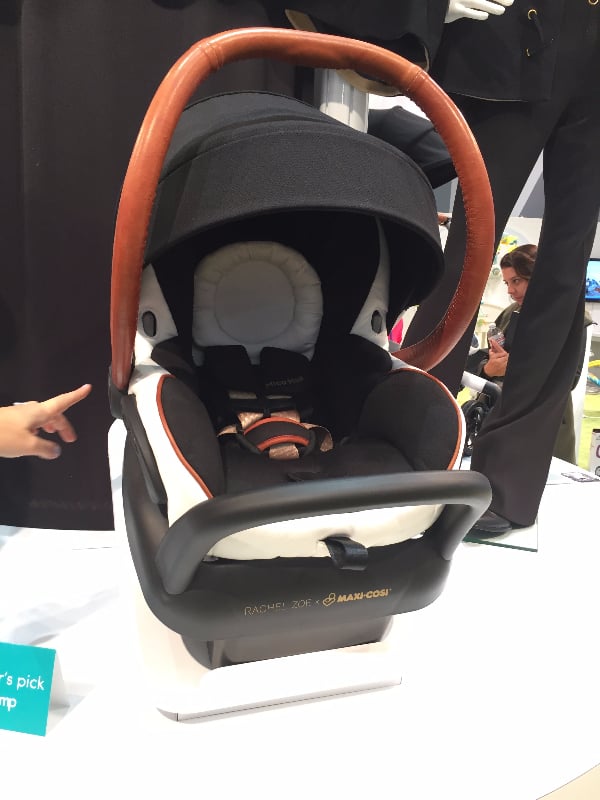 Maxi-Cosi's Rachel Zoe [4] Collection will also extend to the Mico Max 30 infant carrier — check out that leather handlebar!
Mumbrella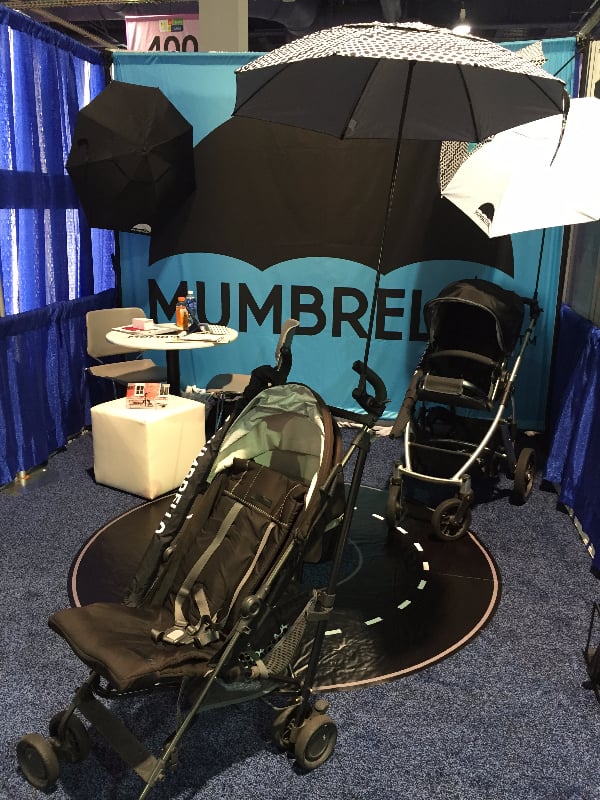 Any parent who's tried pushing a stroller during a downpour knows it is virtually impossible to navigate and hold an umbrella simultaneously. Two Brooklyn, NY, moms have a solution. The Mumbrella ($40) attaches directly to the stroller. It features a wind slot to prevent the umbrella from blowing inside-out, and it folds down flat against the frame of the stroller when not in use.
Maxi-Cosi Convertible Car Seat Canopy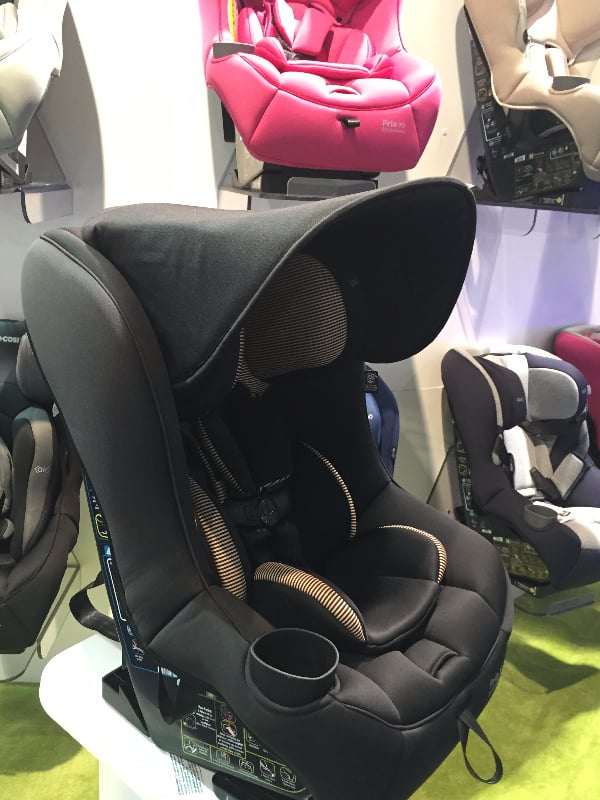 With children sitting in rear-facing seats longer than ever before, they're exposed to more sunlight thanks to large back windows. That's why Maxi-Cosi is introducing a Convertible Car Seat Canopy in December. It's designed for their seats, but there's a good chance it will fit others too.
Sticky Bellies Brag Blocks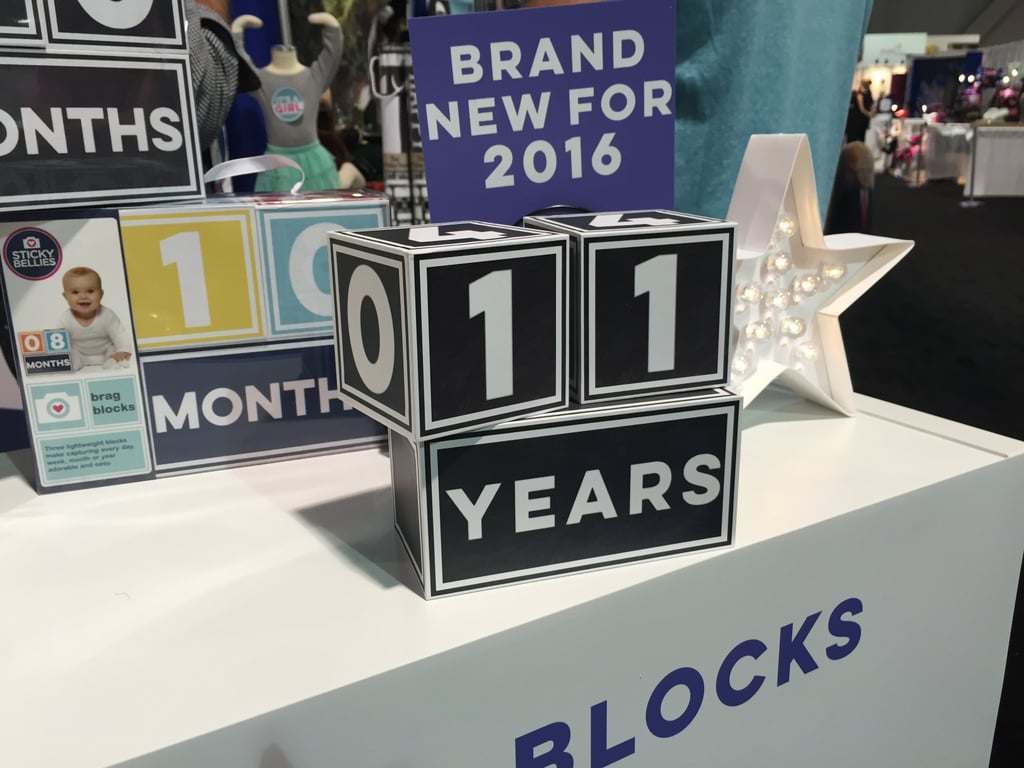 Joining the chalkboard trend, Sticky Bellies will introduce a set of chalkboard-style blocks to use for monthly and annual photos.
Sigikid Luxe Friends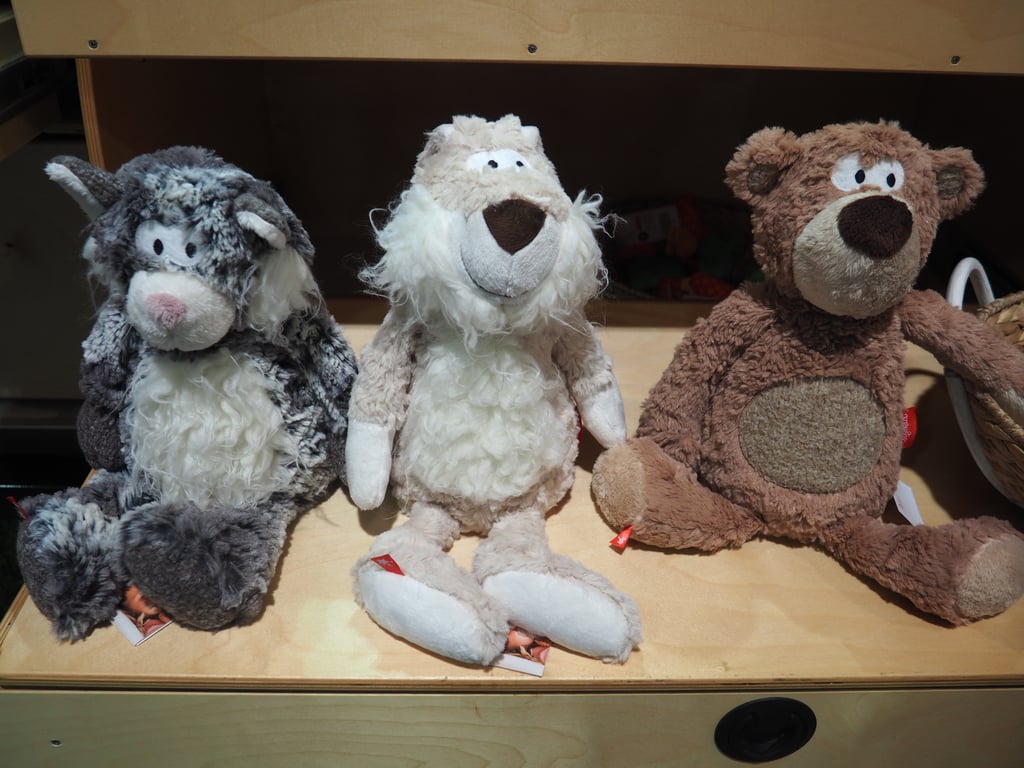 Luxe Friends ($25), the plush stuffed animals from German-based Sigikid, are sure to be lifelong friends thanks to the fact that they are machine-washable.
Itzy Ritzy Moccasins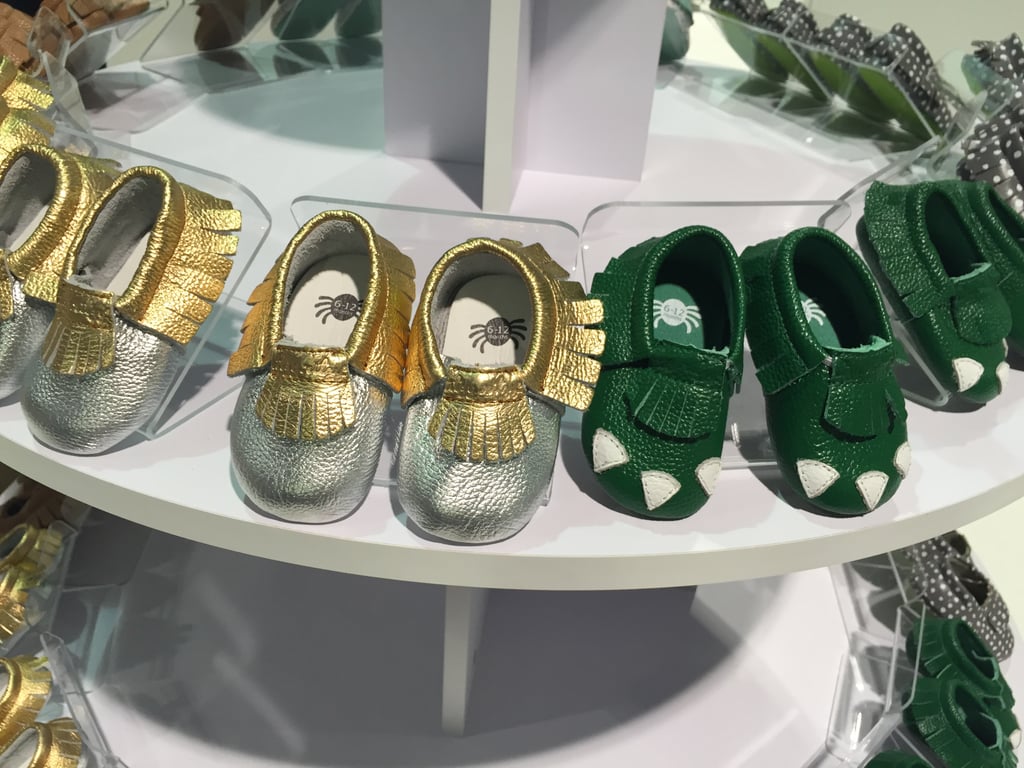 Itzy Ritzy is getting into the moccasin business with the cutest — and most reasonably priced — moccasins ($30) we've seen. The 100-percent leather shoes have an embossed sole to prevent slipping and sliding and a removable insole for additional comfort. The five styles will become available in mid-December.
Graco Dream Sweet Bassinet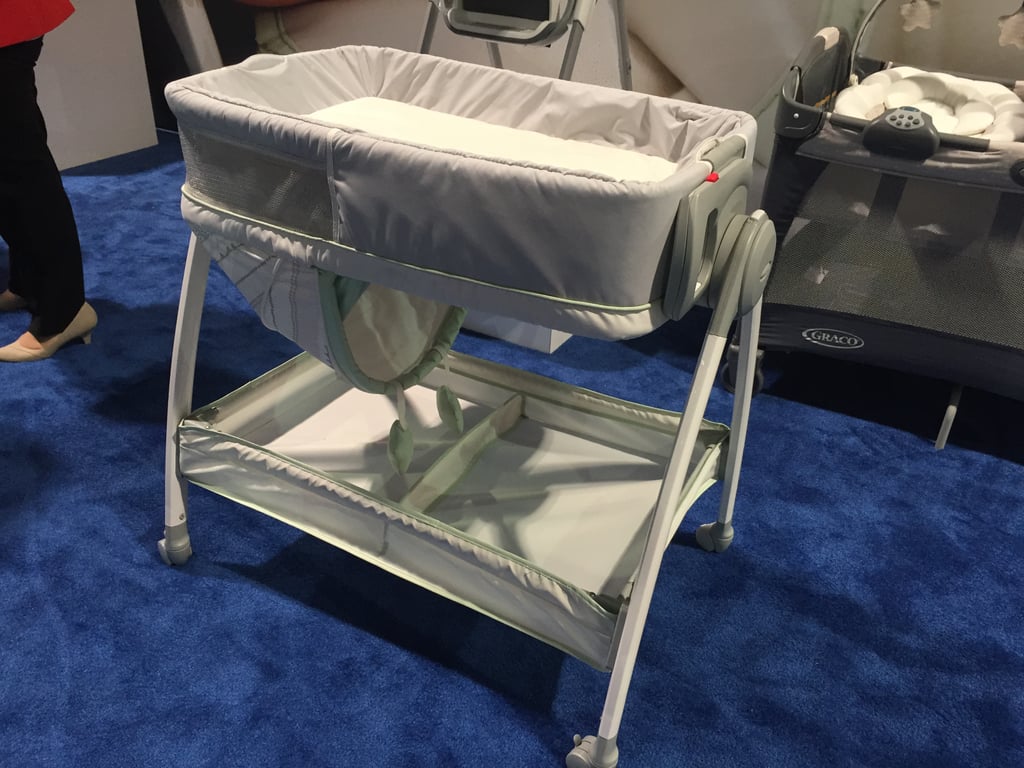 What looks like an ordinary bassinet actually can perform a trick. The Graco Dream Sweet Bassinet ($149) easily flips over to become a changing table with the simple press of a button (don't worry, you need two hands to do so, so baby won't flip out!). The bassinet will be available by the end of the year.
Zoli Fooni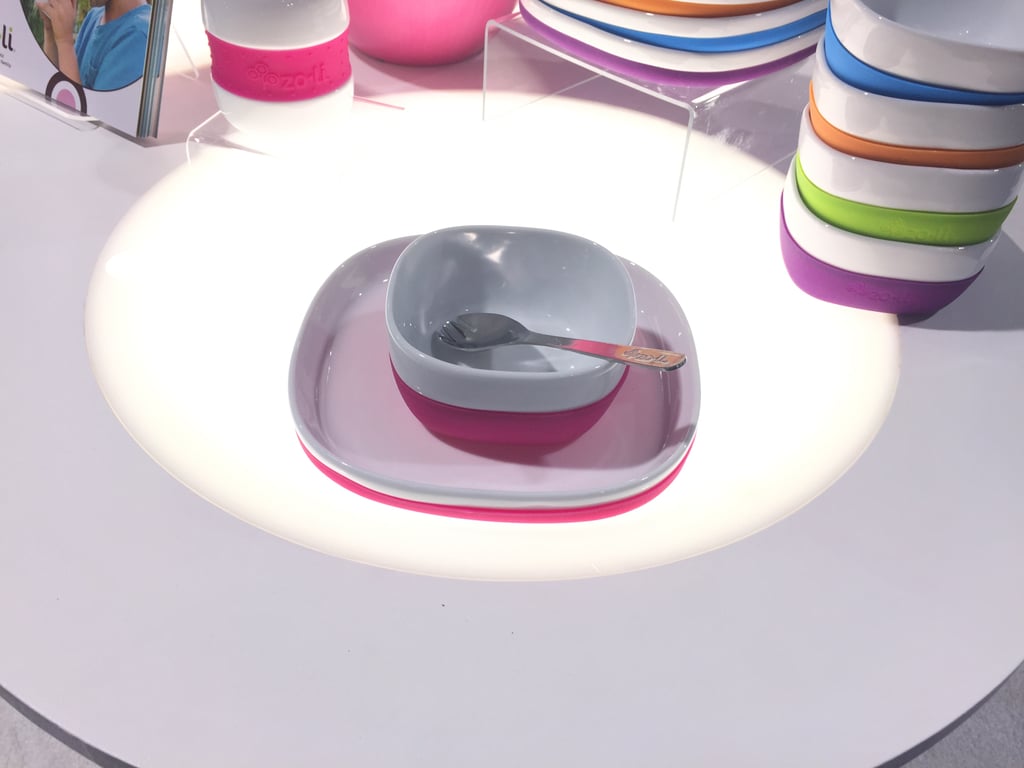 Zoli will add a silicone bowl to its collection of tableware as well as a spork it's calling Fooni.
Maxi-Cosi Watercolor Collection Kaia
This fun watercolor version of the Maxi-Cosi Kaia ($240) will be available in December.
Baby Bjorn SoFo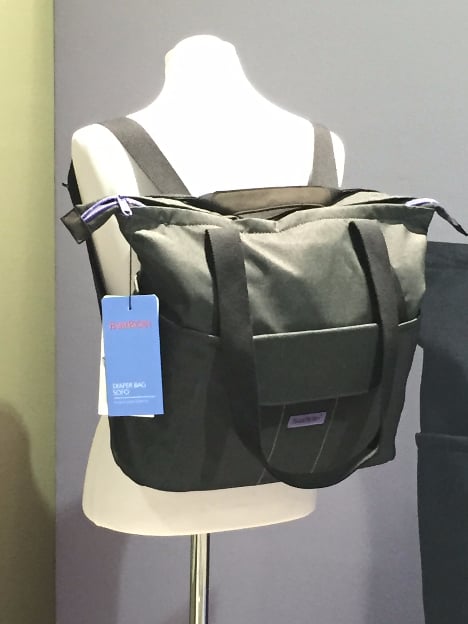 After one of Baby Bjorn's designers went on paternity leave, he couldn't believe how complicated diaper bags had become, so he designed the SoFo ($90) — a unisex bag full of helpful pockets and panels that has a bright-purple interior so parents can actually find things in their bags.
Nested Bean Sleep Sack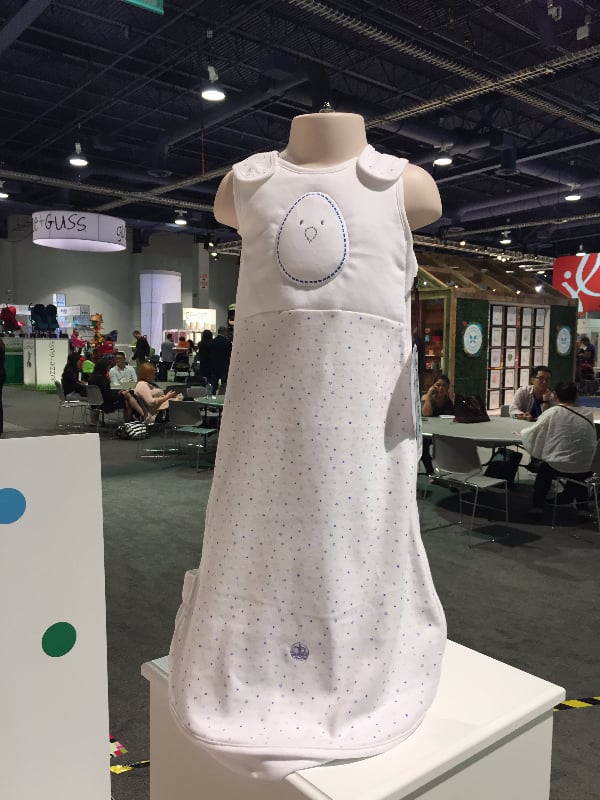 Nested Bean is expanding its range of onesies with the weighted bird to include Winter weight sleep sacks that will hit stores in January. For older stomach-sleepers, the company says families like to turn the sacks around so the weight provides comfort on their backs.
Cosco Comfy Convertible Car Seat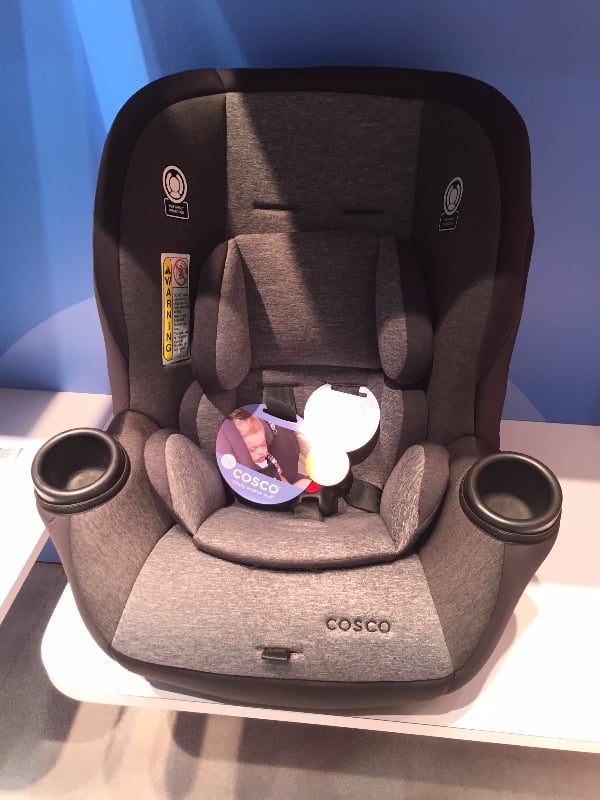 Cosco will introduce the Comfy Convertible Car Seat ($99) at Buy Buy Baby in January.
Zoli Rev 2 Backpack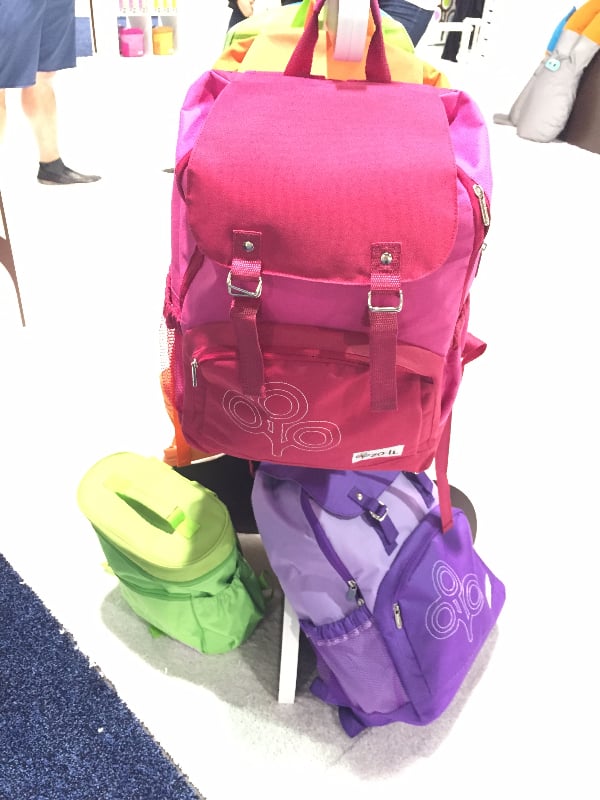 Zoli is introducing a line of adorable backpacks, including the Rev 2, all inspired by the company's founder's kids. The full-size backpack is big enough to transport elementary school kids' work, while the preschool size actually fits a folder of your little one's artwork. Expect to see them around March 2016.
Aden + Anais Nursing Pillows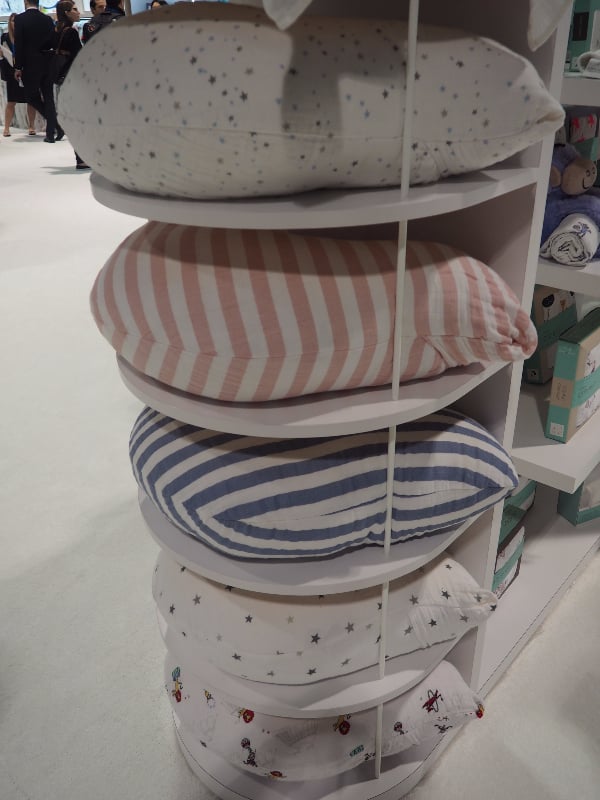 It was only a matter of time before Aden + Anais began designing nursing pillows ($50) along with the ultrasoft muslin nursing pillow covers ($15).
Uppababy G-Link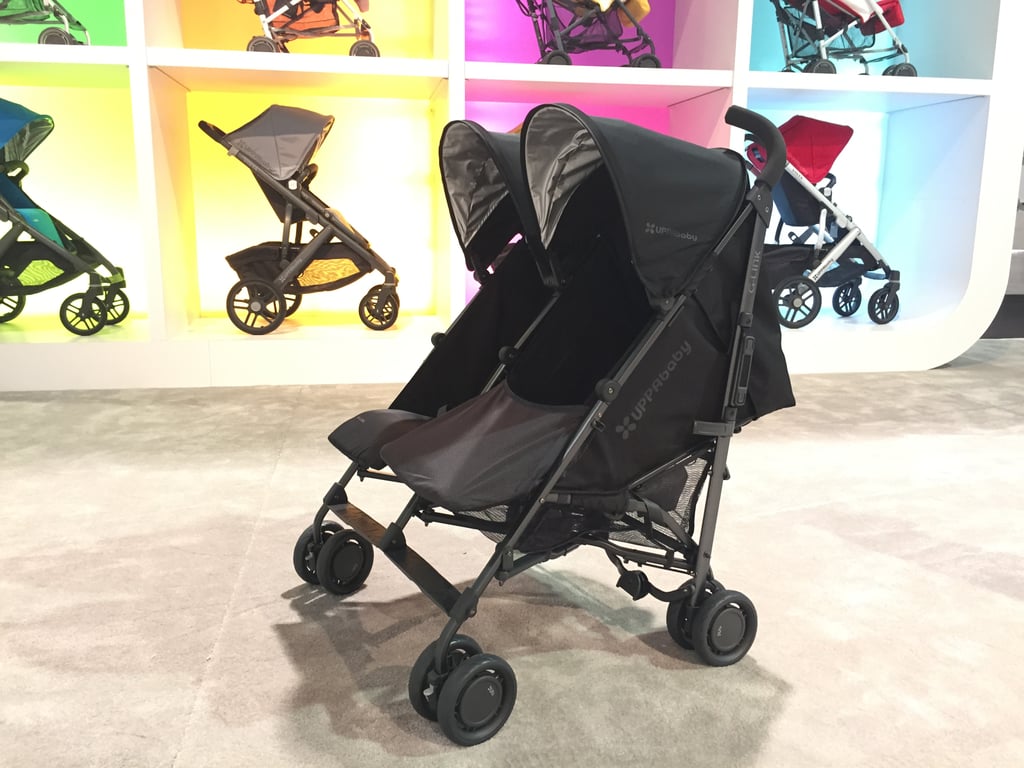 Uppababy will introduce its first side-by-side double stroller in late November. The seats hold babies from newborn to 50 pounds in each seat. The undercarriage basket extends across both seats for significant storage. The price will come in around $500.
Baby Bjorn Travel Cribs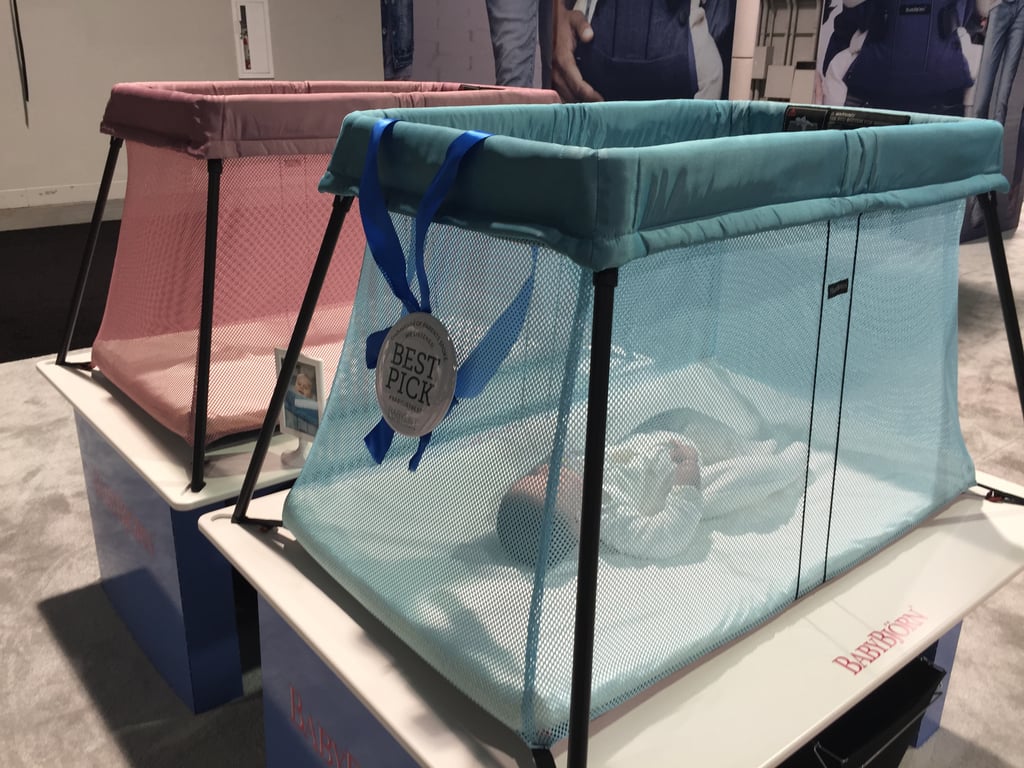 Baby Bjorn is making its popular travel cribs a bit more colorful — they'll now come in pink and blue.
Nursery Works Xander Shark Bust Kit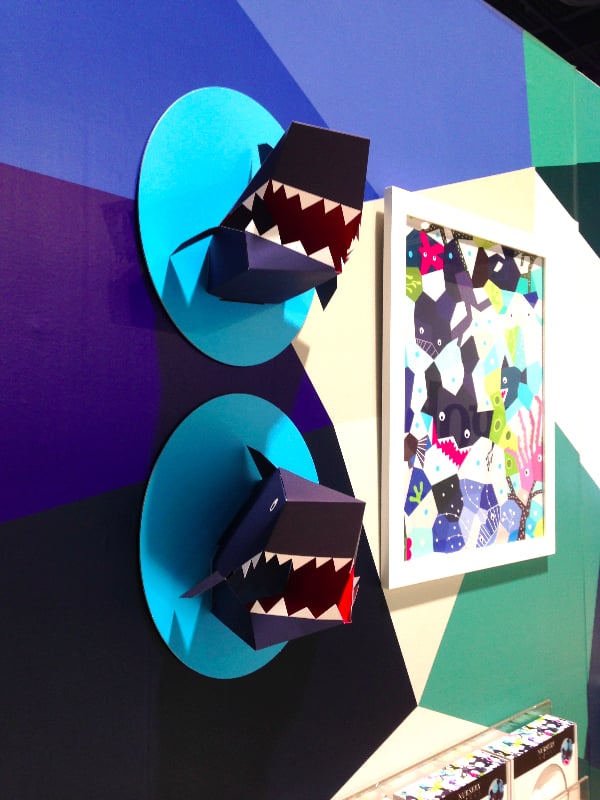 Designed by paper artist Chloe Fleury for Nursery Works, this precut shark bust ($45) will look darling in any nursery room and is actually easy to assemble!
Babyhome Vida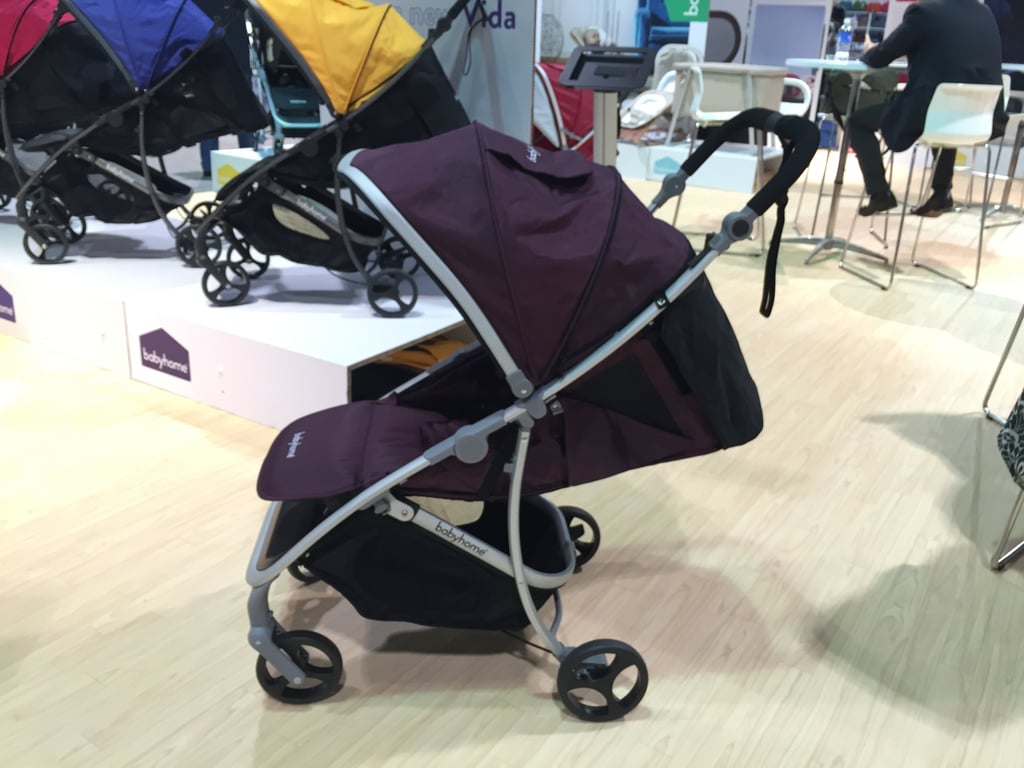 The Babyhome Vida ($379) is the next step in the evolution of the company's Emotion stroller. It's taller and wider with an adjustable handlebar and a longer canopy. It will also hold babies from birth on up. The Vida hits stores in December 2015.
BabyLit Emma Board Book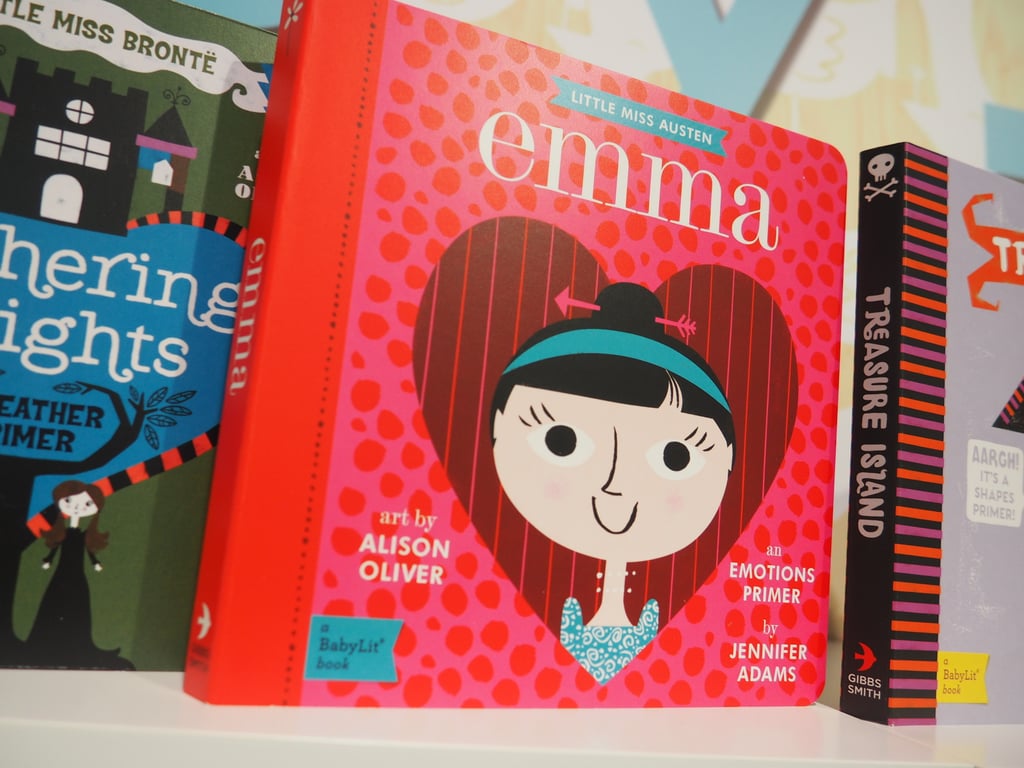 Reading classics to a baby might seem futile, but with BabyLit — a publisher that creates board books based on such notable works as Pride and Prejudice, Moby Dick and Don Quixote — it's a perfect primer for children up to 3 years old, with each book teaching a different concept. The latest installment is Emma ($10), which rightfully teaches emotions.
Svan Ice Cream Stand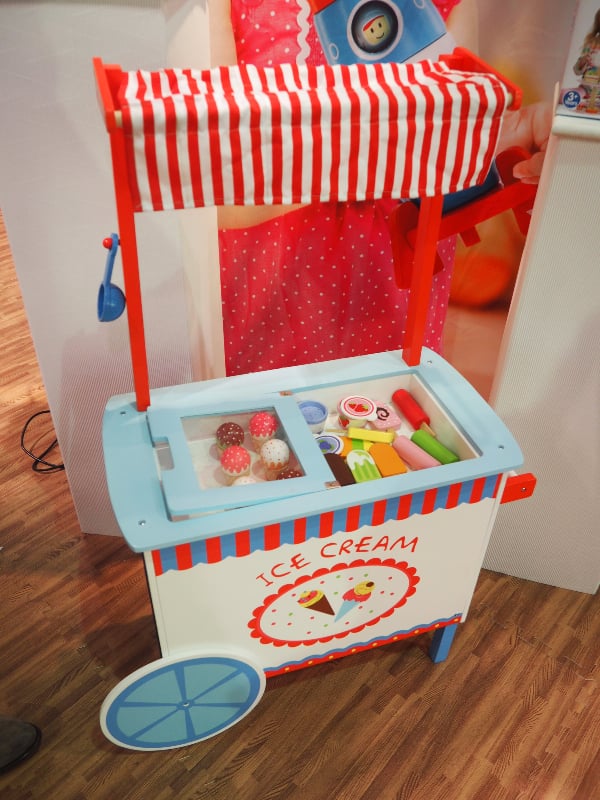 This wooden ice cream stand ($150) is incredibly interactive! Not only are there an array of mix-and-match cones and scoops, but there are also tons of other "frozen" treats — as well as a chalkboard to announce specials and a cash box behind the counter.
Silikids Silicone Cups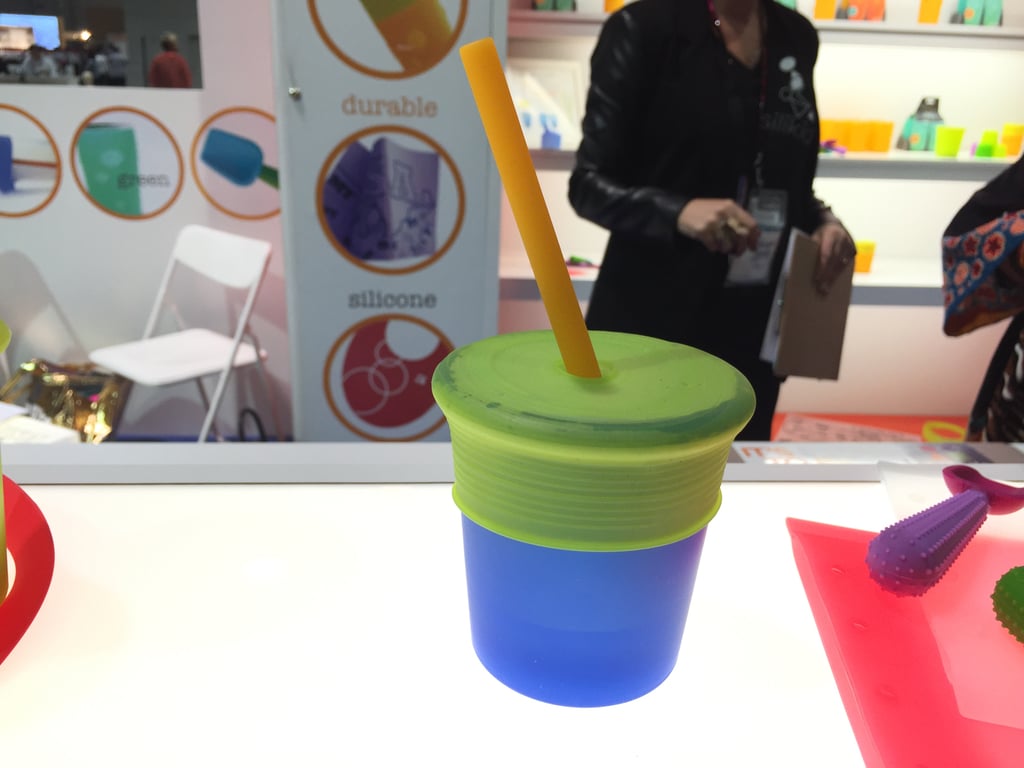 The company that created the silicone cover that transforms any cup into a sippy cup is coming out with a cup that's 100-percent silicone. Sold by itself ($14 for two) or as a pack with the silicone cover and a silicone straw ($11 for the set), the cups are designed to transition kids to regular drinking cups.
TwelveLittle Crossbody Pouch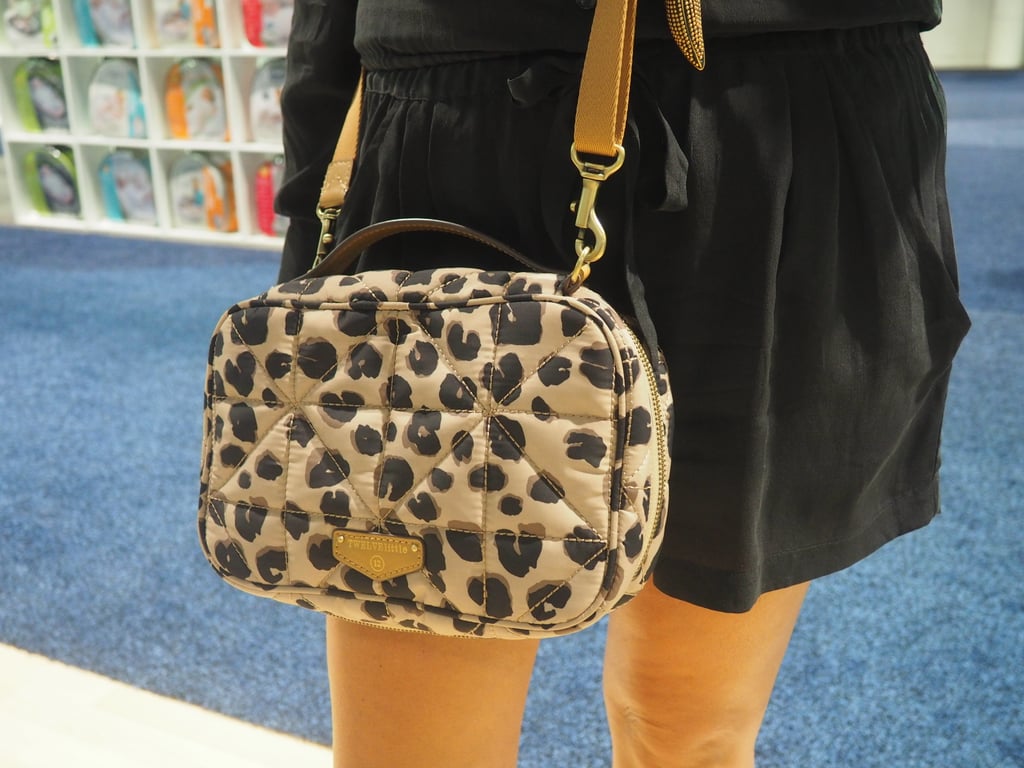 When a full-size diaper bag is just too much, this leopard-print crossbody pouch ($75) is a winning solution. Featuring an exterior zipper, a detachable mesh zip bag inside, and an included changing pad, just fill it with a few diapers, wipes, and cream, and you're good to go.
7 A.M. Enfant Soya Diaper Bag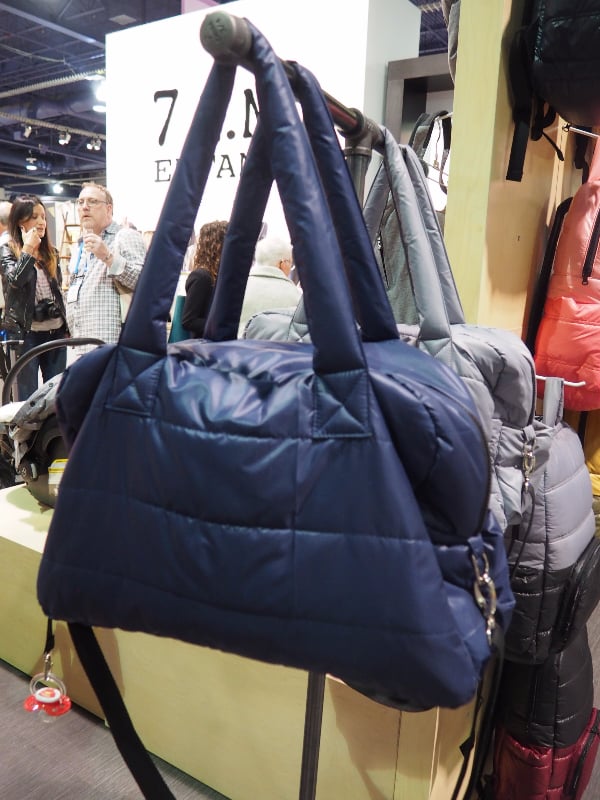 We think these 7 A.M. Enfant Soya diaper bags could double as gym bags.
Graco Duet Oasis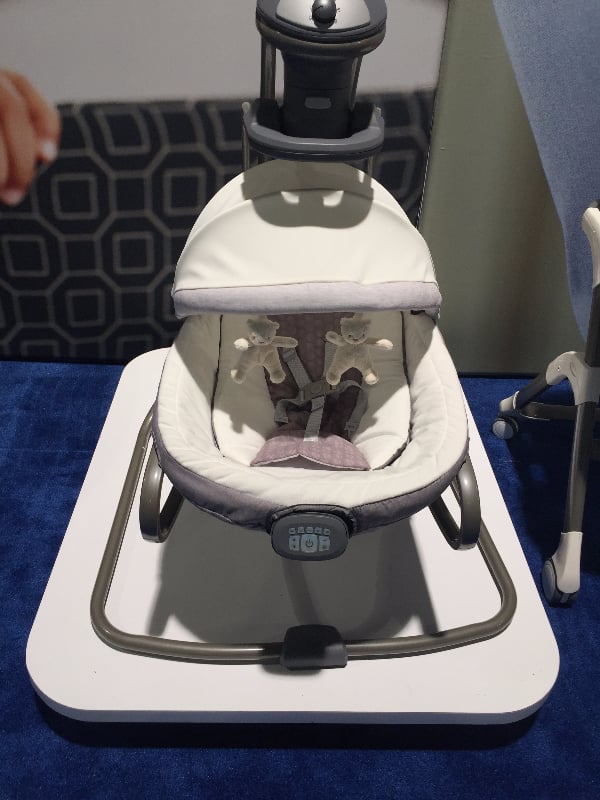 The side- and front-back-swinging Graco Duet Oasis ($189) also has a removable seat that can rock on the floor on its own. It will be available in January 2016.
Mountain Buggy Bag Rider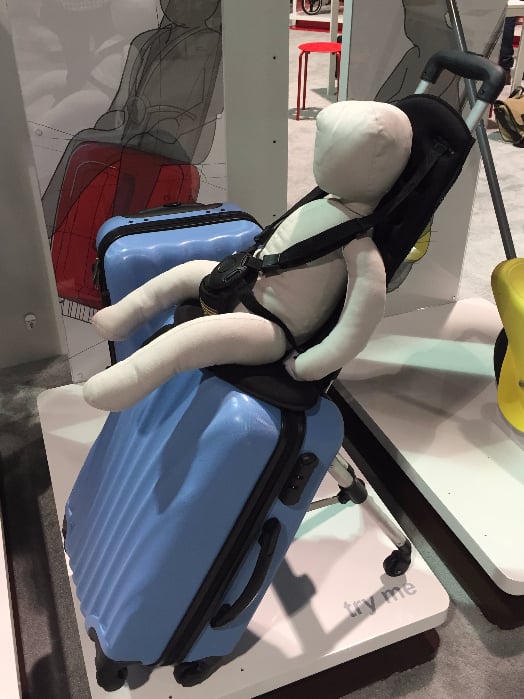 Perhaps one of the most innovative products at the show, Mountain Buggy's upcoming Bag Rider ($99) is an actual suitcase with built-in straps and kickstand to pull tots through the airport. Expect to see it in early 2016.
The First Years Portable Peace Sound Machine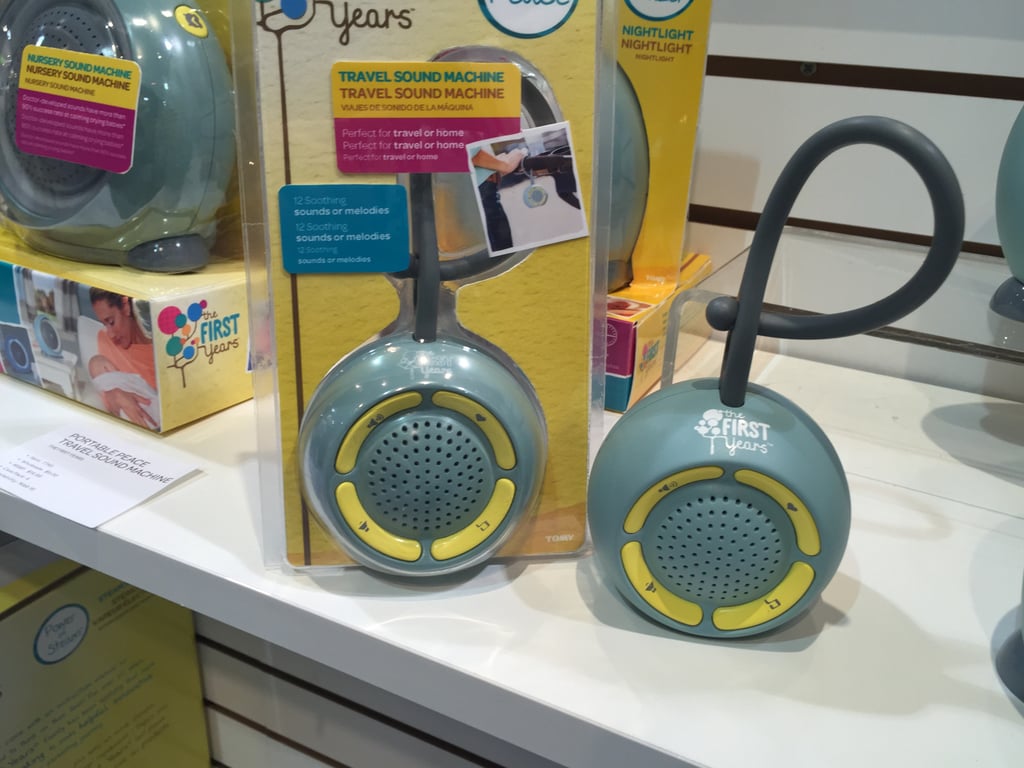 The First Years Portable Peace Sound Machine makes white noise and various sounds, but best of all, it will only be $15.
Maxi-Cosi Edward Van Vliet Pria 85
Dutch design star Edward Van Vliet is lending his talents to the Maxi-Cosi line as well. His designs will appear on the Pria 85 convertible car seat.
Micuna Ovo High Chair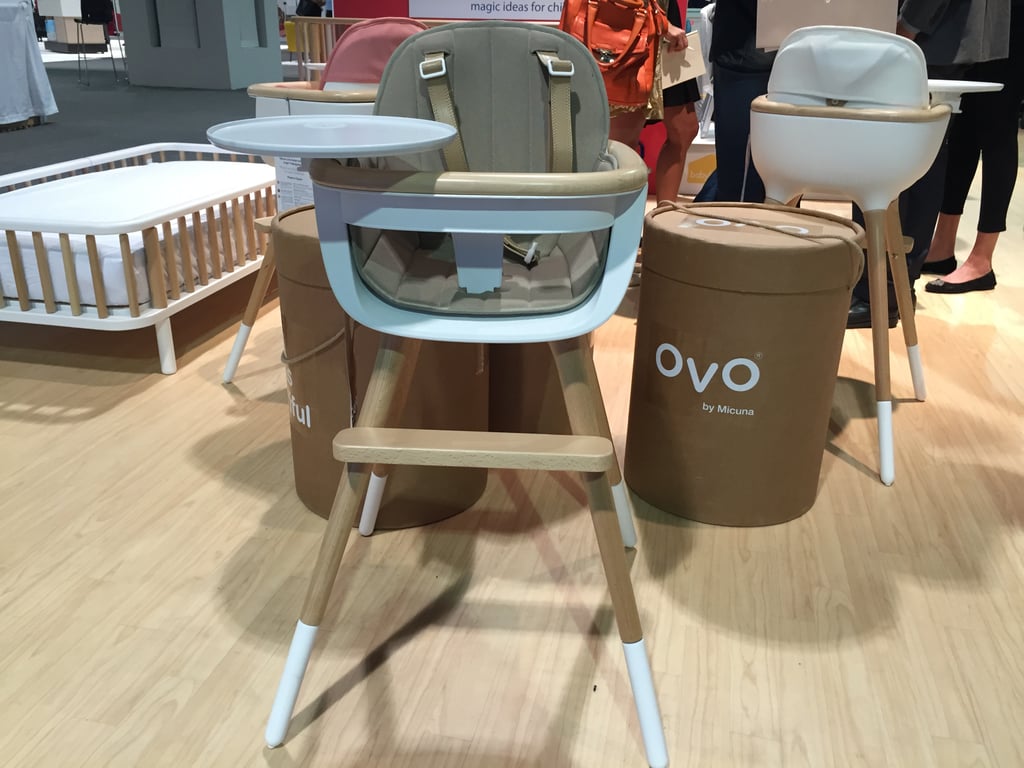 The Micuna Ovo High Chair ($479) literally grows with your child. The lower portion of the seat's legs can be removed to convert the high chair into a regular chair that kids can sit in at a kid-sized table.
Quinny Buzz Jogger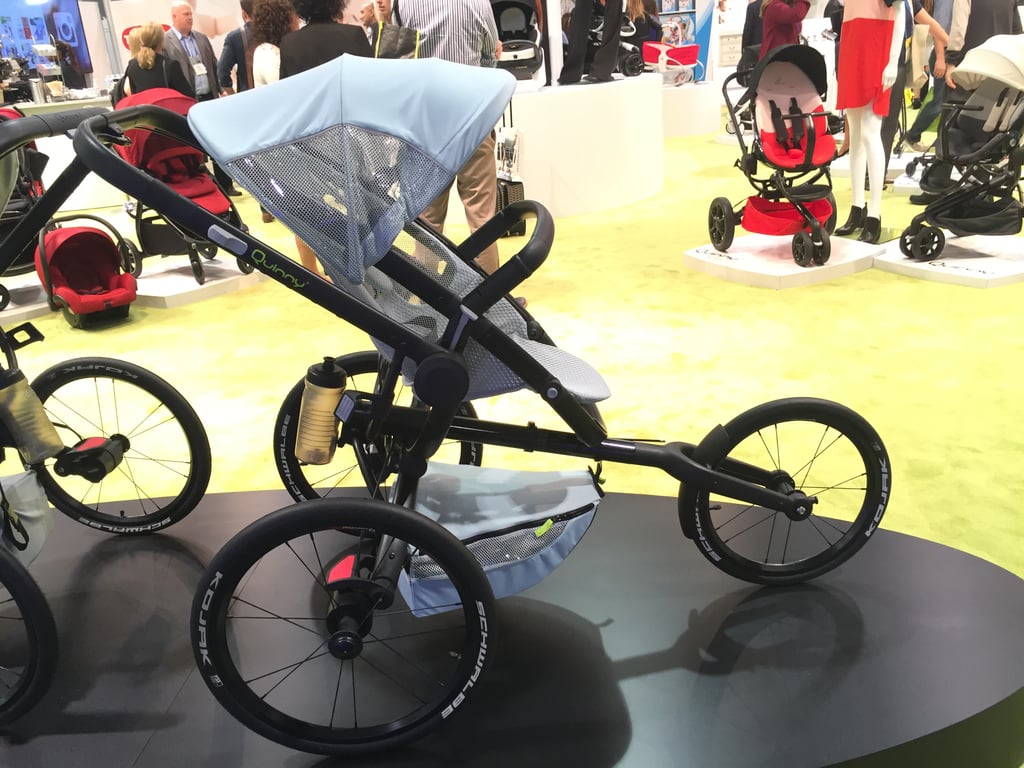 In April 2016, Quinny will introduce its first running stroller. The Quinny Buzz Jogger ($700) uses a buzz frame and jogger wheels. You will also be able to purchase a converter that will transform it back into a traditional Buzz stroller.
Kiband Child Tracker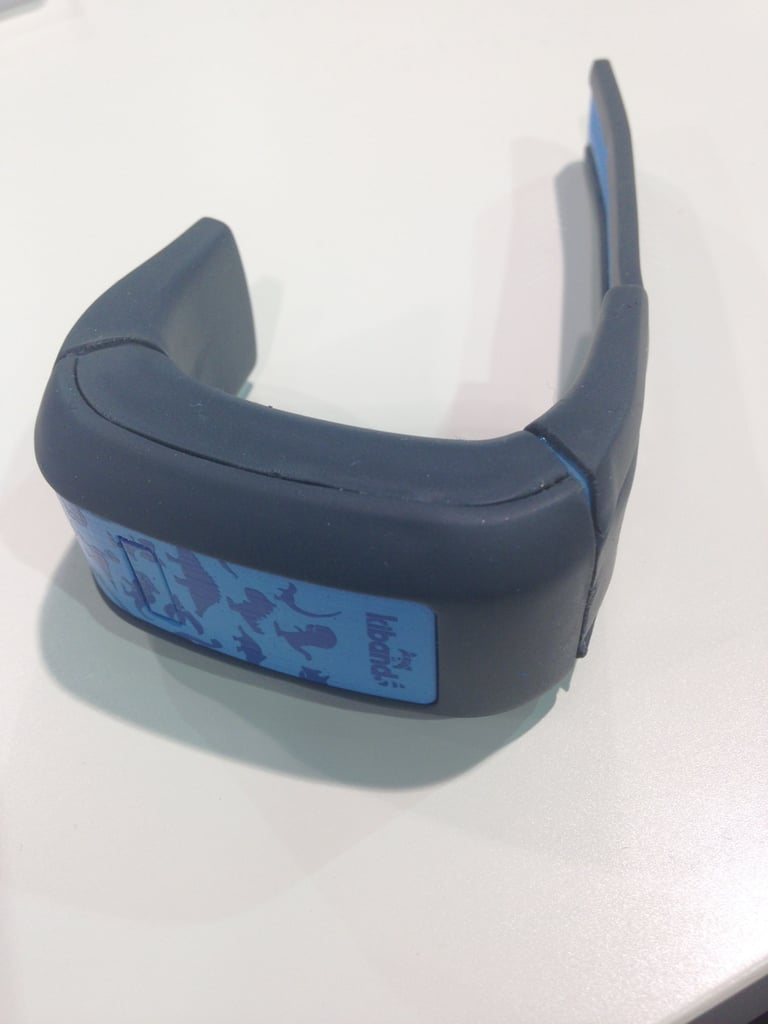 Do you wish you could allow your child to live an active, adventurous life but still keep tabs on them? The Kiband ($149), which is available this February, is a proximity device that teaches kids about boundaries. Parents lock the band on their child's wrist after setting distance ranges on their corresponding phone app. If their kid approaches an unsafe distance away, the Kiband will vibrate, and if they pass that point, an 85-decibal alarm will sound.
Ergo Cool Air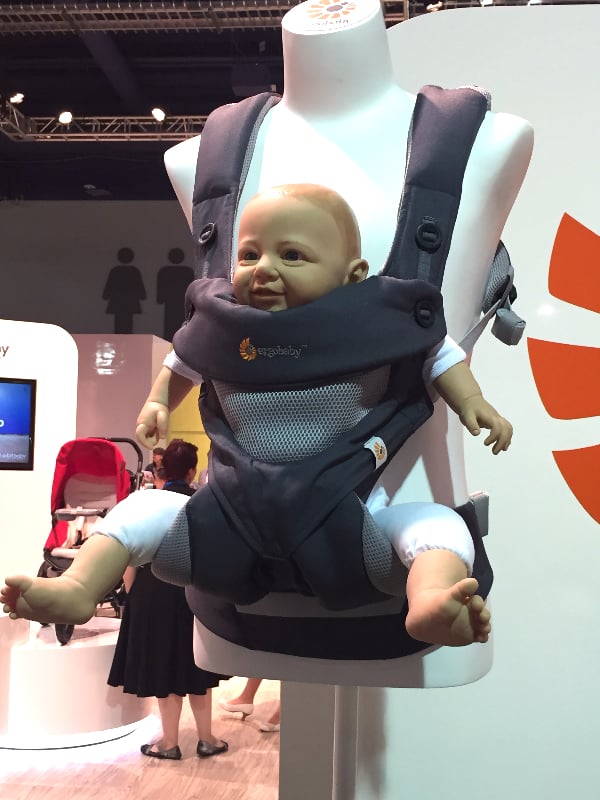 The new Ergo Cool Air can be worn in four positions and features a lighter-weight, sportier fabric for more rugged babywearing.
Peg Perego Viaggio Flex Booster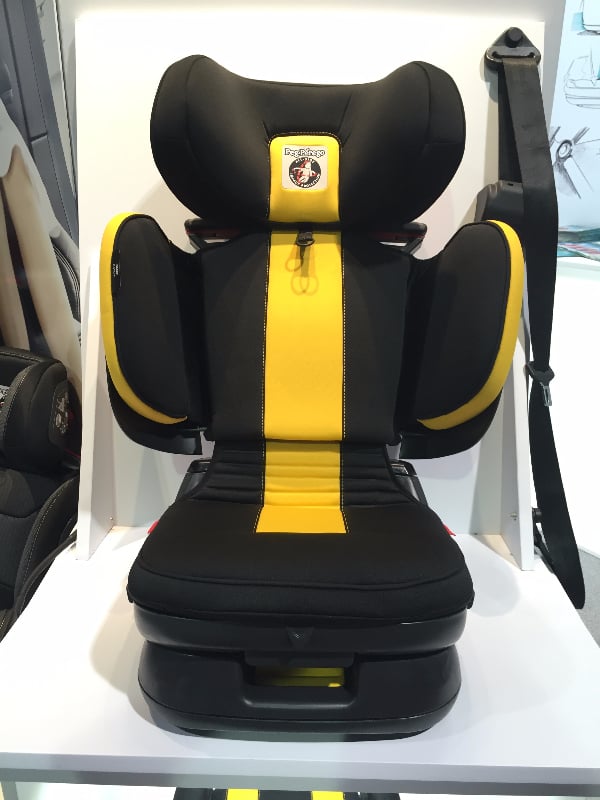 The new Peg Perego Viaggio Flex Booster ($300) will hit stores in May 2016. It features adjustable side protection wings, a rigid latch, and an adjustable seat back. It will hold kids up to 100 pounds.
Fisher-Price Soothing Motions Seat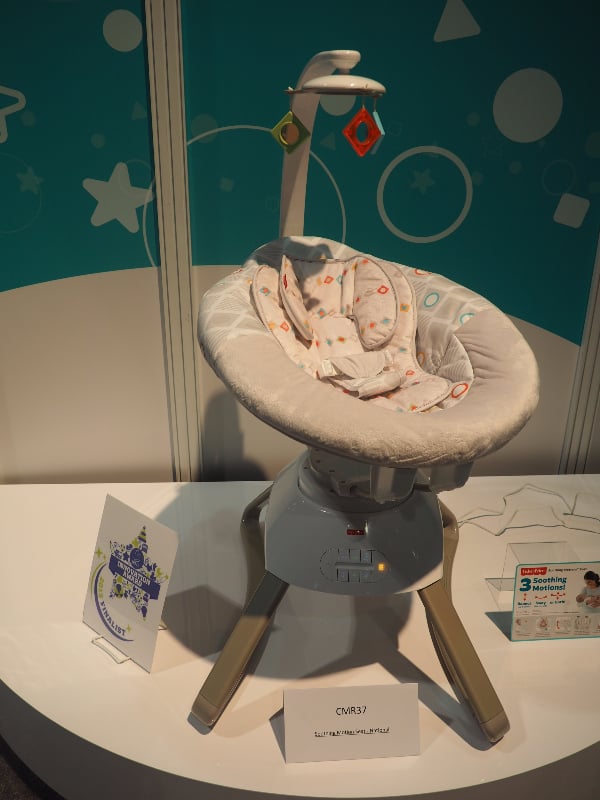 The latest iteration of the baby seat at Fisher-Price is this three-way version ($160) that is inspired by a mother's natural soothing motions and allows baby to bounce up and down, sway side to side, or do both simultaneously. With six adjustable speeds as well as multiple vibration and sound options, it's sure to be a go-to for parents having trouble getting their newborn to sleep.
Mountain Buggy Freerider
Another addition to Mountain Buggy's transportation line is the Freerider ($99). It can be used on its own, attaches to any stroller with a $30 connector, and its wheels light up.
TwelveLittle 3-Way Diaper Bag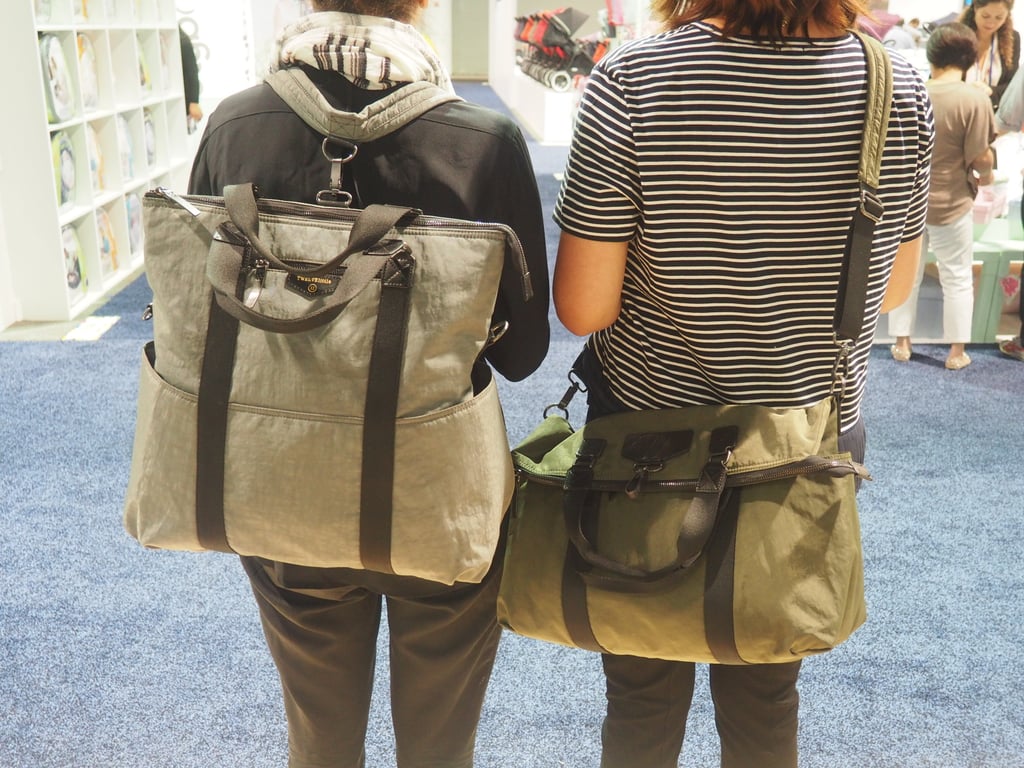 Plenty of diaper bags claim to look nothing like a diaper bag, but the designers at TwelveLittle have used their background in fashion to make sure theirs can truly cross over. This three-way bag ($205) works as a chic backpack, a messenger bag, and a tote, and it's available in colors that even dads won't mind carrying.
EvenFlo Feeding Breast Pump Adaptor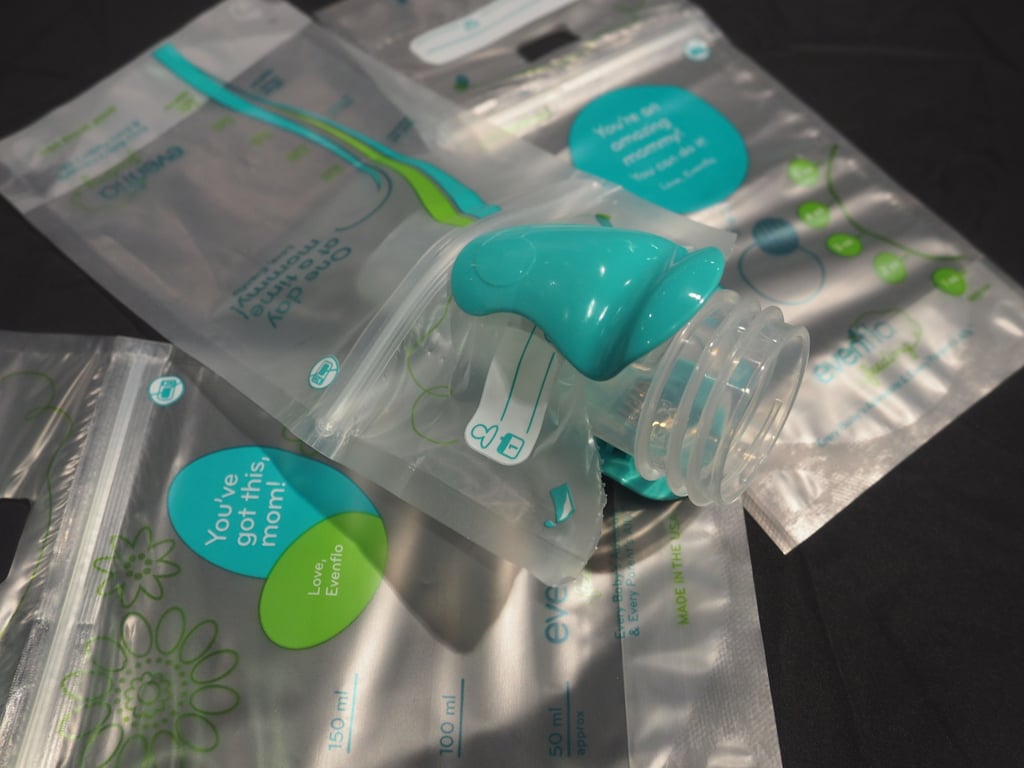 What's the point of pumping into bottles when you plan to transfer the breast milk into freezer bags right away? This adaptor ($8) from EvenFlo, once it's released in January, will allow you to pump from any brand's machine directly into any type of bag. Speaking of bags, EvenFlo is also releasing a new line of milk freezer pouches made of highly durable military-grade materials that use 30 percent less plastic.
JJ Cole Sleeping Bag Backpack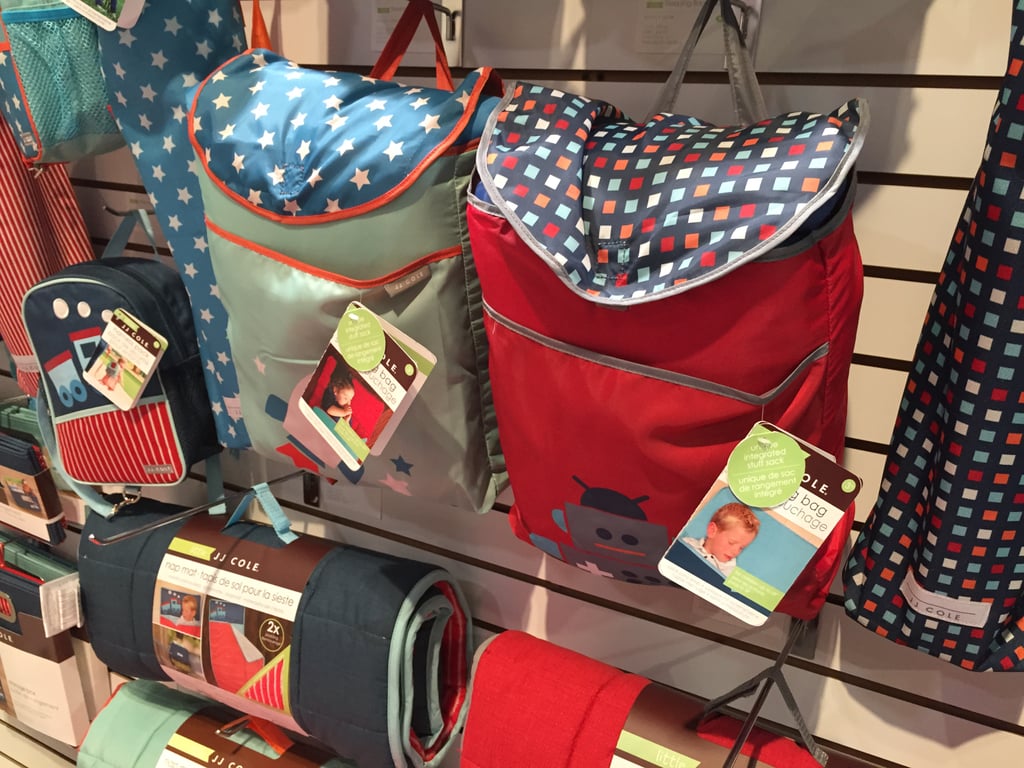 These adorable JJ Cole backpacks come with a toddler-size sleeping bag inside.
Svan Scooter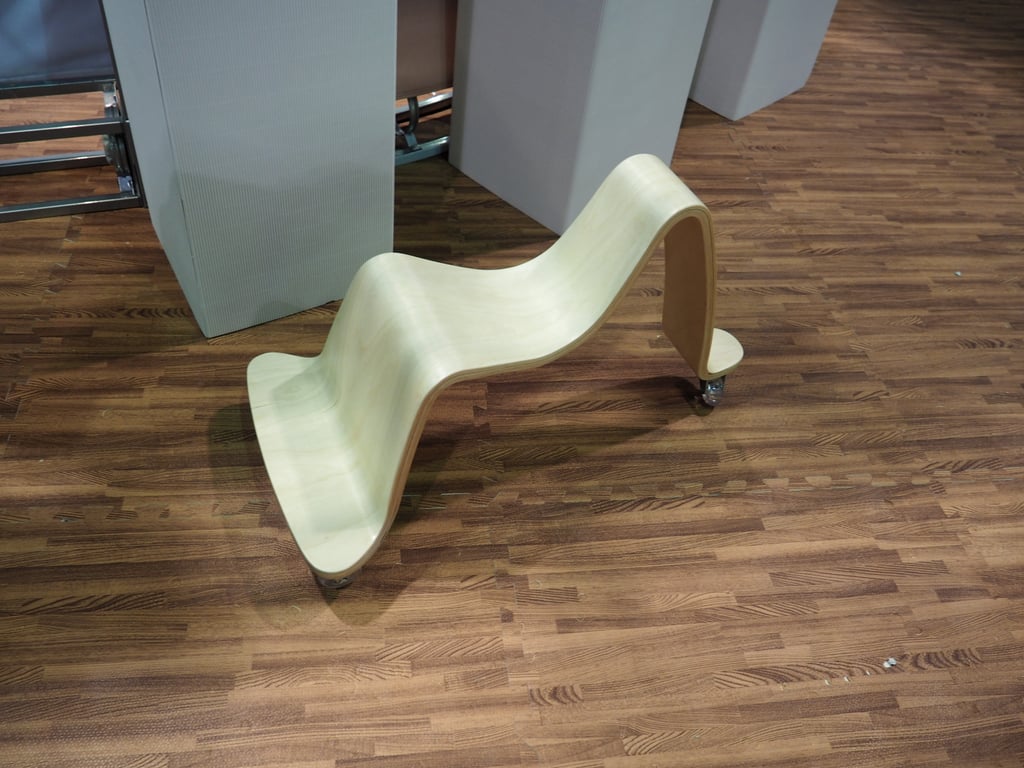 Plenty of scooters are eyesores that no parent would want in the house. The Svan scooter ($99) is a clear exception. Made of pure wood, it transitions from a push scooter to a seated scooter to a traditional scooter that can entertain kids up to 5 years old.
Maxi-Cosi Carry Cushion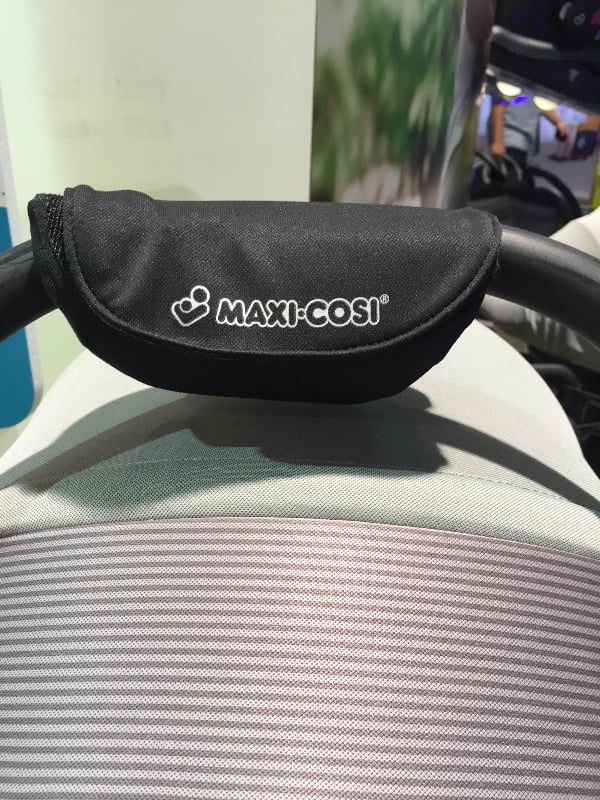 In an attempt to make carrying the infant seat a bit more comfortable, Maxi-Cosi will introduce the Carry Cushion in mid-December.
Graco Extend2Fit Car Seat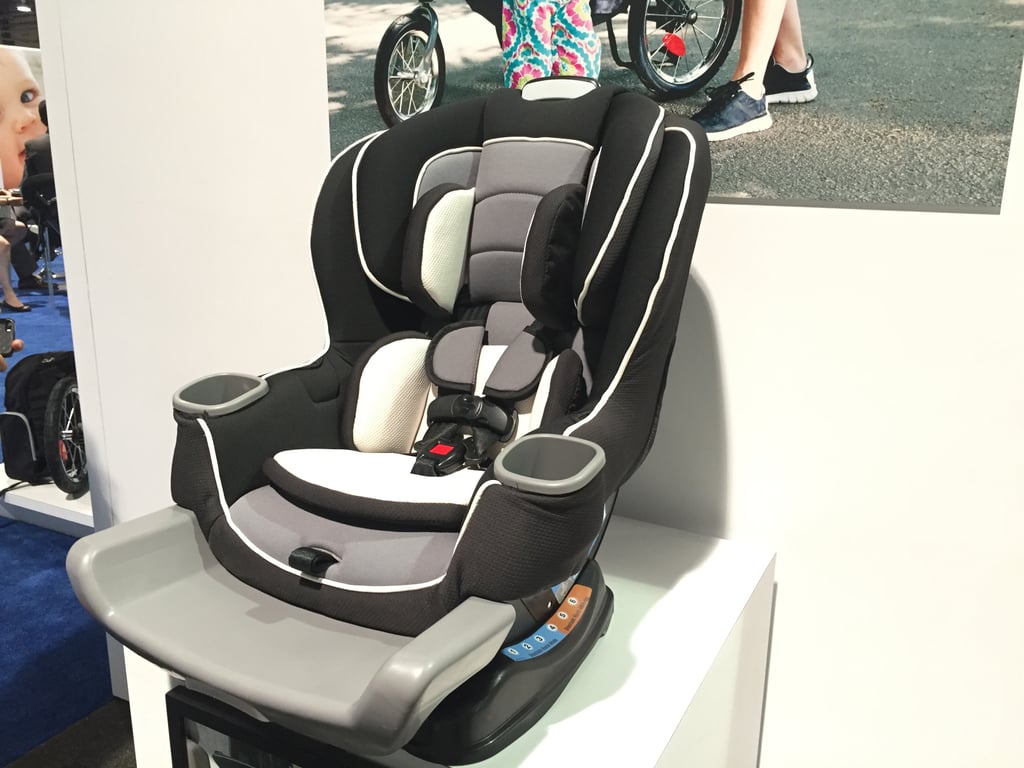 With new car seat regulations keeping kids in rear-facing seats for longer periods of time, Graco has developed a solution to the common question about where kids' legs will go. The Extend2Fit Car Seat ($199) will have a five-inch panel that extends from the seat to serve as a footrest for bigger kids. The seat, which will be released in May 2016, fits kids up to 50 pounds and features an extendable headrest for growing tots.
Peg Perego Primo Viaggio Camo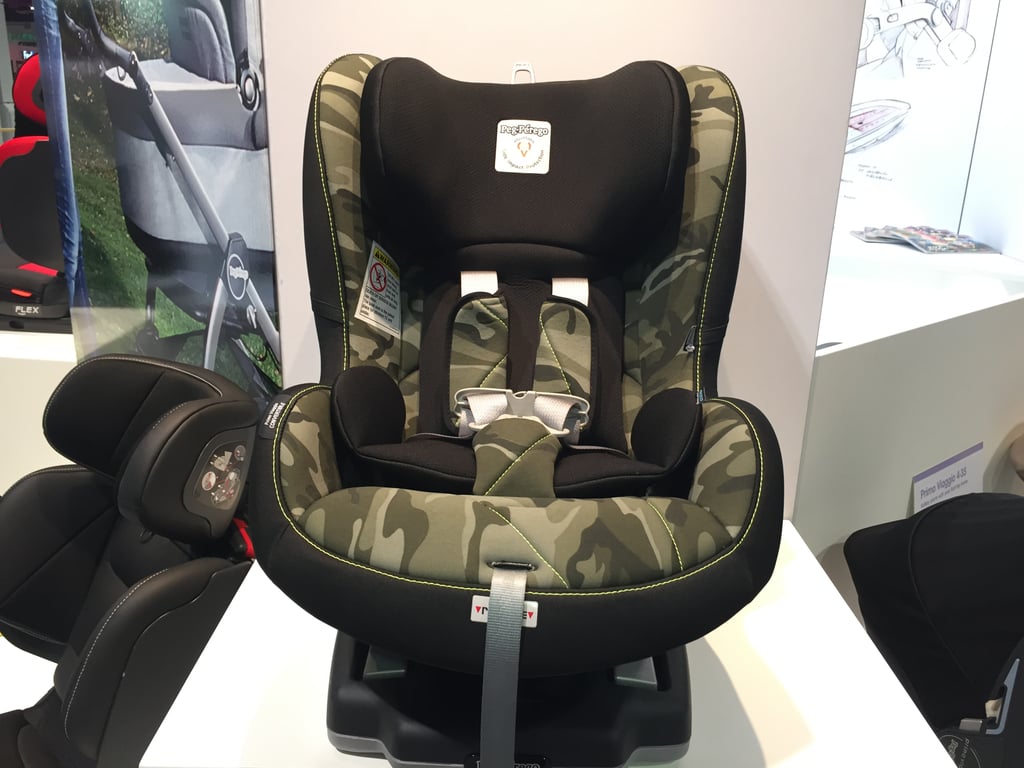 Peg Perego is excited about its new Camo pattern for its Primo Viaggio car seat.
GB Pockit Stroller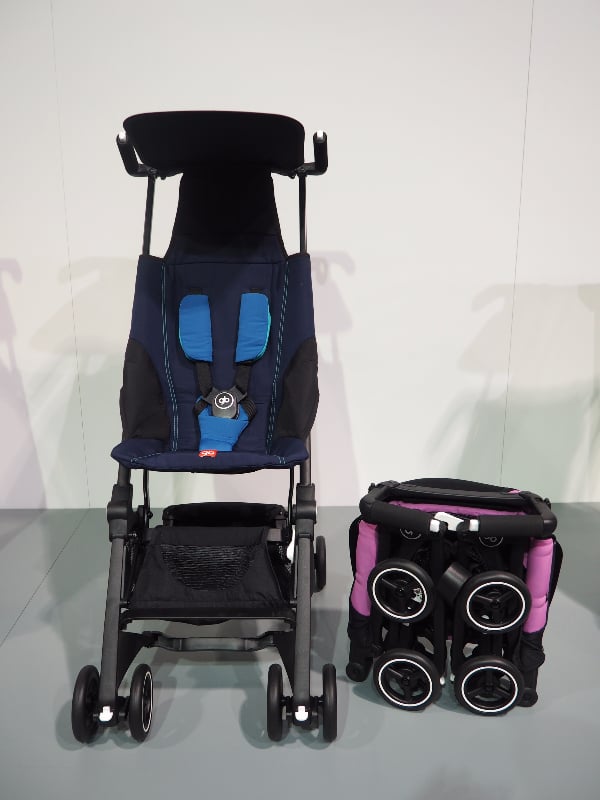 One of the most talked-about strollers for 2016 is most definitely the GB Pockit. It's not available until Spring 2016, but it's already won the Guinness World Record for smallest fold — the full-size stroller can, in seconds, collapse into something that could easily fit into a tote bag.
Babyletto Tuba Glider
This curvy Tuba glider ($499) from Babyletto grows with your baby. It's the perfect place for late-night breastfeeding sessions, and in no time, it'll make a cozy chair when you read next to your ever-growing toddler. Plus, the chairback folds forward for easy, no-assembly-required shipping.
Prince Lionheart Wheely Hedgehog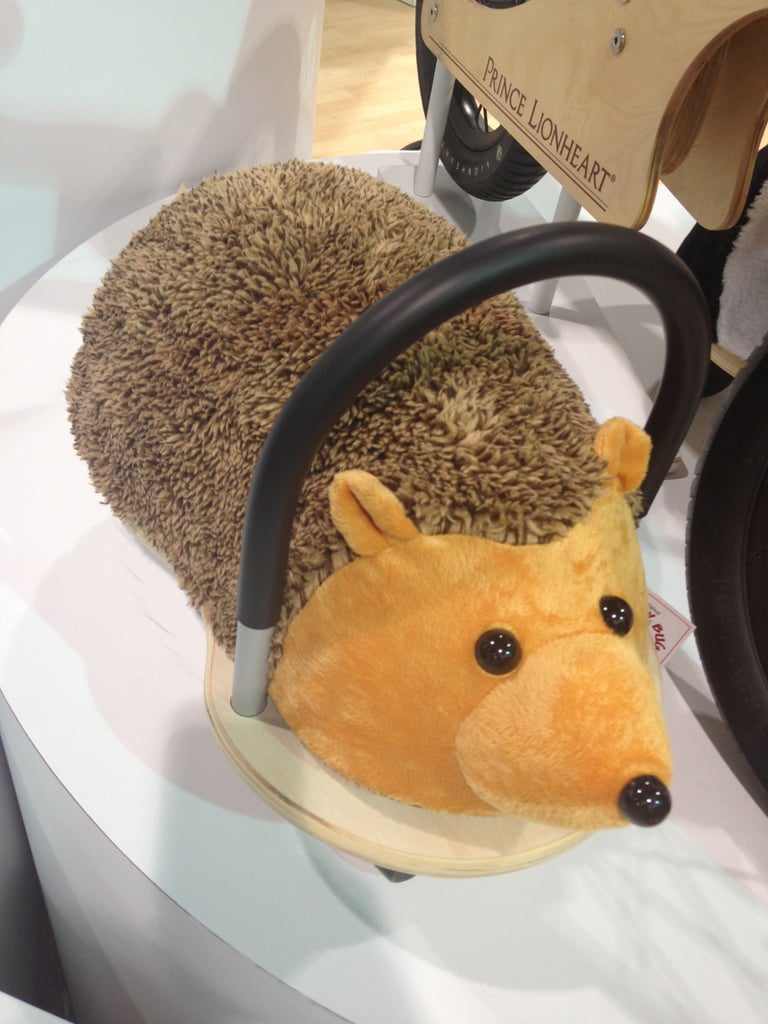 Although hedgehogs might be prickly in real life, this toddler-aged seated scooter ($85) is as cozy as can be.
Aden + Anais Toy Swaddle Gift Set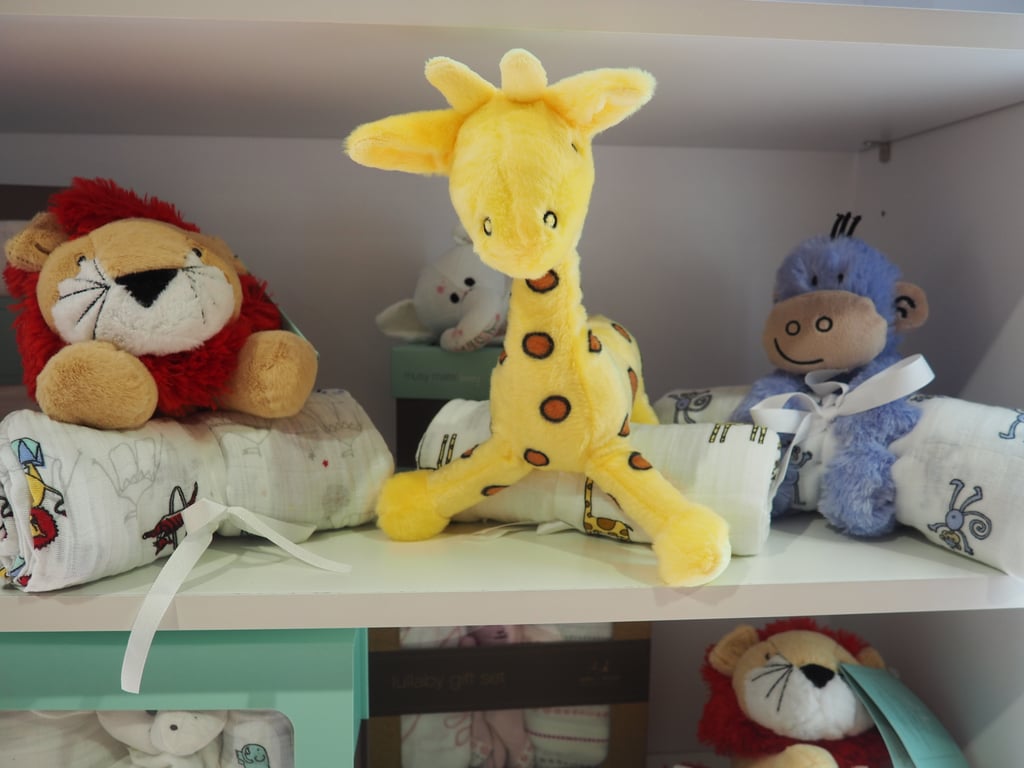 The adorable animal prints on some of our favorite Aden + Anais muslin swaddle blankets are finally coming to life for the holidays. A plush toy with matching swaddle ($25) will be sold as a cuddly gift set.
JJ Rabbit's SiliMAT and Cups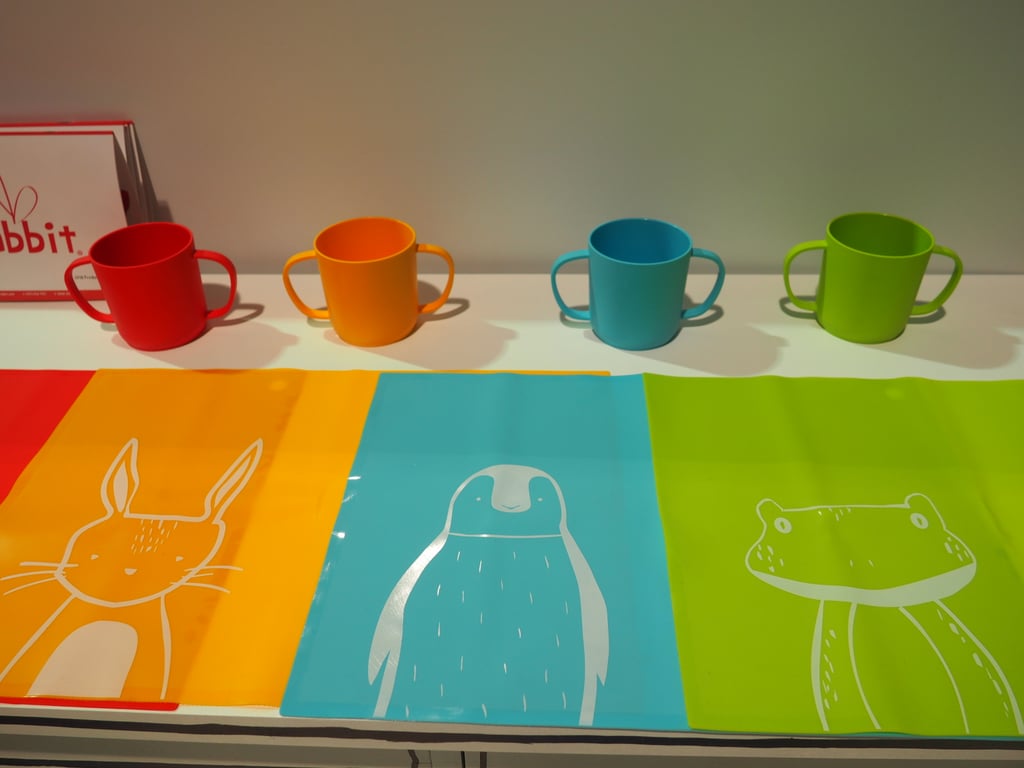 It's hard to believe that JJ Rabbit's siliMATs and cups are made from plants, but what's even more incredible is that, whenever your little one outgrows them, the brand's products are completely compostable and will biodegrade back into the soil.
Nuna Leaf Wind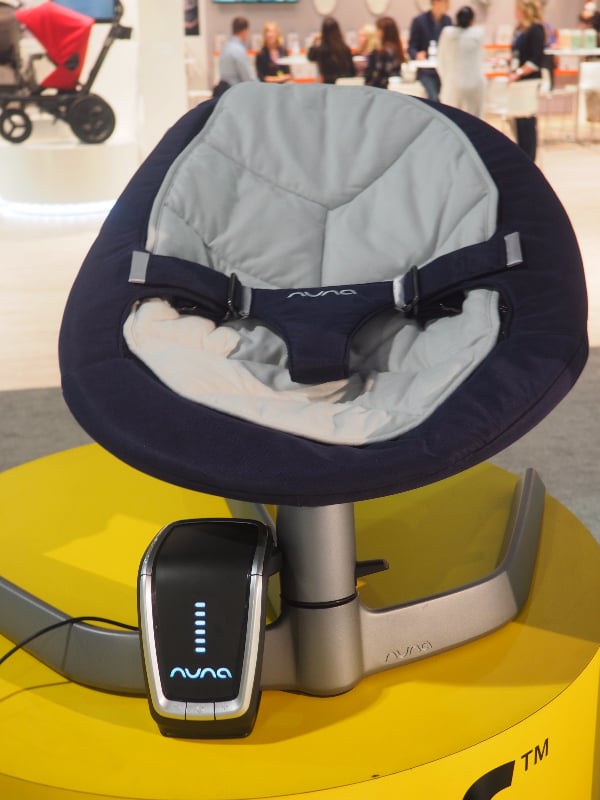 The Nuna Leaf, a baby seat that can sway for several minutes with the touch of the hand, now comes with a new attachment, the Wind ($99), which allows the Leaf to sway constantly.
Bumkins Superhero Collection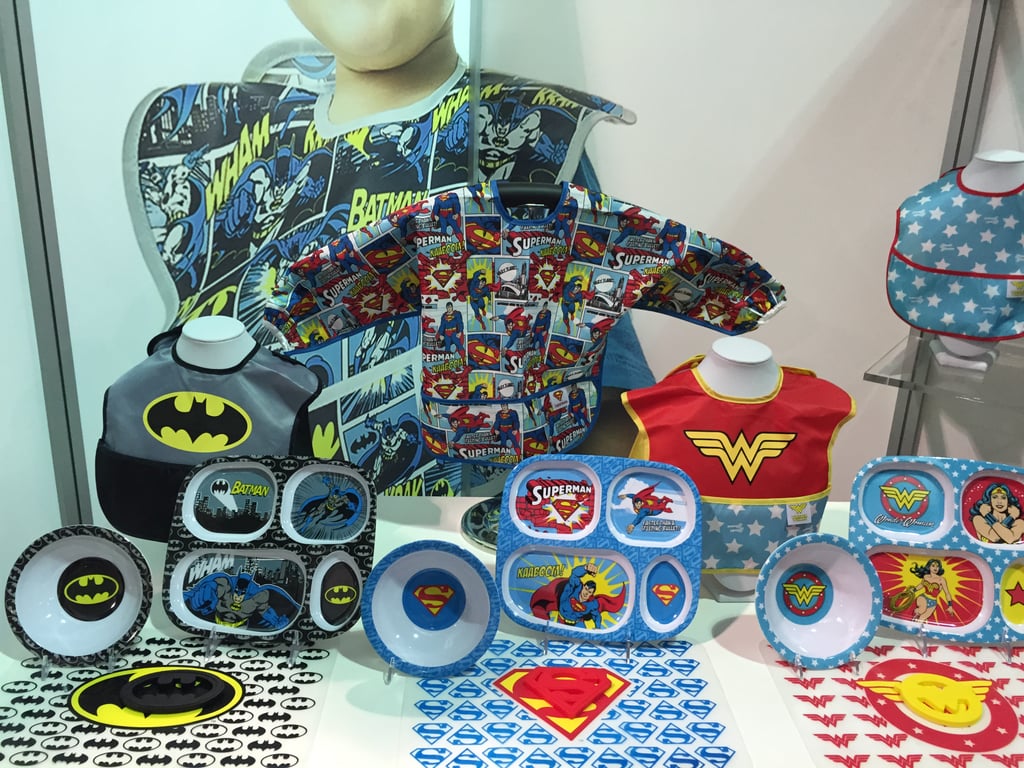 Bumkins's new superhero collection — in Batman, Superman, and Wonder Woman — will hit stores in November.
7 A.M. Enfant Kids Spike Backpack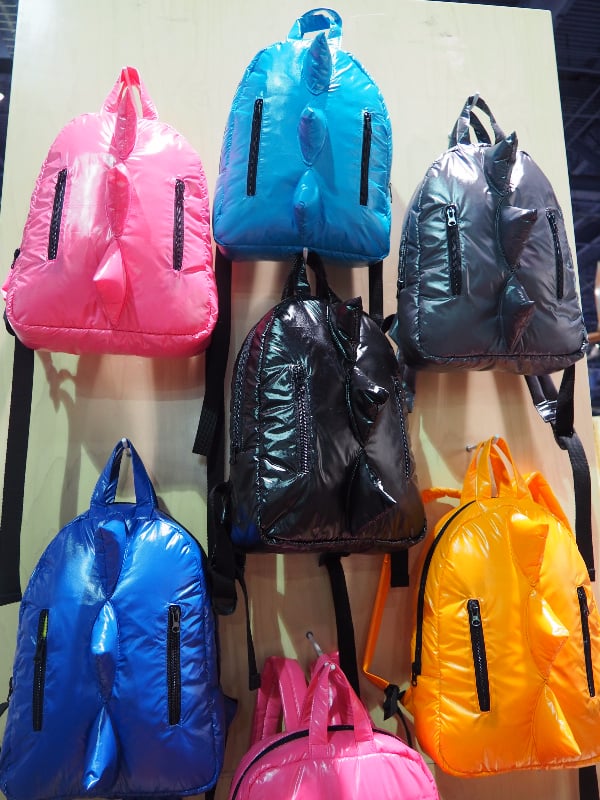 In an array of colors, this kid-size backpack gets added edge thanks to dinosaur-inspired spikes.
Bitta Kidda Lovie Sack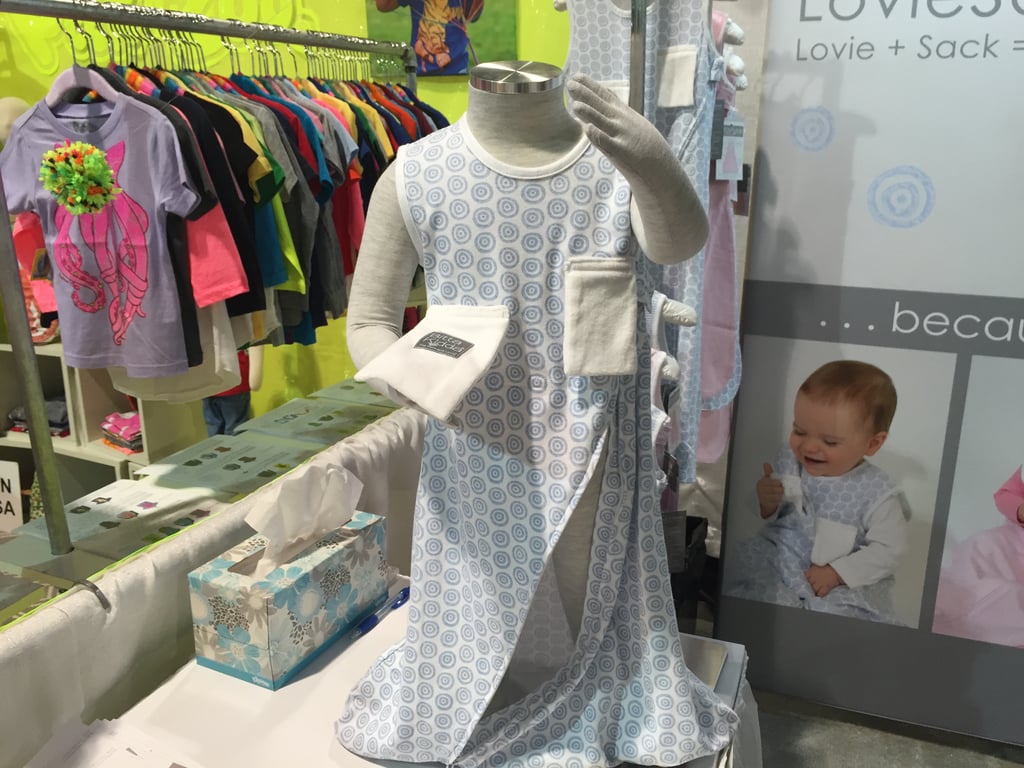 Born out of a grandmother's desire to put a lovey in the crib with her new grandchild (but wanting to abide by current safety rules), the Bitta Kidda Lovie Sack ($44) safely attaches the lovey onto a sleep sack so little ones can grab at it without risking suffocation. The sacks feature a diagonal zipper to ease with diaper changes and an internal diaper cover that attaches like the bottom of a onesie, to keep the sack from twisting around while baby sleeps.
Stokke Scoot Racing Stripes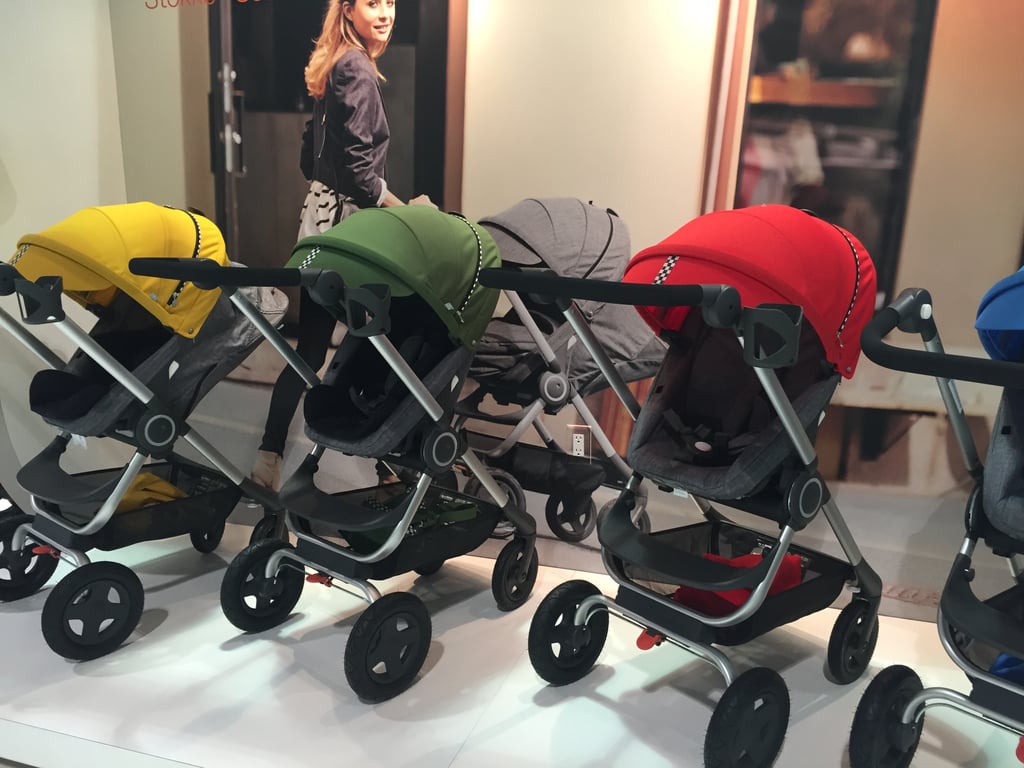 Stokke is taking a walk on the racing side next Spring with its new Racing Stripes style kits.
B.box Travel Drying Rack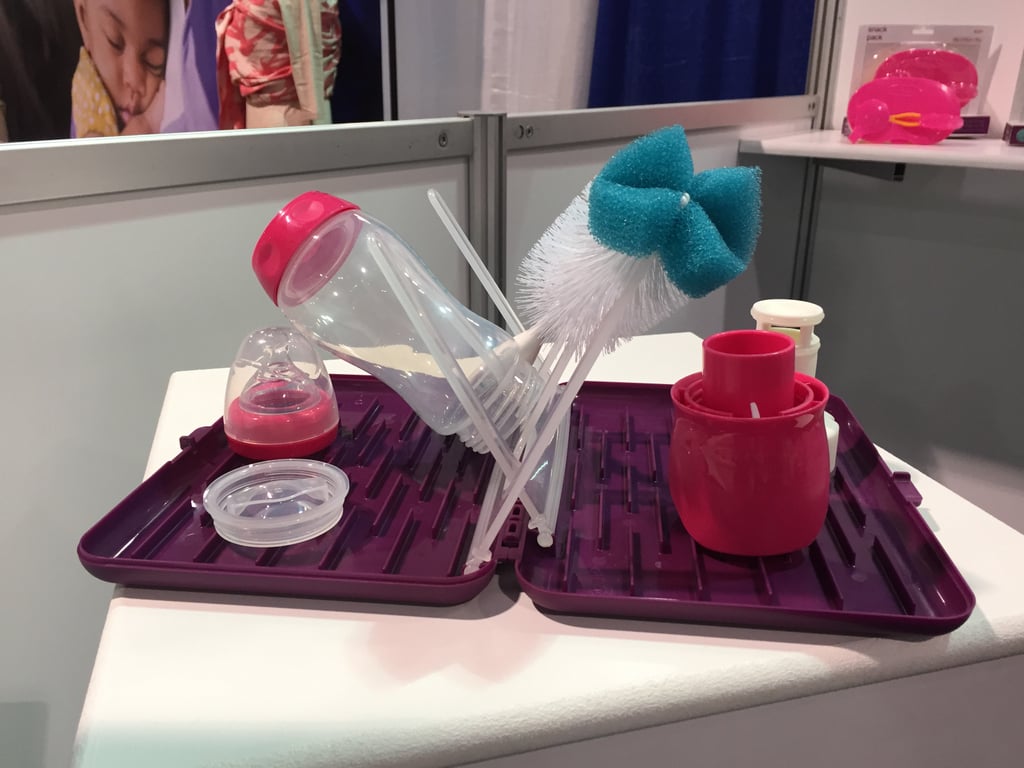 For traveling parents, the b.box Travel Drying Rack ($15) is a must have for hotels and grandma's house.
OXO Tot Transitions Cups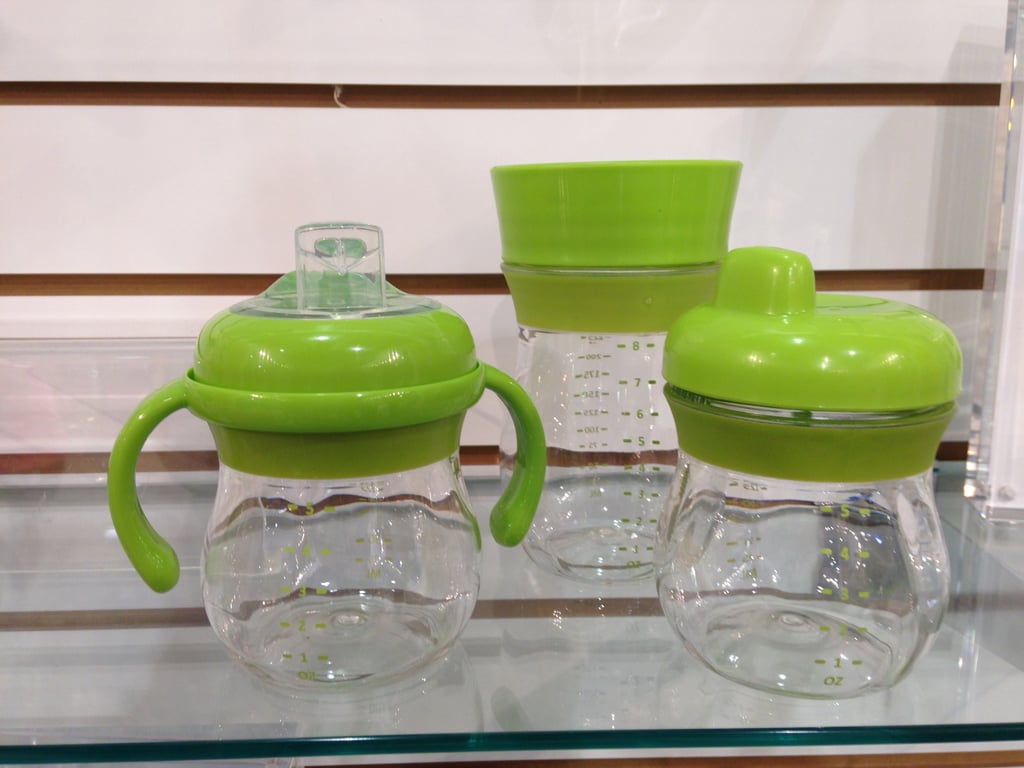 No matter your child's stage or preference, this customizable sippy cup — handles or no handles, trainer or open top, hard or flexible spout — will cover all the bases.
Zoocchini Stroller Blankets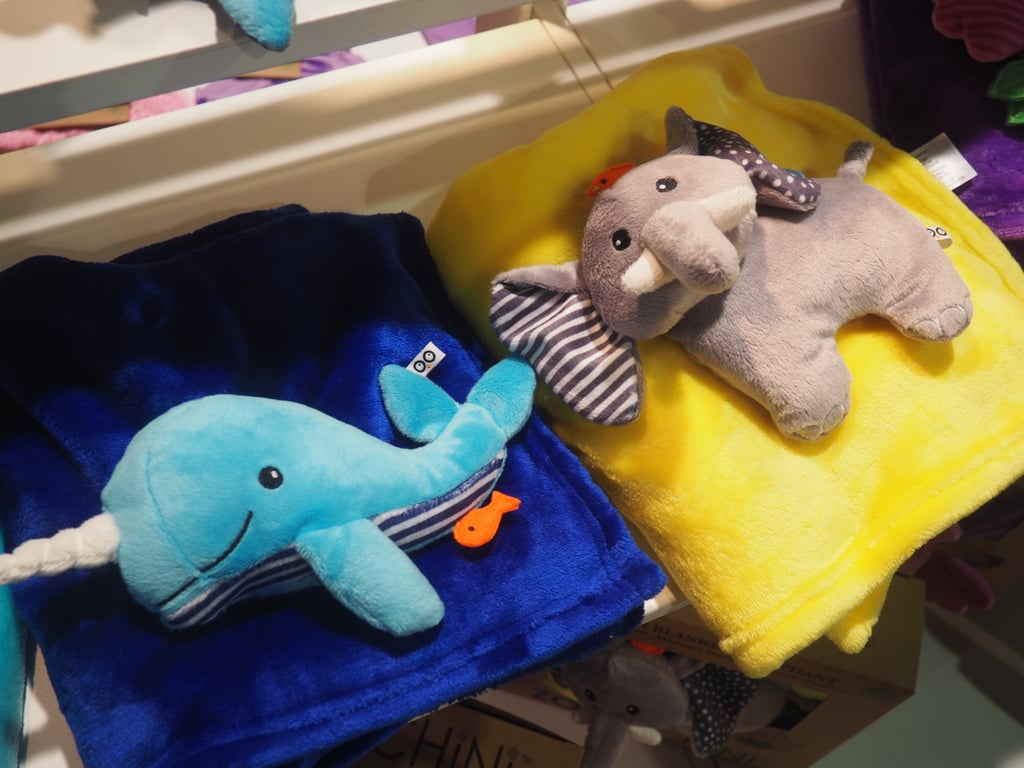 Coming soon from the hooded-towel makers are three-dimensional stroller blankets that feature whales and elephants in vibrant colors.
Prince Lionheart Get a Grip Bath Mat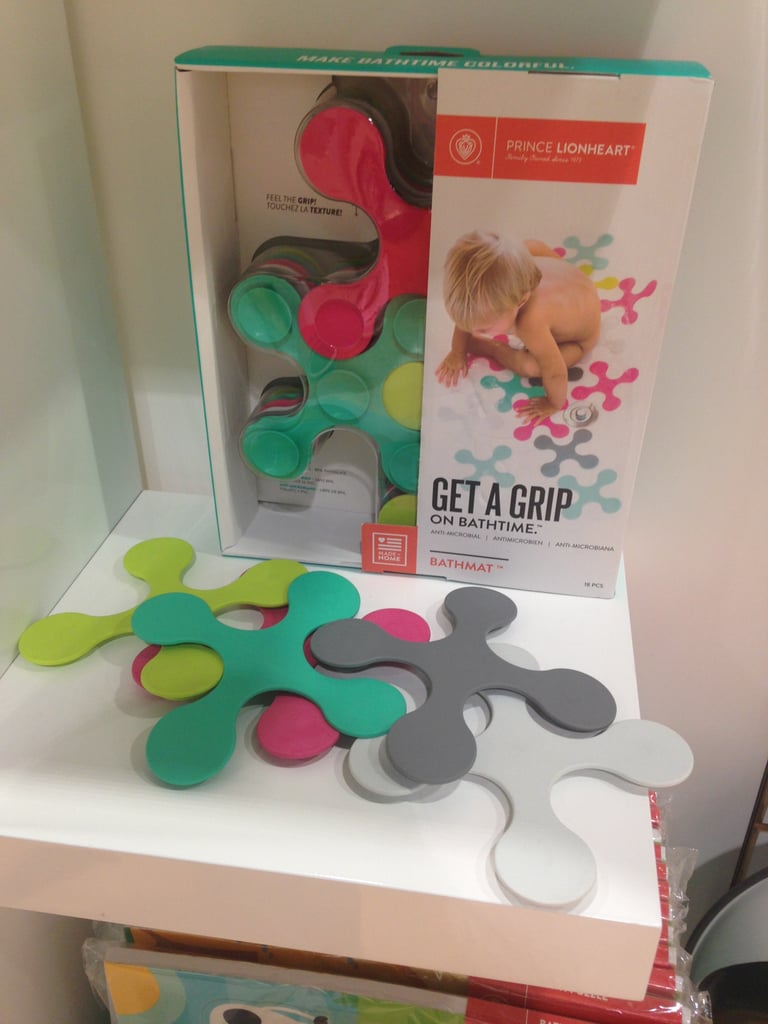 These vibrant Prince Lionheart Get a Grip bath mat pieces look stylish while keeping kids safe from slipping in the tub.
Newton Crib Mattress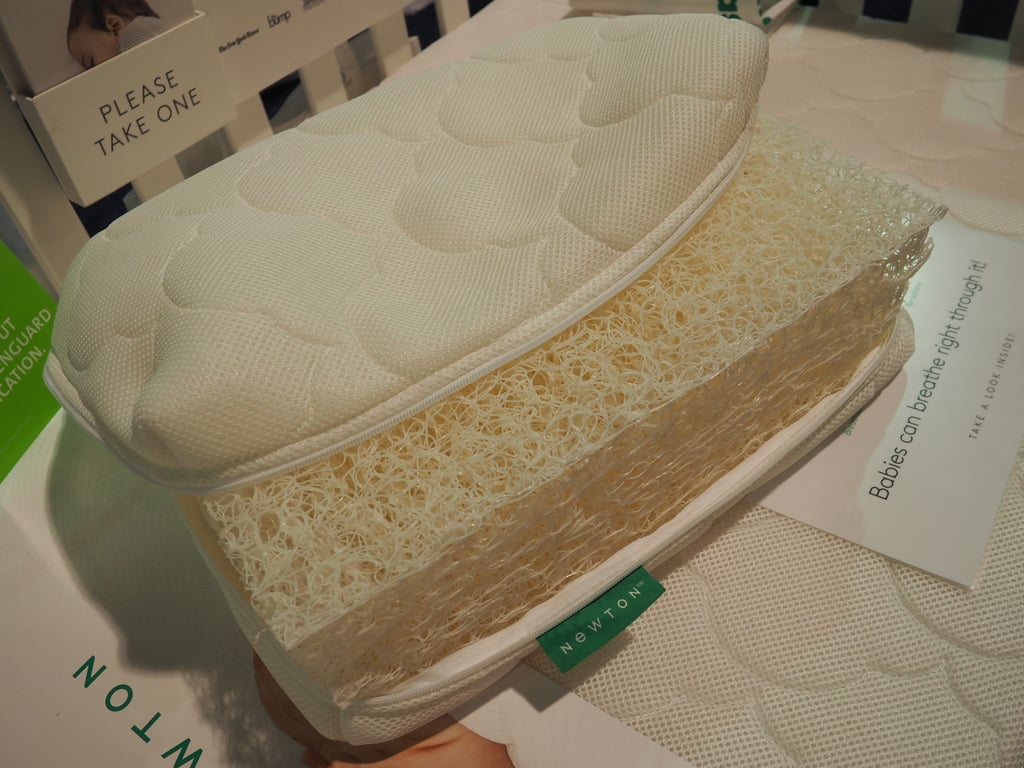 This 100-percent breathable crib mattress ($295) is not just safe — it significantly lowers the risk of suffocation — but it's actually machine-washable! The removable cover can go right in the machine, and the mattress itself can be hosed off in the bathtub!
The First Years Mickey Mouse Feeding and Activity Seat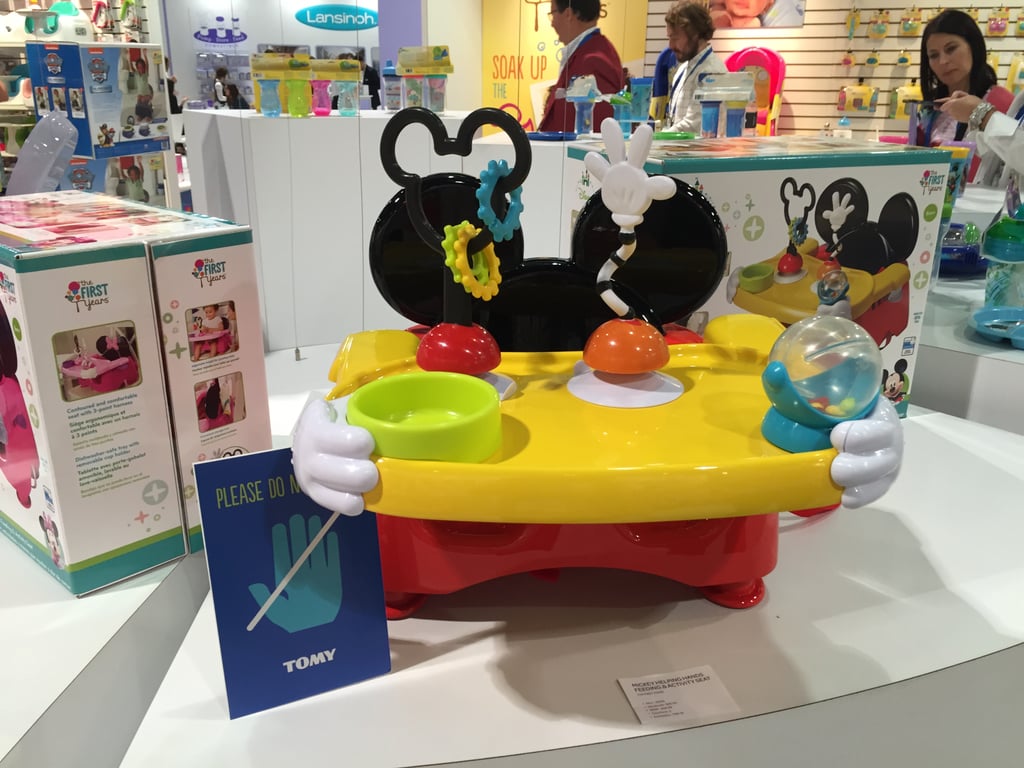 When they are released in February, the Mickey and Minnie Mouse versions of the Helping Hands Feeding and Activity Seat ($40) will keep kids busy and happy.
Britax B-Agile 3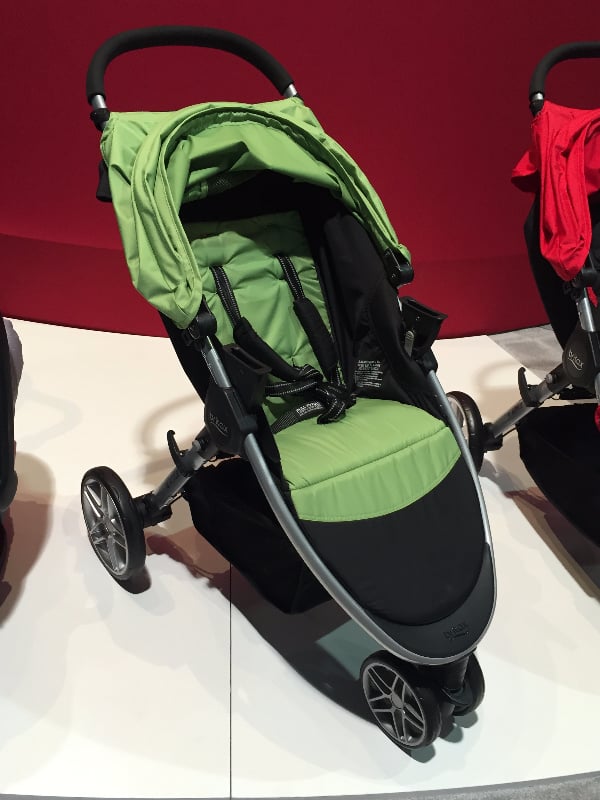 The Britax B-Agile 3 receives an update in January 2016 with a bigger basket, new wheels, and the removal of the footrest (it was deemed a tipping hazard).
Skip Hop 2-Way Foot Muff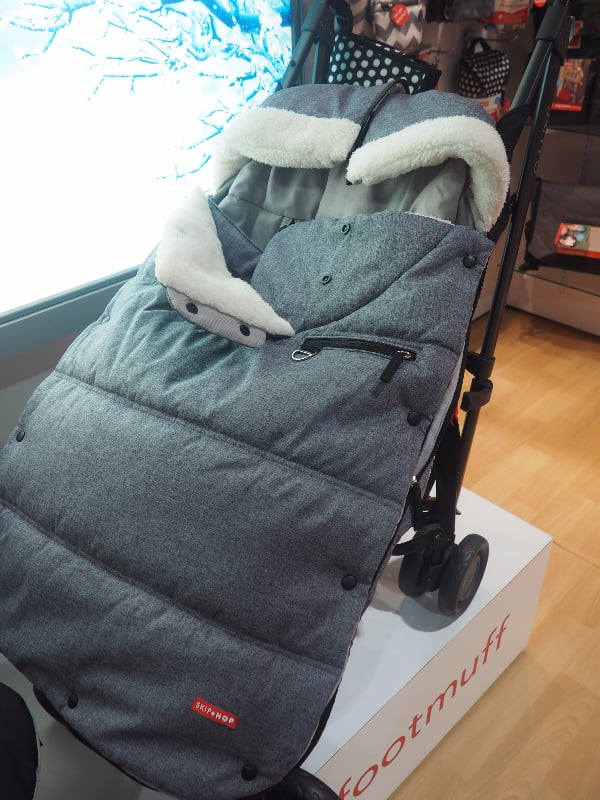 The idea of a heavy Winter muff for your stroller is great in theory, but it's not always practical when the temp doesn't call for such a thick layer. The Skip Hop two-way foot muff ($80 for baby, $100 for toddler) smartly provides a snap-on "Winter layer" for the coldest days, and it can easily be removed when just a light layer is needed.
The First Years Mickey Mouse Tub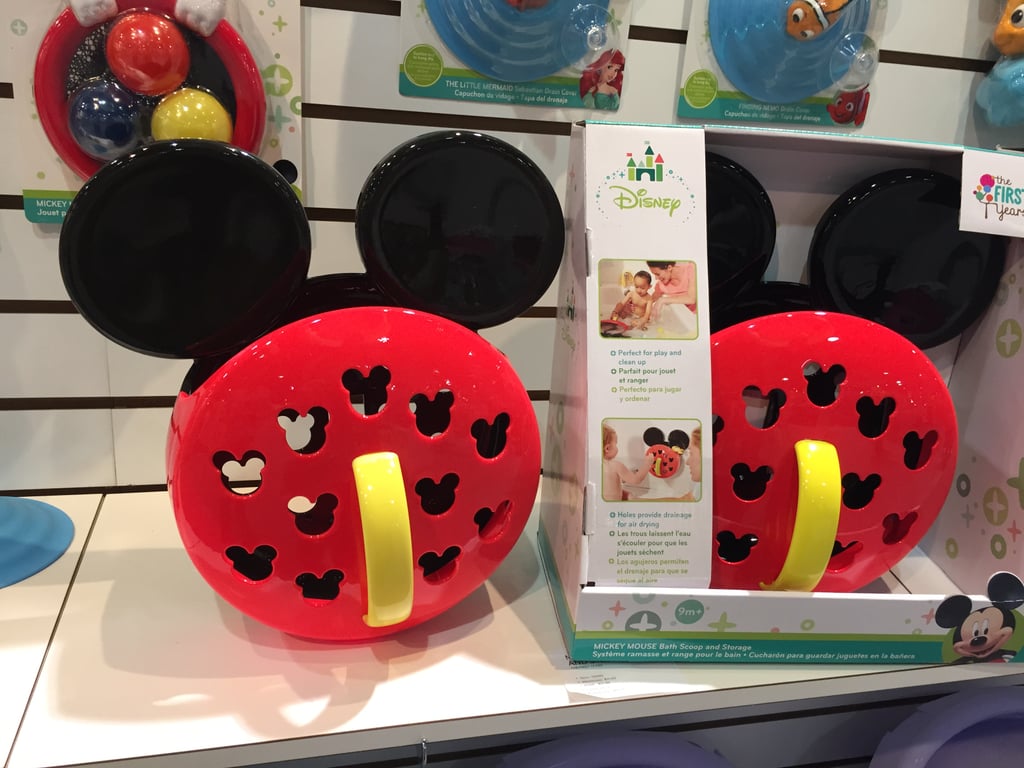 A Mickey Mouse bath toy scoop and storage set will make the biggest Mickey Mouse fans happy.
UviCube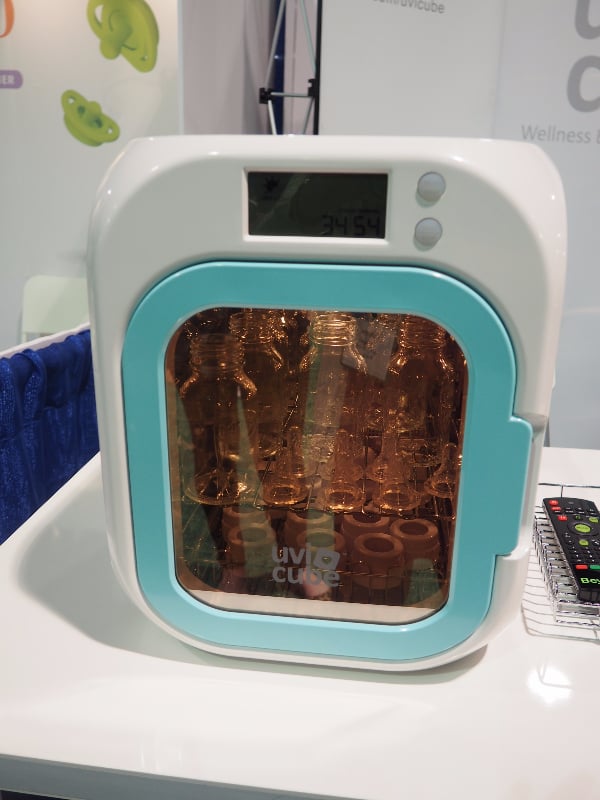 When you steam-sanitize baby bottles only to leave them to dry on your kitchen counter, bacteria inevitably finds its way back. UviCube ($299), however, sanitizes with a UV cycle and a dry cycle so that everything you put in the box (which can include remote controls and even cell phones!) is dry and ready to use once the 45-minute process is up.
Maxi-Cosi Vello 70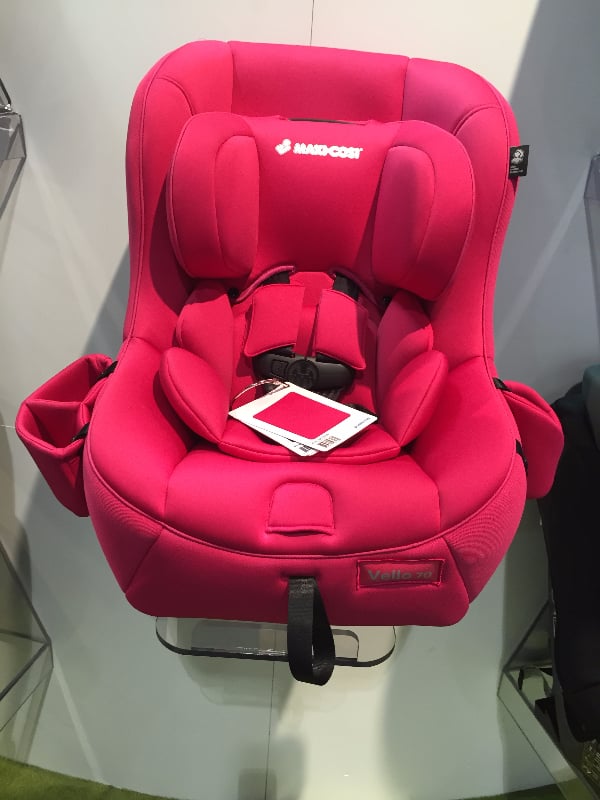 Maxi-Cosi will be replacing the Vello 65 with the Vello 70 next year. The seat features side-impact protection and will retail for $230.
Micuna Harmony Crib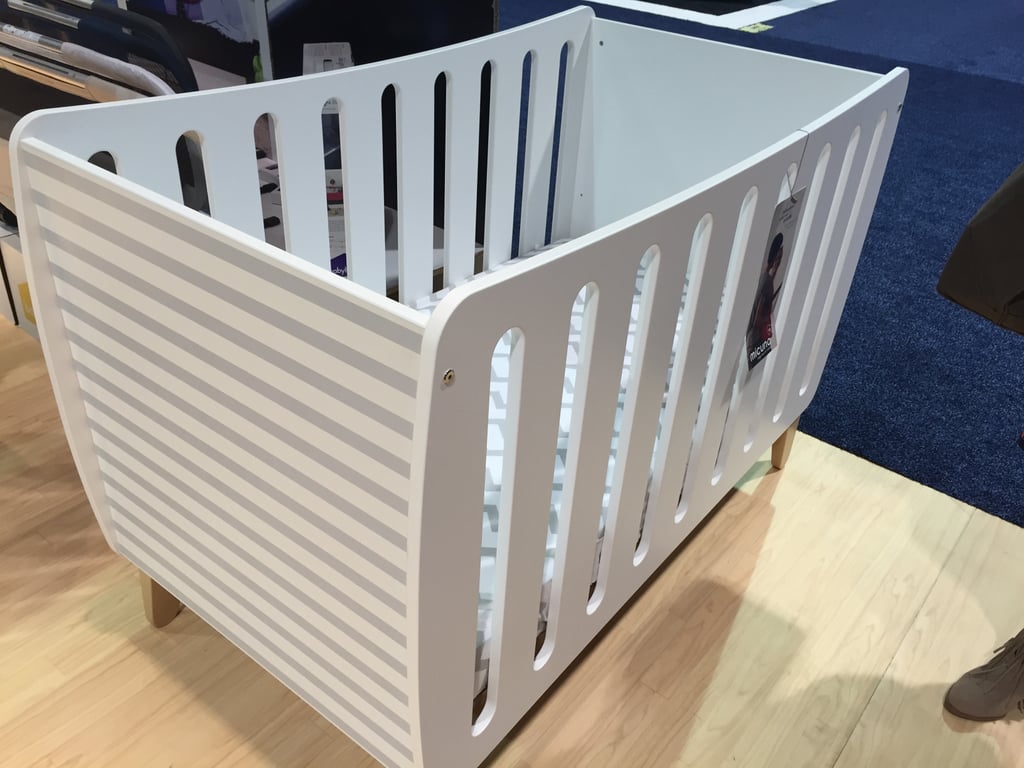 Micuna, a Spanish nursery company, is entering the US market with a handful of products, including the Harmony Crib ($945).
Skip Hop Explore More Amazing Arch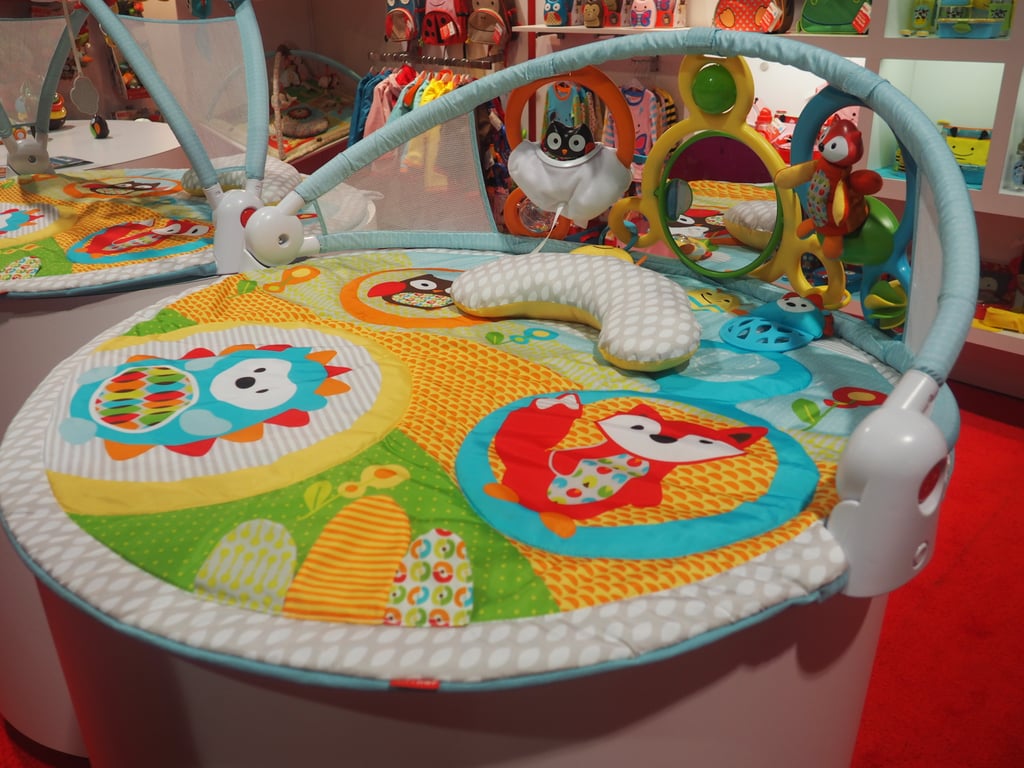 All play mats are not created equal, and Skip Hop's latest version, the Explore More Amazing Arch ($90), has some truly amazing features. The adjustable arch not only offers overhead play, but it can also be positioned at ground level — perfect for babies who need to stay stimulated while working on tummy time. Plus, the large mirror at the center of the arch has a hidden cell phone pouch, ideal for taking candid photos and offering hands-free FaceTime.
Dr. Brown's Options Bottles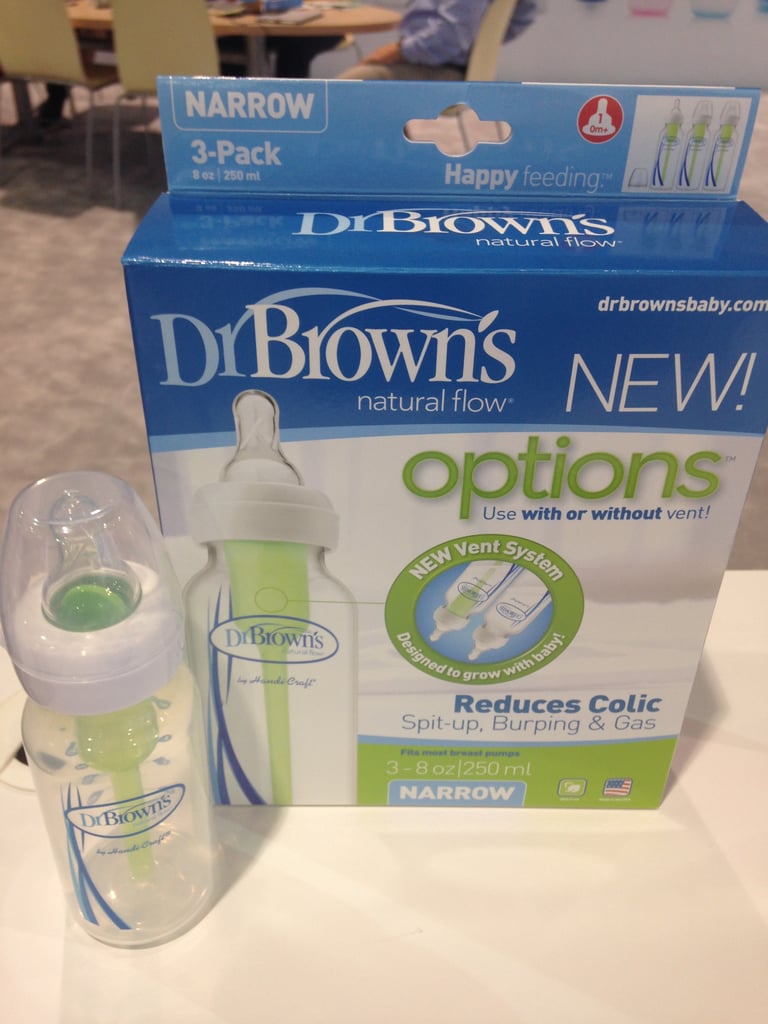 Moms swear by the vented technology in Dr. Brown's baby bottles, but sometimes, they'd like the option to go without the vent, whether their baby is feeding more easily or they don't have any clean parts. Thus, the brand created a special collar and nipple that can work with or without the vent.
Lascal Stroller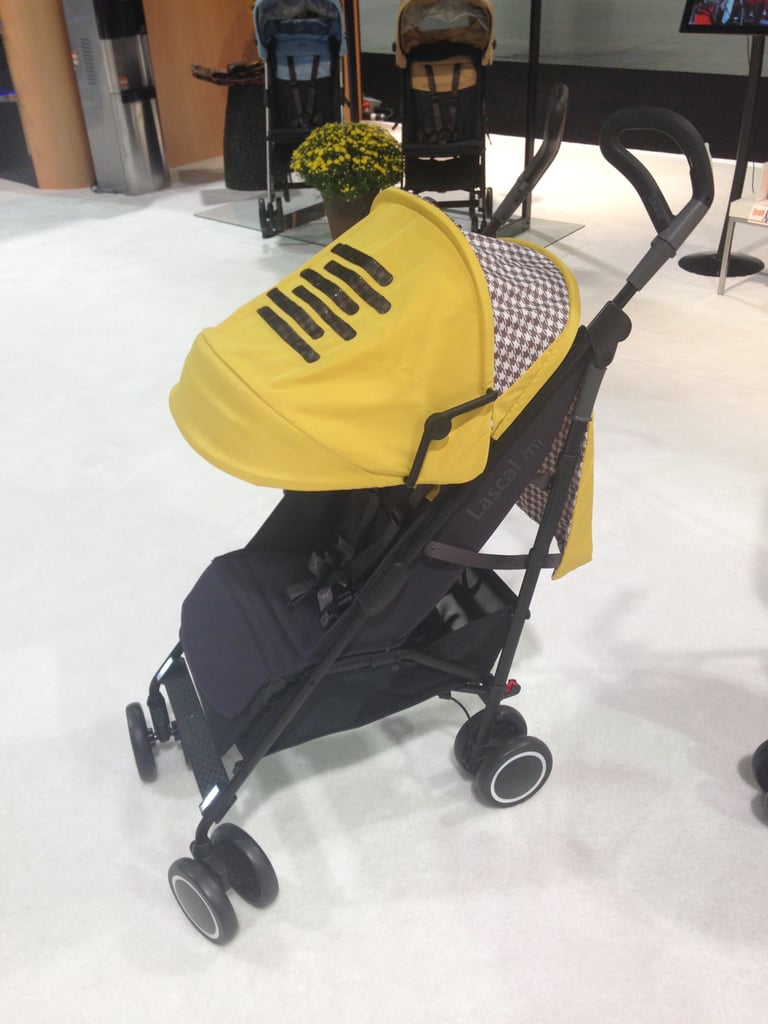 The very first stroller from Lascal has solar-powered wheels that light up at night for more visibility. Plus, the frame has two battery-powered headlights!
Skip Hop Uplift Baby Bouncer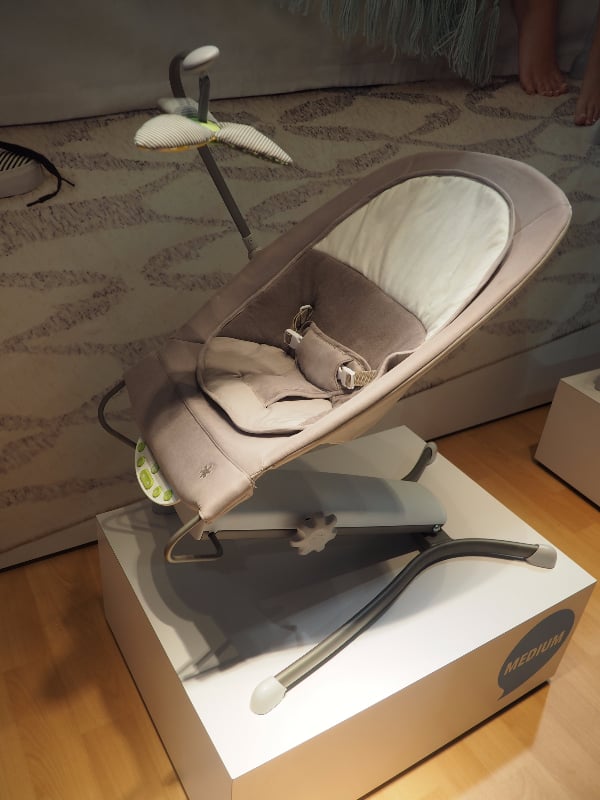 For those moms who love their baby bouncer but hate how low it is to the ground (and often set it on top of their coffee table even though they know they're not supposed to), Skip Hop will release an adjustable-height option ($150) in May 2016. With a simple turn of the lever, this bouncer can glide smoothly from floor position all the way up to the dinner table. It's a perfect solution for moms recovering from a C-section and those parents who just want to be closer to their babies while eating at the table or relaxing on the couch.
Qdos Burner Guard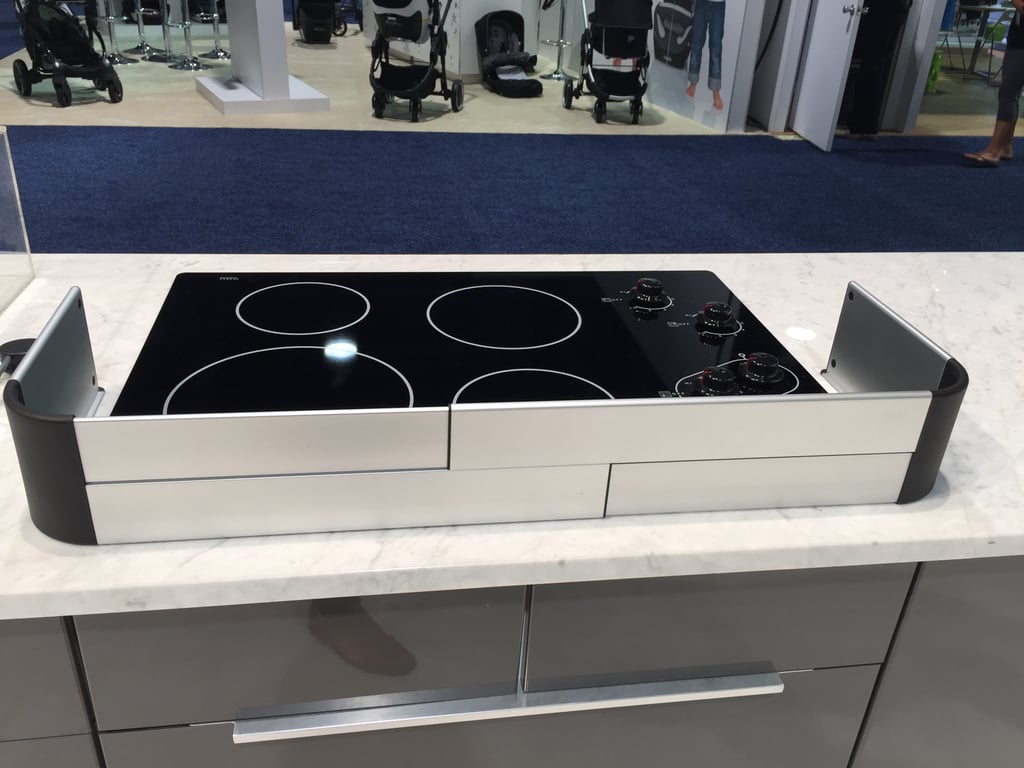 Qdos — a new line of design-oriented safety equipment — is introducing the most stylish burner guard we've ever seen!
Austlen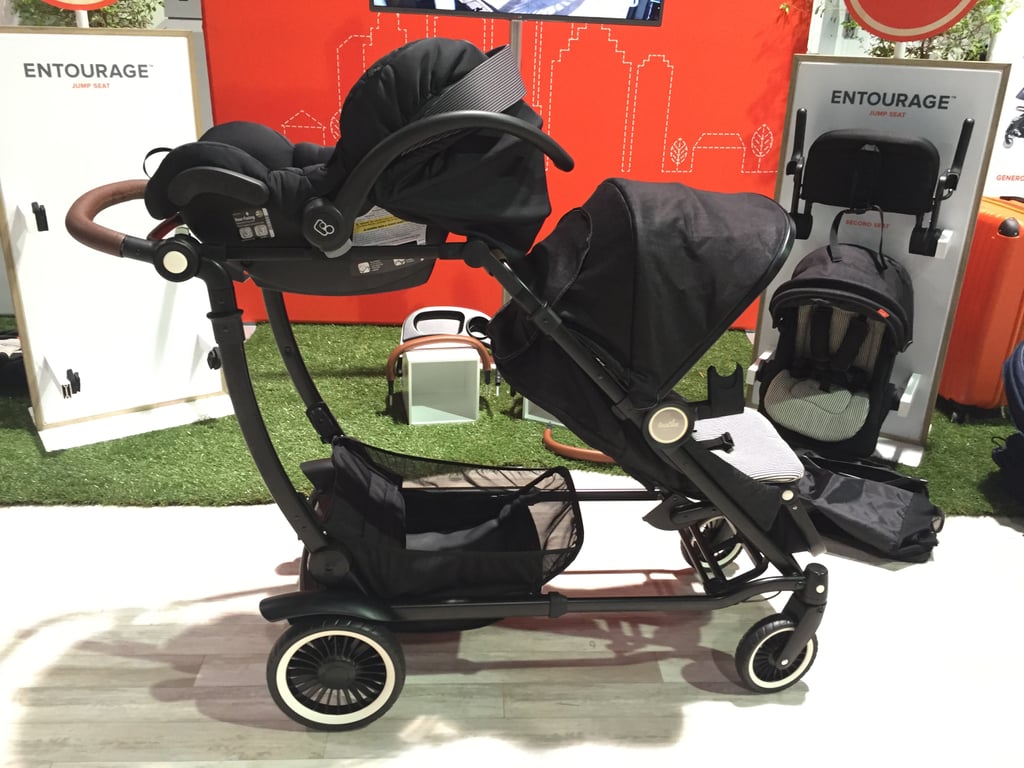 Perhaps one of the most exciting new products of the year will be the Austlen stroller. The brainchild of a former Dell product designer, the stroller is the result of a mom of twins not being satisfied with the stroller options available to her. The stroller frame actually telescopes to transform from a single stroller to a double. But if you're not quite ready for a double stroller, don't fret. The expansion can also be used to transport things like laundry, sports equipment, camping gear, or more because the stroller holds up to 150 pounds! The stroller will be available in early 2016 and will retail for $850.
JJ Cole Cable-Knit Footmuff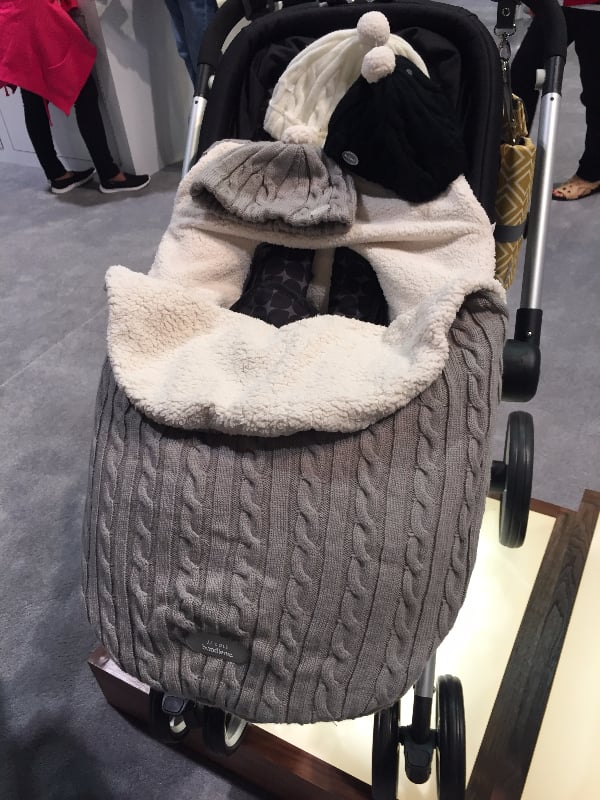 JJ Cole will introduce an adorable cable-knit footmuff in August 2016.
Stokke Scoot Strollers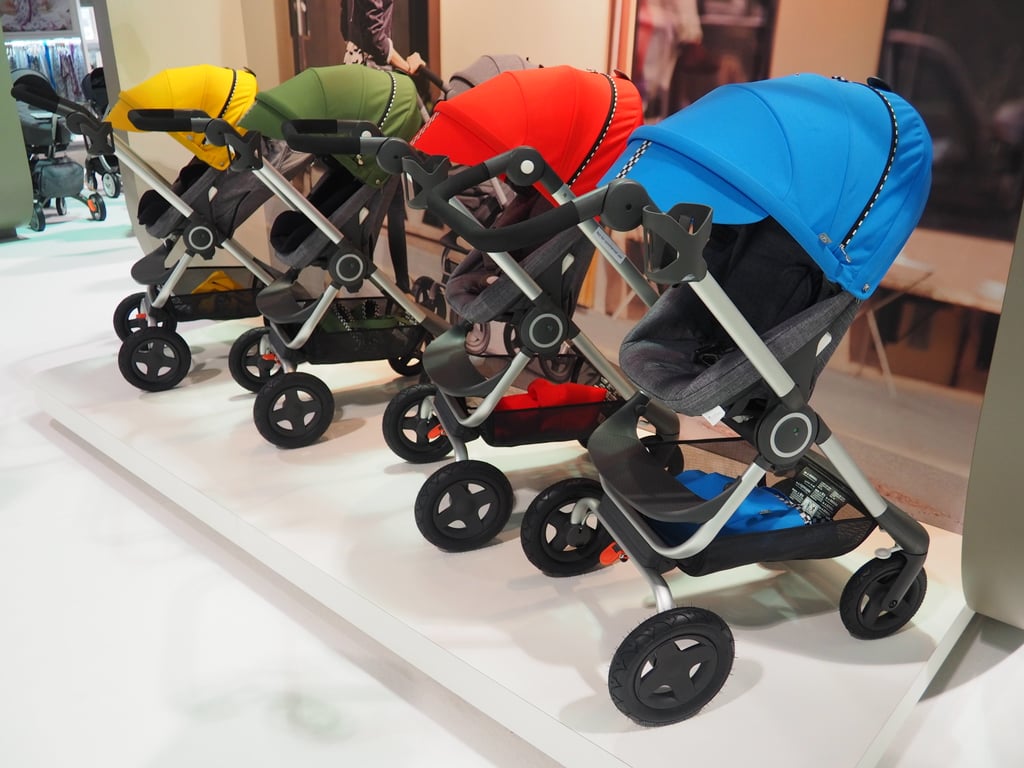 One way to personalize your Stokke Scoot stroller ($599) is with one of these bold style kits ($180), complete with playful racing stripes.
Phil & Teds Smart Lux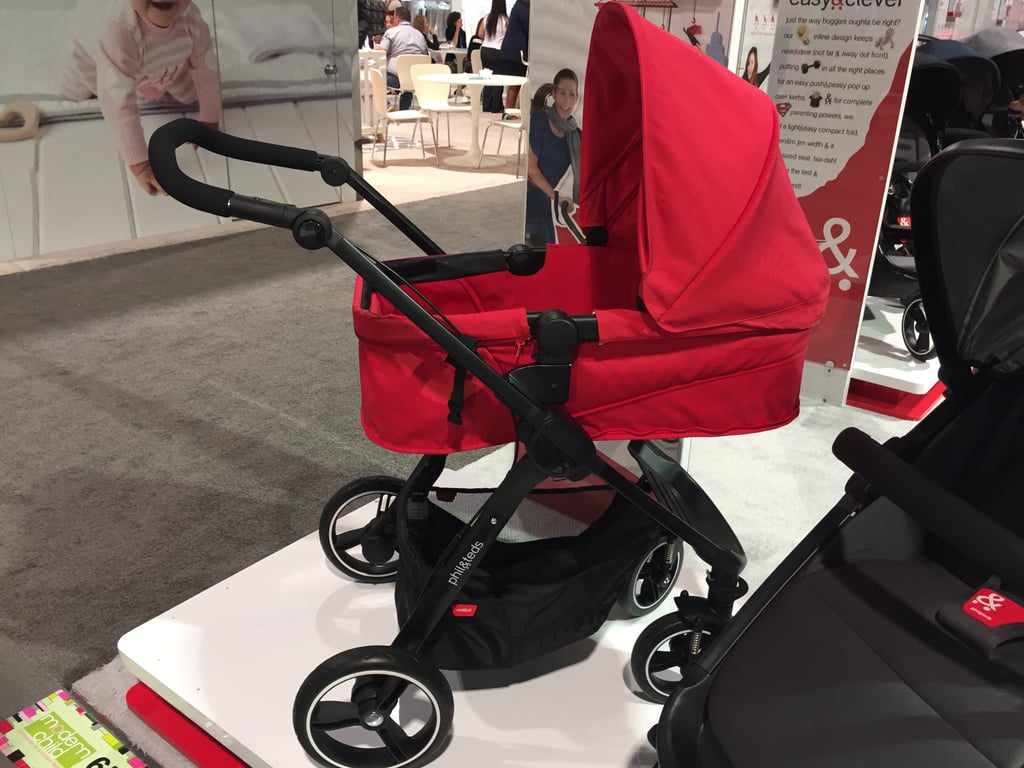 An updated version of the Smart Lux ($449) will be introduced with more options than ever.
Mamas & Papas Rose Gold Urbo2 Stroller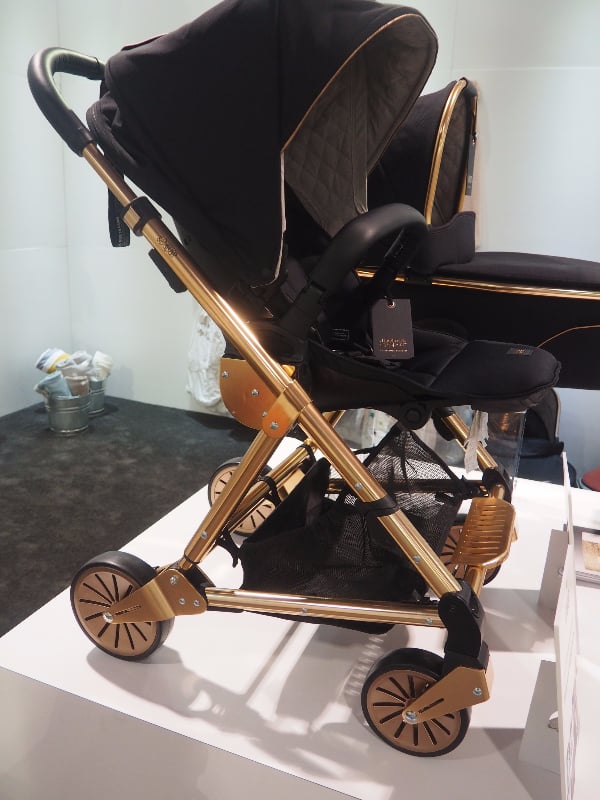 For those looking to make a statement with their stroller, look no further than the limited-edition Mamas & Papas Urbo2 ($700) with rose gold hardware. The company will only produce 300 of them for the US market, and with the three-digit price tag (a bargain for such a luxury item), we imagine they'll fly off the shelves.
Baby Jogger City Go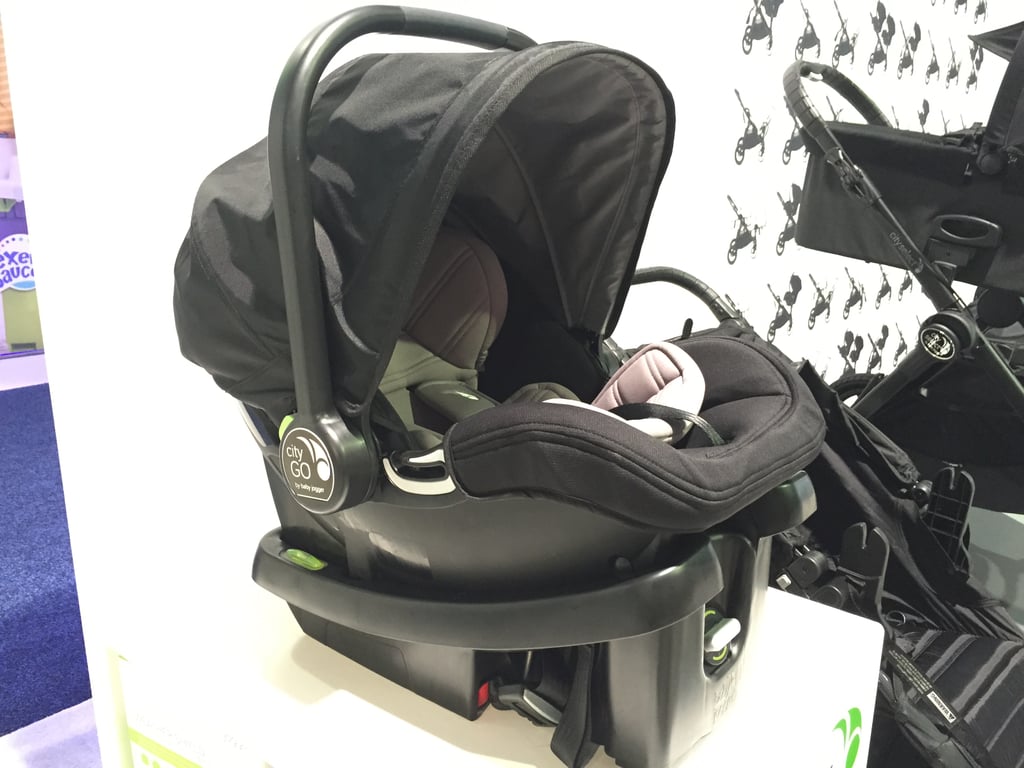 Baby Jogger will introduce its first car seat — the City Go ($229) – in April. The infant seat features a taxi-safe belt path to ensure babies remain safe even while on the go. The seat has a six-level recline, a no-rethread belt, and a three-panel sunshade with UV 50 protection. It's compatible with all Baby Jogger strollers.
B.box Weighted Sippy Cups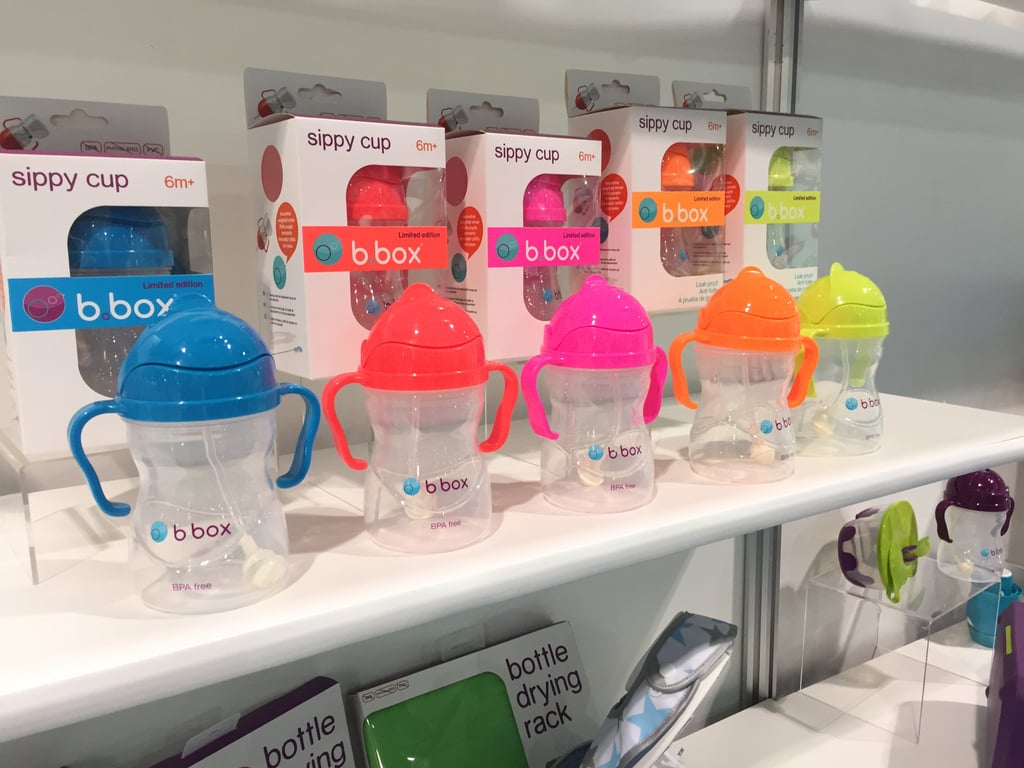 After years of success in Australia, b.box is bringing its popular weighted sippy cups ($12) to the US in a variety of colors.
Baby Jogger Metro Stroller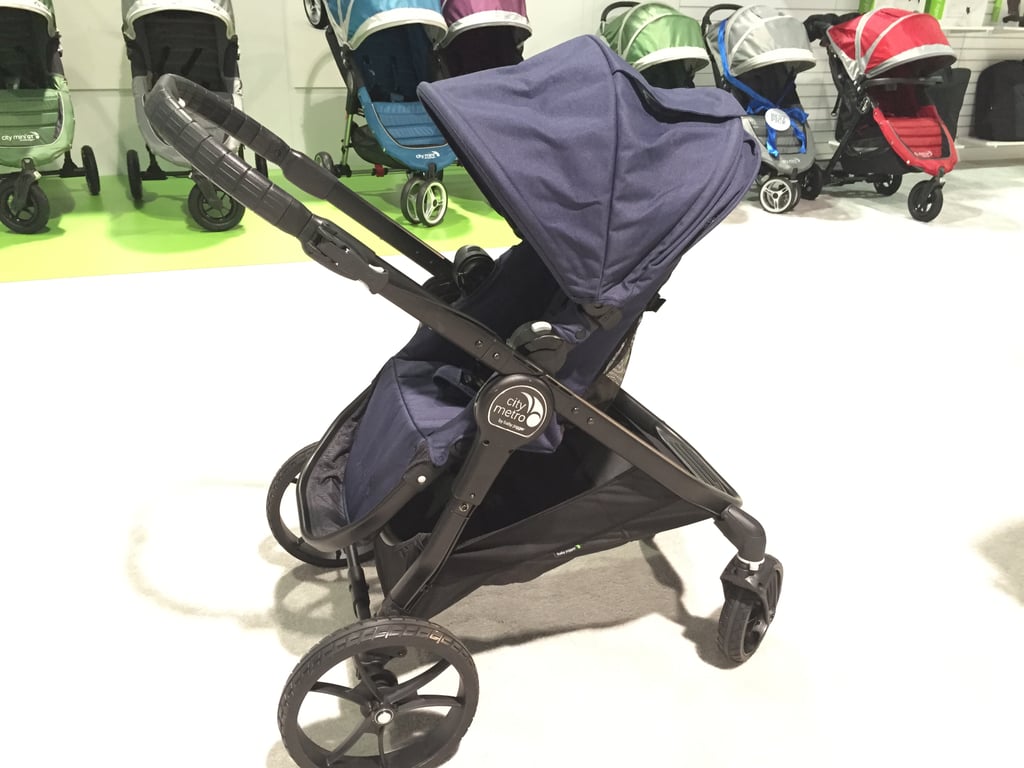 Baby Jogger has learned from the popularity of its versatile City Select. The company is imparting the same functionality into its new Metro stroller ($429) that is basically the City Select but for one child. It should hit stores in March 2016.
Graco Pack 'n Play Everest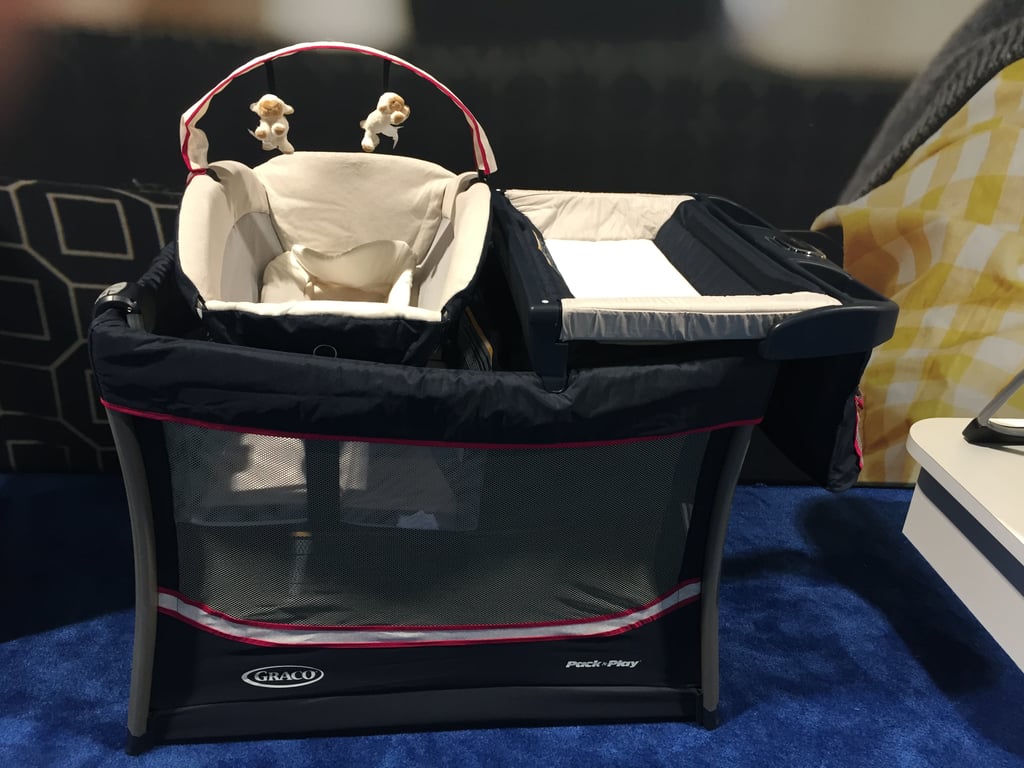 The most luxurious Pack 'n Play to date, the Everest ($319) has an updated frame. But the most impressive part is the changer that actually folds into the side of the portable crib for easy and out-of-sight storage. Also pretty cool — the plush bassinet that can be used in the Pack 'n Play and on its own.
Prince Lionheart Back to Sleep Bunny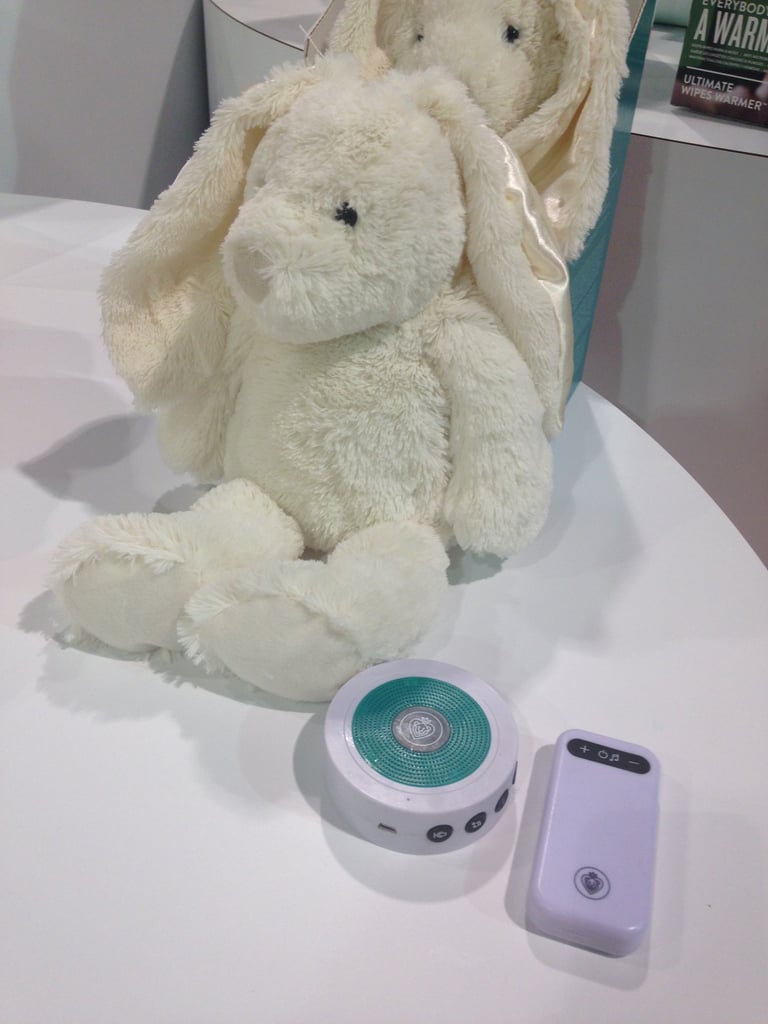 The point of difference for the Prince Lionheart Back to Sleep Bunny is that, in addition to soothing sounds, a parent can record their own voice. Plus, it comes with a remote control for when you want to turn it on or off without disturbing a sleeping baby.
My First Birthday With Sophie the Girafe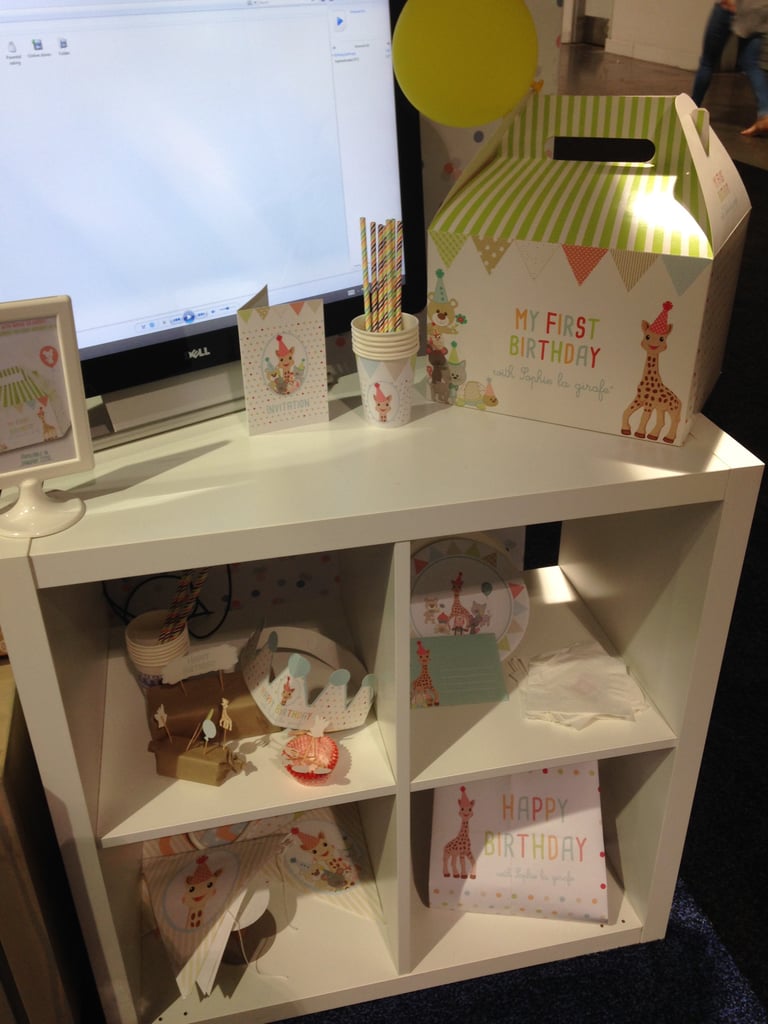 For those parents who love Sophie the Giraffe, they can now throw the ultimate French party with the famed brand's My First Birthday boxed kit, complete with crowns, plates, and bunting.
Britax B-Covered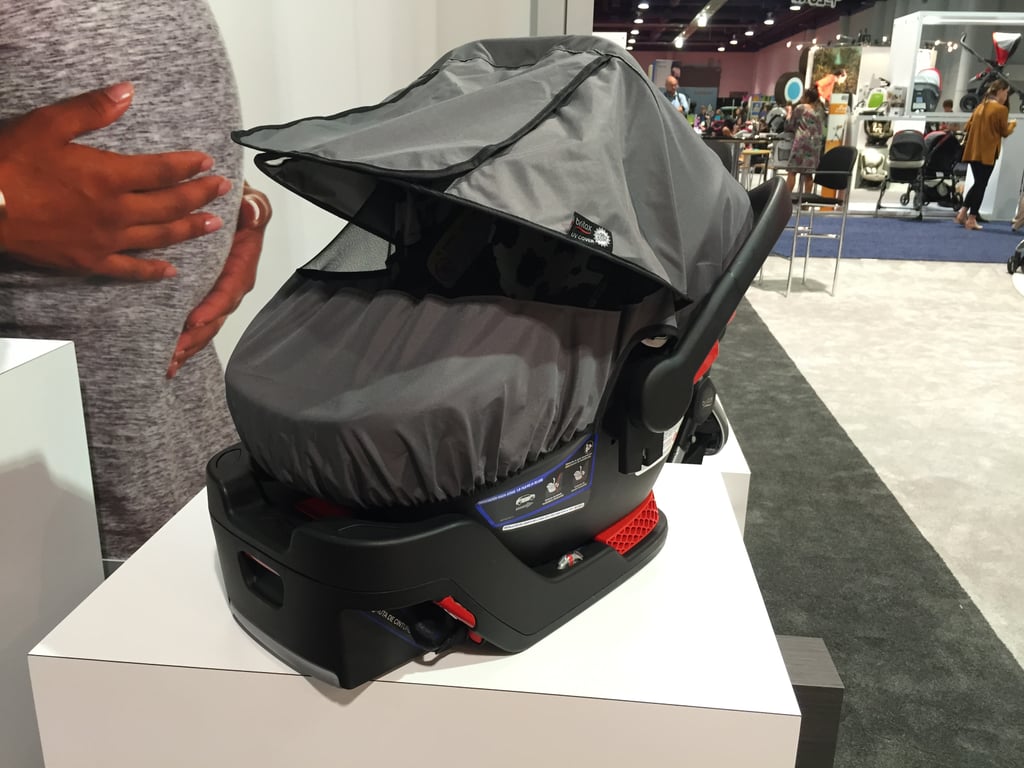 Britax is introducing its own rain and sun cover. The B-Covered ($30) features UV protection, a rain guard, and a bug net to keep little ones safe and comfortable from the elements.
HatchBaby Changing Pad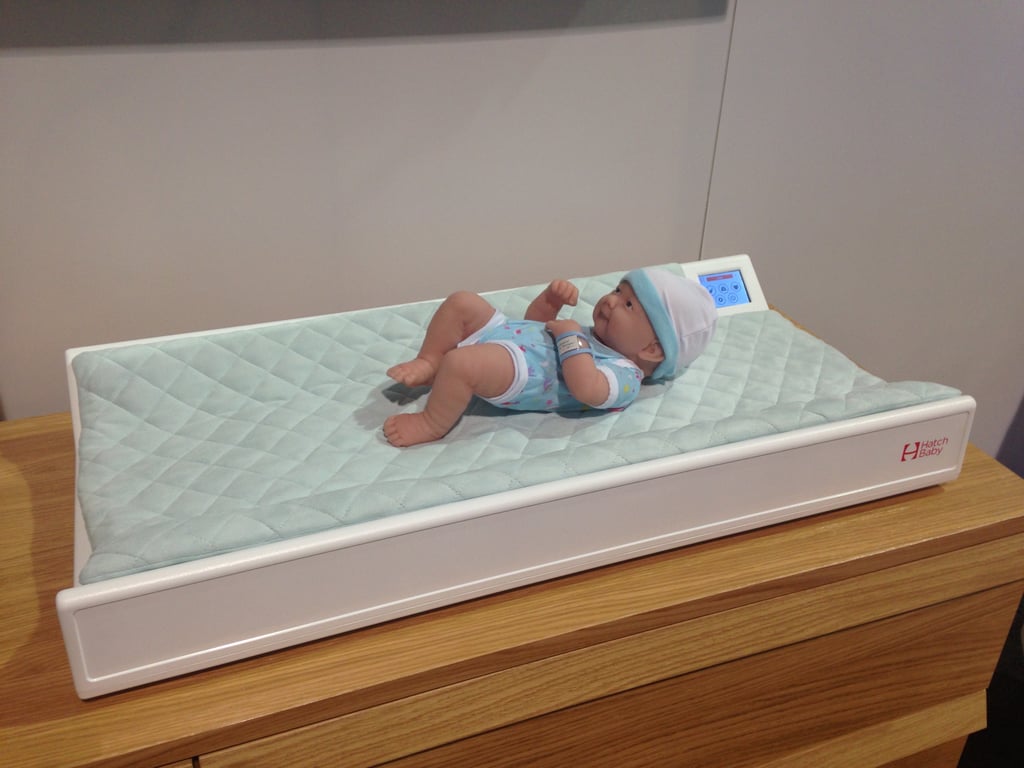 The HatchBaby changing pad with a built-in WiFi scale ($299) is every new mom's dream. You can chart your baby's growth, determine how much breastmilk they consumed, and log diaper changes, all with a few clicks. All of the information connects to an app that charts your baby's progress for the ultimate peace of mind. It's not available until December, but the company is accepting preorders now.
Mamas & Papas Armadillo Flip XT Stroller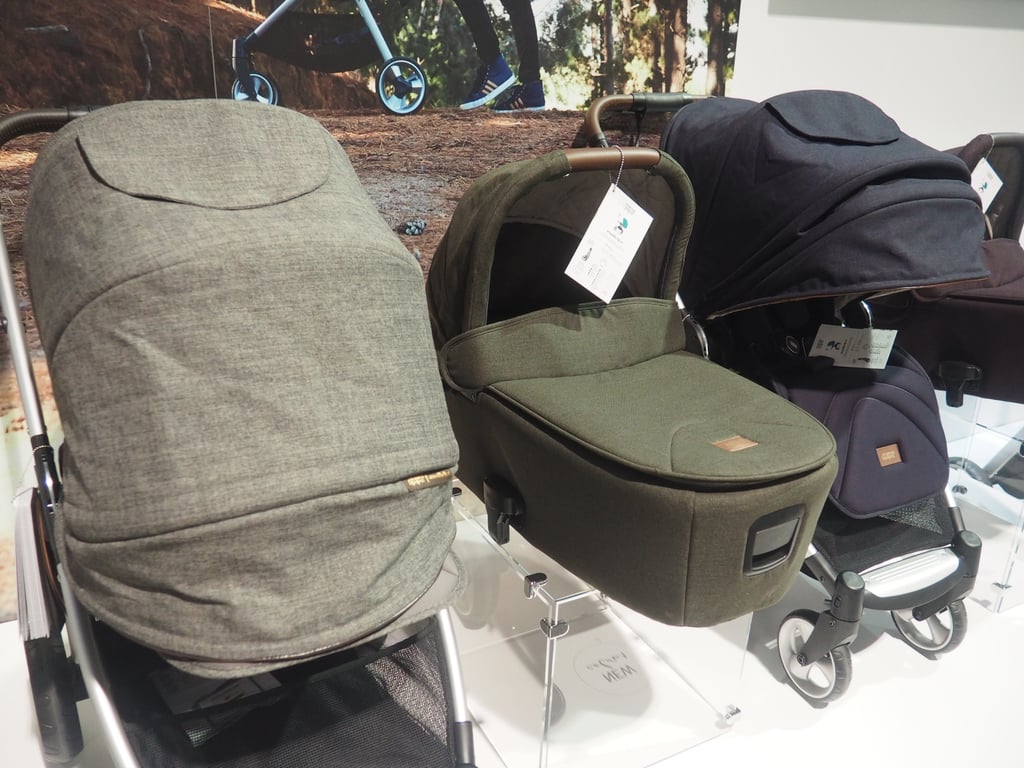 For 2016, Mamas & Papas is giving its bestselling stroller, the Armadillo Flip XT ($700), a facelift with luxe tweed fabrics.
Ubbi Bath Shelf
The new Ubbi Bath shelf is part of the company's expansion from the diaper pail to the bath. It stretches across the bath to hold toys and supplies. The shelf will hit stores in early 2016.
Mountain Buggy Unirider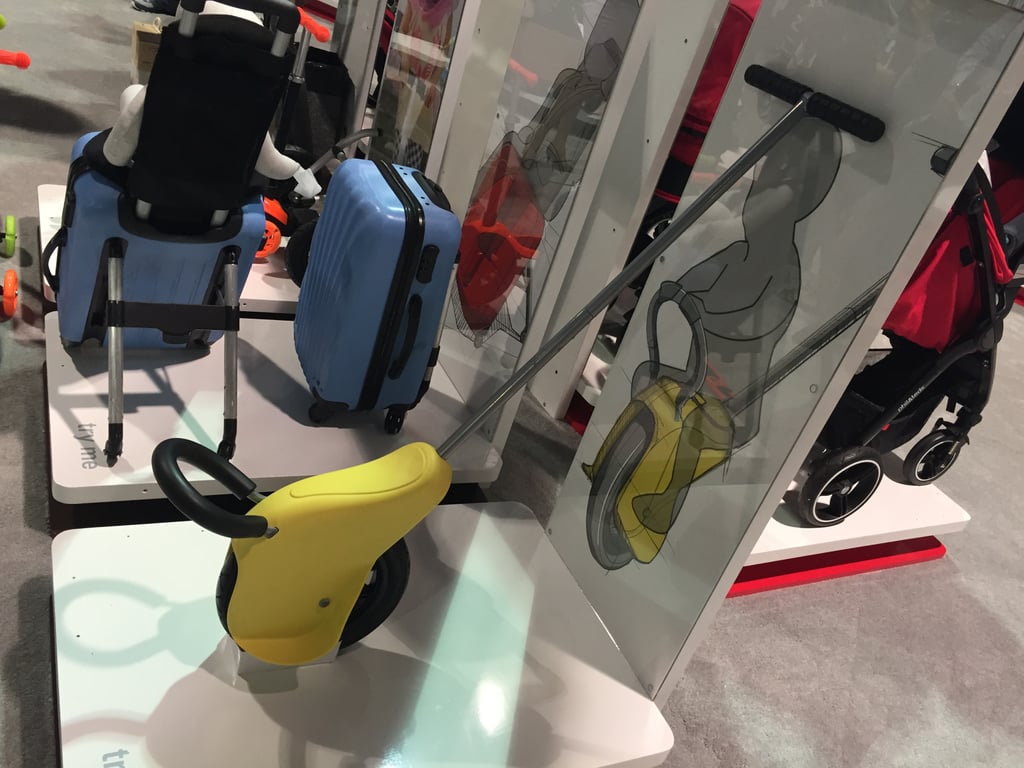 Don't just think of Mountain Buggy as a rugged stroller company. The company is entering the transportation arena with items like the Unirider ($99), a balance bike ride-on that teaches tots how to balance while parents push them along. It will arrive in early 2016.
Lulujo Muslin Swaddles and Clips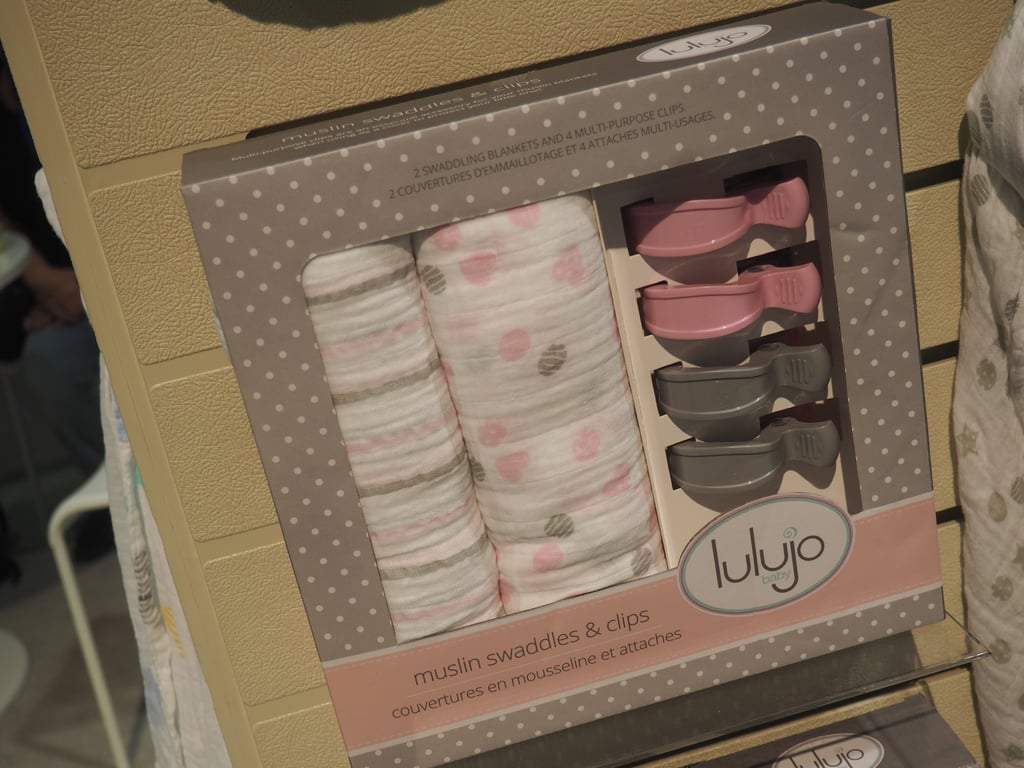 If you've ever used your trusty muslin blanket to drape over a car seat or double as a nursing cover, you've probably struggled with keeping it in place. In 2016, Lulujo will offer a two-pack of swaddling blankets that comes with four multipurpose clips ($39) so that you can get much more use out of the brand's key product.
Nuna Tavo Stroller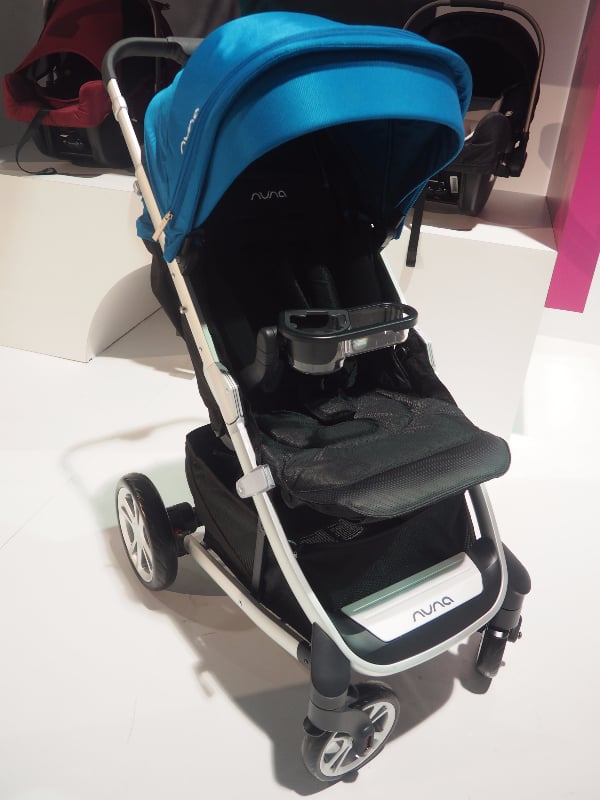 Nuna's brand-new Tavo stroller ($349) features a unique "dream drape" covering with full air flow, an attachable snack tray, a truly one-handed collapse fold, and a leg rest that can rise to create an enclosed bassinet.
Cake Maternity Lotus Yoga Bra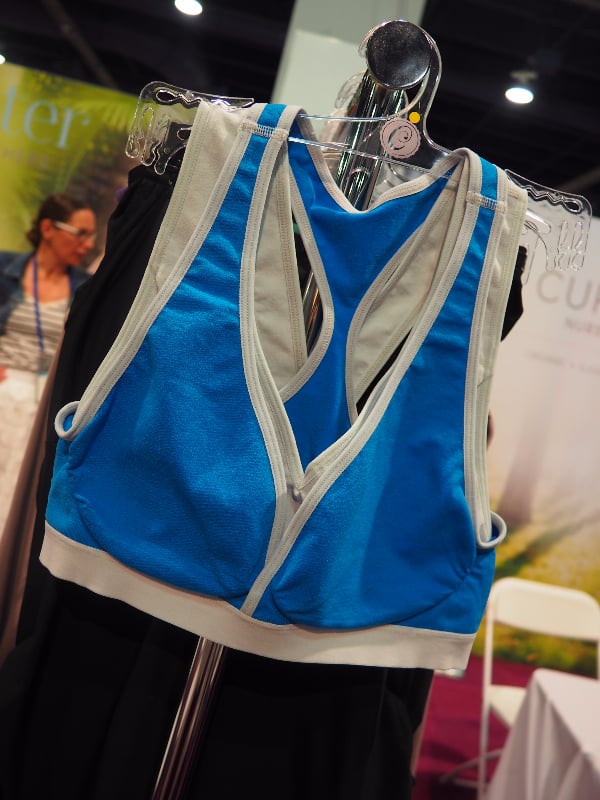 There are nursing bras, but there aren't many pumping bras. The Lotus yoga bra, new from Cake Maternity, has been specially designed to help moms who often use a breast pump.
Little Giraffe Teether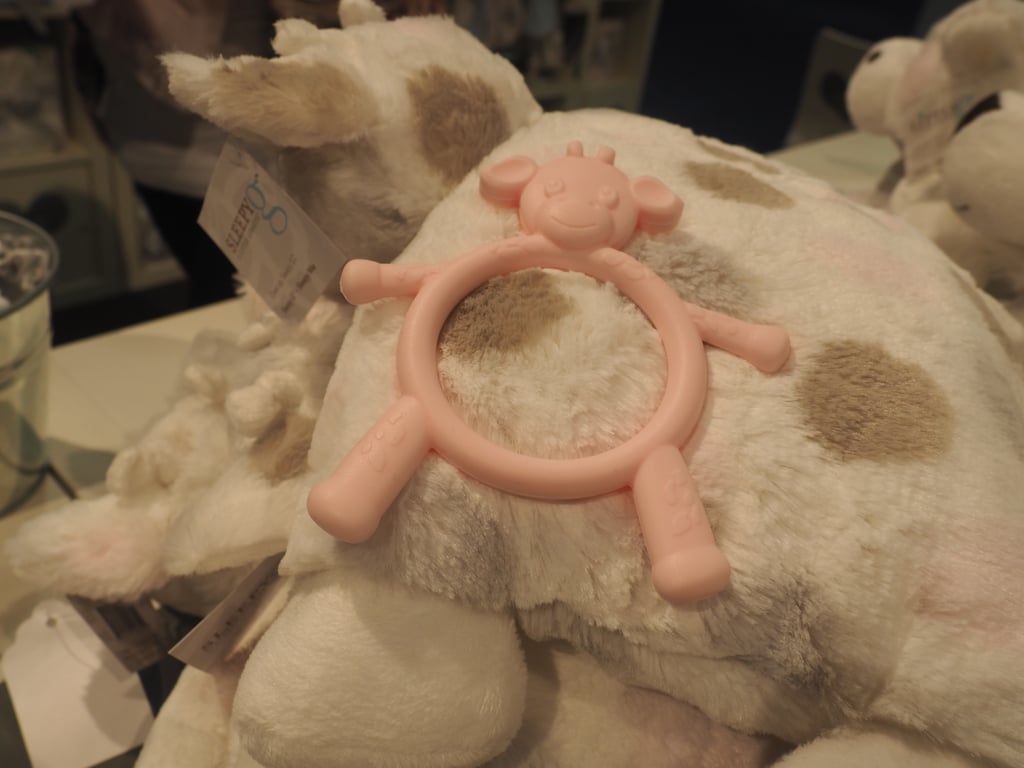 This adorable cow teething ring from Little Giraffe is beyond durable. It's microwaveable, freezable, and dishwasher safe. Plus, it is made of a food-grade silicone so virtually no dirt can stick to it.
My Carry Potty Wipes Holder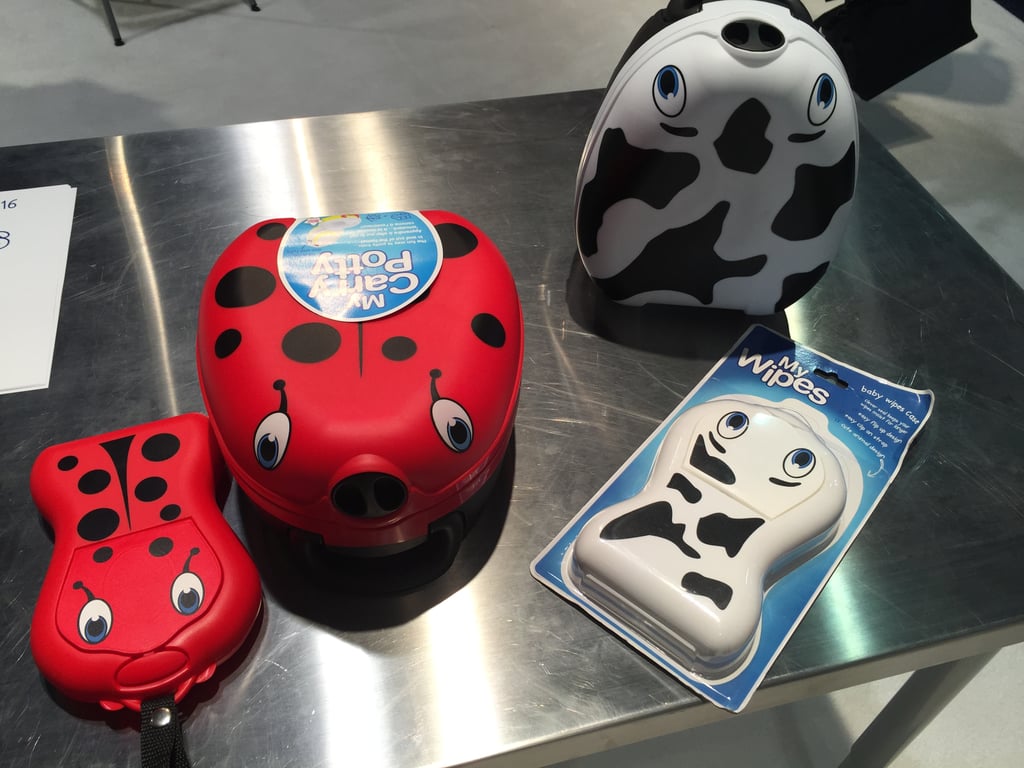 My Carry Potty is introducing an adorable line of coordinated wipes holders for on-the-go cleanup!
Cloud B Peaceful Panda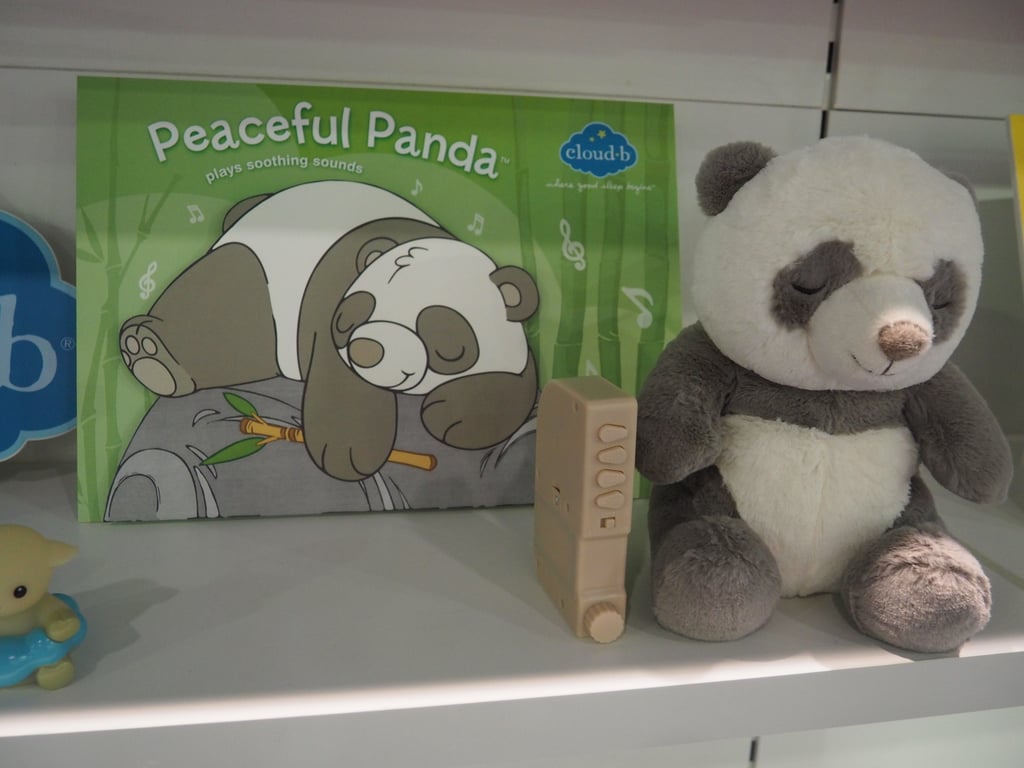 If you've sworn by the Cloud B Sleep Sheep, you'll adore the new Peaceful Panda, a stuffed animal with a removable speaker box that offers eight unique, soothing sounds.
EvenFlo Sip and Seek Sippy Cup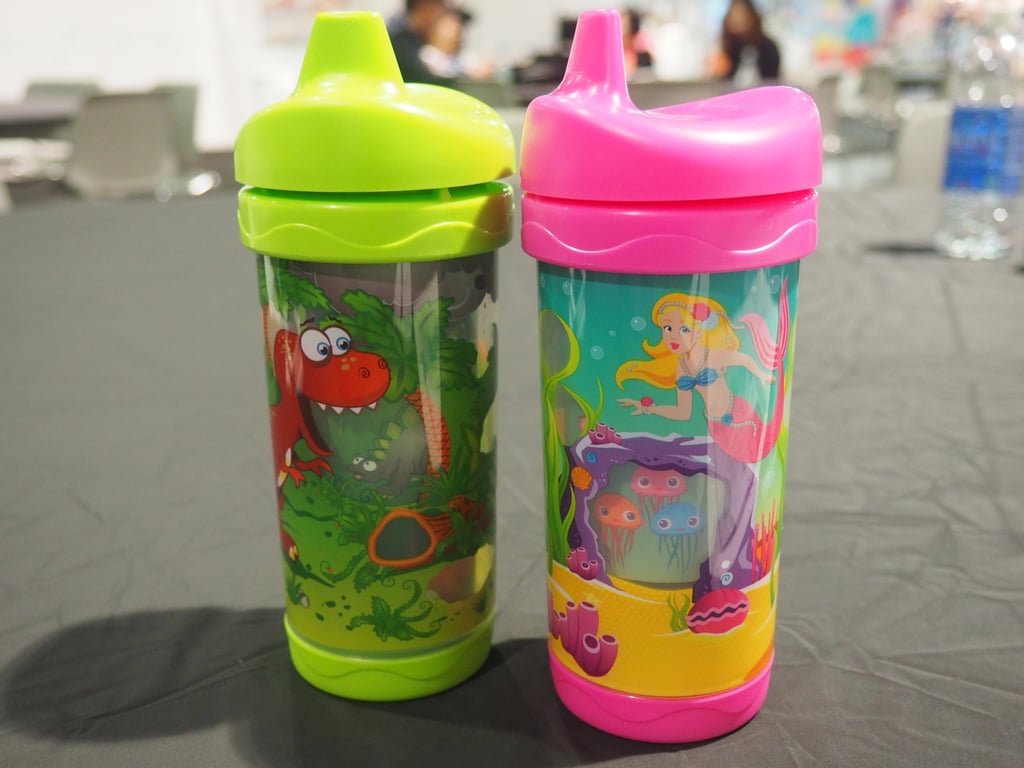 Just turn the outer shell of the cup and watch as different creatures pop up throughout the scene — featuring either a dinosaur or a mermaid.
Babyhome Vida Plus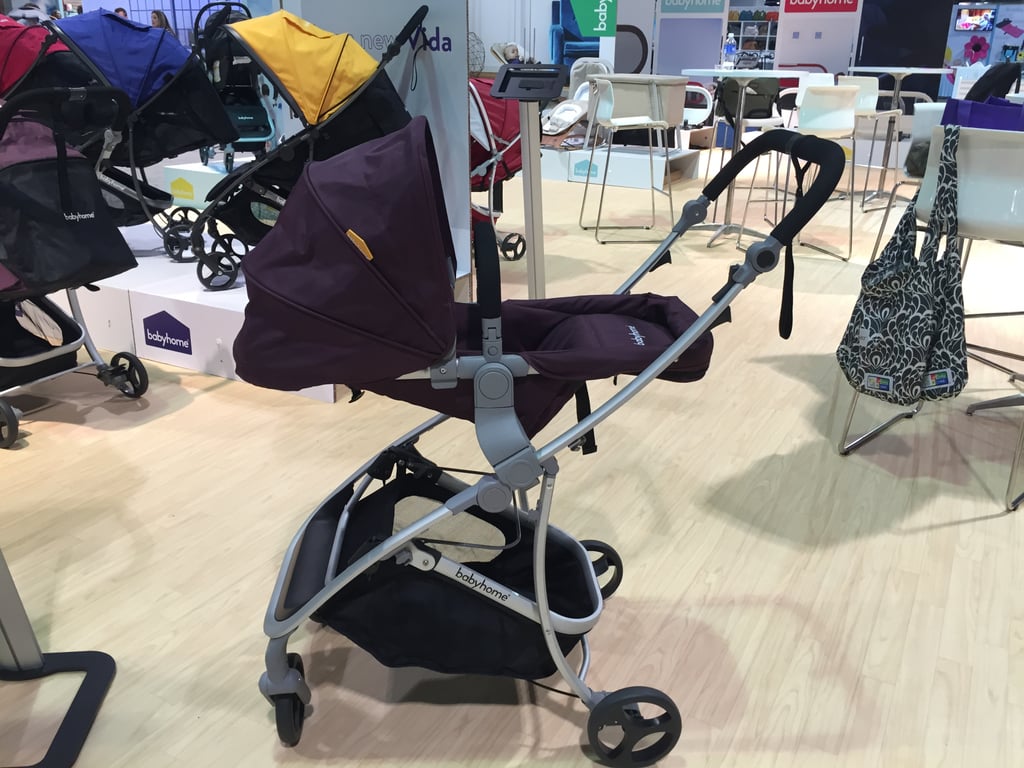 The Babyhome Vida Plus ($479) is a full-size stroller that converts into a lightweight version. The frame comes with a bassinet kit, but simply snap in a Vida fabric kit and the seat transform into a lightweight push-chair. The stroller will be available in March 2016.
BooginHead SippiSnack Cup
Expecting your little one to hold onto their drink and their snack is a bit unlikely. That is, until you give them the BooginHead SippiSnack ($7), an all-in-one sippy cup with a fold-away straw and a top compartment that fits snacks or even a pacifier.
7 A.M. Enfant Heather Gray Collection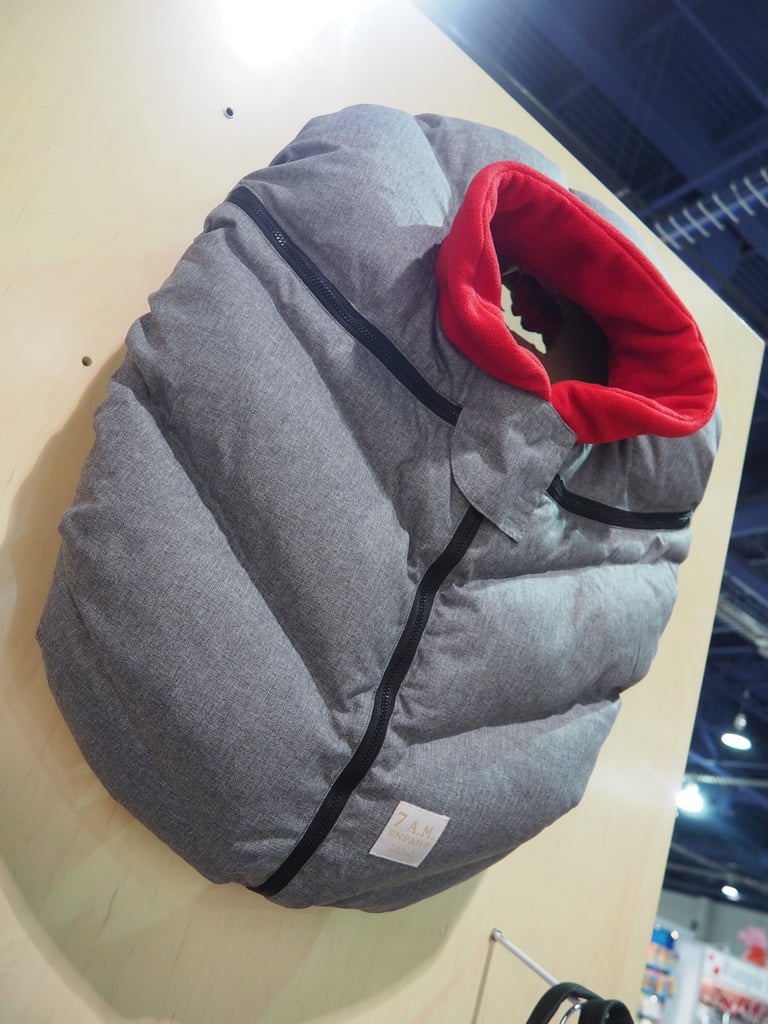 Gray seems to be the official color for baby gear come 2016, and the stroller muffs, car seat covers, and diaper bags are no exception at 7 A.M. Enfant.
Eric Carle Soother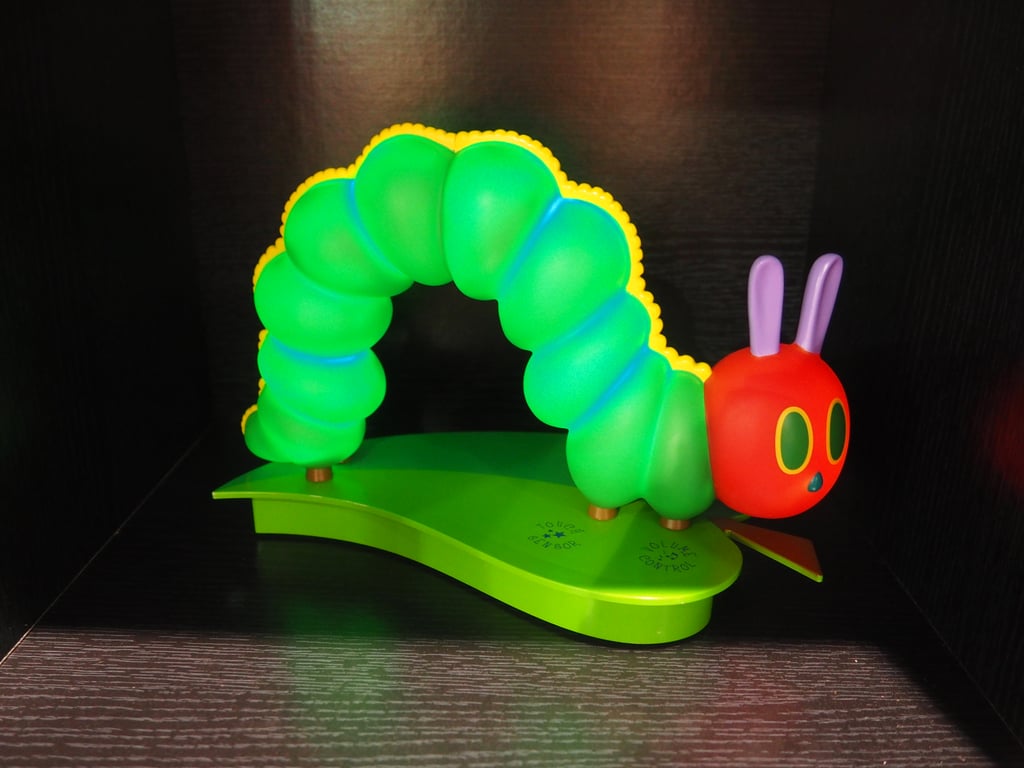 For those who love the iconic story of the very hungry caterpillar, this night light ($35) is as much a soother as it is an art piece! It has four different light modes as well as several melodies, which run 10 minutes longer than the standard 30-minute soothing gadgets.
Sigikid Beasts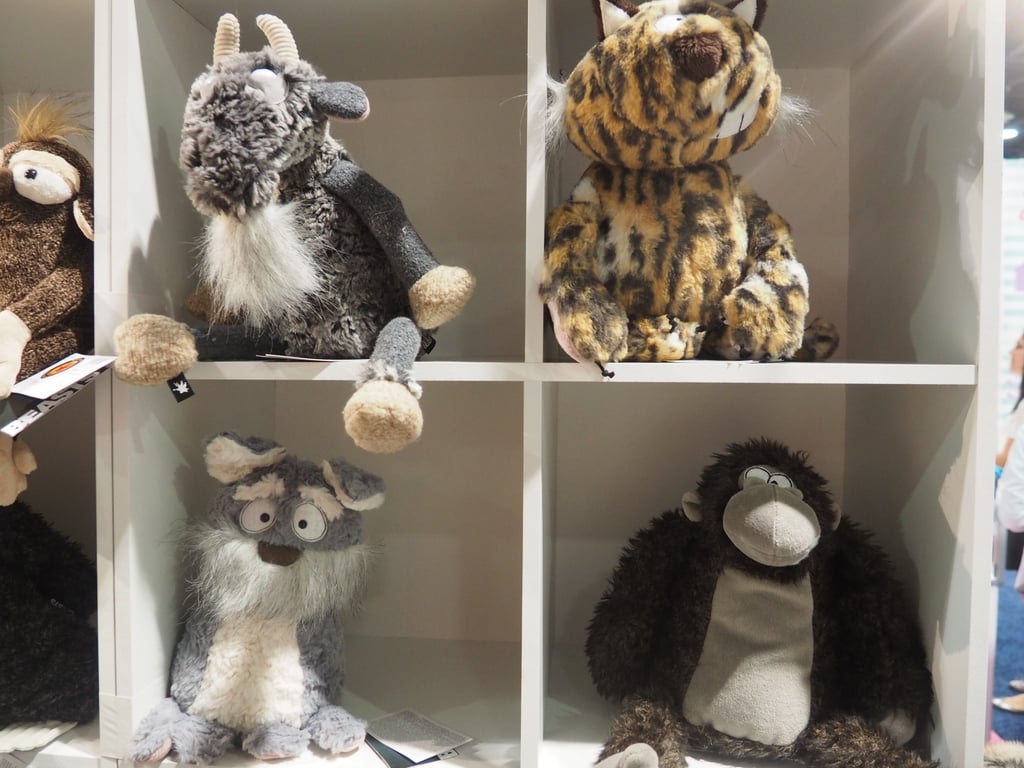 Stuffed animals aren't just for kids — they're also for adults who are kids at heart. That's why Sigikid has expanded its hand-finished Beasts collection to include a handful of additional characters, all with kooky names and wild stories.
Ezpz Happy Mat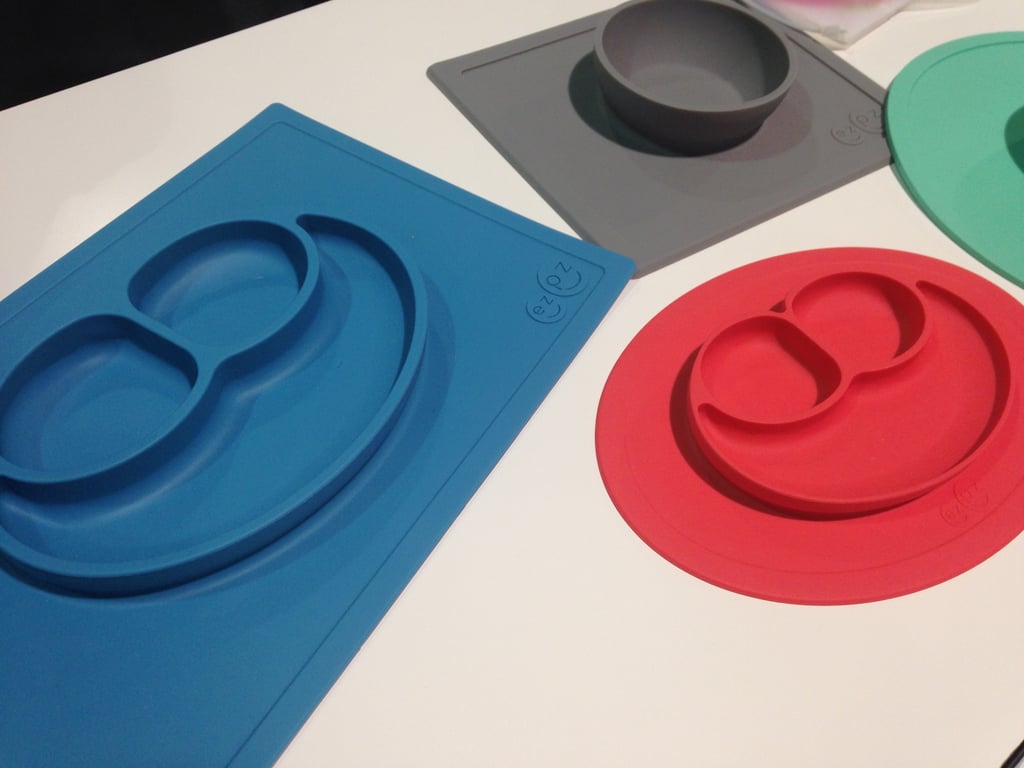 Silicone place mats aren't new, but the Happy Mat from Ezpz takes it to a whole new level. Not only does it have a built-in divided plate, but it suctions to the table (it's hard for even adults to pry it off!) and it's dishwasher safe!
PacaPod Diaper Bags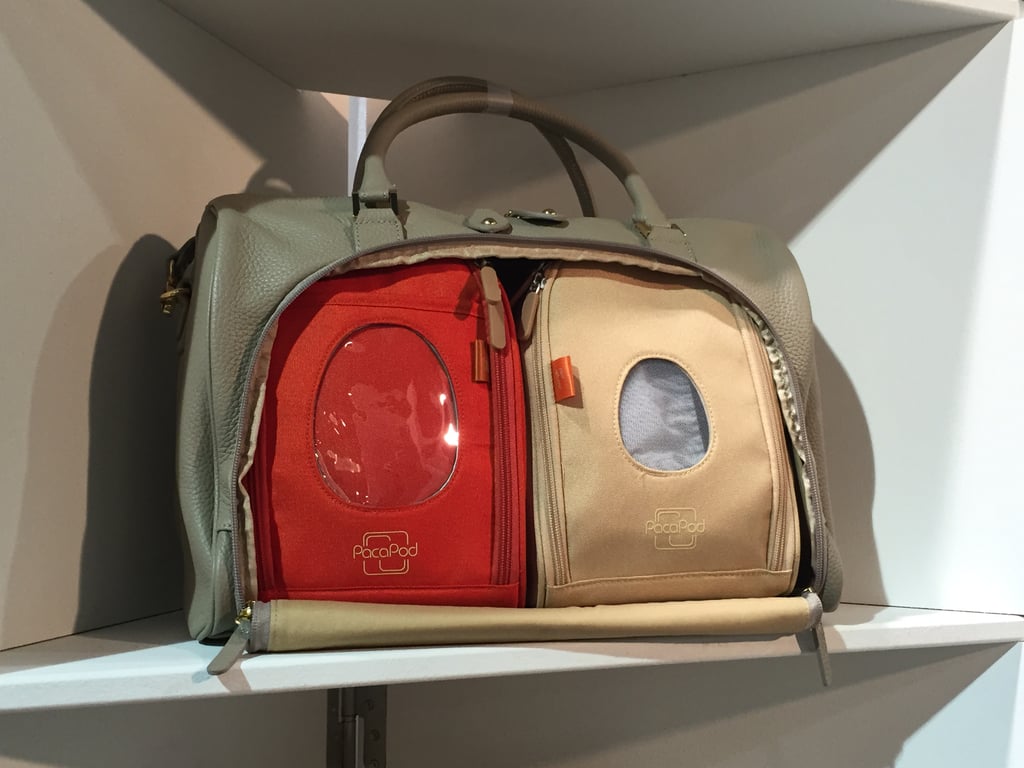 These PacaPod Diaper Bags ($140-$565) are an organized mom's dream. Each bag comes with two "packs" — one insulated for bottles and food, and one with pockets and accessories for diaper changes — that can be removed from the bag as needed.
Prince Lionheart Reversible Play Mat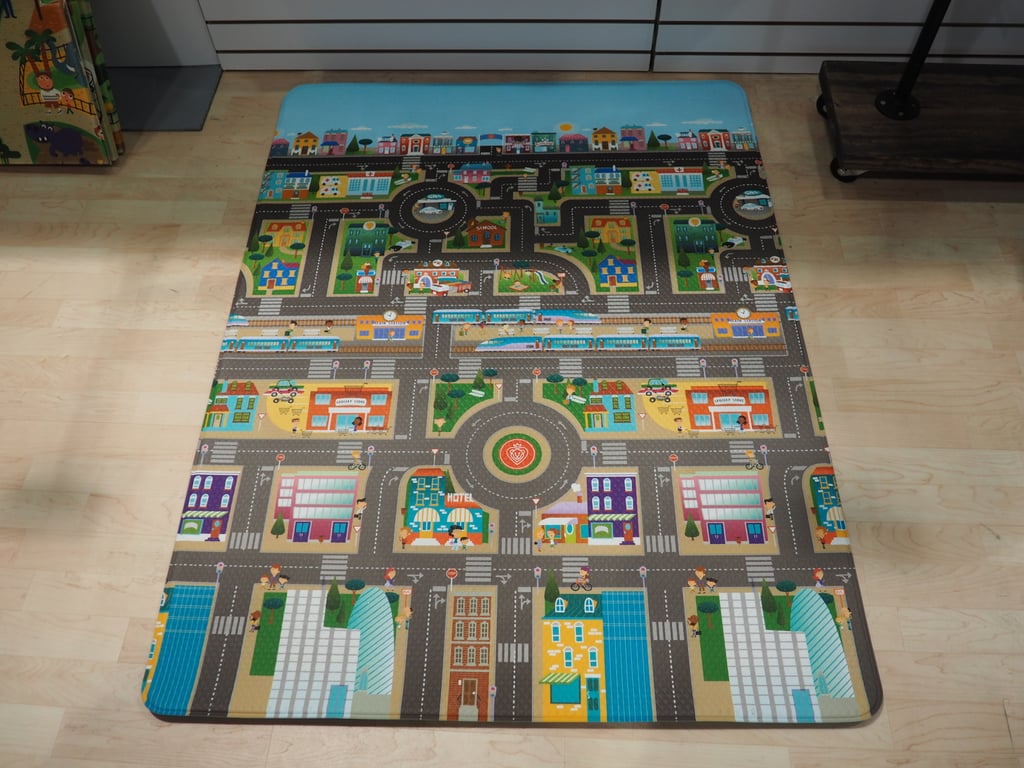 This new, ultradurable play mat ($90) from Prince Lionheart is sure to capture any child's imagination with the intricately designed city streetscape on one side and a detailed zoo scene on the other.
Puckababy Sleeper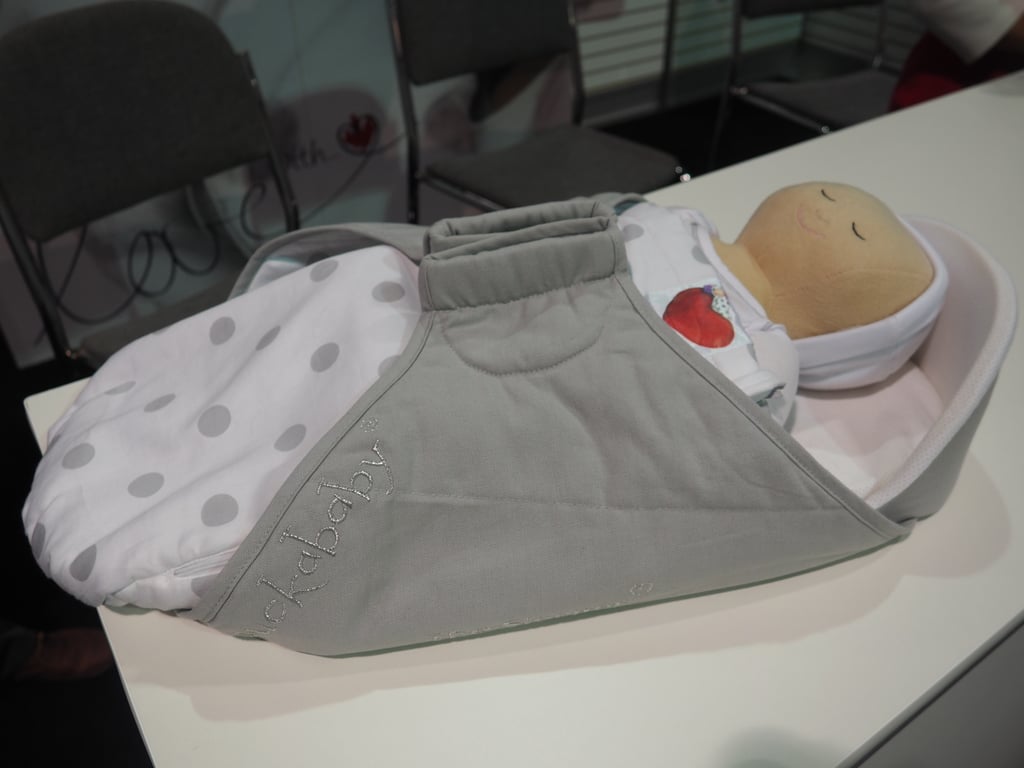 If you ever rocked a newborn to sleep in your arms only to have them instantly wail the minute they're set down in their crib, the Sleeper ($149) from Puckababy might be worth considering. The concept seems a bit bizarre — once your baby is zipped inside the flat-bottomed blanket-like carrier, the parent just grabs the handles with one hand and starts rocking — but it's meant to more easily put babies to sleep. Once they drift off, simply set the sleeper in the crib or in bed for safer cosleeping.
Oeuf Rugs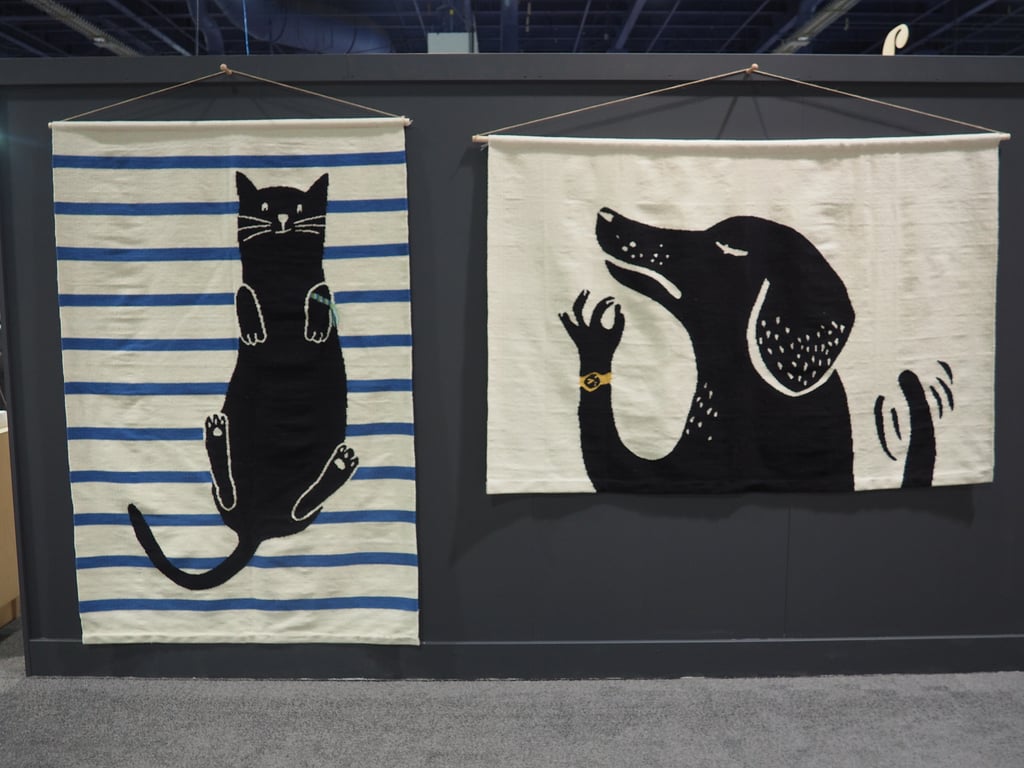 With Oeuf now venturing into nursery decor, the company hit a high note with its animal rugs ($440) that, thanks to a loop closure, can double as tapestries.
Phil & Teds Dash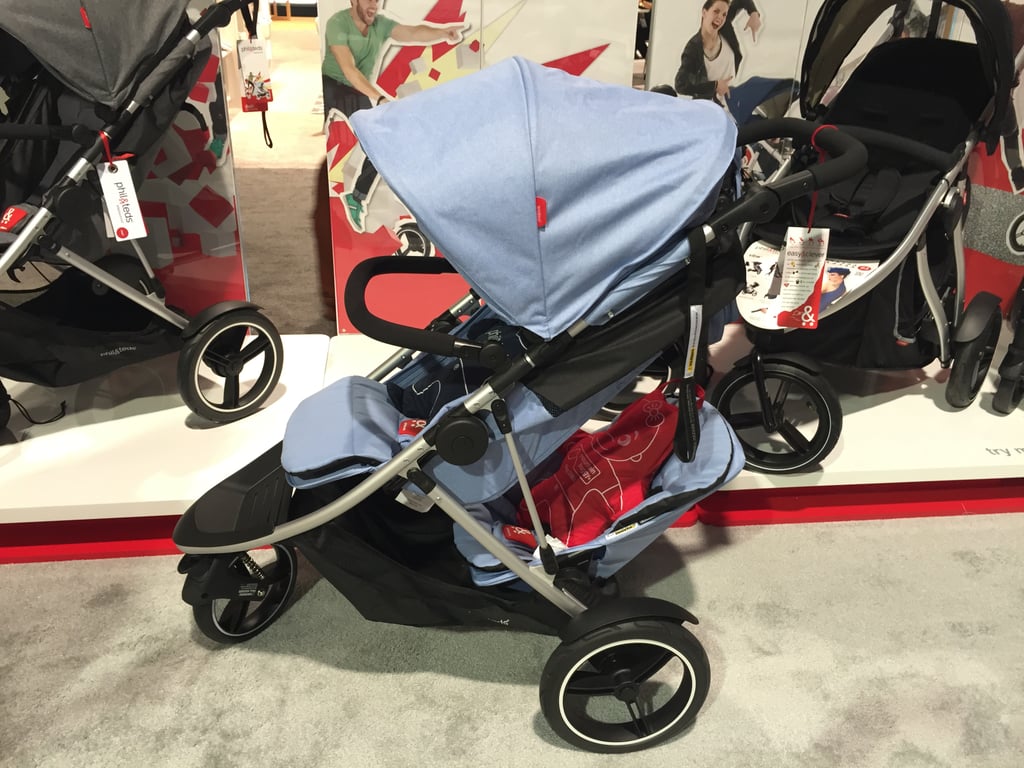 The Phil & Teds Dash ($549), the company's original inline stroller, is back. The updated version has new aeromax tires that ride like air-filled tires, without the maintenance.
Newport Cottages Skylar Collection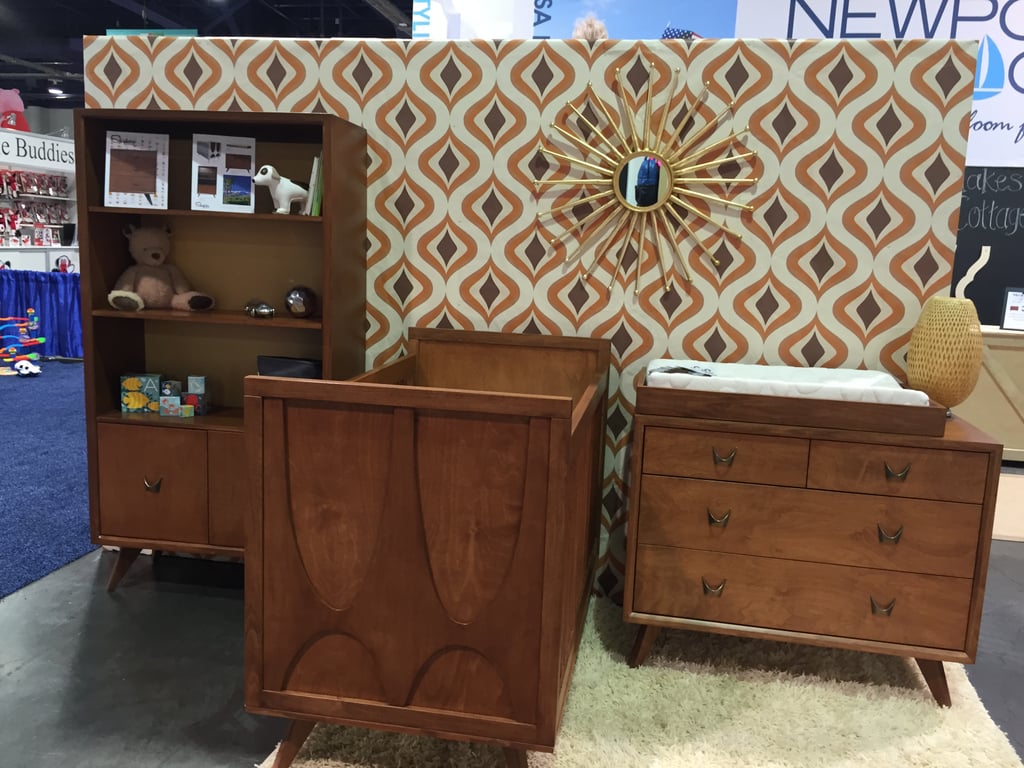 The mod Skylar Collection from Newport Cottages looks straight out of the Mad Men [5] set!
Newport Cottages Max Collection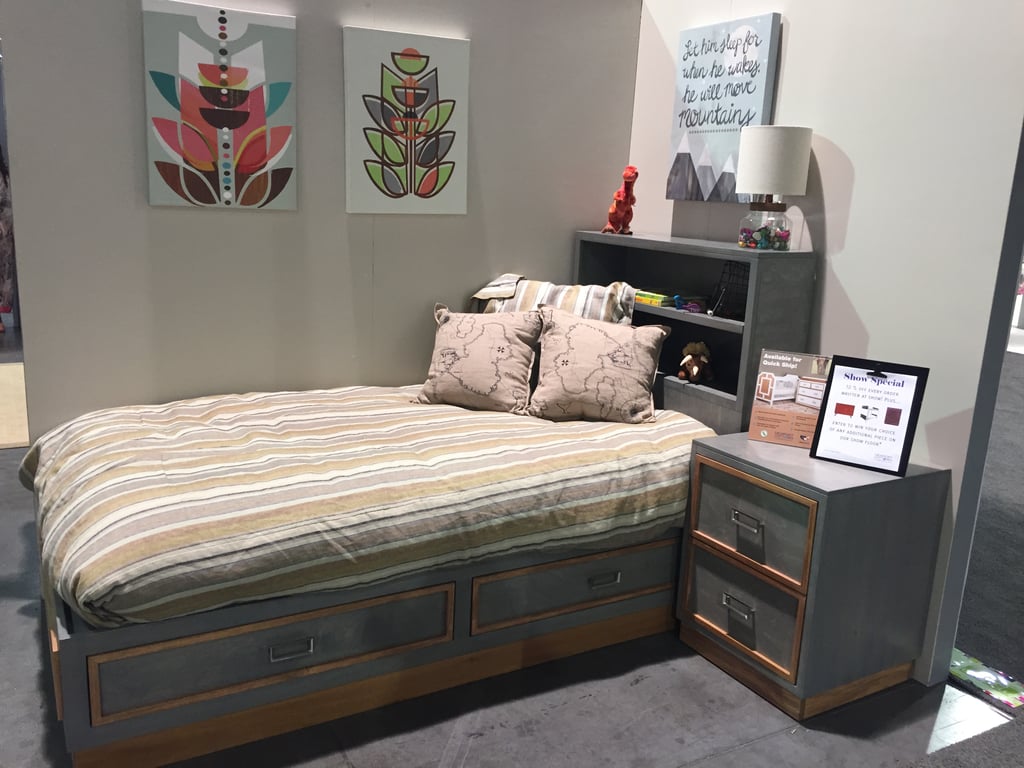 Newport Cottages' Max Collection will include this platform bed that has storage below it as well as a storage headboard behind it.
4moms High Chair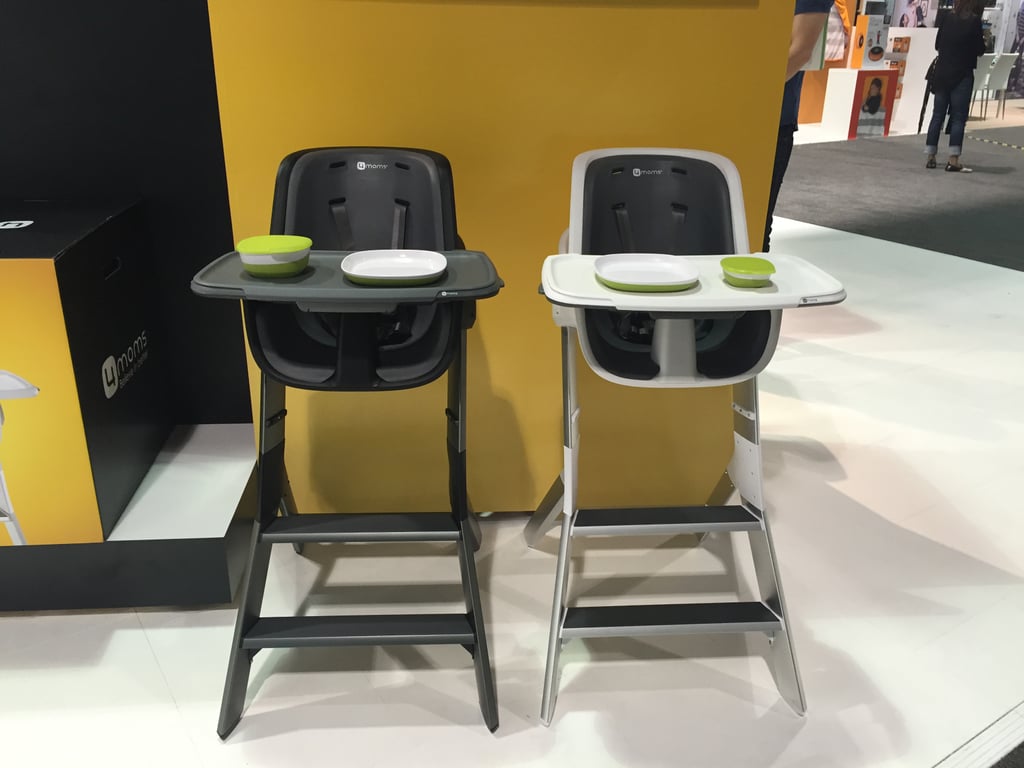 When 4moms introduces a new product, you know it is going to feature improvements on a common household item. For its new high chair, which will hit stores in early 2016, the company is rethinking the tray that is the bane of parents' existence. The 4moms tray is actually magnetic. Hover it over the seat and it locks into place. Place the included bowl — or one of the plates you buy separately — on top of the tray and it stays in place thanks to magnetic bottoms of the accessories. Pure genius!
Peg Perego Pliko Mini Twin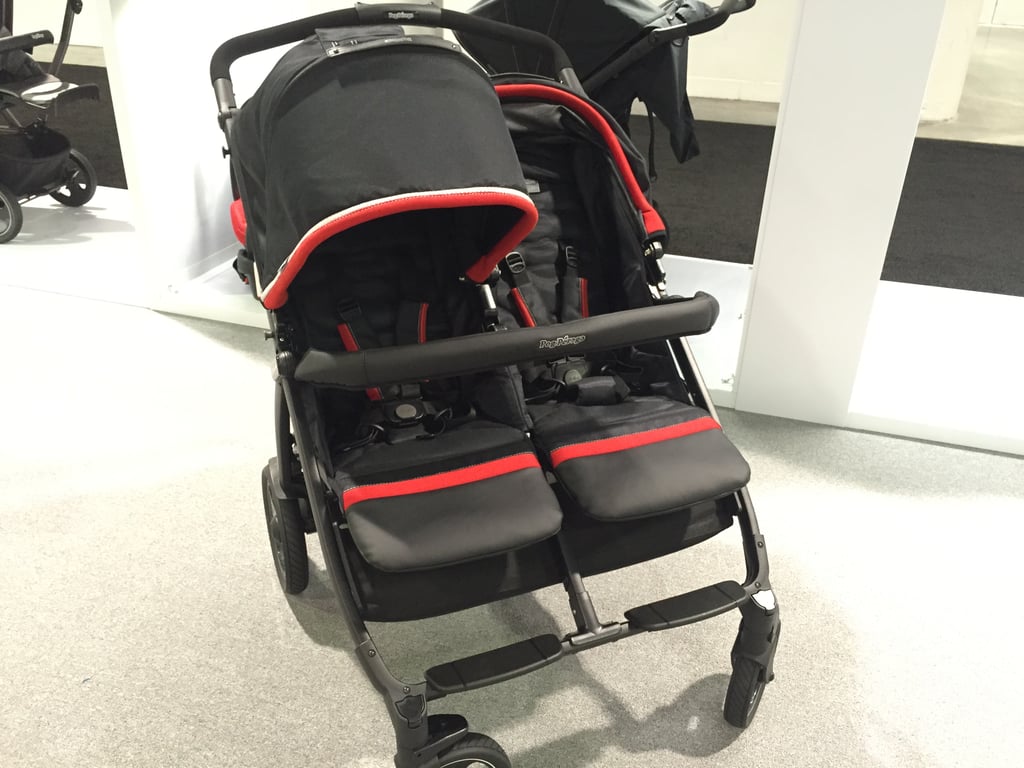 Peg Perego will introduce a side-by-side double stroller, the Pliko Mini Twin ($400), by the end of this year.
The First Years Paw Patrol Potty
Paw Patrol fans will have a potty to help with their potty training when the product is released in December 2015.
Skip Hop Phone Tether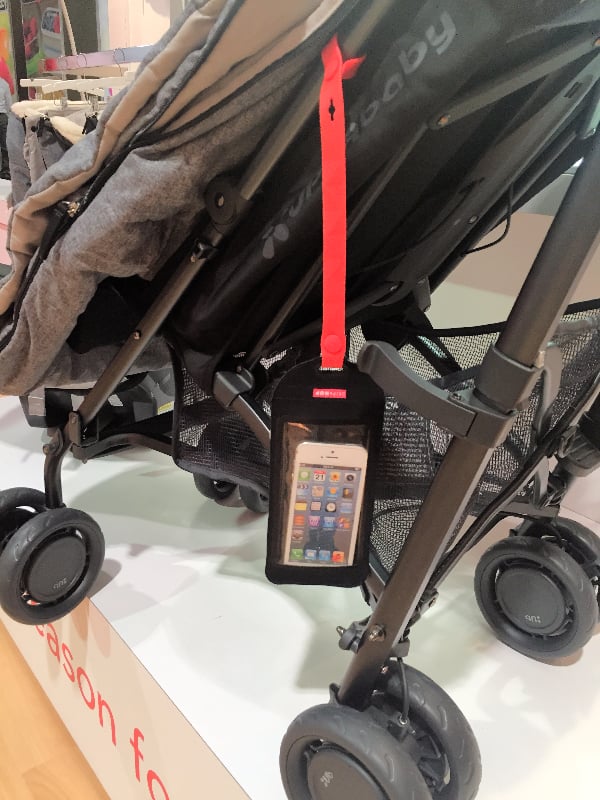 It may seem like a strange addition to the line, but Skip Hop's new Phone Tether was designed out of necessity. After parents complained of kids throwing and dropping their phones on the ground, the company designed a tethered holder to prevent cracked screens and lost phones.
Belly Armor Baby Hats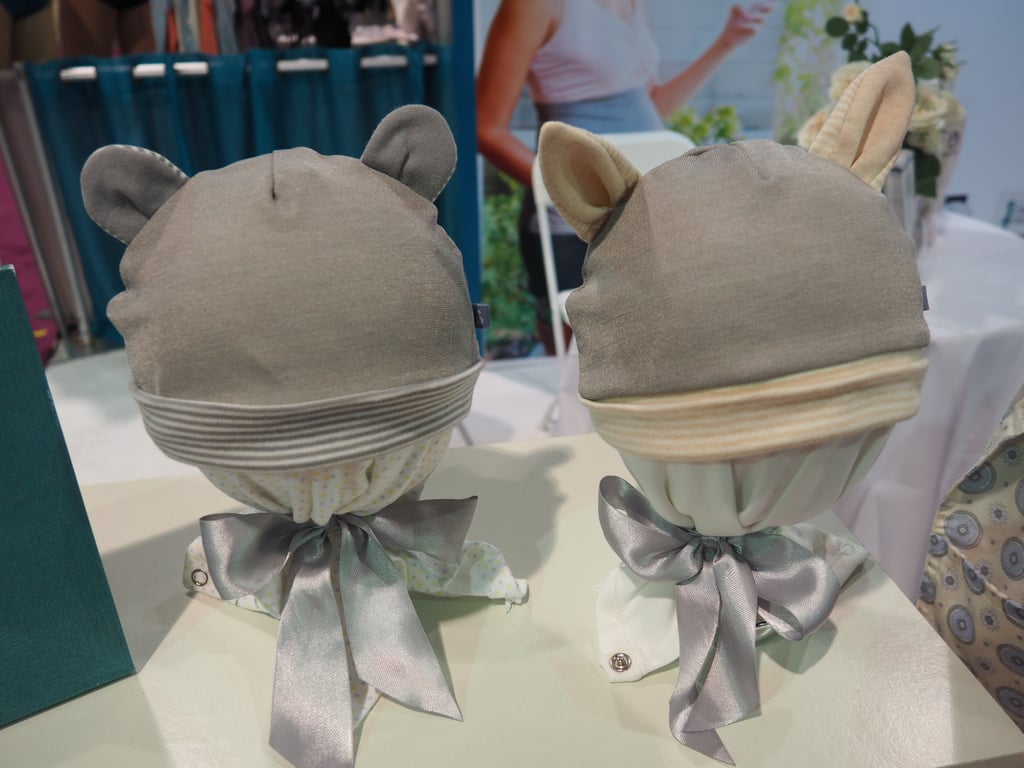 The same technology that has gone into Belly Armor's apparel line for pregnant women wanting to protect their unborn baby from radiation is now being used to help even longer. These tiny hats ($19) are especially important at blocking potentially harmful radiation from reaching a baby's developing brain.
Dr. Brown's Infant-to-Toddler Toothbrush Set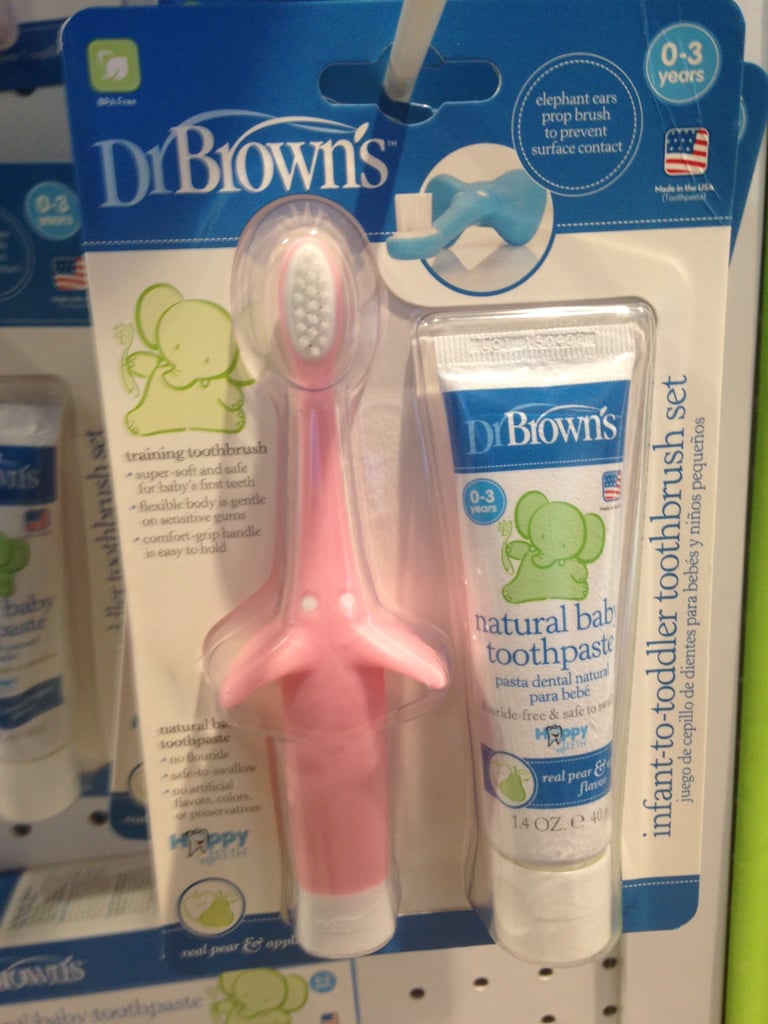 Dental hygiene should be fun for all ages, and this adorable elephant toothbrush, a new product category for Dr. Brown's, helps to make it enjoyable. Plus, the ears allow the toothbrush to rest in any direction without letting the bristles touch the countertop.
Mamas & Papas Liberty Collection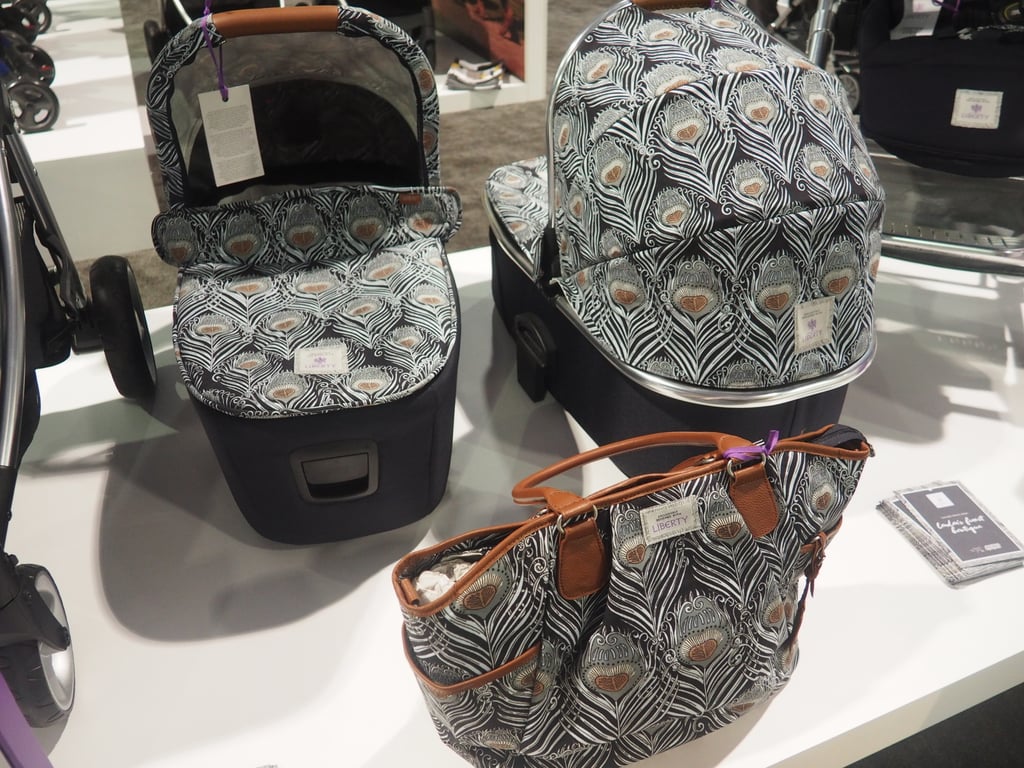 For the first time, British company Mamas & Papas has partnered with Liberty of London to release an exclusive print — inspired by peacock feathers — designed especially for the brand's strollers, diaper bags, and carry cots.
Itzy Ritzy Muslin Car Seat Covers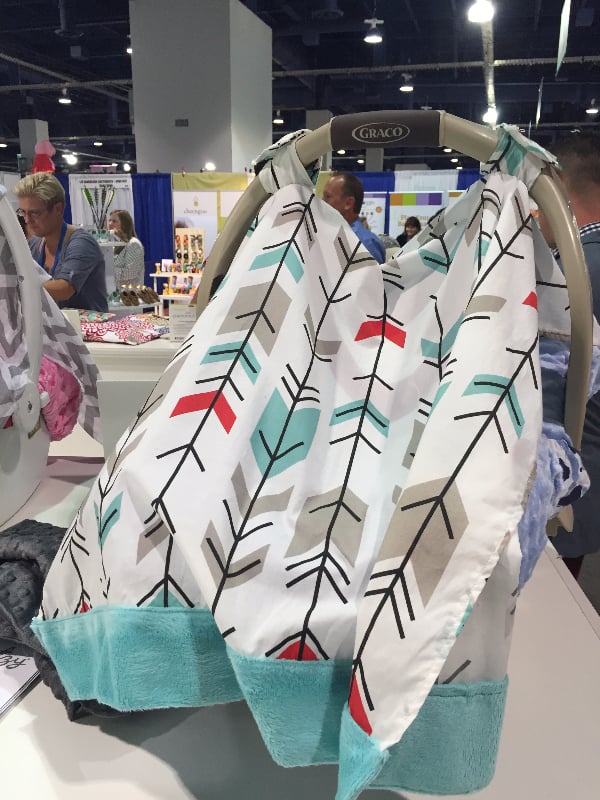 Itzy Ritzy is introducing a number of new prints for its nursing scarves and car seat covers, including this feather and arrows one.
Zoli Mash and Serve
Zoli's new Mash and Serve bowl has a grooved interior, making it easy to mash up little ones' food to the right texture. The silicone cover on the bottom of the bowl helps keep the bowl from flying off the table.
Micuna Life Collection Crib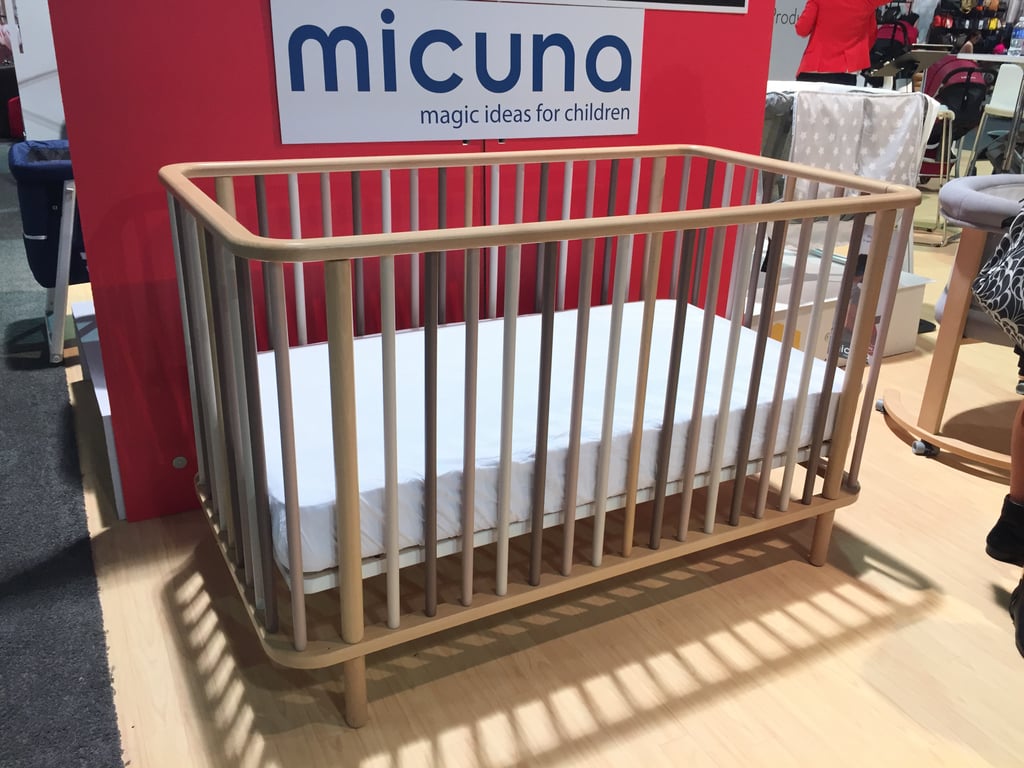 Micuna's Life Collection Crib ($800) can be customized by families — the spindles can be removed and replaced with spindles in a variety of colors.
Stokke Rainbow Style Kit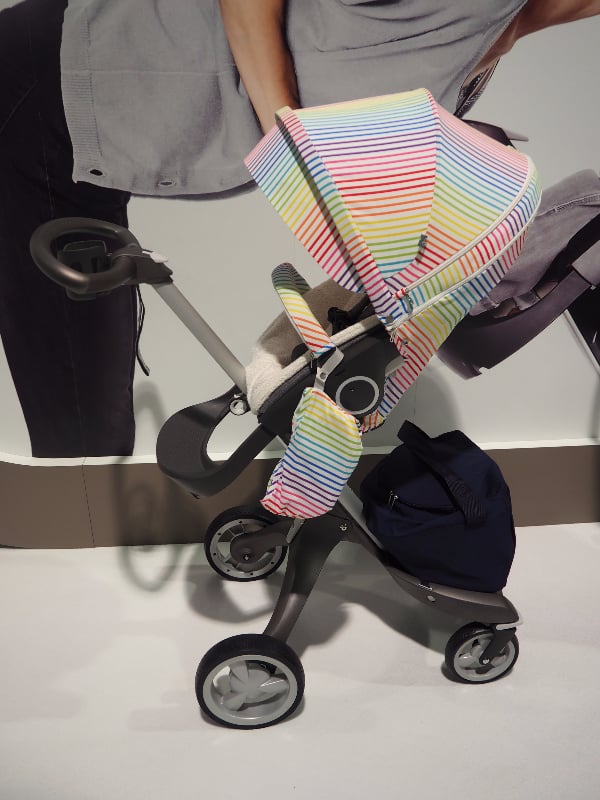 One of our favorite new style kits for a Stokke stroller is this rainbow-striped option.
Boon Bento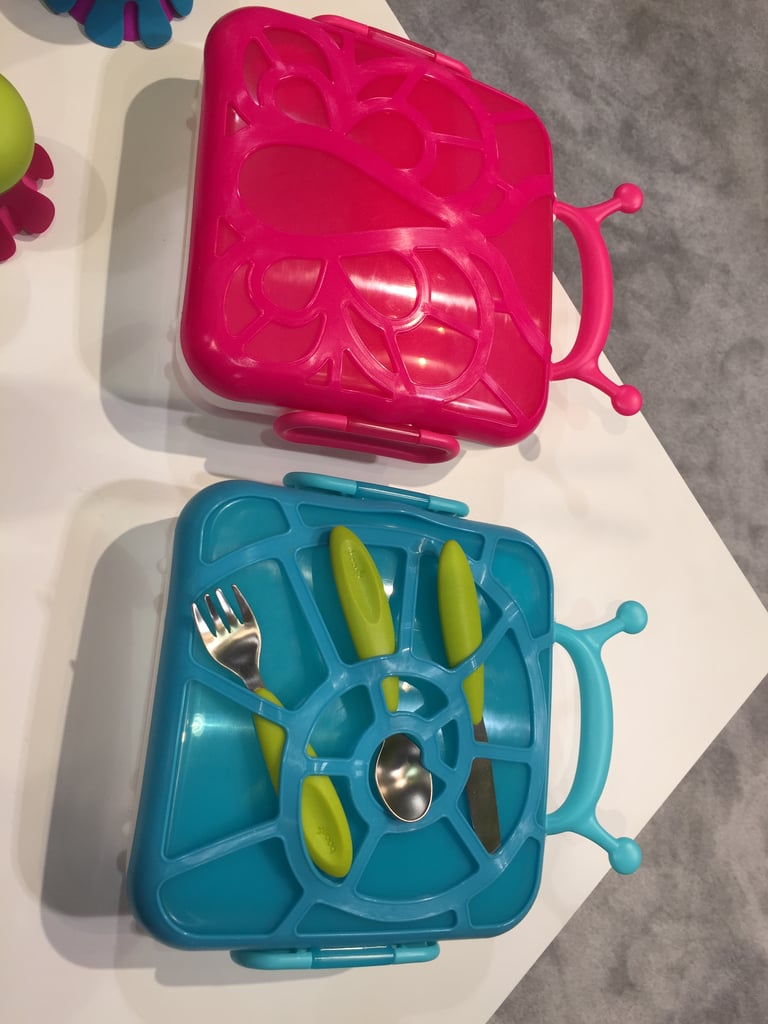 Boon's new ladybug Bento, which hits stores in March 2016, has a silicone cover that keeps silverware snuggly safe when kids are traveling to and from school.
BooginHead Pop! Bam! Wow! Feeding Collection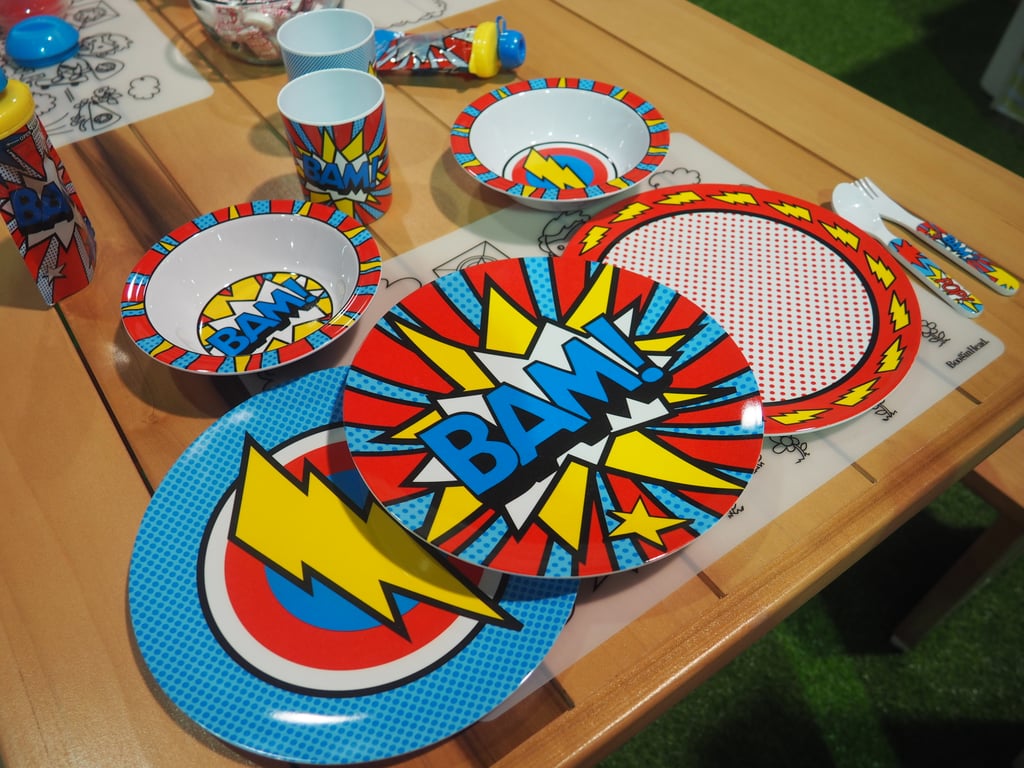 Looking to infuse a little action into mealtime? BooginHead's newly launched, 100-percent melamine Pop! Bam! Wow! collection of bowls, plates, cups, and cutlery for kids is sure to make dinner much more exciting.
Ubbi Diaper Pails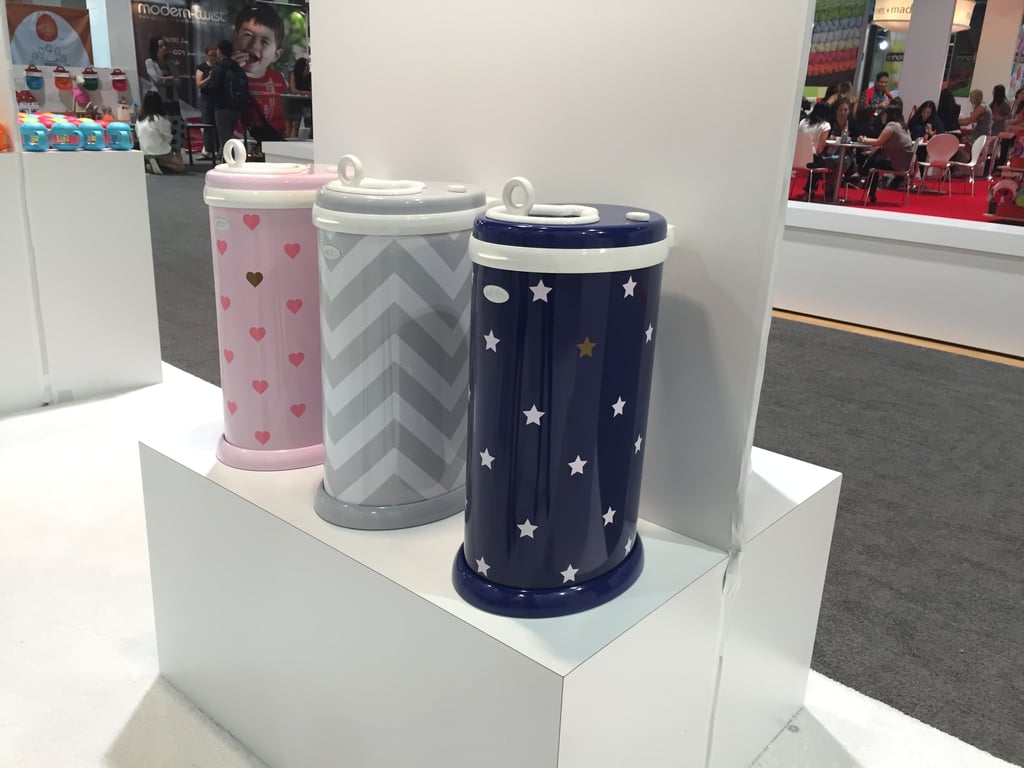 Breaking away from its traditional solid diaper pails, Ubbi will introduce patterned pails in 2016.
Qdos Crystal Gate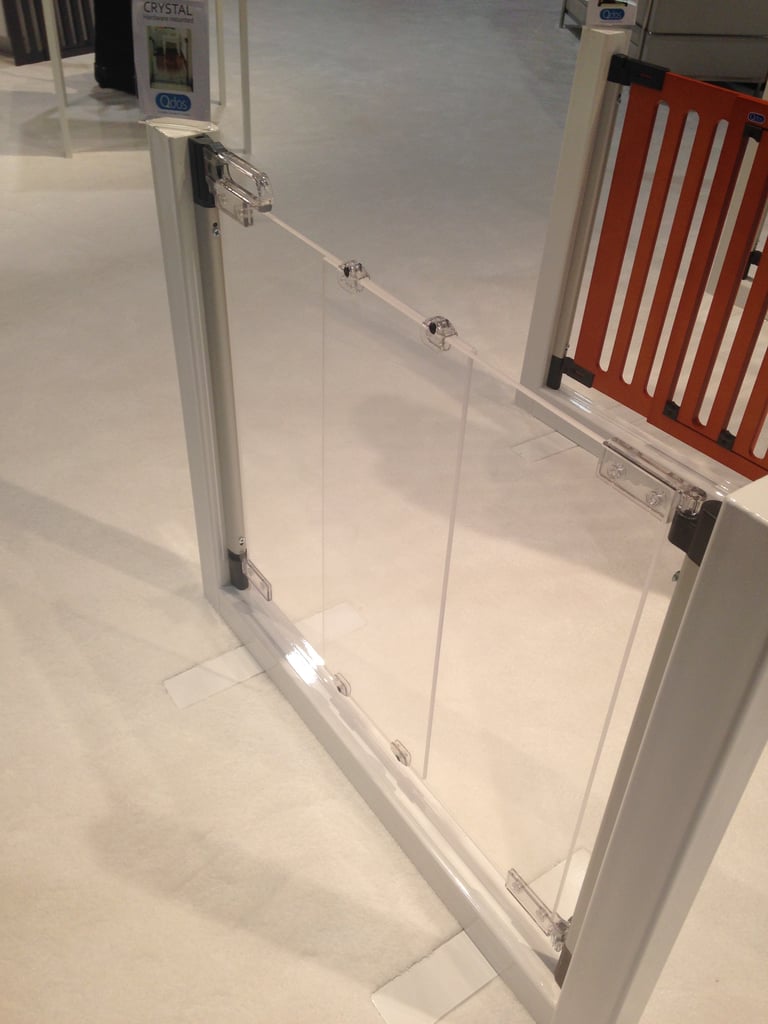 Qdos, a new line of baby-proofing products, is debuting a subtle crystal gate that can either be installed with hardware or pressure mounted.
Babyganics Laundry Detergent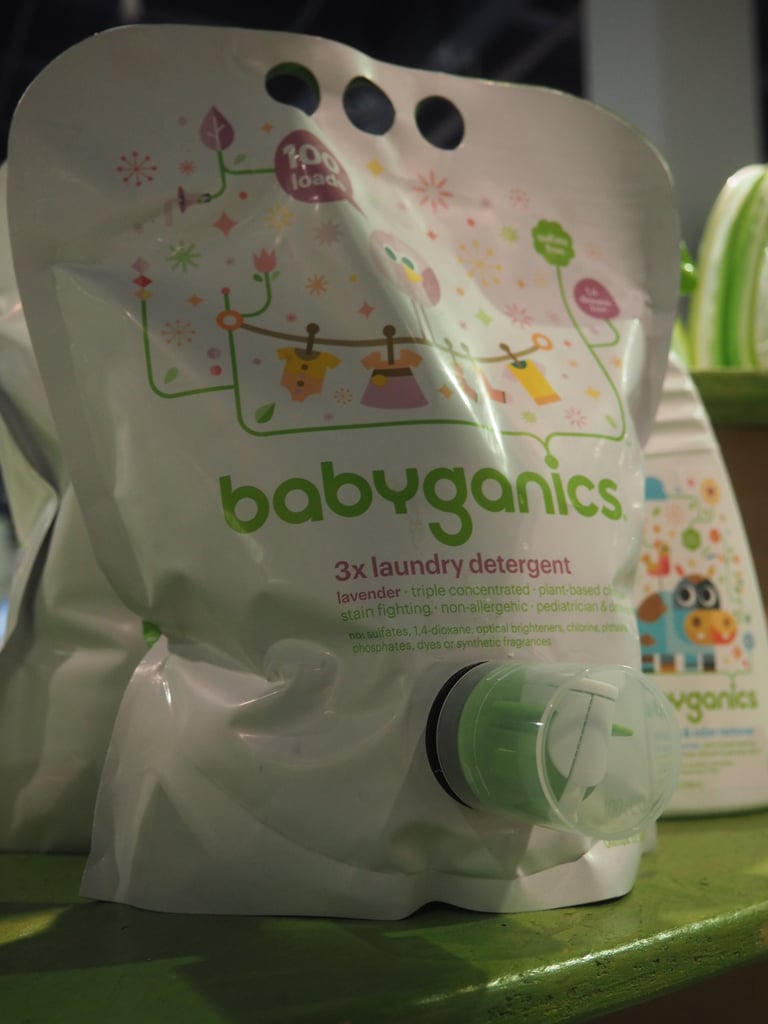 The latest launch from the all-natural Babyganics line is a triple-concentrated plant-based laundry detergent ($25) that lasts for up to 100 loads.
JJ Cole Toddler Camp Chair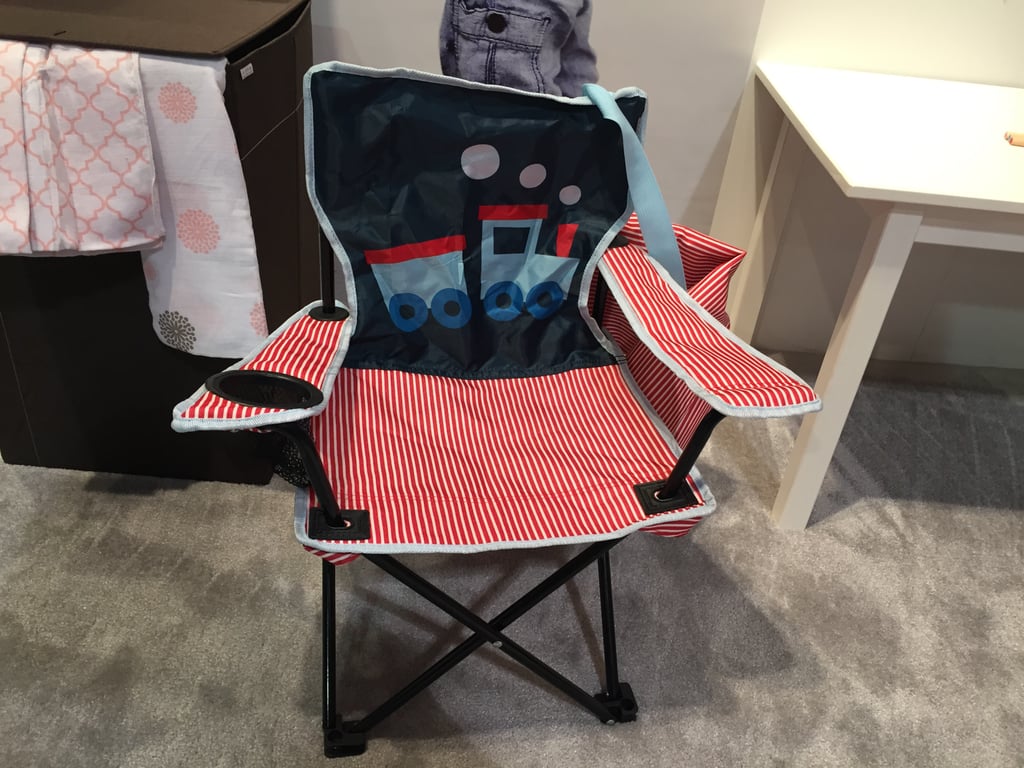 How adorable is JJ Cole's new tot-size camp chair!
Boon Snug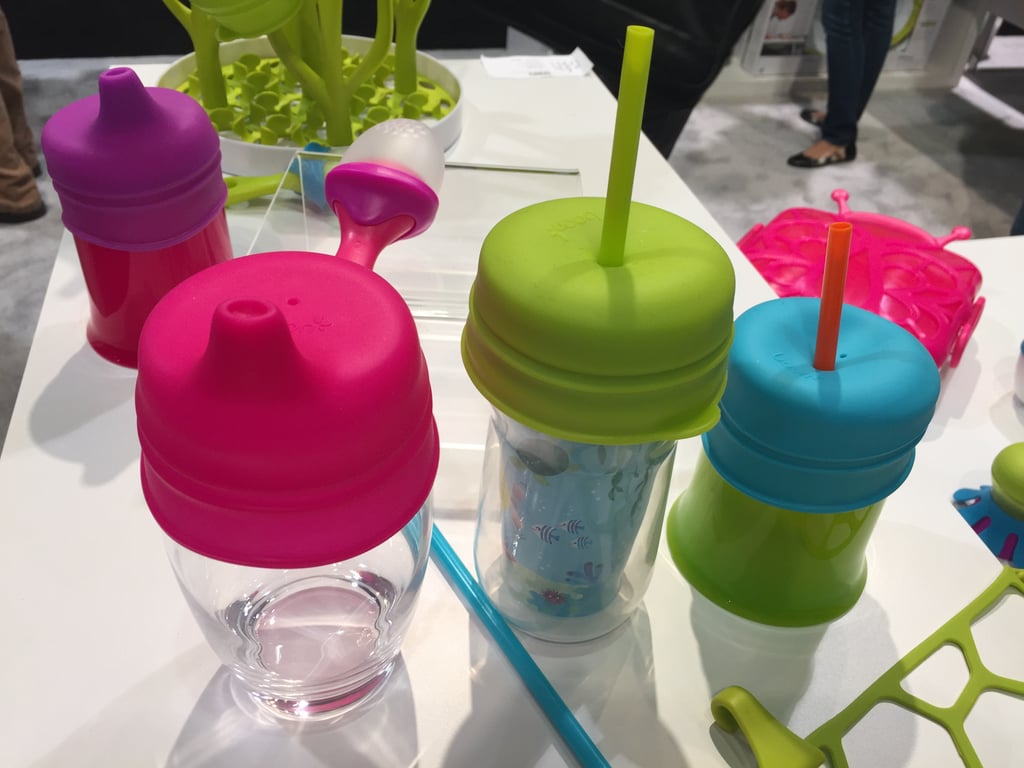 These silicone covers attach to virtually any cup to convert it into a sippy or straw cup. Expect to find them at Target in January.
Fisher-Price 4-in-1 Step 'n Play Piano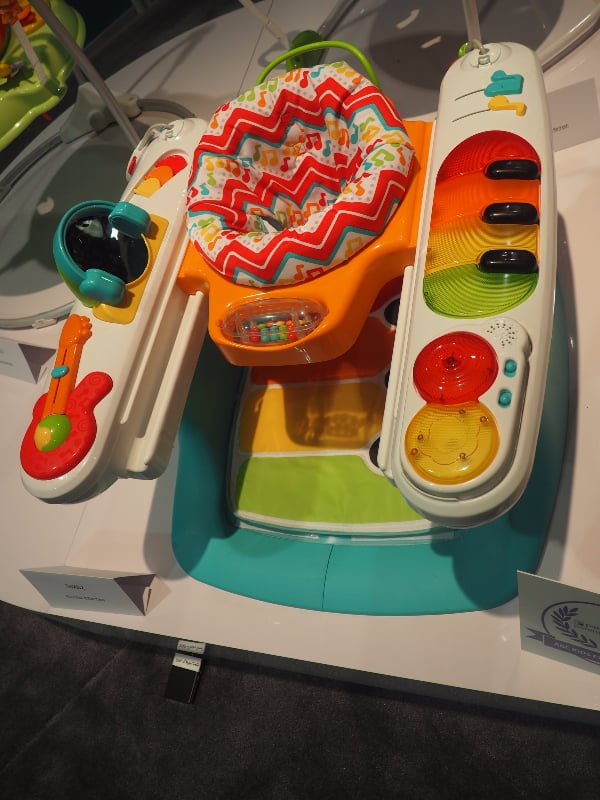 If you're hoping to raise a music-loving kid, there's no better toy than this Fisher-Price piano set ($130). With detachable bongos, a seat that swivels but can also be removed for more mobile babies, and nearly a dozen stimulating experiences, it's a full band for your baby!
Cybex Cloud Q Car Seat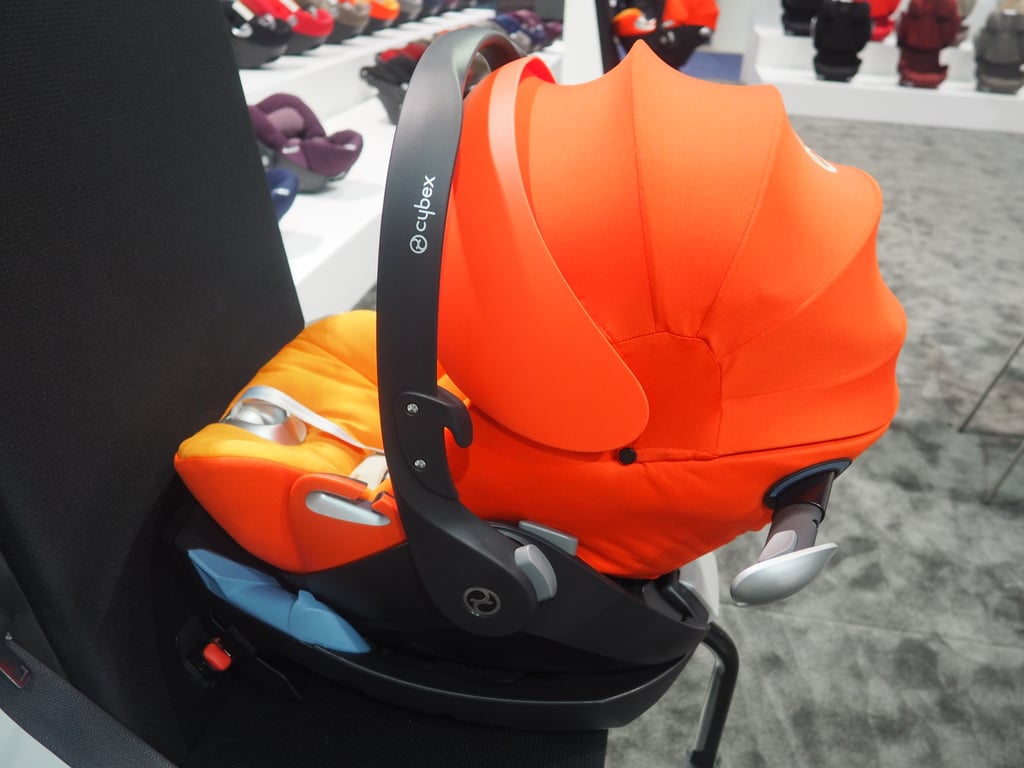 The luxury stroller maker is releasing a new car seat in early 2016, and it's unlike any we've seen. In addition to an extralarge canopy, its safety features, including an LSP system that absorbs up to 40 percent of impact, are top of the line. Plus, when used on a stroller as part of a travel system, the car seat can actually recline.
Clek Tokidoki Space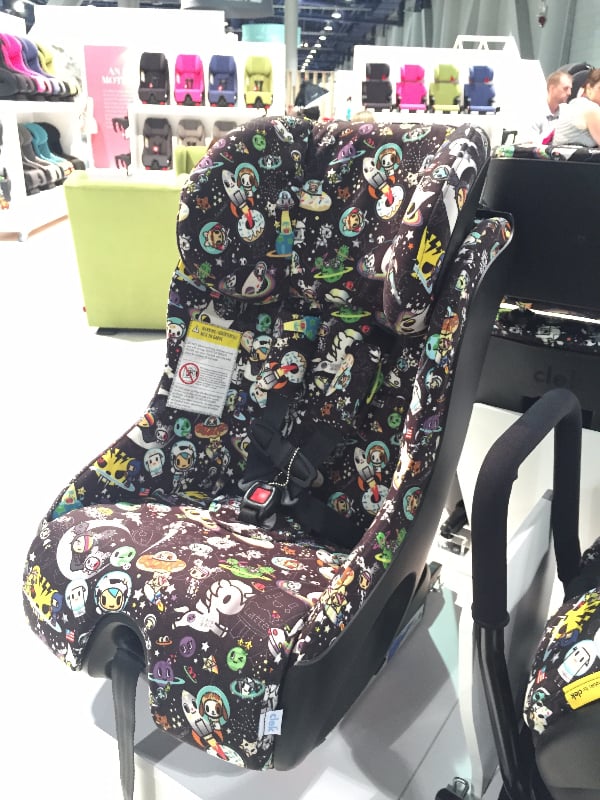 Clek will continue its popular collaboration with Tokidoki with a new Space pattern that will hit stores in early 2016.
Itzy Ritzy Dream Catchers Pattern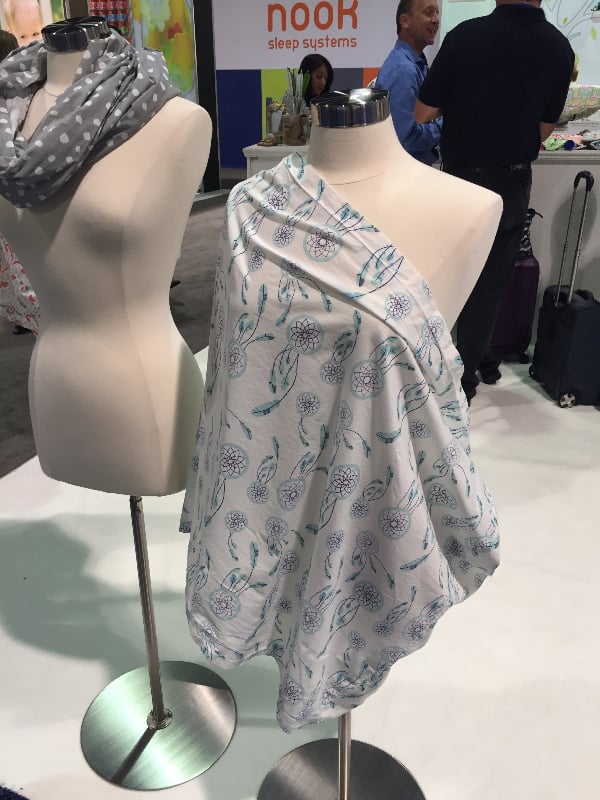 Itzy Ritzy will introduce a dream catcher pattern across its line in 2016.
PullyPalz Pacifier Holder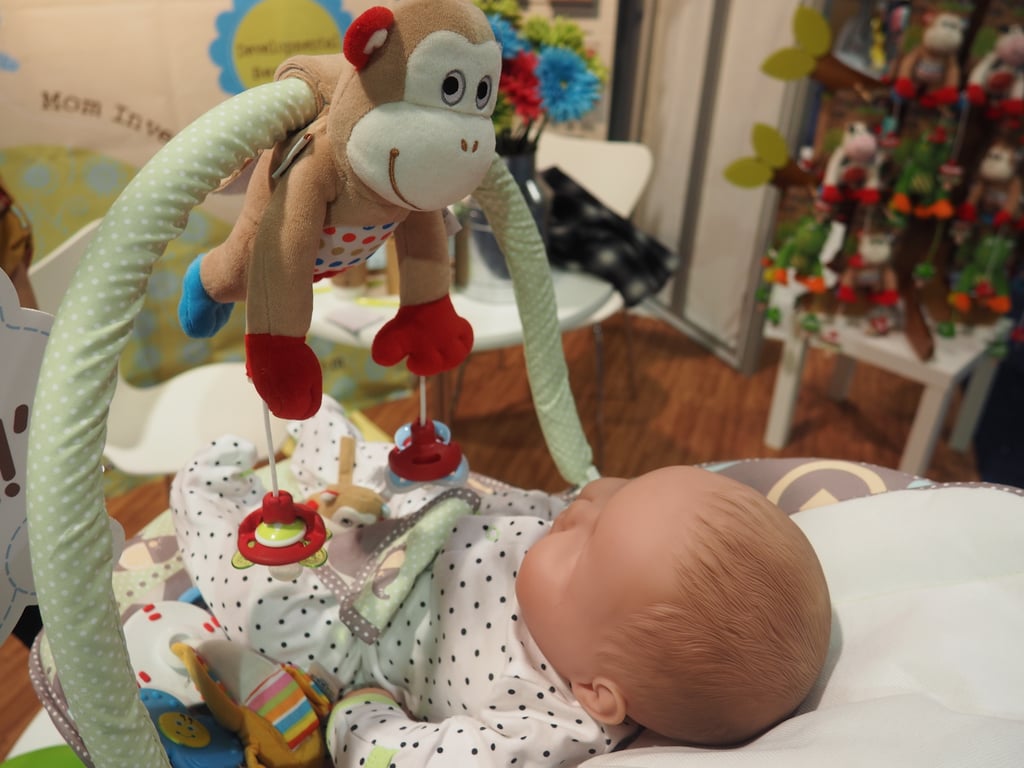 An ingenious invention, the PullyPalz pacifier holder ($25) keeps every shape of pacifier in view and reach of baby and can be attached to baby carriers, bouncers, and strollers. No more desperately searching for that binky!
TwinGo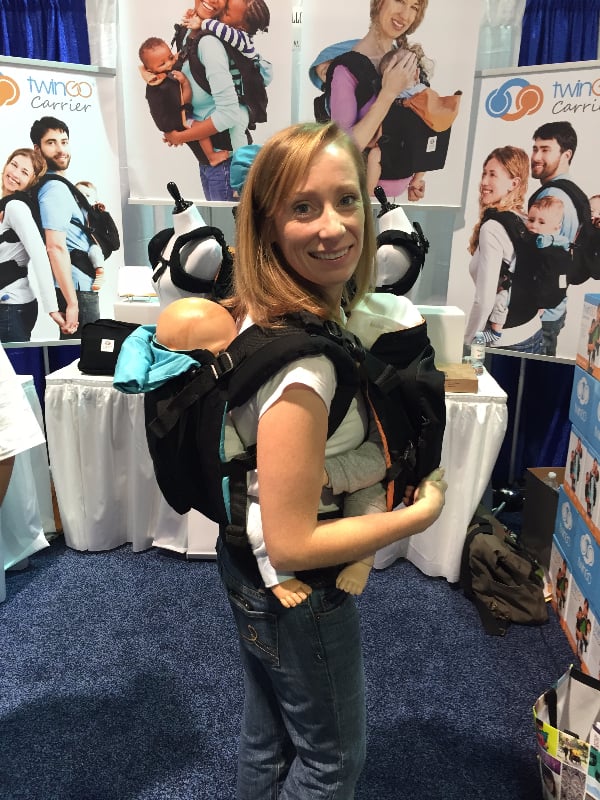 Parents of twins have often turned to some intricate hacks to be able to wear both babies at once. But the new TwinGo ($215) is approved for simultaneous front and back wearing. Designed for a day on the go, the carrier also has small pockets perfectly sized for a couple of diapers and wipes.
Cosco Monsters Line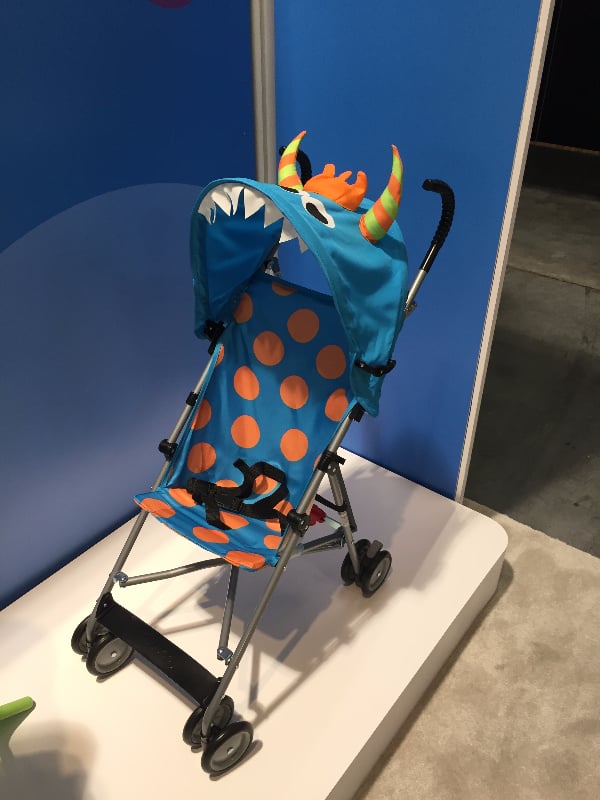 We know a few little monsters who will love this Cosco Monsters Stroller ($29) when it is released in January.