Toy Fair: an annual event that kids would find to be even cooler than Disney World . . . if only it were open to the public. Thankfully, we attended and are reporting back on everything we saw — namely, what your children are going to be begging for come the holiday season this year. Even before the doors opened, there was already buzz about several new toys — including Disney's newest princess (hint: she has ties to Sophia the First), new mashups from Thomas the Tank Engine, and some pretty amazing educational toys for preschoolers — and after walking through the huge event, we saw so much more that we have to share with you!
Read on for your sneak peek at what are sure to be the hottest toys of 2016.
Additional reporting by Alessia Santoro and Lauren Levy
VTech Go Go Smart Wheels Blast Off Space Station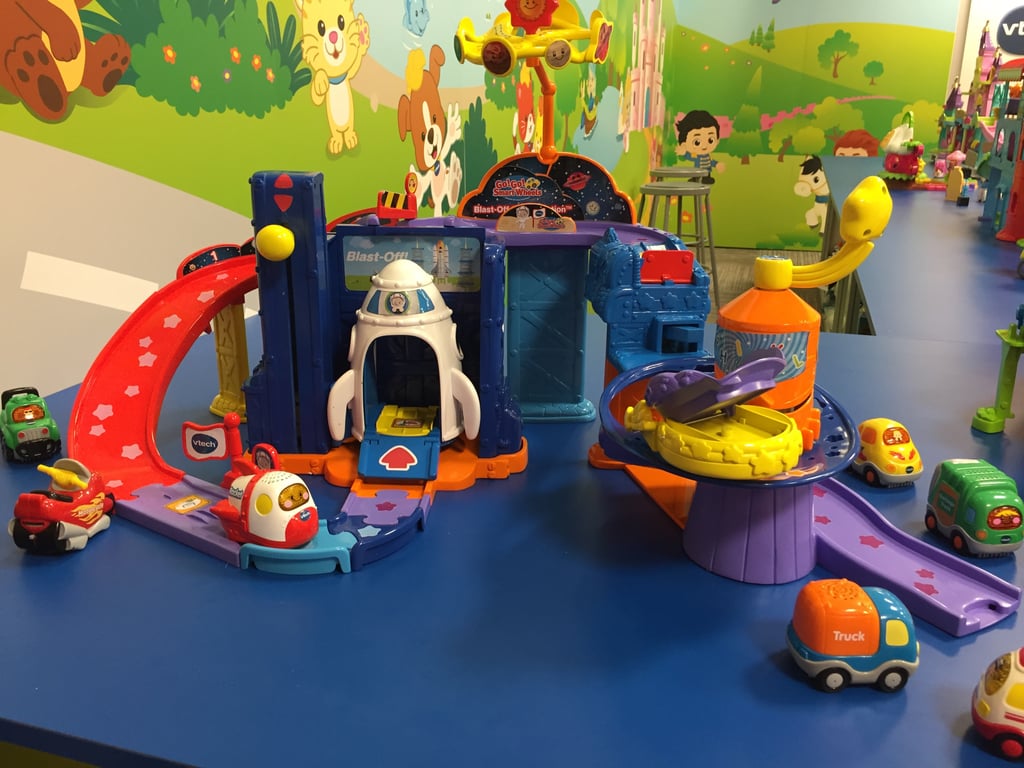 The Go Go Smart Wheels line will expand to include the adorable Blast Off Space Station this Fall. Not only does the rocket ship blast off, it gives kids options for where the Smart Wheels toy will go once it reaches the top.
Mad Matter
Following up on their hit Kinetic Sand, Waba Fun will introduce Mad Matter — moldable clay that never dries out — later this year.
C3 NBA Construction Toys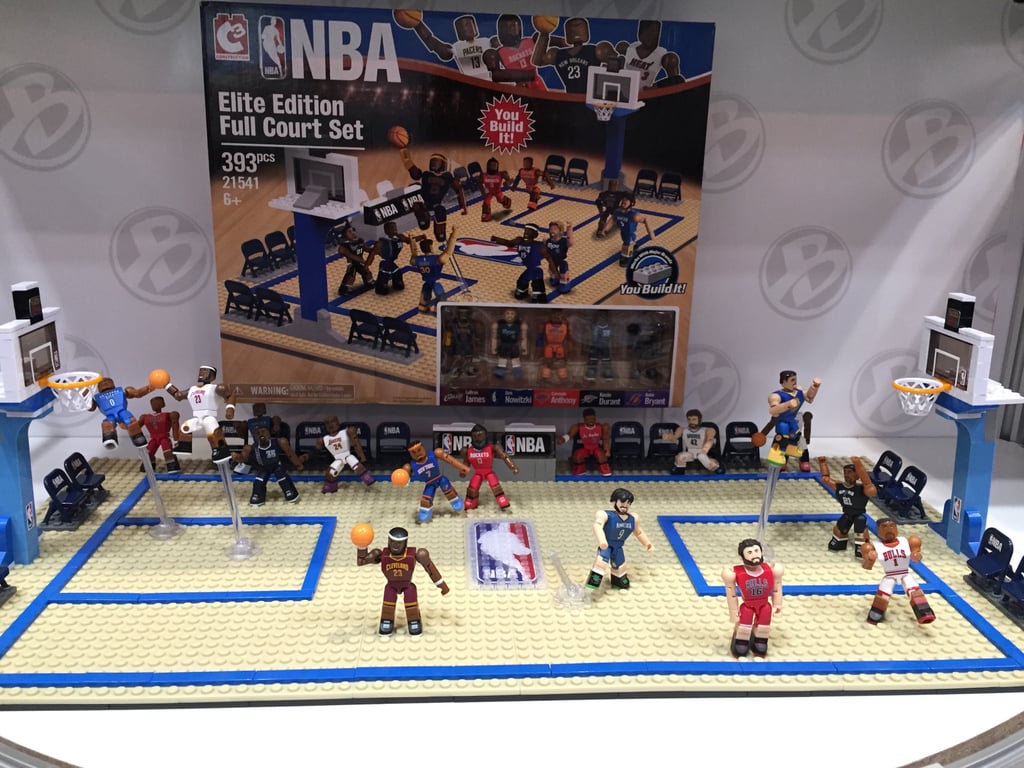 Your child can recreate the NBA Slam Dunk contest with this full court set that comes with five figures and 5 basketballs.
Franklin Superman Street Hockey Goalie Mask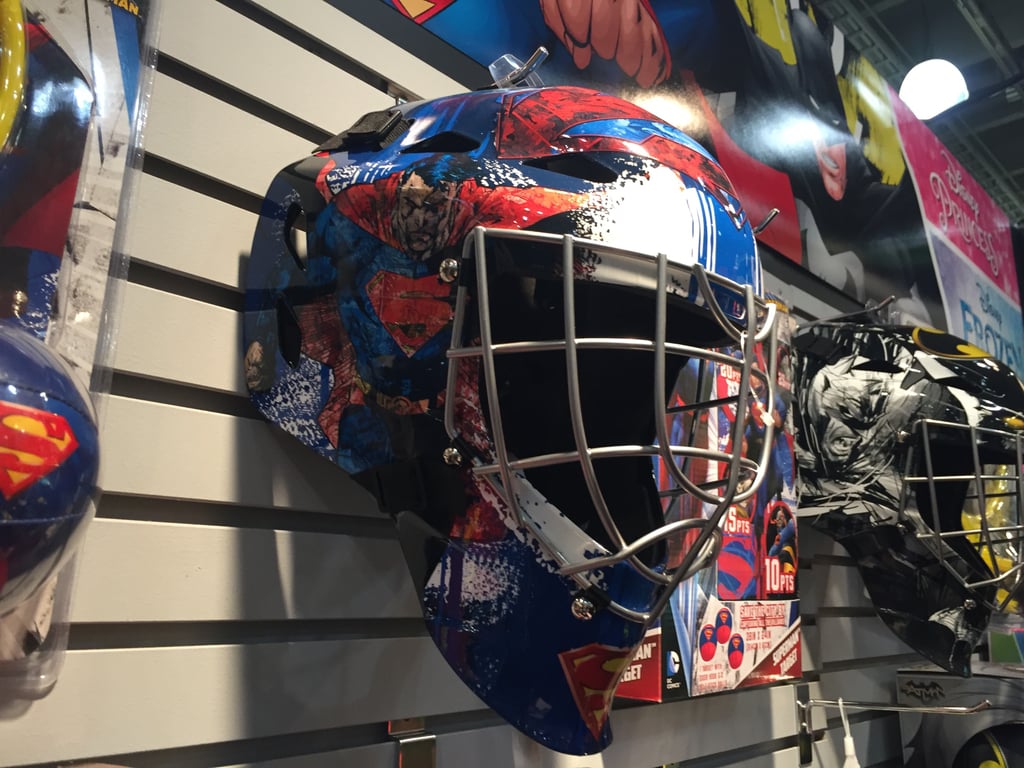 Franklin Sports is getting in on the Superman versus Batman mania with a line of sports gear for kids — including Superman and Batman street hockey goalie masks.
Teenage Mutant Ninja Turtles T-Blasts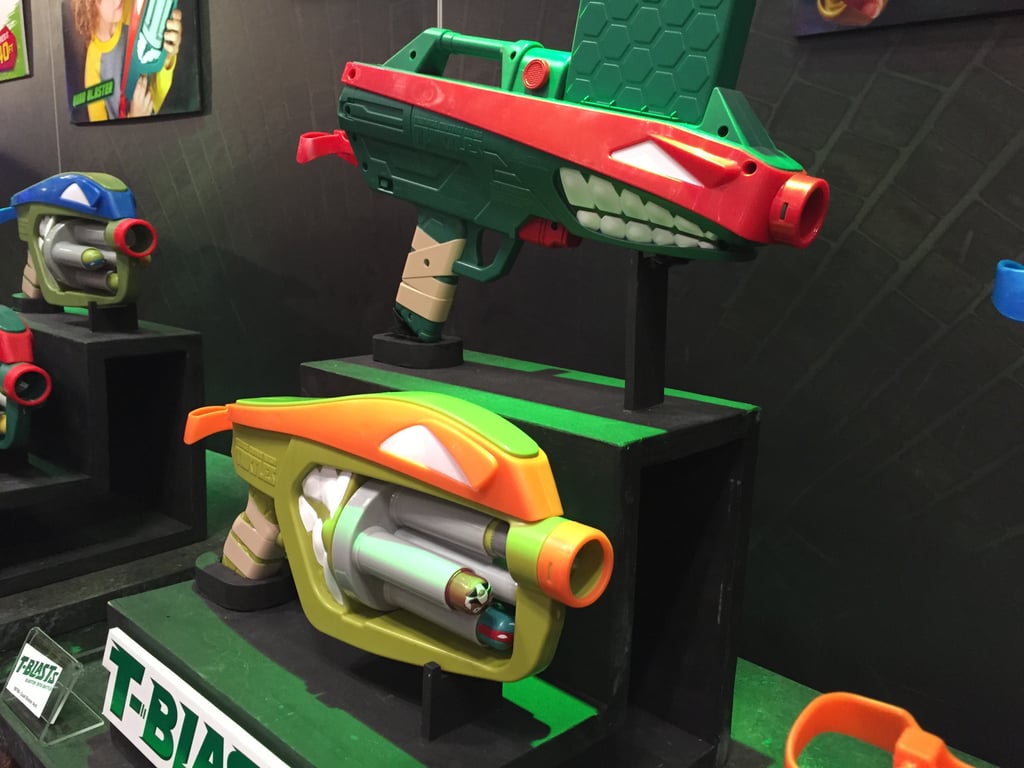 Teenage Mutant Ninja Turtles T-Blasts will feature the popular characters faces on the bodies of their blasters.
My Little Pony Guardians of Harmony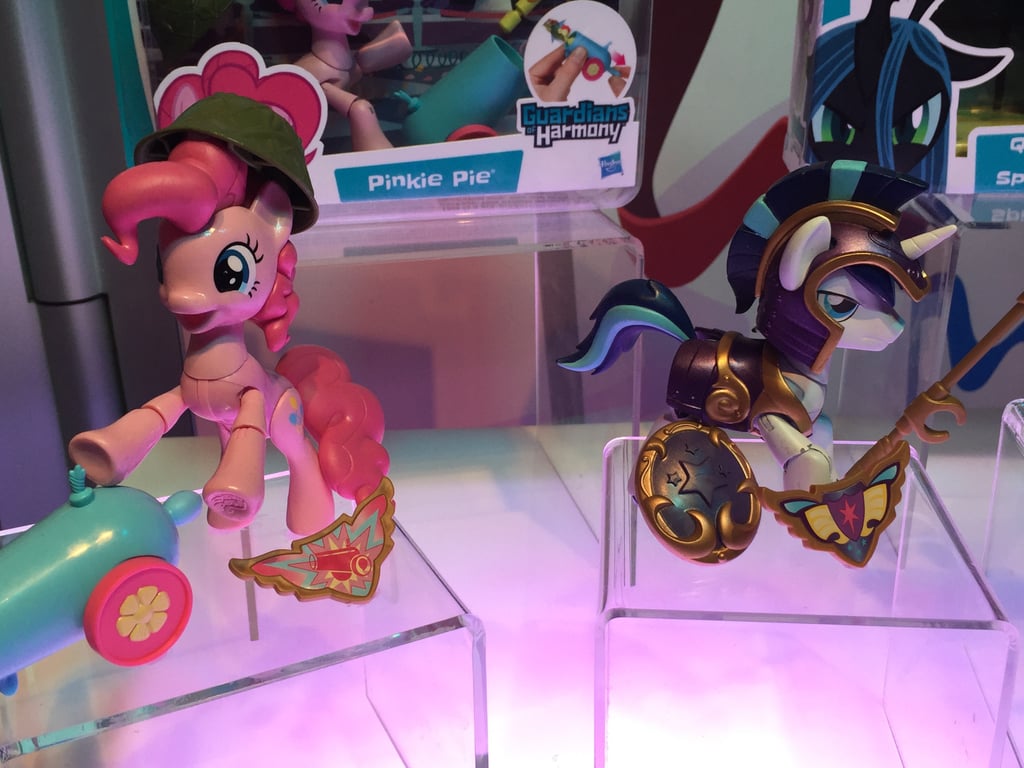 Based on the TV series, Hasbro will introduce two armored My Little Pony Guardians of Harmony figures this year.
Elena of Avalor Storytime Guitar
The Elena of Avalor Storytime Guitar will help turn your little princess into her favorite character.
Franklin Stinger Bee Speed Bag Set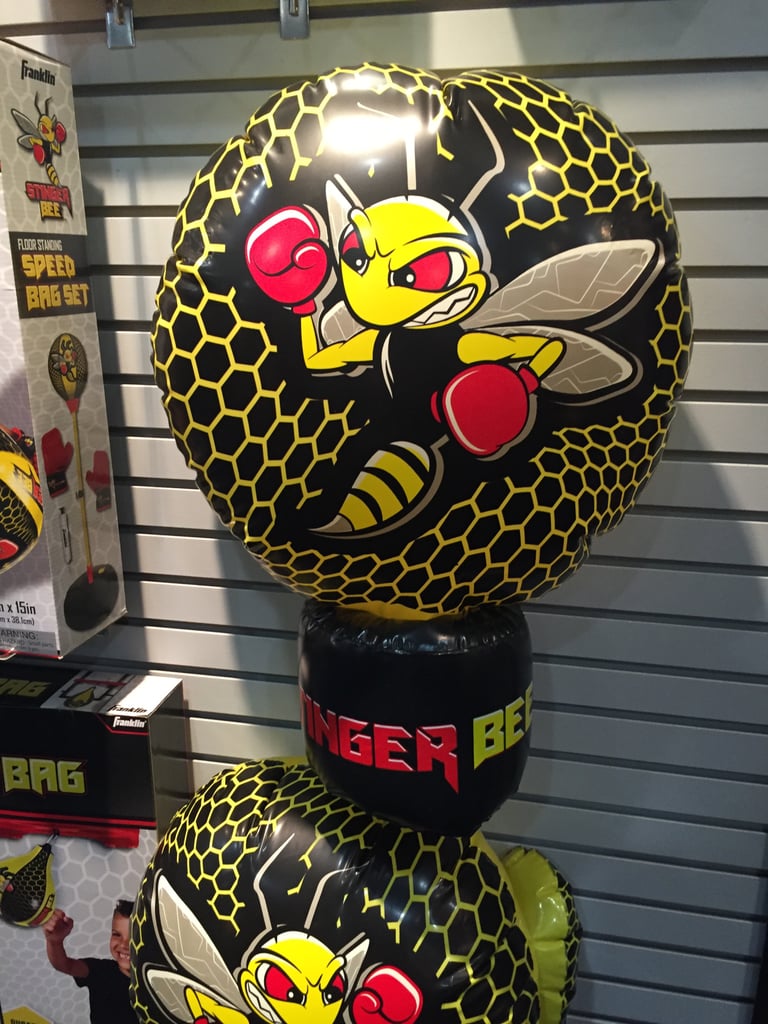 Franklin is introducing the Stinger Bee line of youth boxing accessories — including this speed bag set.
Hot Wheels Track Floor Tape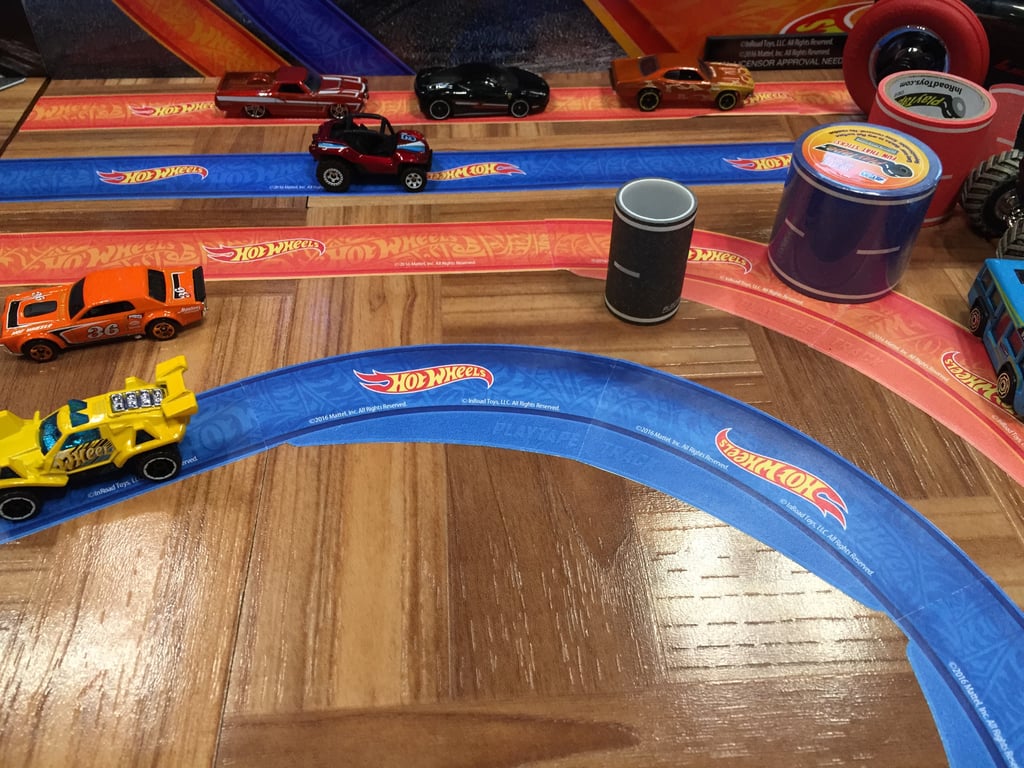 As a follow-up to their simple road design floor tape, the look of classic Hot Wheels tracks is coming to a floor near you. The tape allows kids to create their own tracks, but doesn't leave any marks on your floor.
Crayola Emoji Maker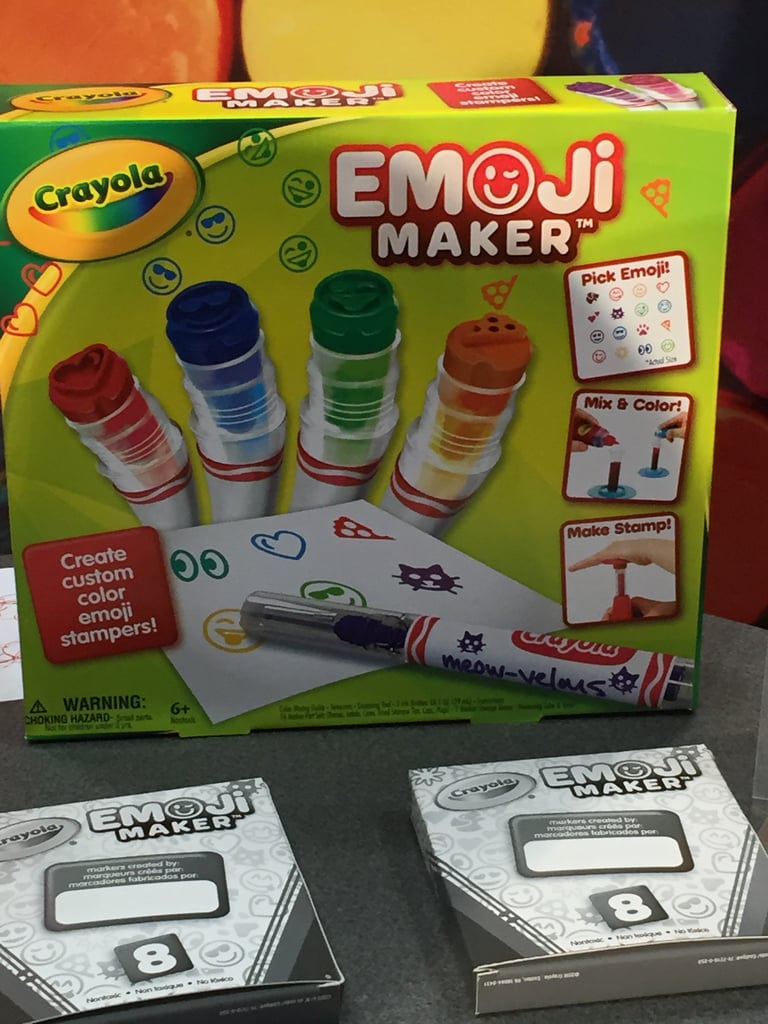 Not only do kids get to create their own emoji stampers with the Crayola Emoji Marker kit, but they also get to measure and mix their own custom colors. The set also comes with two DIY [1] storage boxes that are perfect for sharing with friends.
Disney Princess Magical Wand Cinderella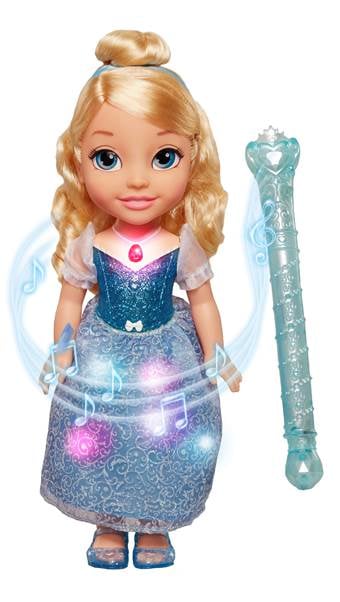 The Disney Princess Magical Wand Cinderella is more than just a doll and her wand — as kids wave the wand, they can transform Cinderella's look and have her sing "Bibbidi-Bobbidi-Boo" or "A Dream a Wish Your Heart Makes."
Playmobil Stanley Cup Presentation
Just in time for the 2016-2017 hockey season, Playmobil will expand their NHL line to include a Stanley Cup presentation set.
Lego Architecture New York City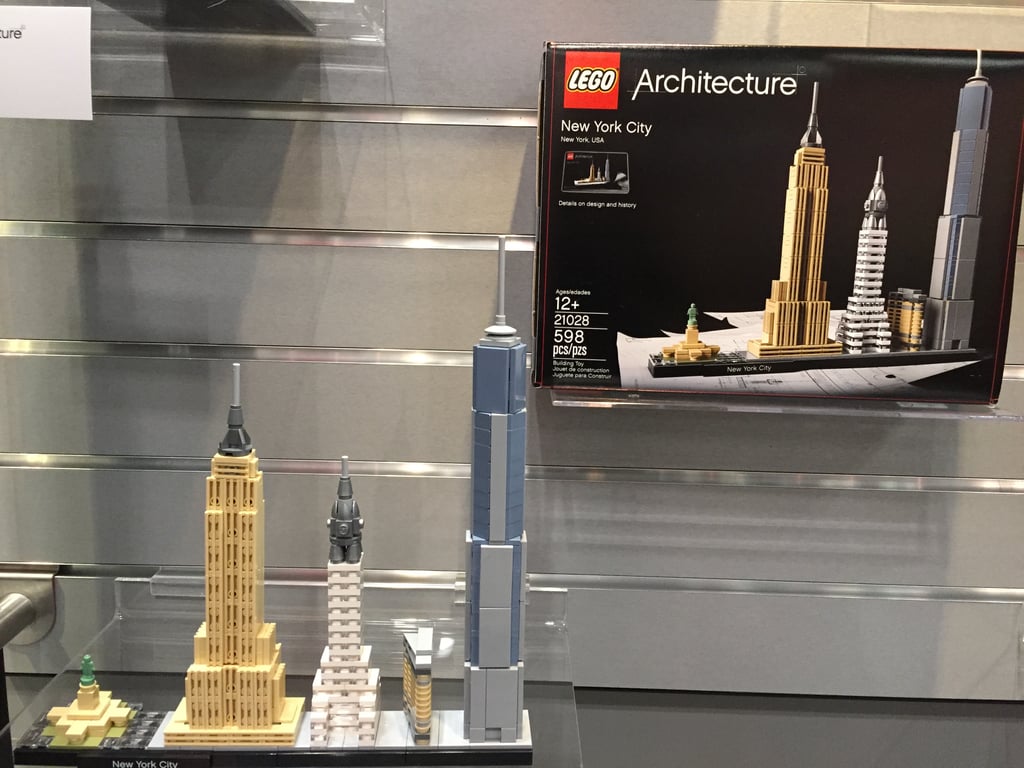 These informative sets come with building instructions for some of the world's most iconic skylines, as well as photos and backgrounds of the real structures.
Skip Hop Baby's View 3-Stage Activity Center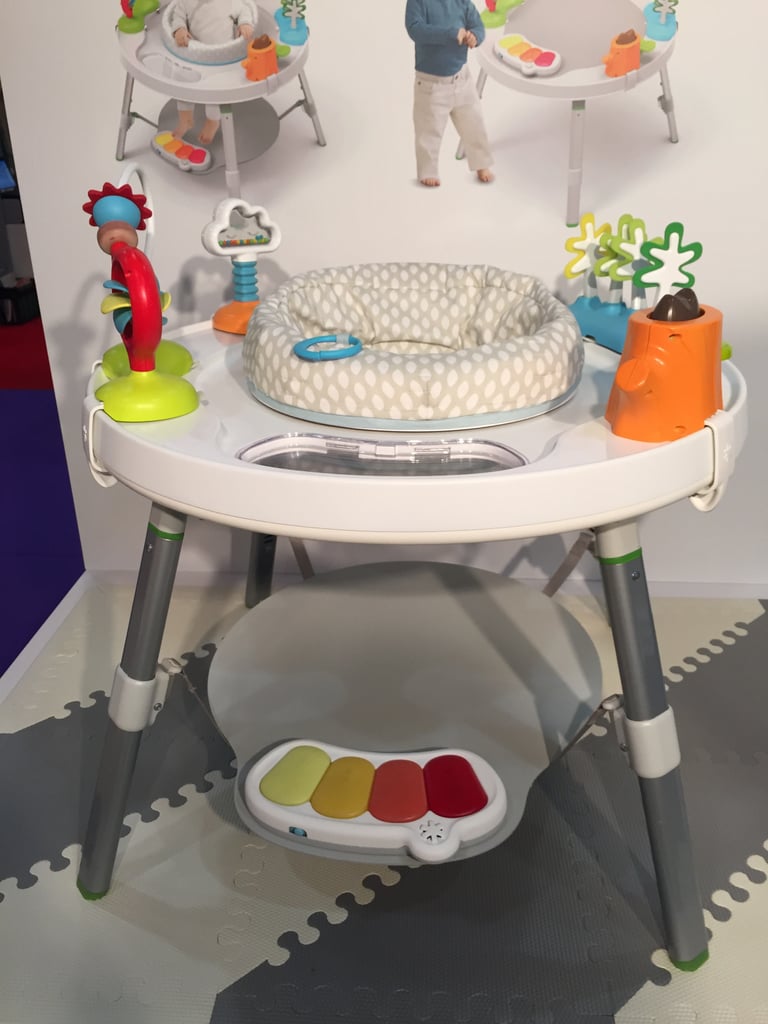 The height-adjustable Baby's View 3-Stage Activity Center has a 360-degree rotating seat, a peekaboo window kids can peer through to see their feet move, and a "floor" that eventually moves on top of the table to create a solid, clean playspace. It will be available in September.
Project Mc2 Circuit Beats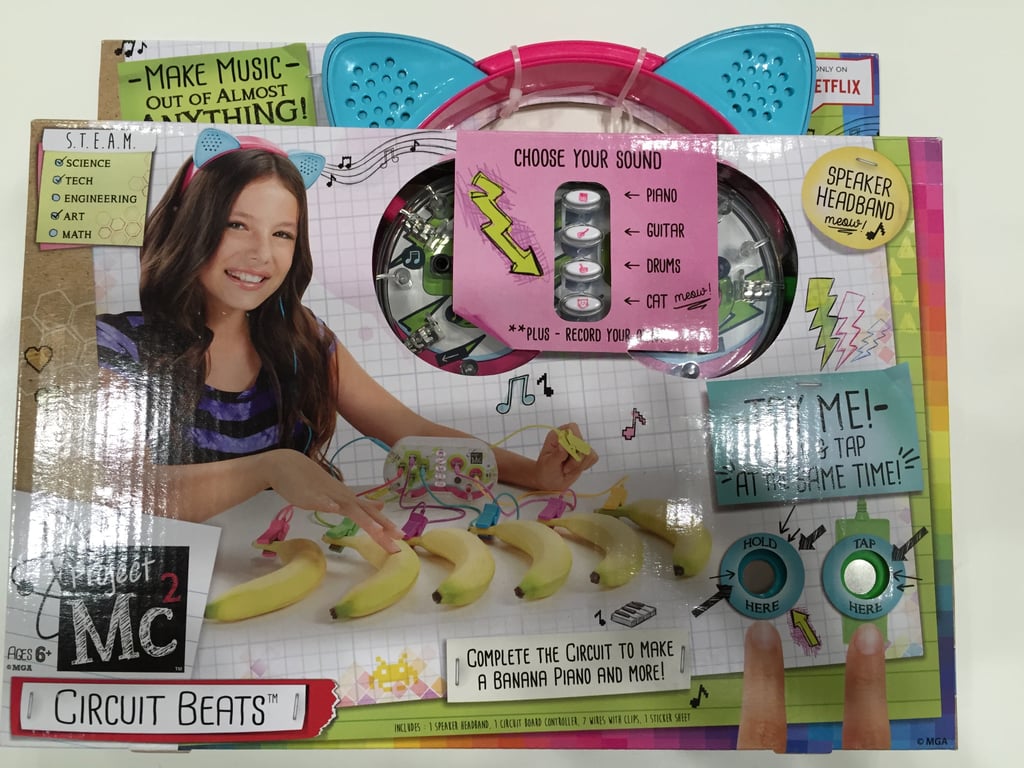 Quite possibly the coolest gadget your child has every played with, Project Mc2 Circuit Beats allows them to make music out of science. Simply hook up the circuit board with buttons to any object they want to use as an "instrument," and pick from 5 different sound options. They'll be amazed when they see how they can play guitar with a banana!
Little Live Pets Lil' Turtle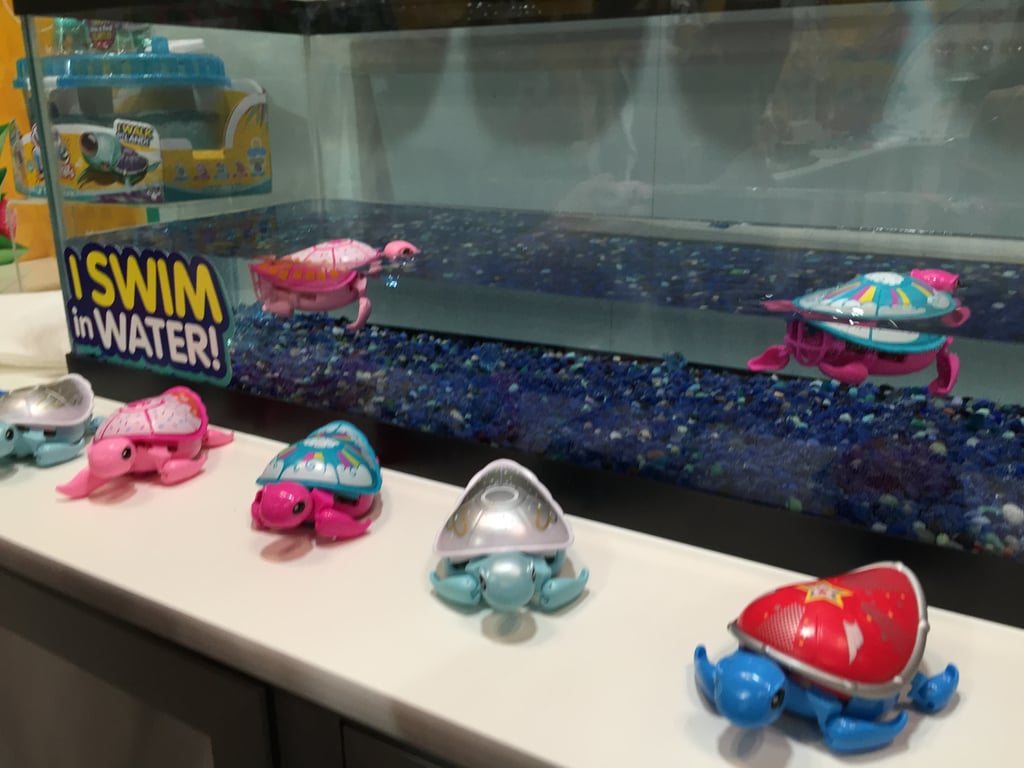 The Lil' Turtle comes in fun colors and designs, and swims around their cage without needing feeding or cleaning.
Trolls Hug Time Poppy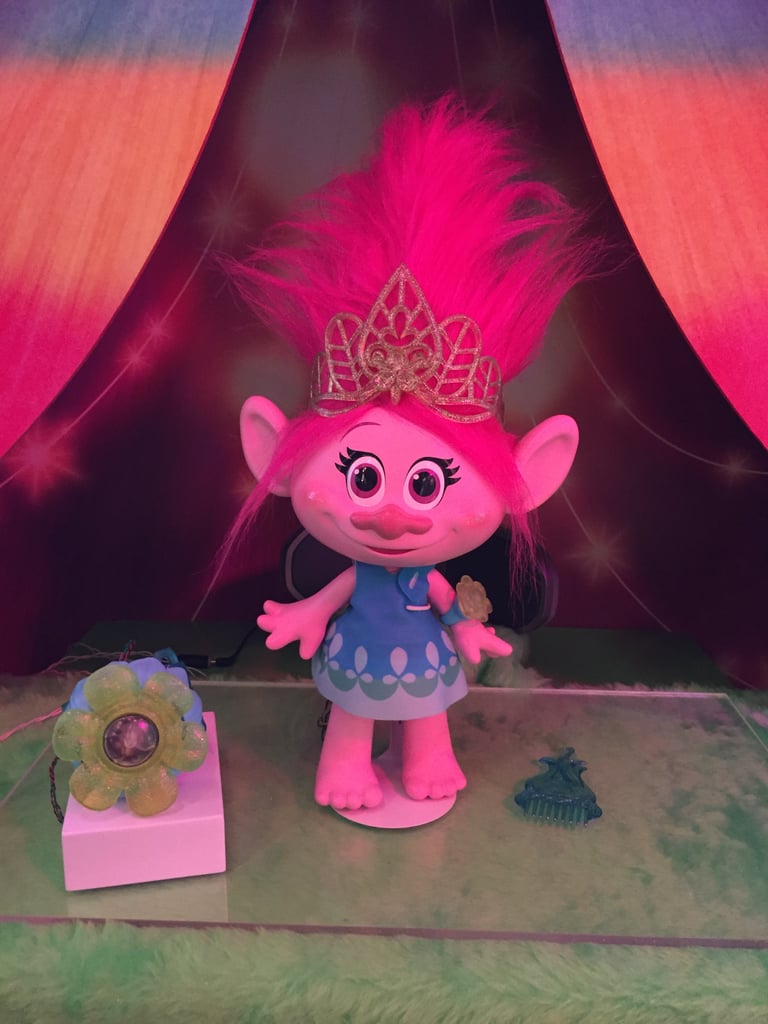 The star of the upcoming Trolls movie, Poppy (played by Anna Kendrick [2]) comes to life for little ones via the Hug Time Poppy doll. Both tots and the doll wear matching watches that allow the two to "talk" to each other.
Disney Frozen Little Kingdom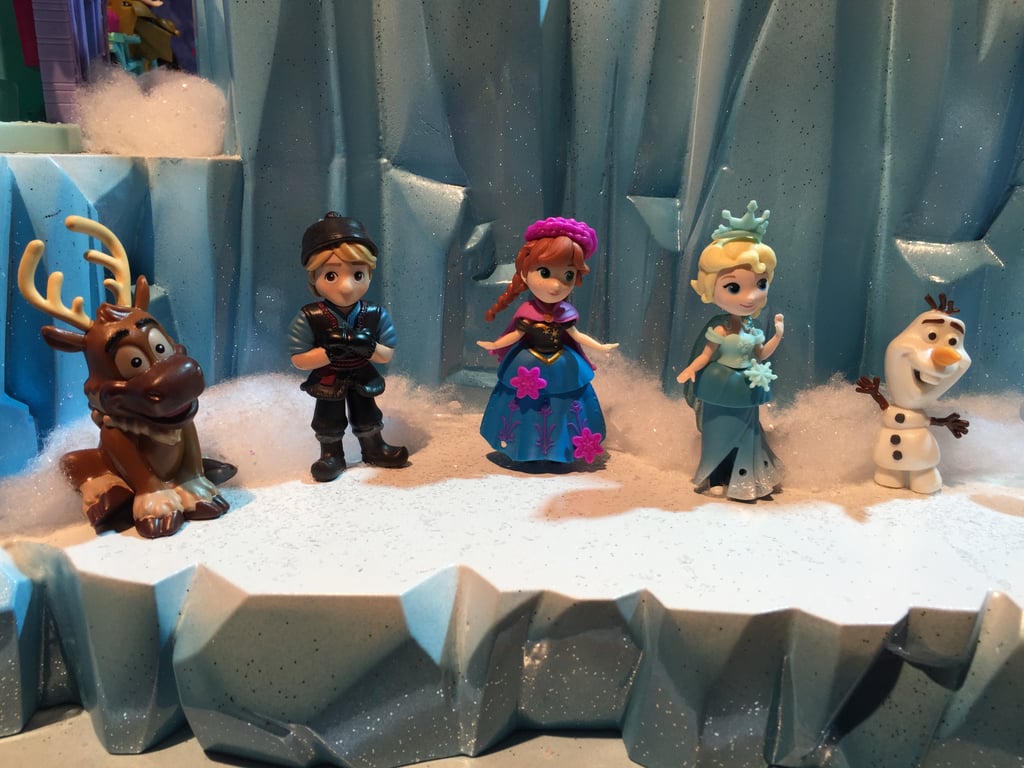 Disney's Little Kingdom line of mini figures will include Frozen characters whose clothes snap on and off.
Disney Tsum Tsum Figures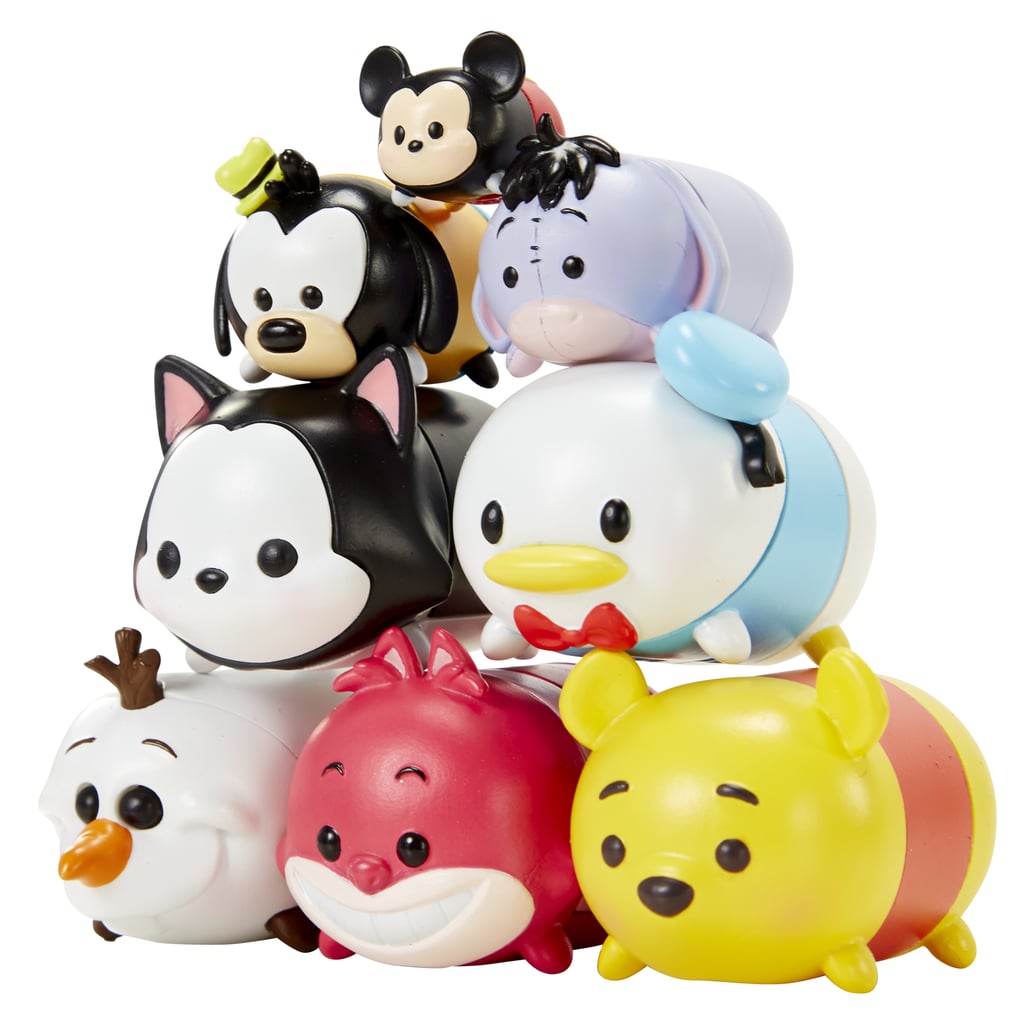 Disney will expand its line of Tsum Tsum figures to include three different sizes of the popular characters. Bet you didn't know that Tsum Tsum means Stack Stack in Japanese!
Funko Frozen Mystery Minis
Blind packs of Frozen characters will continue capture tots' imaginations.
Blue Orange Games Top That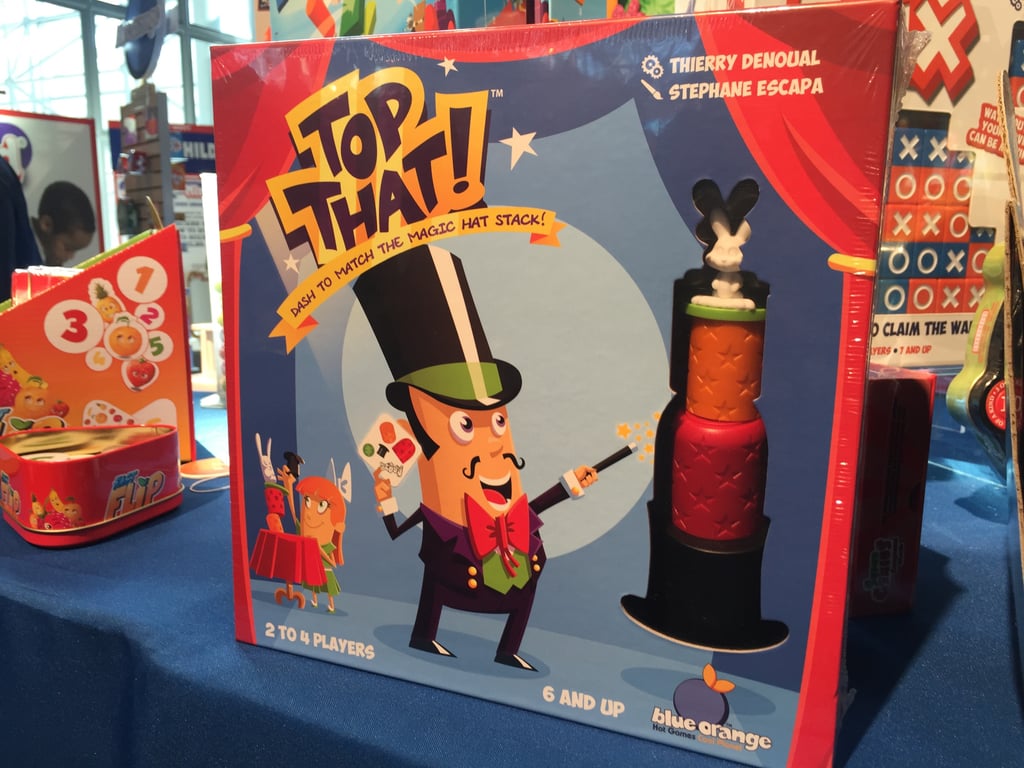 A little bit of magic, a lot of skill, Blue Orange Games's new Top That tests kids problem-solving skills in a new and fun way.
Crayola Jewel Maker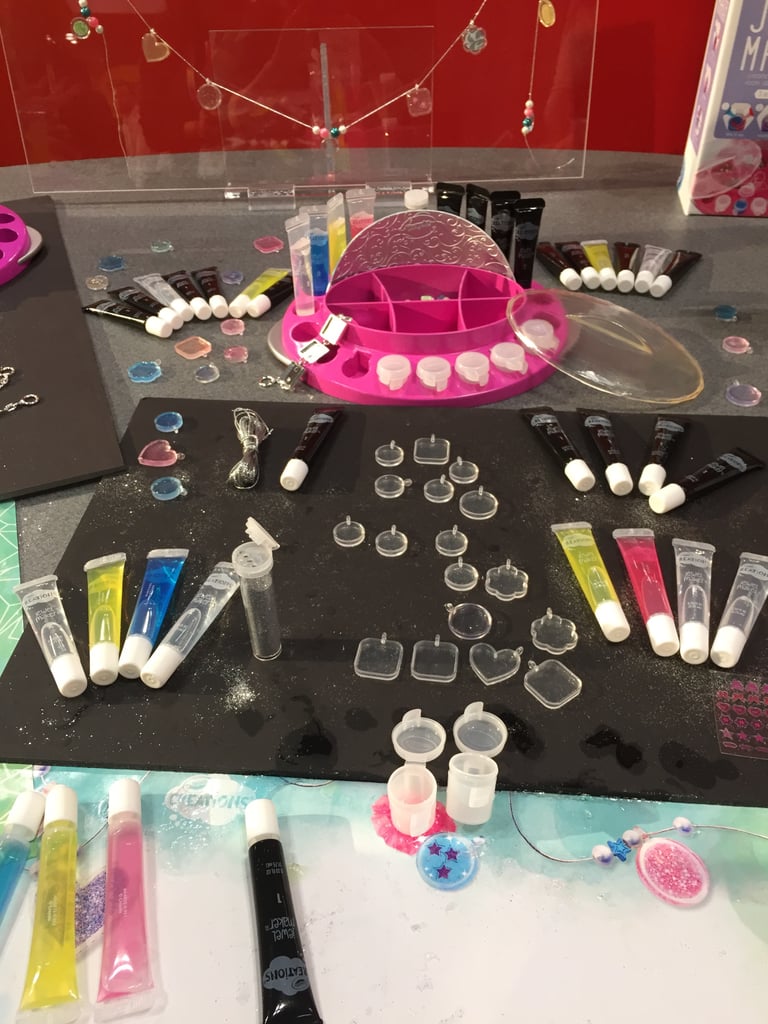 Your mini fashionista can create custom and wearable gel jewelry, charms, key chains, and décor with the Crayola Jewel Maker.
Thingmaker 3D Printer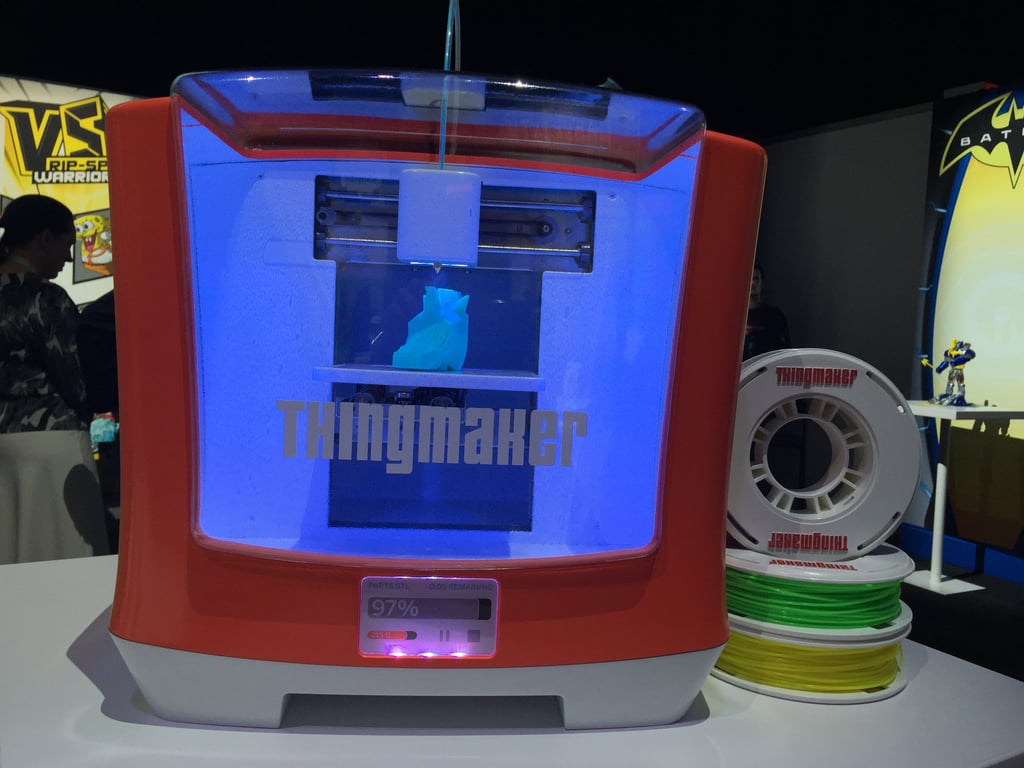 The Thingmaker 3D Printer helps your kiddo to make their very own toys. Using an app to create hundreds and hundreds of different figure/color toy combinations, they can create their perfect toys and send them to the printer to be made right before their eyes.
The Secret Life of Pets Crafts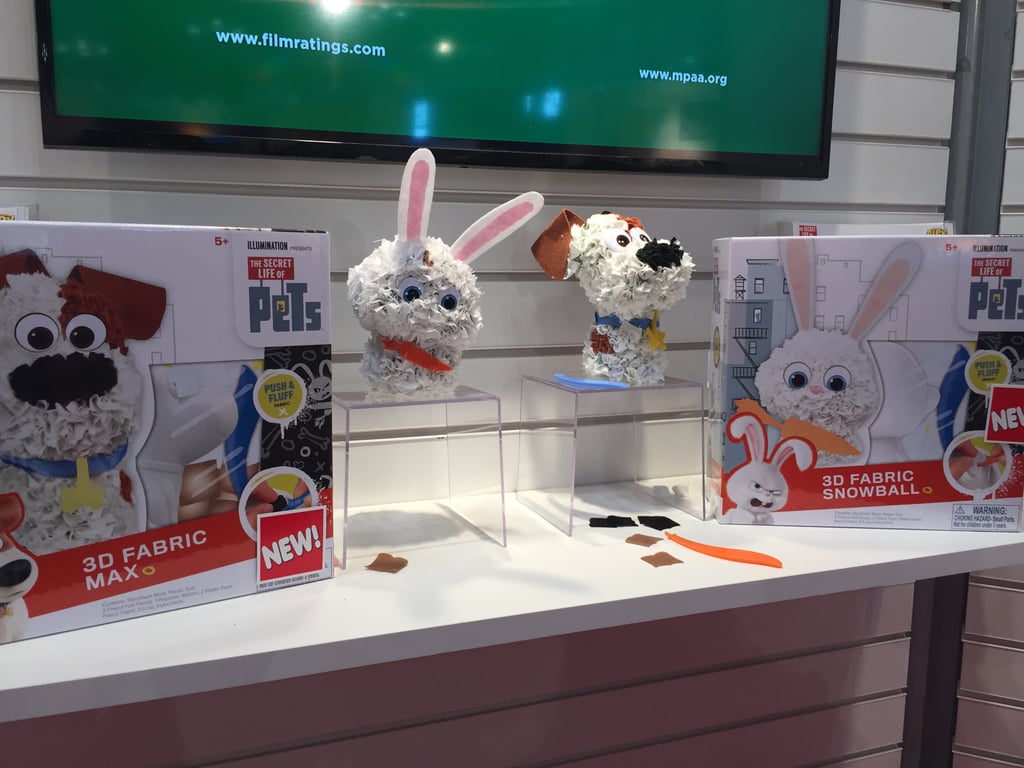 The upcoming Secret Life of Pets is likely to become one of the biggest hits of the year. These 3D Fabric Max and Snowball craft kits help tots create their own versions of the sure-to-be hit characters.
VTech Touch and Learn Activity Desk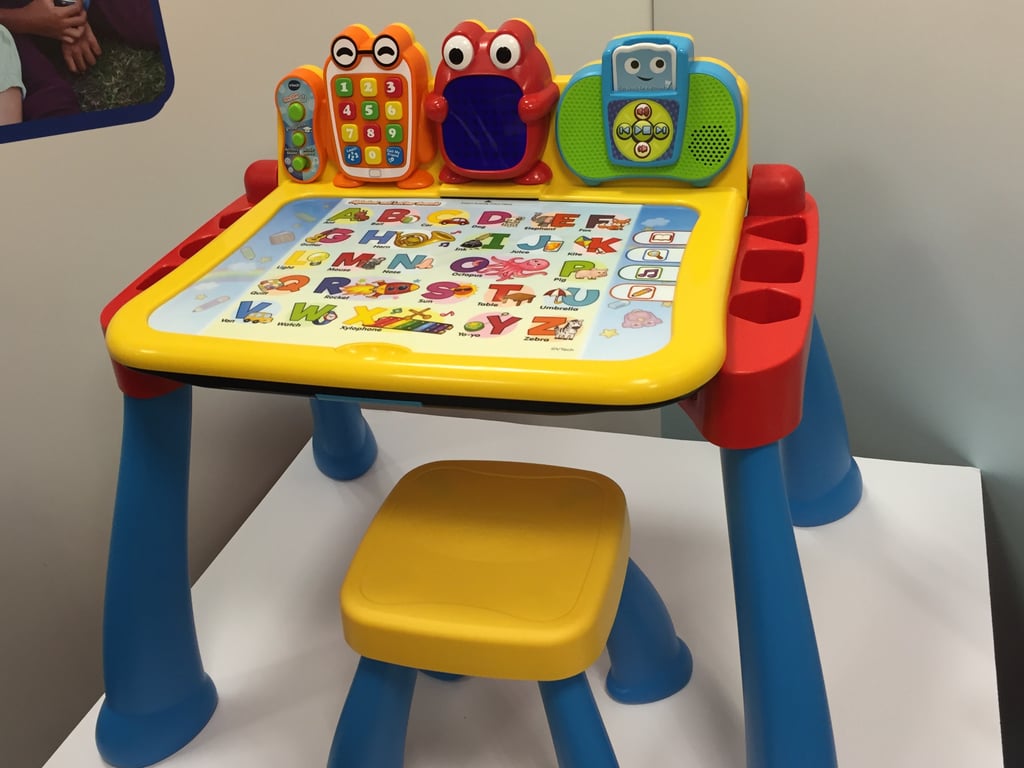 VTech's Touch and Learn Activity Desk is chock full of interactive learning opportunities thanks to five double-sided slides that can be placed on its tray to teach toddlers everything from the alphabet to their body parts.
Real Construction Playsets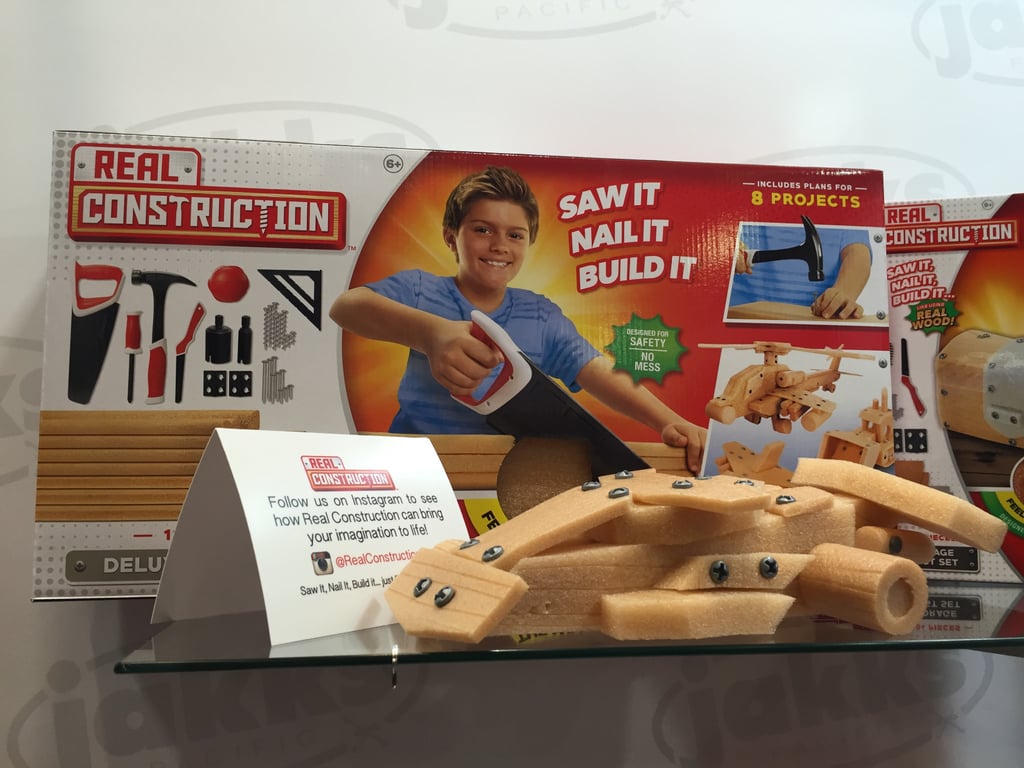 The Real Construction building sets come with sheets of foam wood and plastic nails and saws and instructions for creating several projects.
Hape Bug About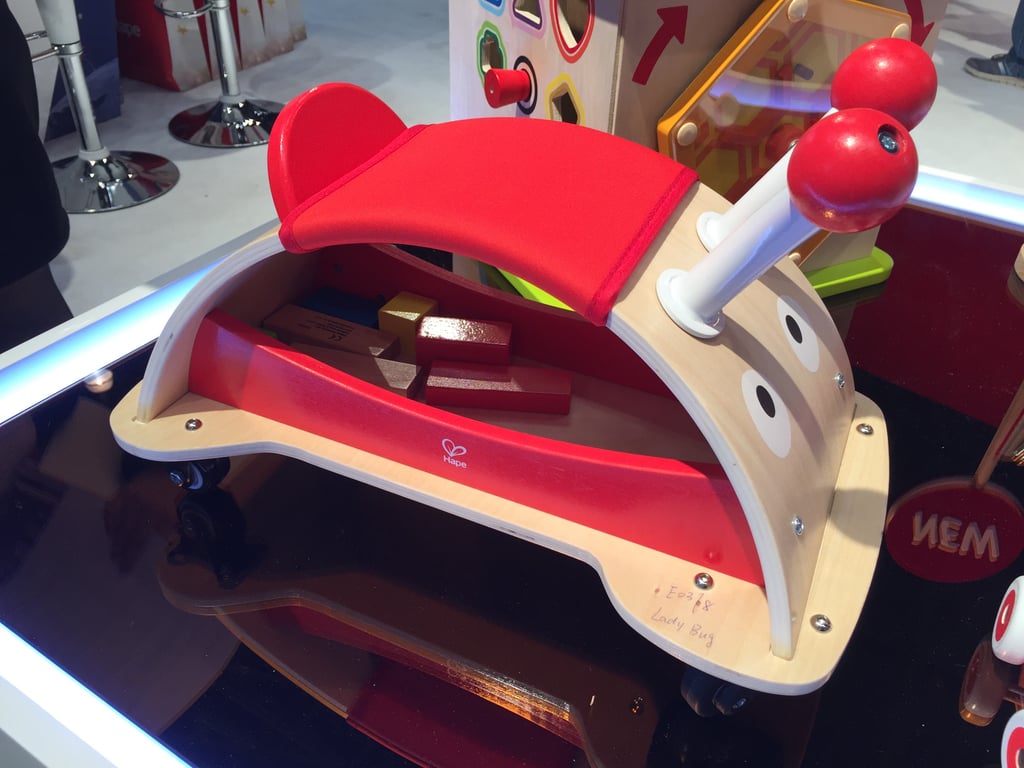 Hape is celebrating its 30th anniversary this year and introducing the Bug About — a ride-on toy for toddlers that also includes storage in the bug's belly.
Skip Hop Tent and Trails Activity Gym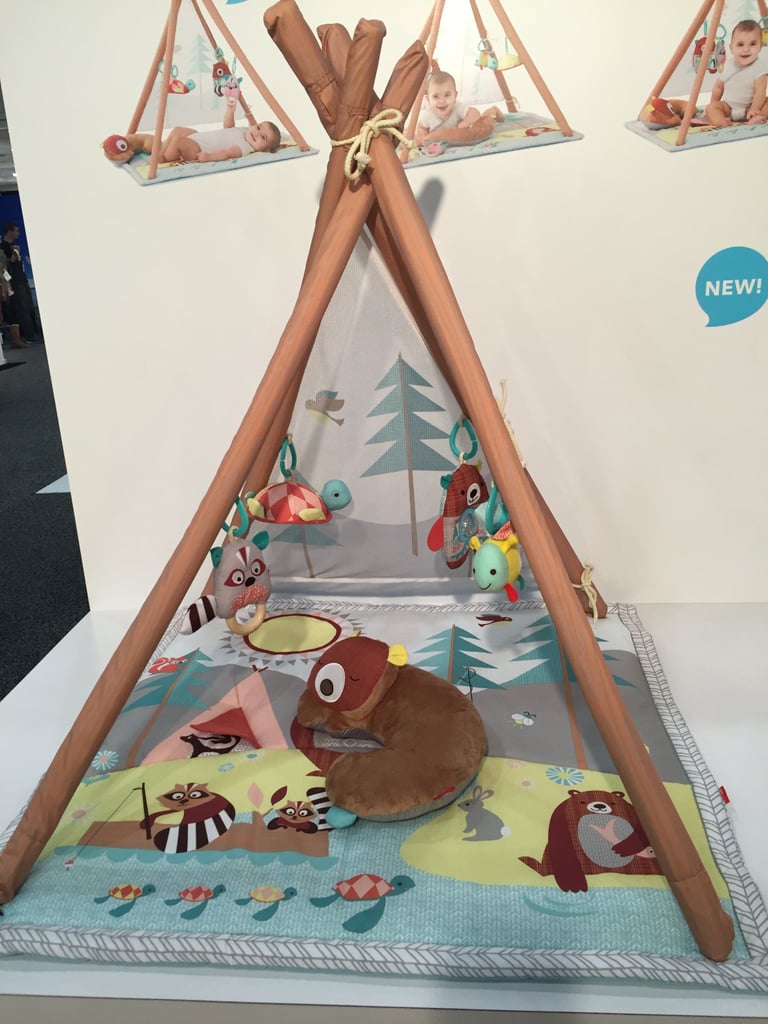 Skip Hop is introducing what may be the cutest play gym — ever! The Tent and Trails Activity Gym will be your tot's own personal camping tent when it is introduced in August.
Funko Ghostbusters Characters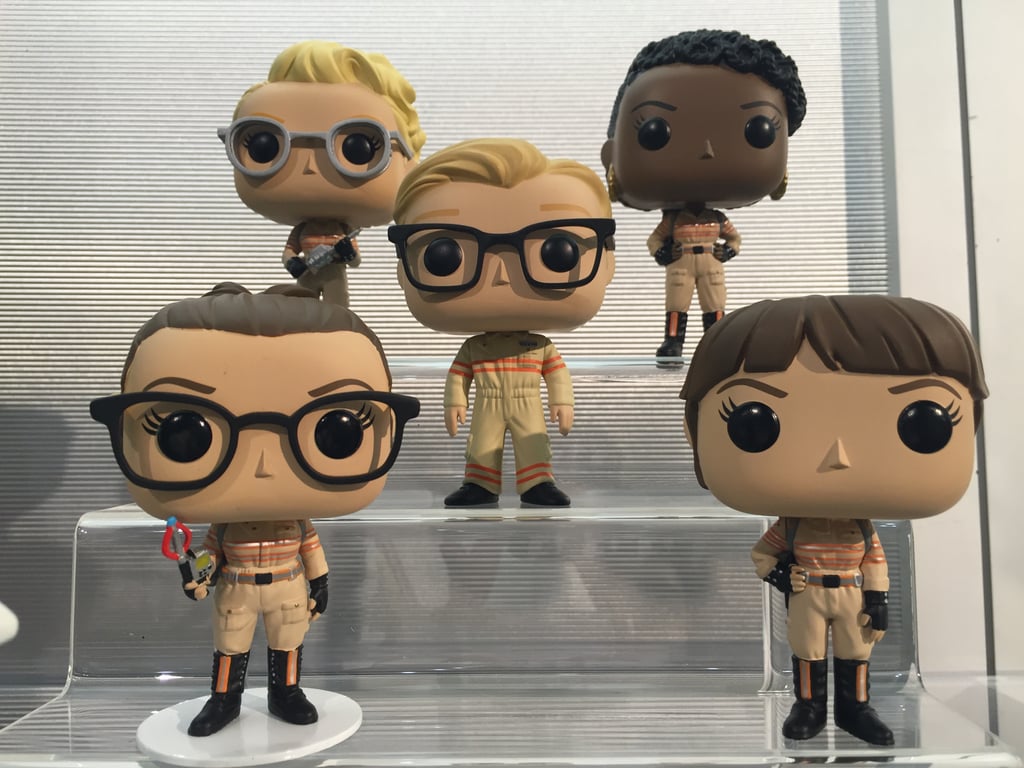 The ladies of the upcoming Ghostbusters movie get the Funko treatment with these collectible figures.
Hape Construction Vehicles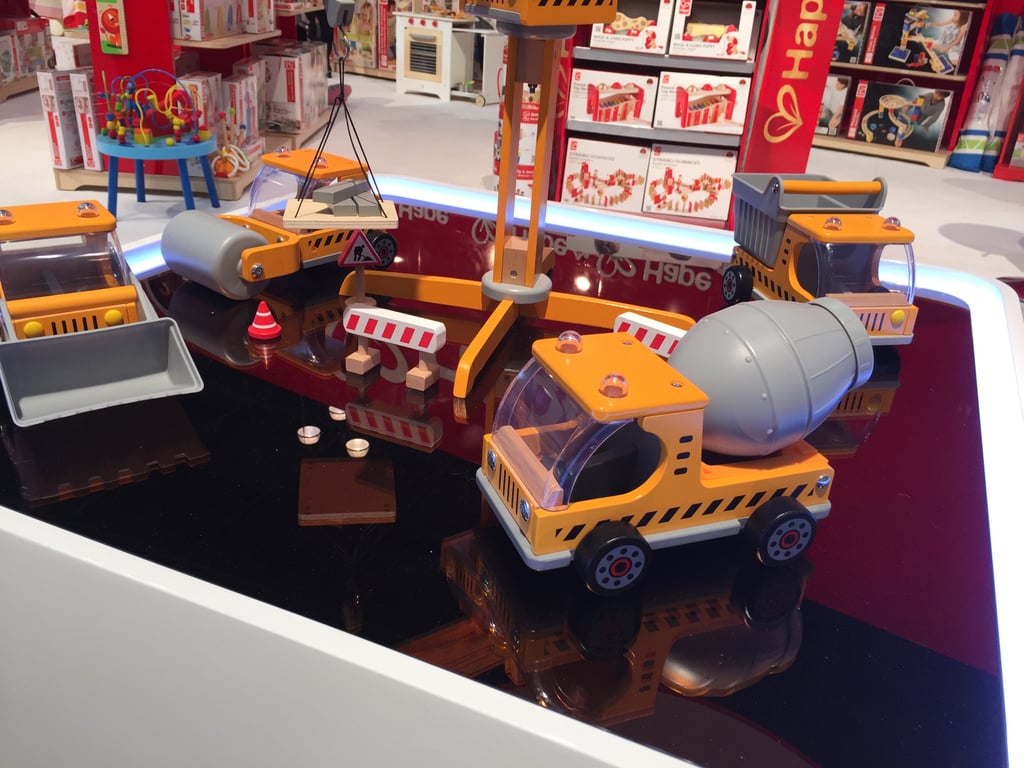 Two new vehicles join Hape's construction line that combines plastic and wood for a true outdoor play experience.
Disney Tsum Tsums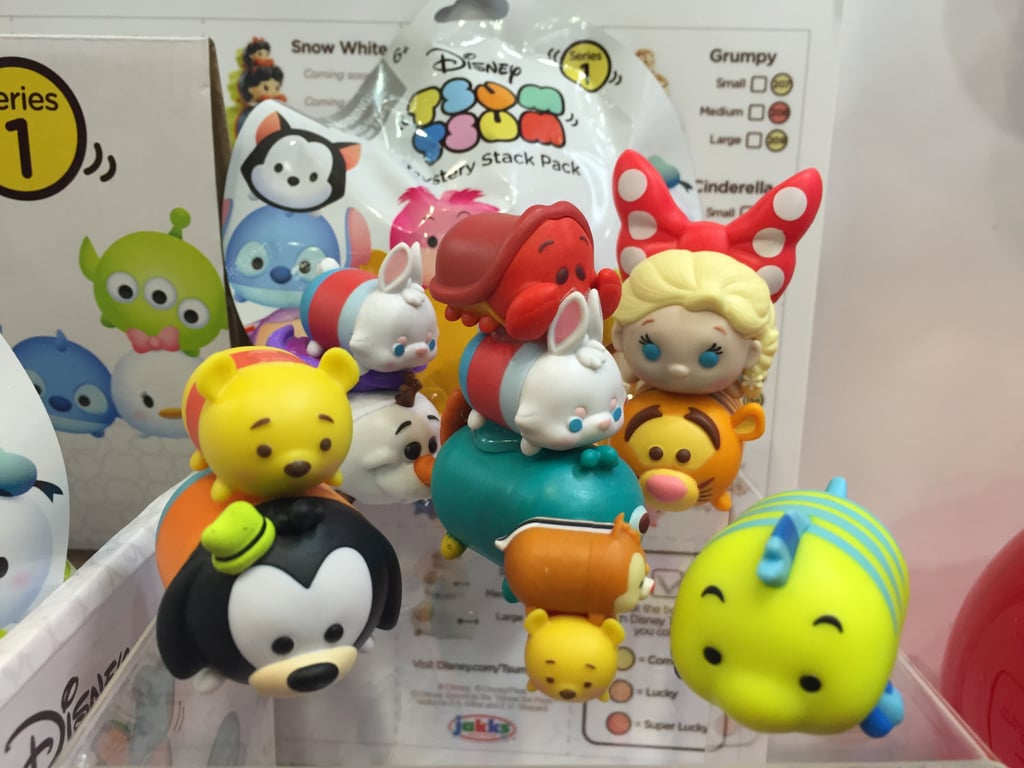 Disney will continue to introduce new blind packs of their wildly popular Tsum Tsums in 2016.
Janod Service Station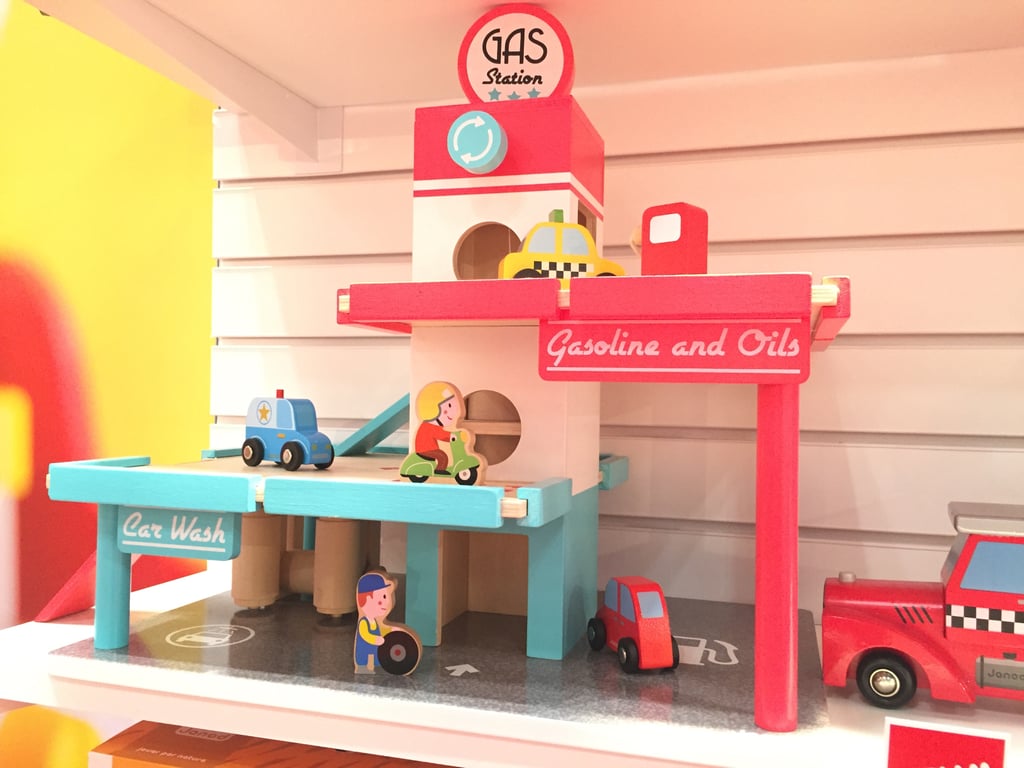 Janod's wooden service station looks like it will provide hours of open-ended play.
4-in-1 Total Clean High Chair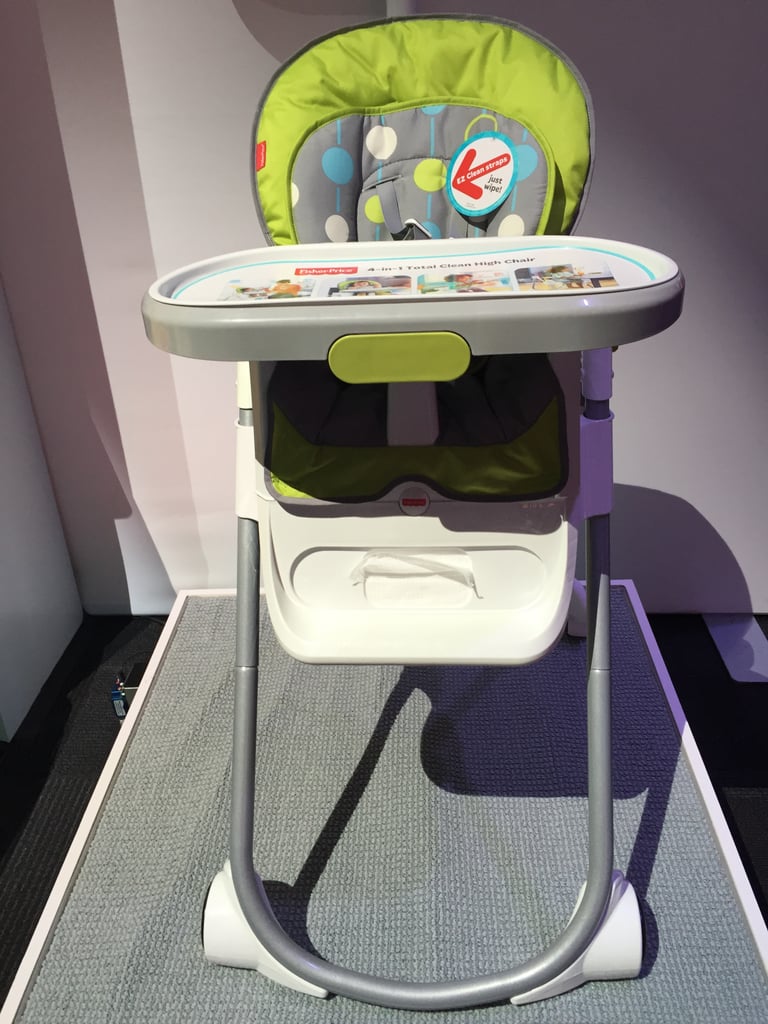 This high chair grows with your child from a basic high chair and portable high chair to a booster seat and youth chair. Every piece is dishwasher friendly — including the seat cover! — and there is a wipes dispenser right in the chair to make cleanup a breeze.
Chatter Phone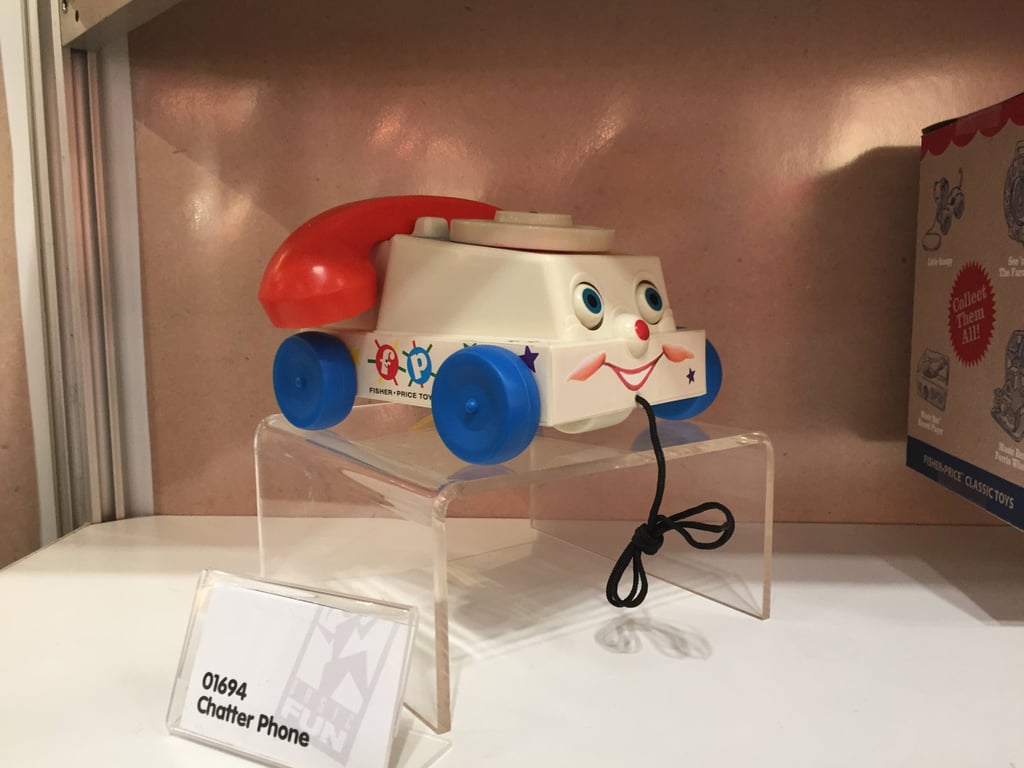 The iconic Chatter Phone is coming back so that a new generation of kids can play with the same toy phone you did — but you might have to explain to them what a landline is first!
Disguise Lego Costumes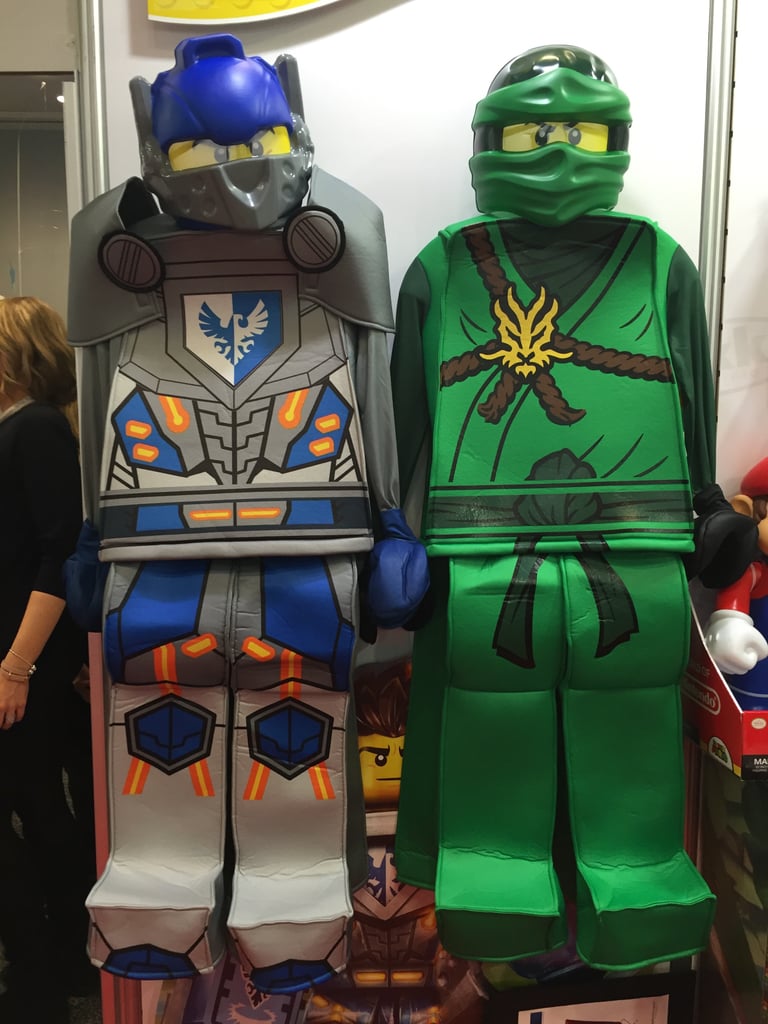 These life-like Lego minifigure costumes are sure to be a hit come Halloween [3] this year.
Hape Railway For Toddlers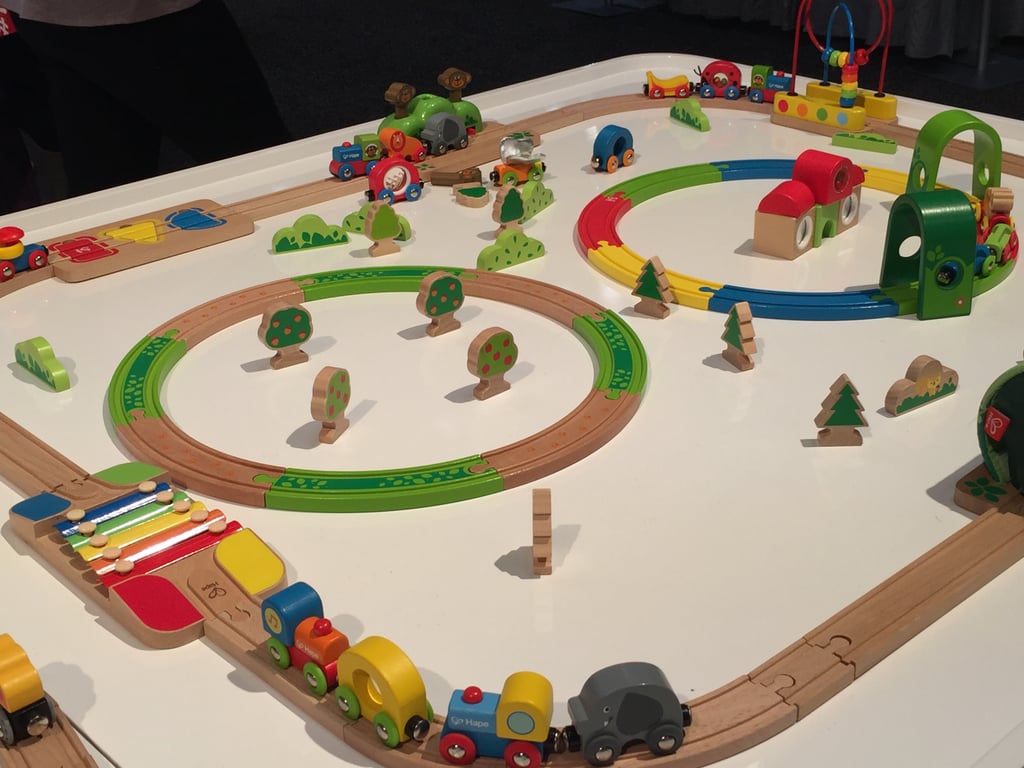 Hape's new toddler-friendly train track is full of tactile areas that tots will love — a xylophone bridge, a shape sorter train track, fabric areas, and more.
Melissa and Doug's Wooden Make-a-Cake Mixer Set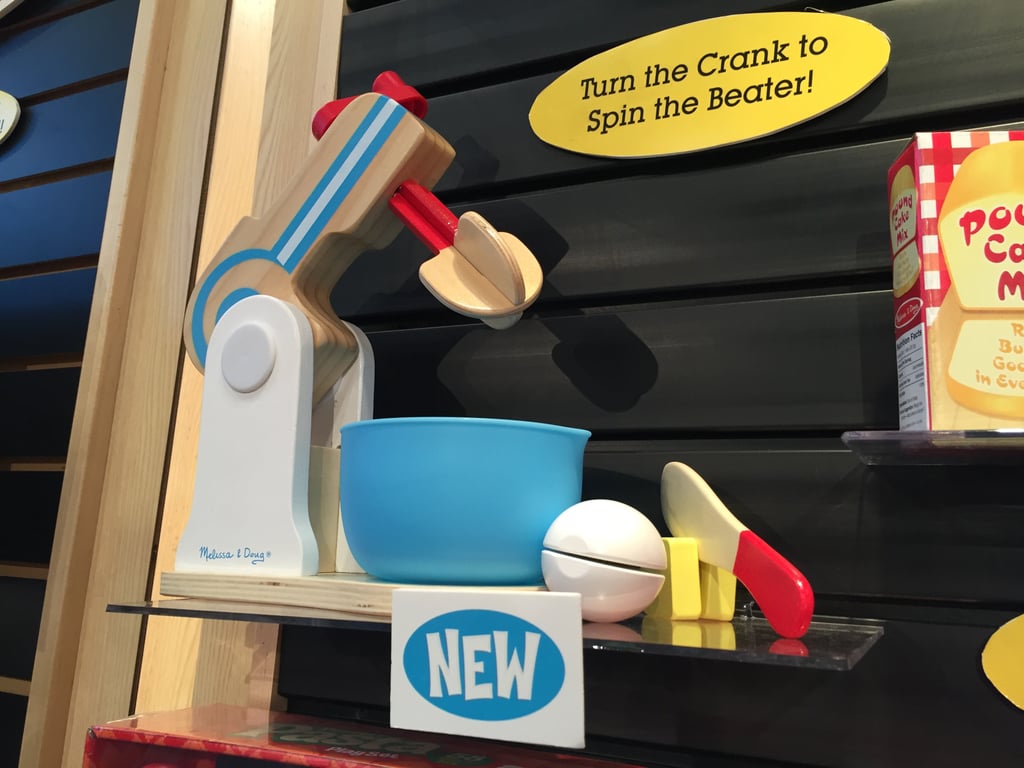 Kids will be whipping up delicious make believe cakes with the Wooden Make-a-Cake Mixer Set.
Begin Again Toys Rooster Puzzle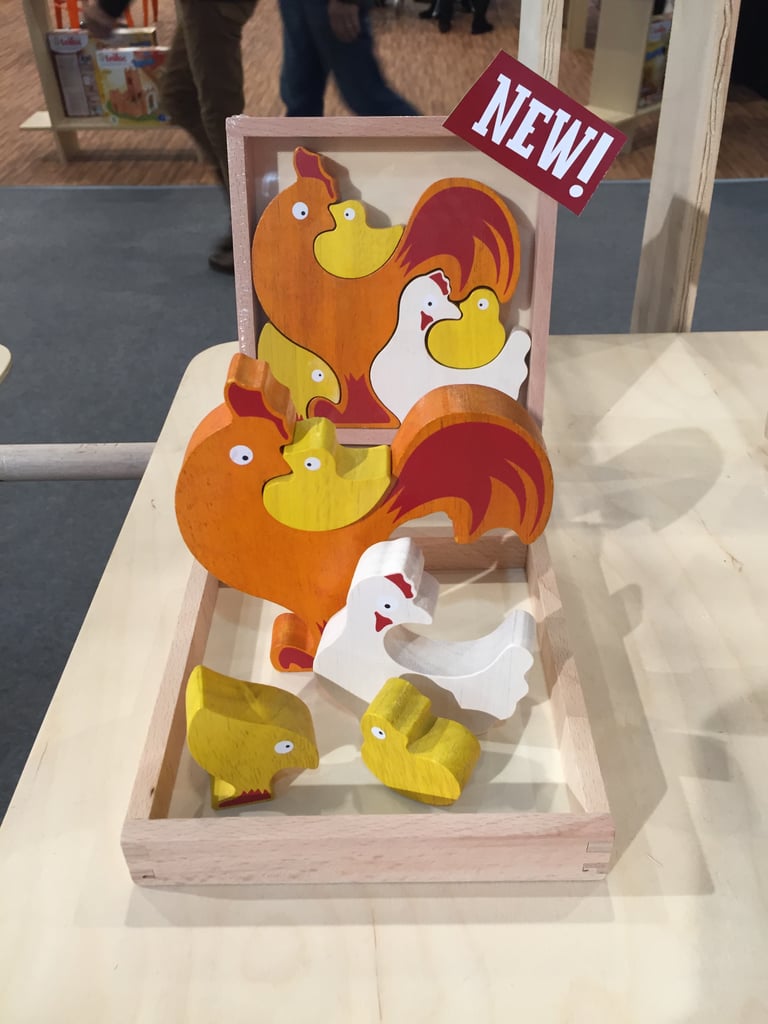 We're loving how Begin Again Toys's upcoming rooster puzzle can be played with in so many different ways.
Zoob Galax-Z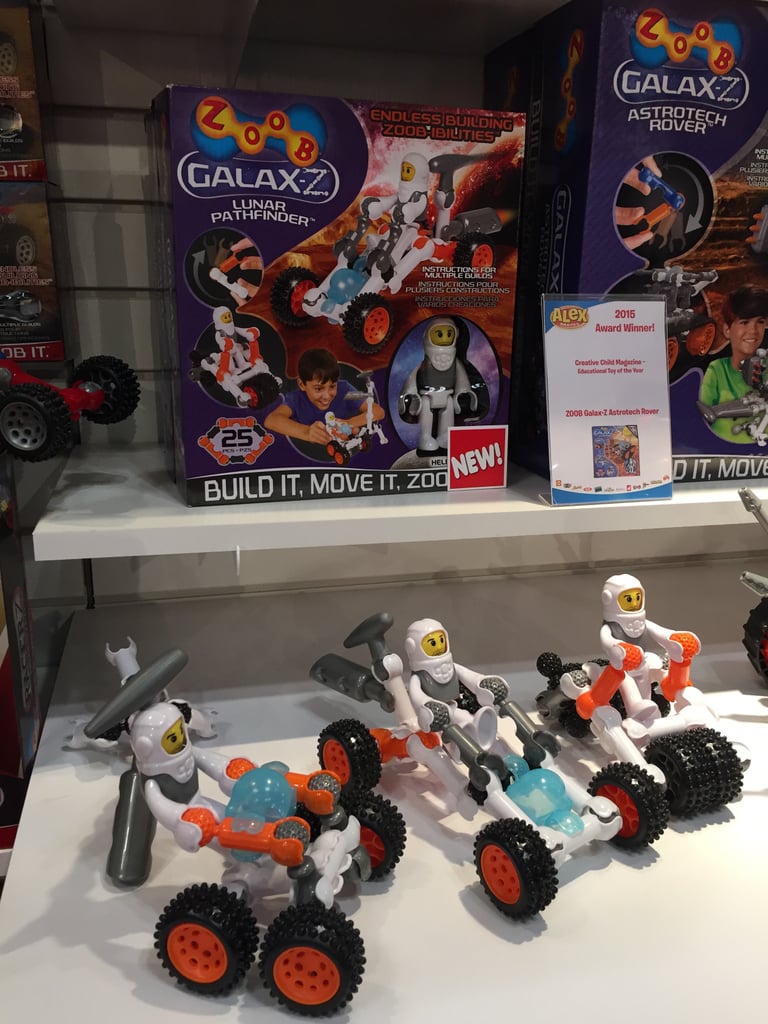 Zoob's blasting off to space with two new space-themed sets in 2016.
Shopkins C3 Deluxe Set Food Court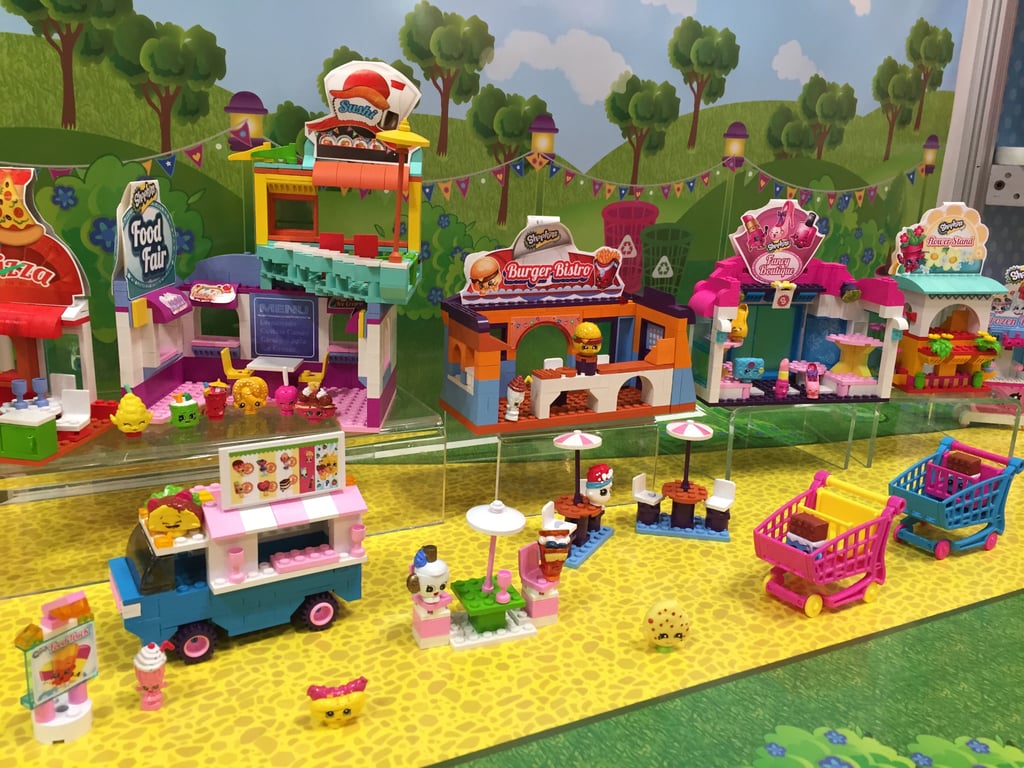 These blind bag toys have been reimagined for the new C3 Kinstructions line so that little ones can build up the world of Shopkins with multiple construction sets. Complete with a pizza parlor and sushi shop, the deluxe set will let your children play with their Shopkins in an imaginative way.
Barbie RC Hover Board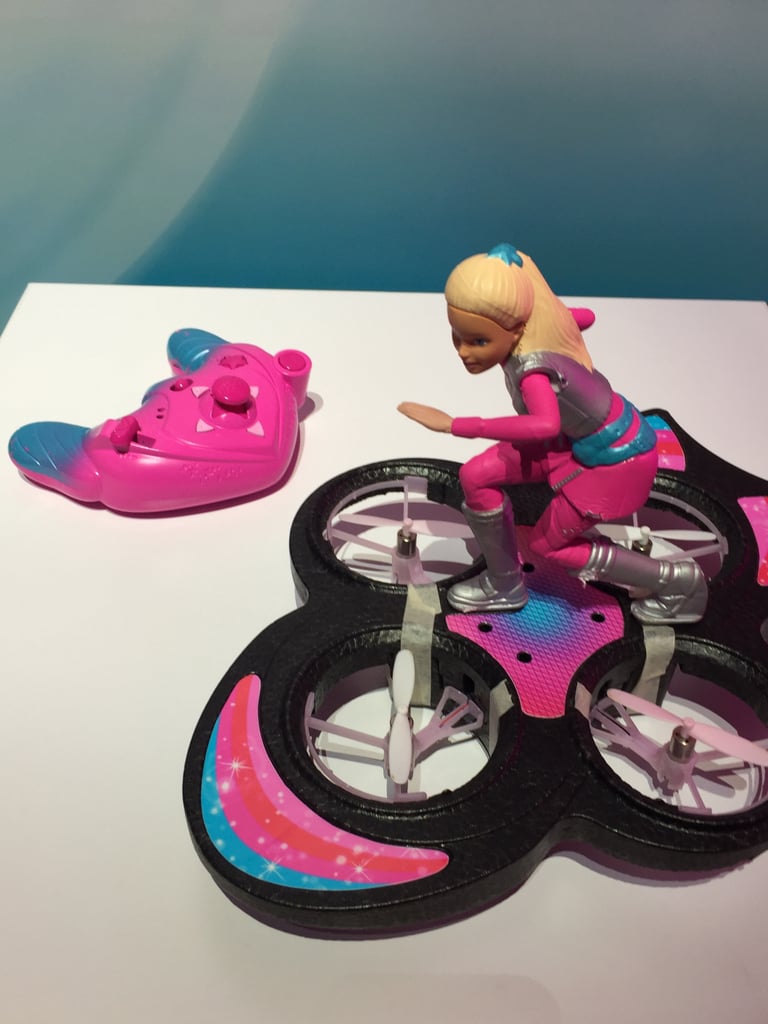 In a new movie coming this Fall, Barbie the space explorer rides her hover board to save the day, and your child will be able to relive the movie scenes and spend hours of fun with this remote control RC Hover Board.
DinoTrux RC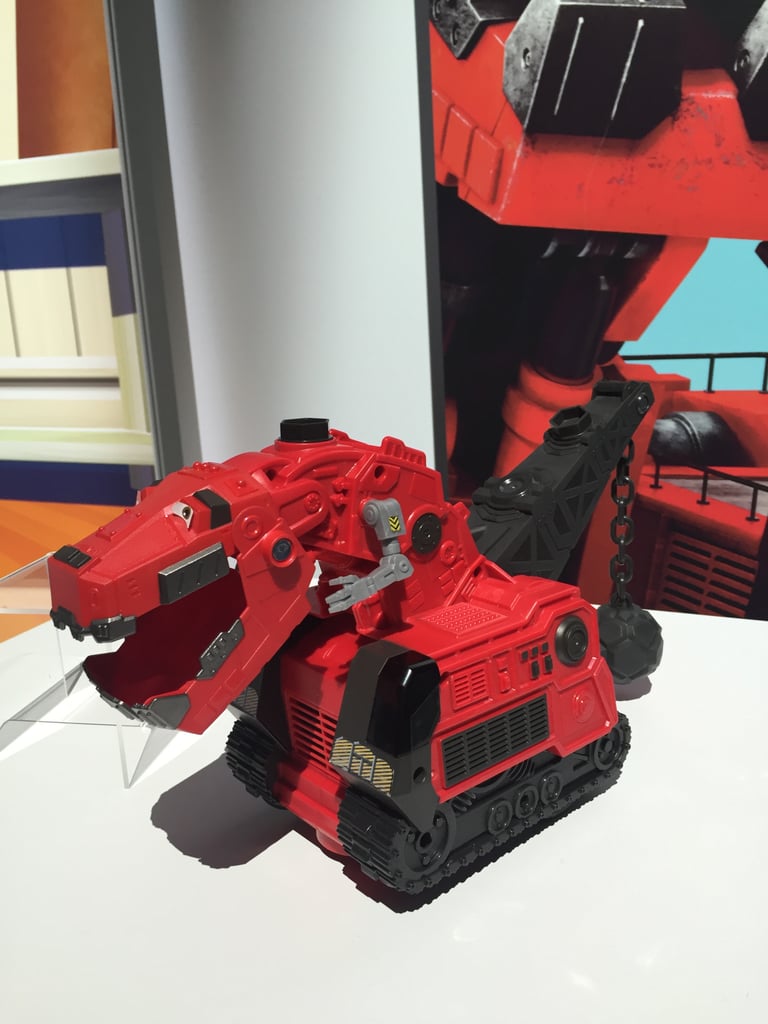 This supercool DinoTrux RC communicates with its remote control — named Rev It — to play hide and seek (your child can place Rev It up to eight feet away to be found), have dance parties, or to follow the leader (your child can walk around with Rev It and the DinoTrux will follow both of them!).
Flying Heroes Batman Batcopter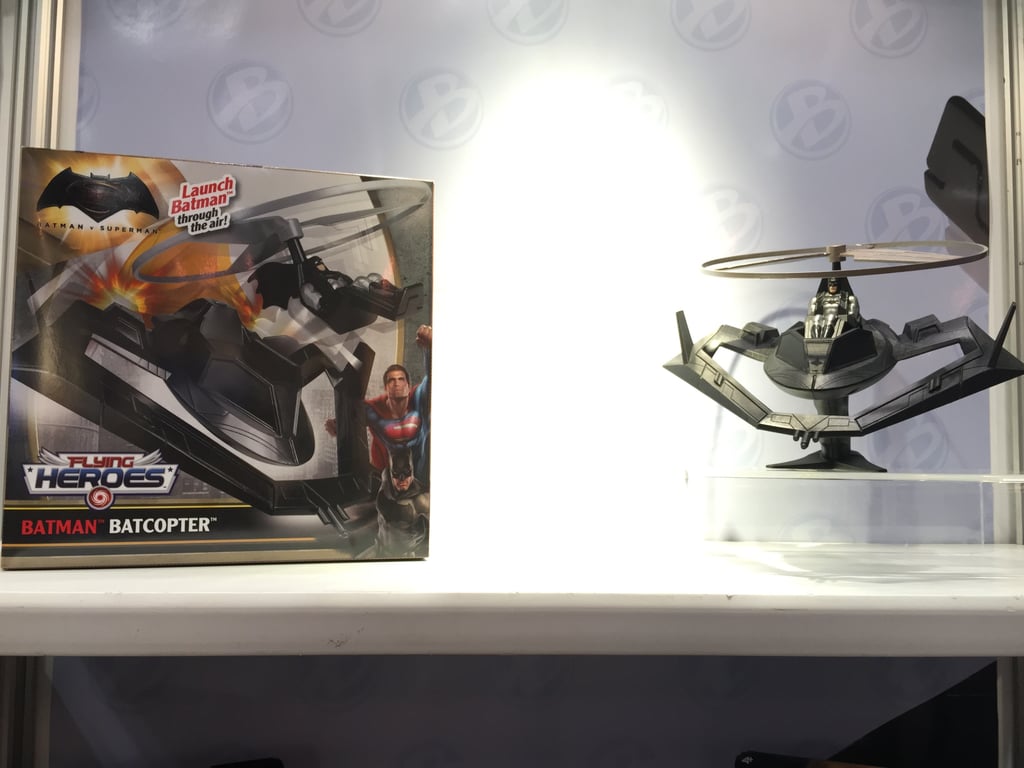 Launch Batman through the air as he battles Superman with his flying Batcopter — perfect for outdoor play.
The Smart Scan Word Dash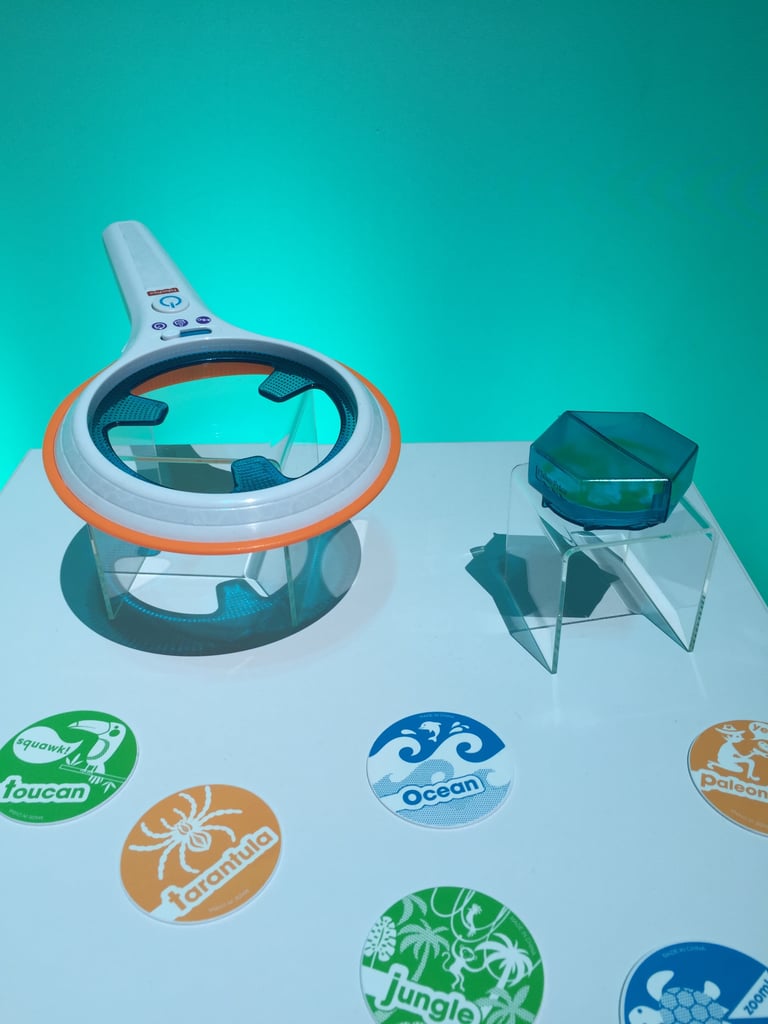 Fisher-Price is introducing a new Think & Learn line. The Smart Scan Word Dash will teach tots early literacy skills and help tots connect animals and their habitats.
Project Mc2: Smart Is the New Cool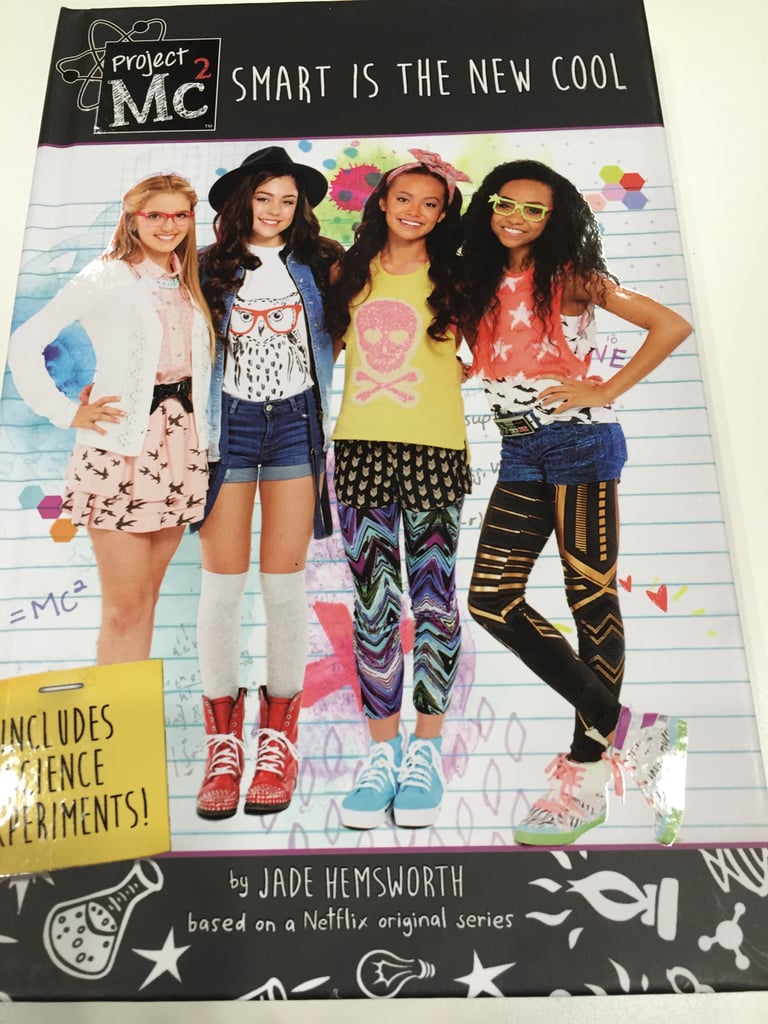 Coming in March, the girls of Project Mc2 will star in a new book — which includes exciting science experiments — based off the hit Netflix Original Series.
Selfie Mic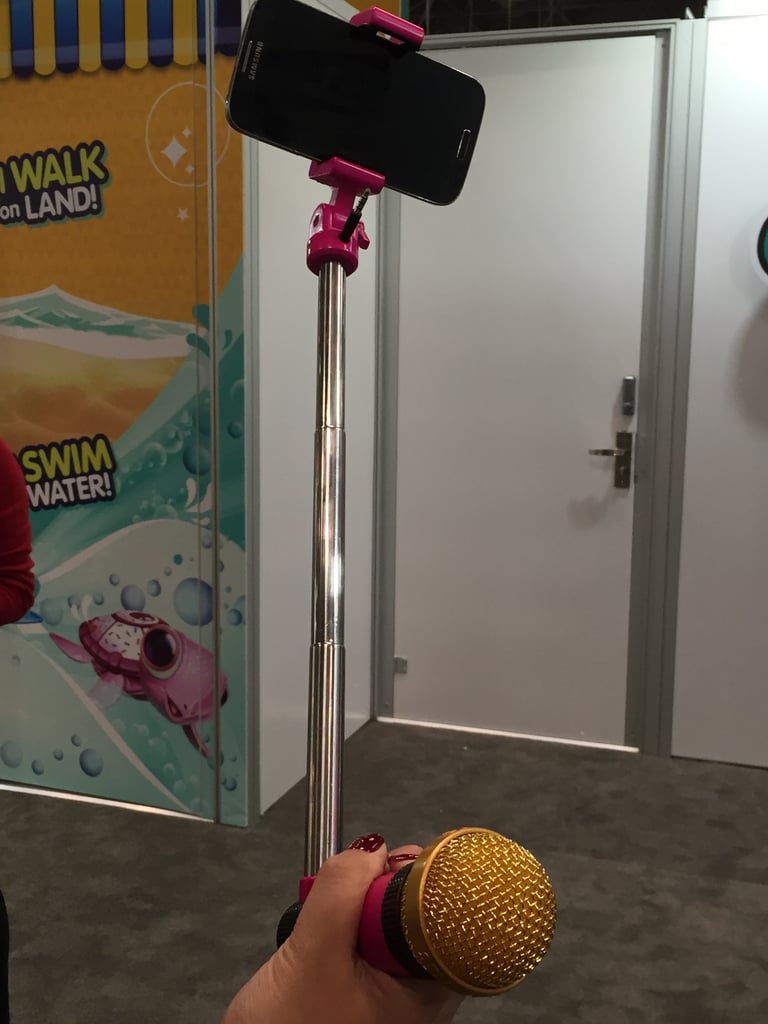 Coming this fall (and retailing for $20), your little karaoke star who loves taking selfies can do both at the same time with the Selfie Mic. All they have to do is slide their phone into the brackets like a selfie stick, log into the app, and grab the microphone to start singing — and just like in Rock Band, the app will show your kiddos how many notes in the song they hit just right.
Melissa and Doug's Roll, Wrap and Slice Sushi Counter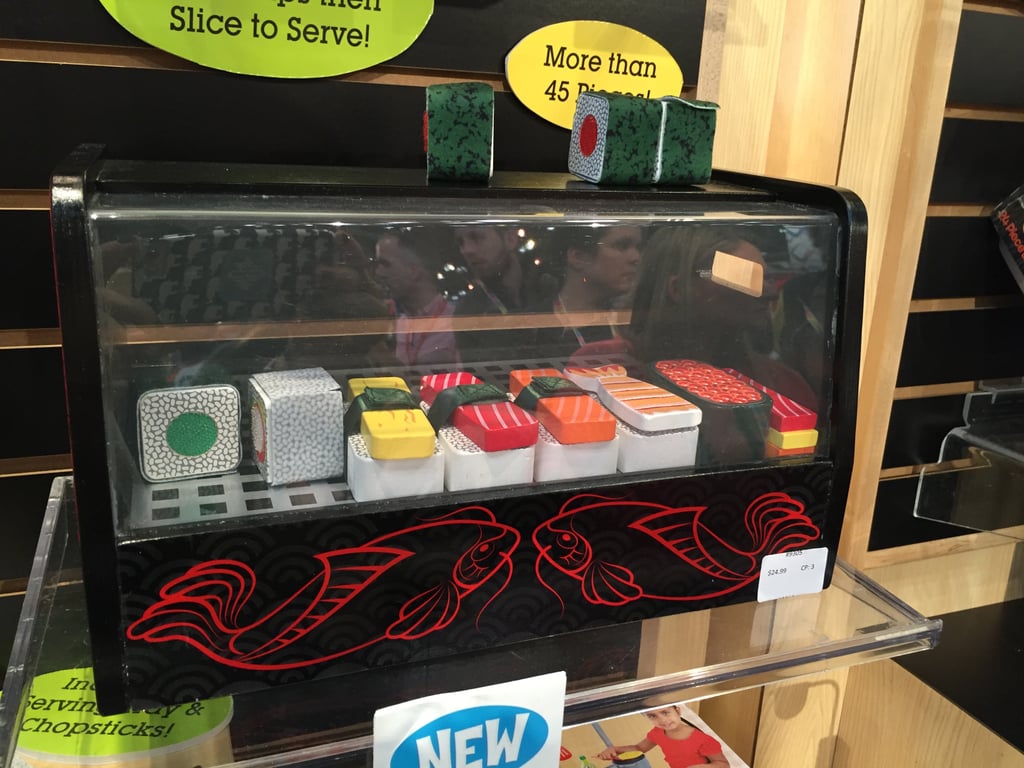 Kids can roll and slice their way to sushi heaven with Melissa and Doug's Roll, Wrap and Slice Sushi Counter when it is released later this year.
Little Tikes LeBron James Family Foundation Mini Hoop Basketball Set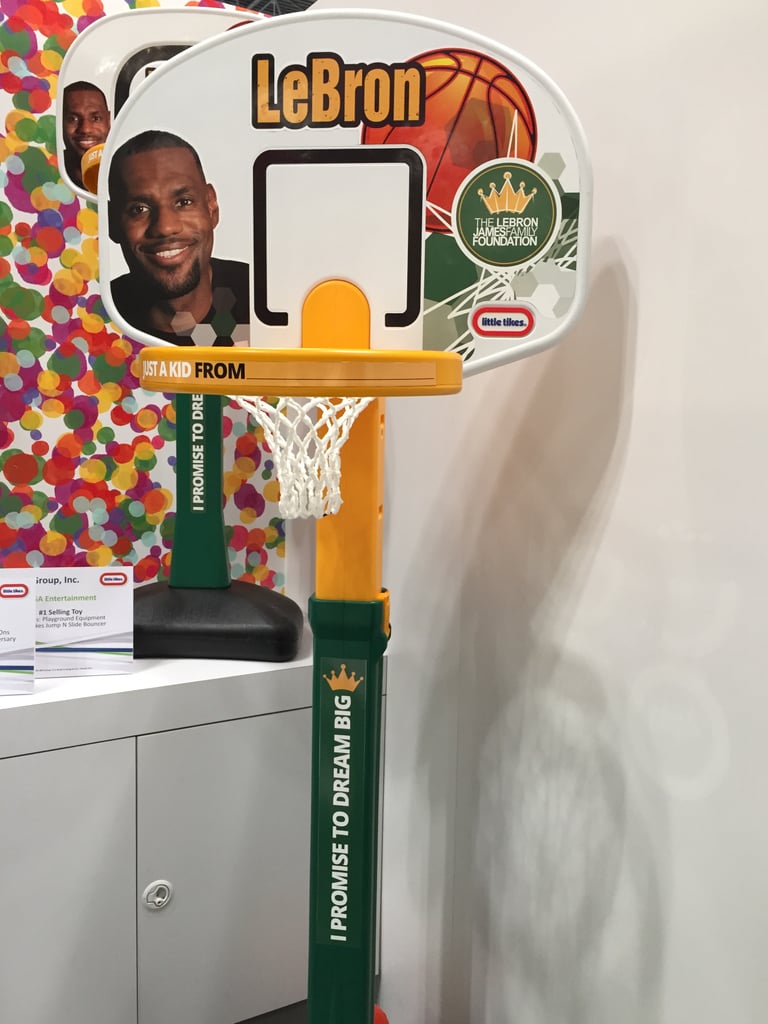 Inspired by LeBron James' childhood of learning how to dunk on a Little Tikes Basketball set, this hoop is perfect for your little one to perfect their skills with. Bonus: For every unit purchased a donation is made to the LeBron James Family Foundation!
Teenage Mutant Ninja Turtles Squeeze 'Ems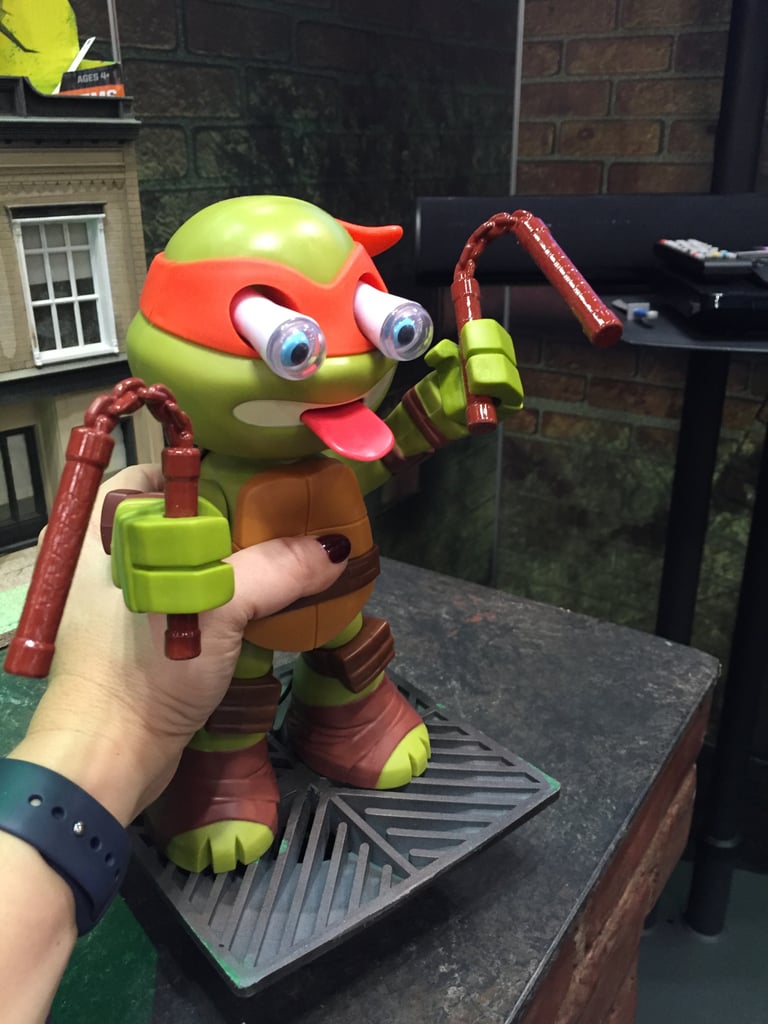 Squeeze these Squeeze 'Ems' bellies and their tongues stick up, their eyes pop out and they make the cutest sounds!
Hape High Seas Boat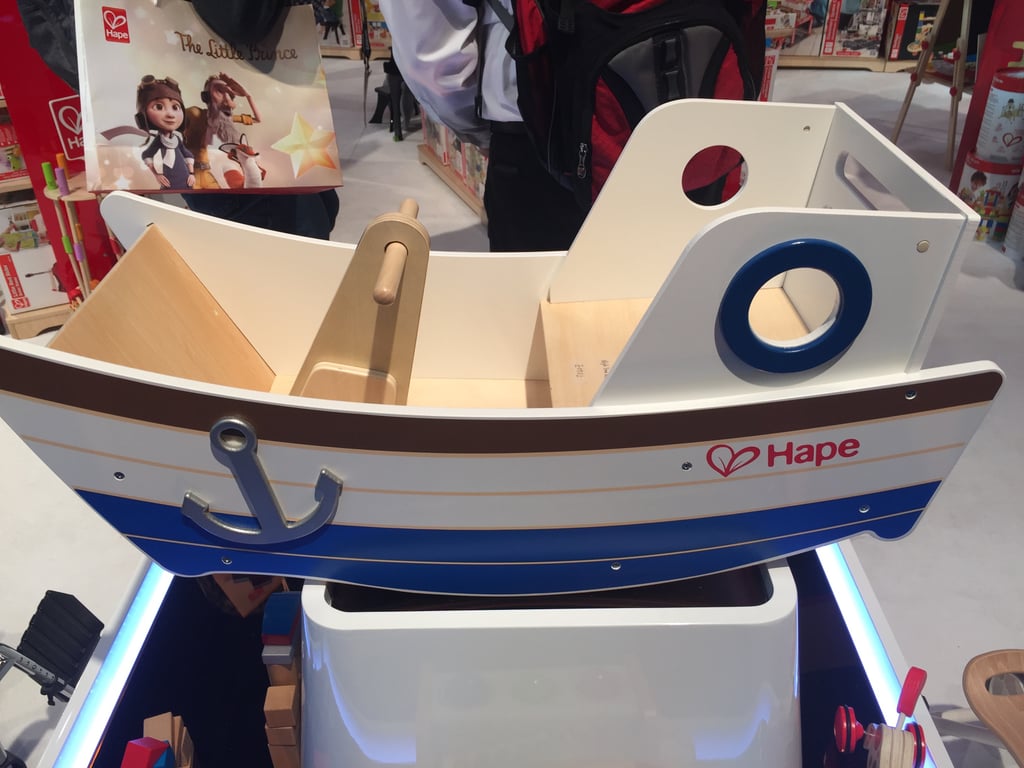 This nautical rocker will have your little one dreaming of the seashore in no time.
Alex Knot a Quilt Chevron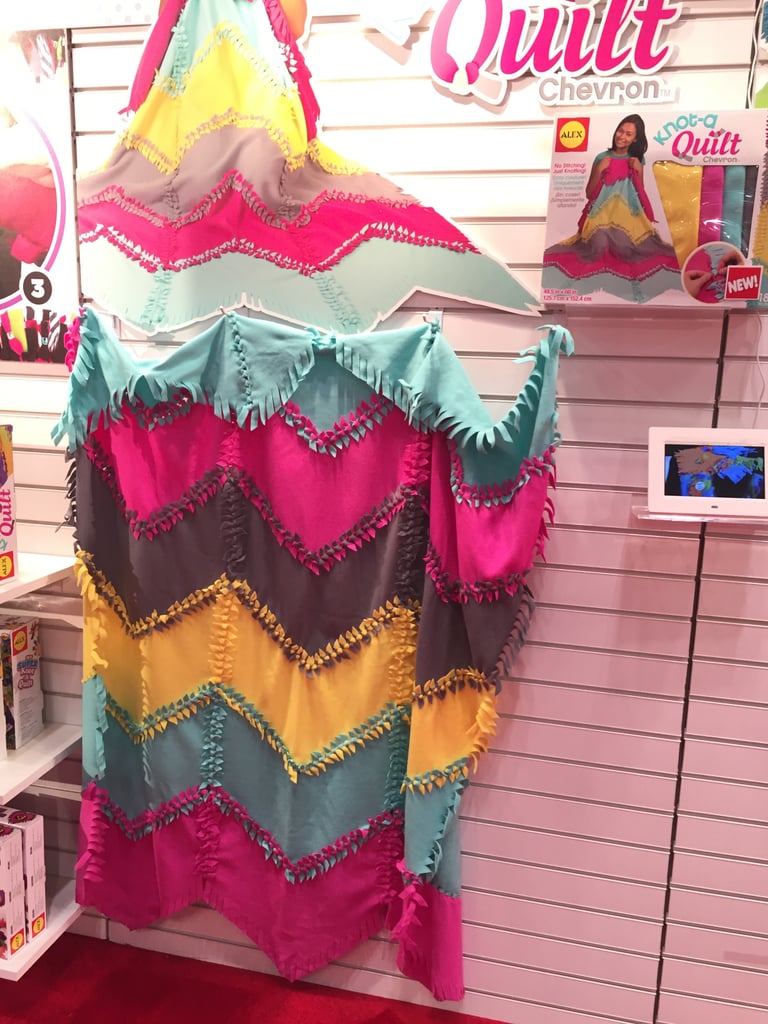 How fun is this felt quilt made by tying knots, as opposed to sewing?
Nerf Elite Hyperfire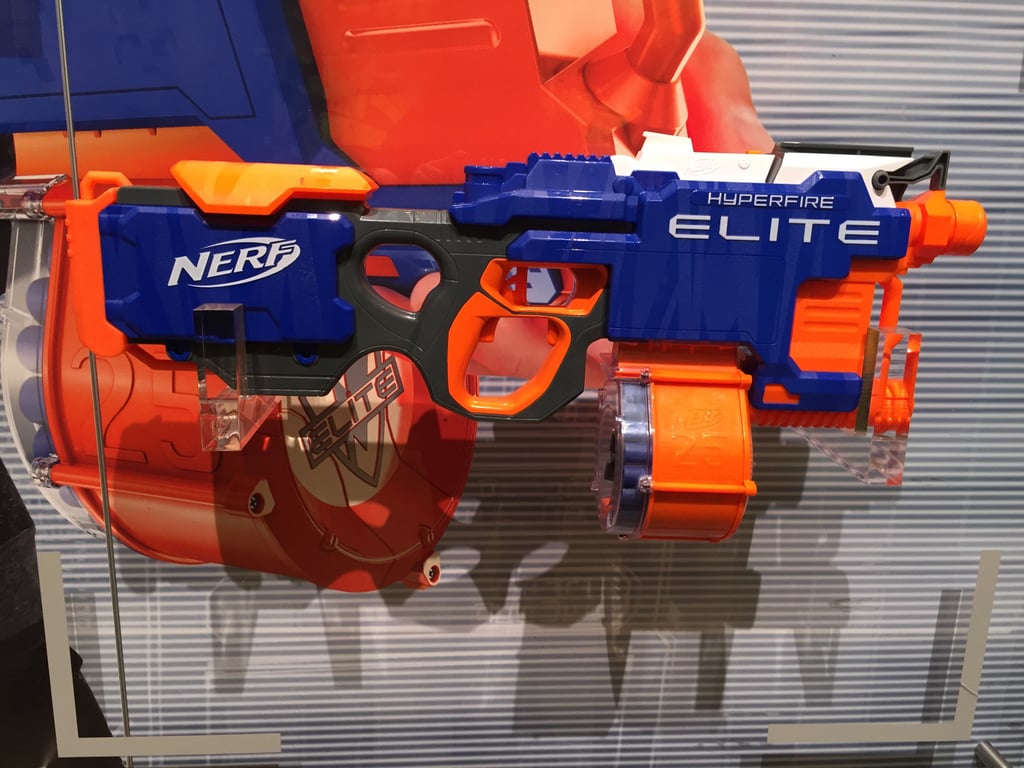 See that large barrel attached to the Nerf Elite Hyperfire, it powers 5.5 pellets shooting out of the blaster every second — the fastest Nerf blaster ever.
Thomas & Friends-SpongeBob SquarePants Mash-Up Minis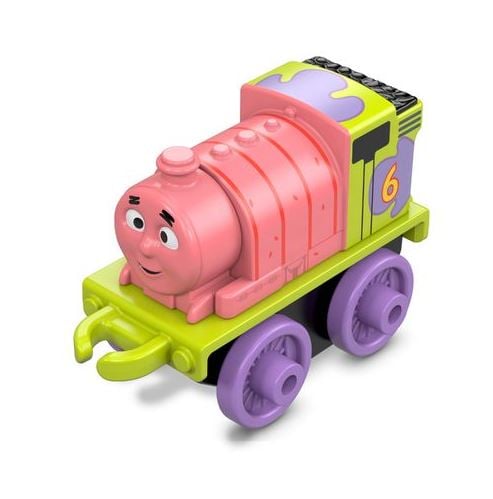 The Thomas & Friends Mash-Up Minis collaboration with SpongeBob SquarePants will include Patrick mixed up with Percy!
XPV Marvel RC Rollover Rumbler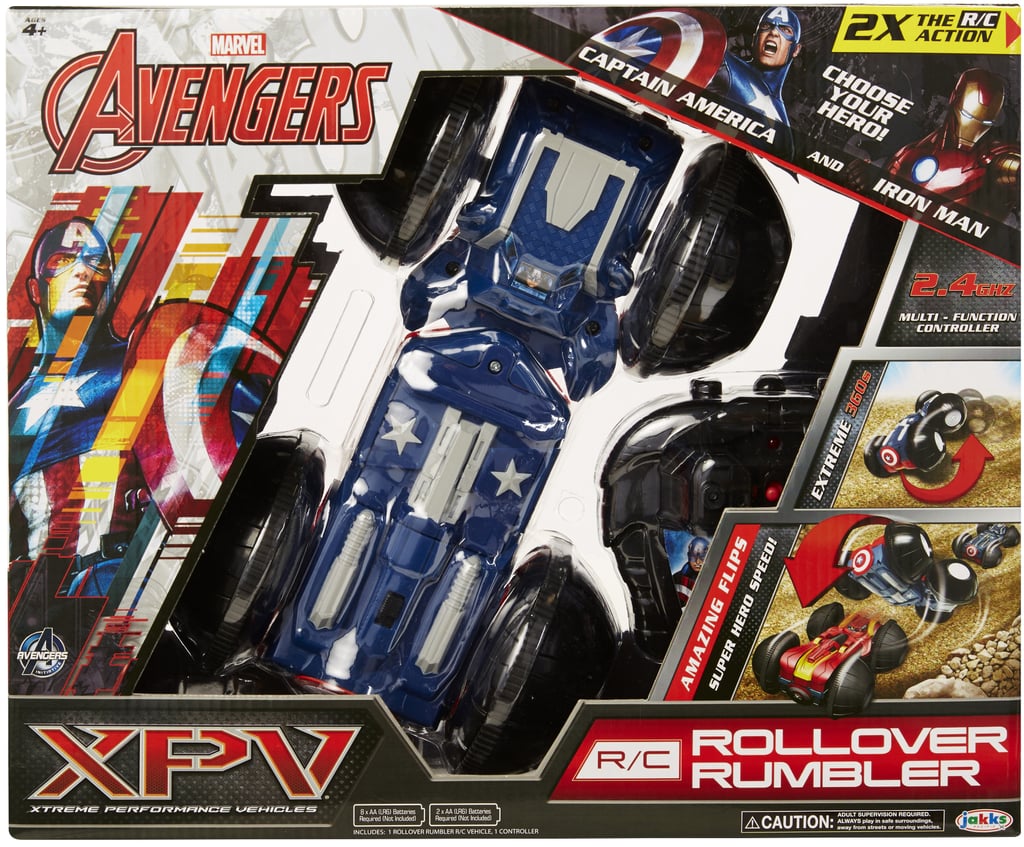 Jakks Pacific is introducing the XPV Marvel RC Rollover Rumbler, a remote control car that kids can switch up between Captain America and Iron Man. But even more impressive are flips and 360s the vehicle can do on command.
Disney Princesses Magical Transforming Carriage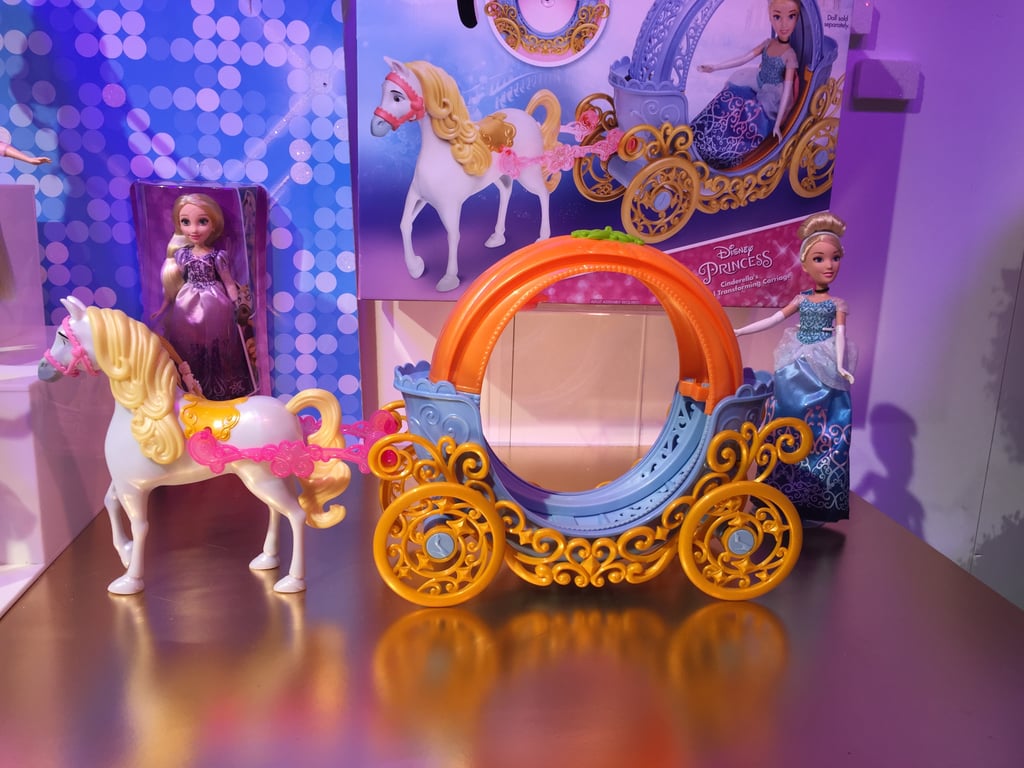 Cinderella fans can now reenact the exact moment when her carriage transforms into a pumpkin thanks to Hasbro's Magical Transforming Carriage.
Fur Real Friends Pax My Poopin' Pup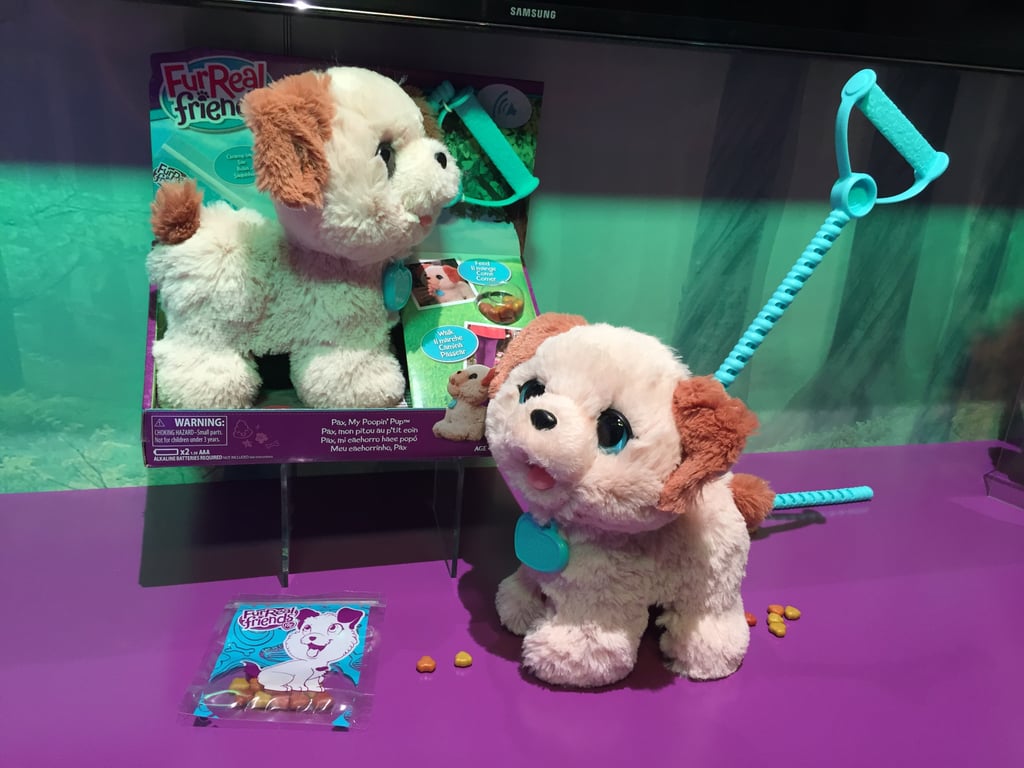 Yup, his name really explains what he does. Pax may look adorable, but after feeding him some "treats," your little one will be cleaning up after him. Maybe it's good practice for a live family pet!
Kid Galaxy White House Storybook Playset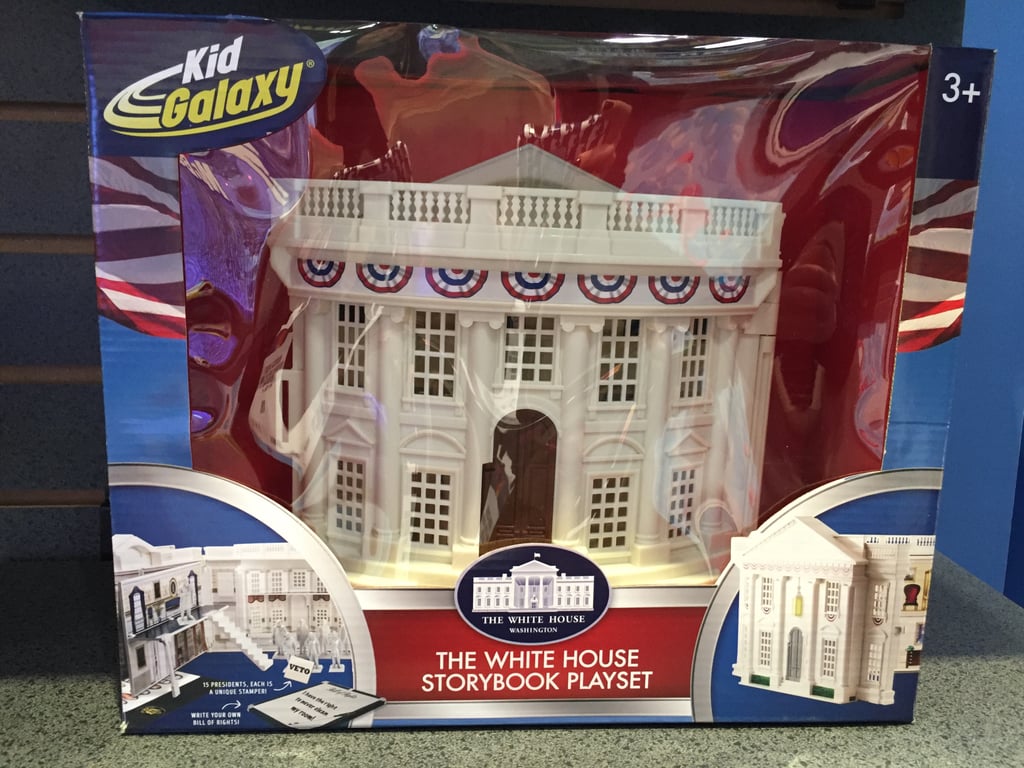 Just in time for the election, the White House Storybook Playset opens up to reveal two real rooms from inside the White House, figures of each president, and a book packed with information and fun facts about each the house's residents.
Shrinky Dinks 3D Flower Butterfly Lights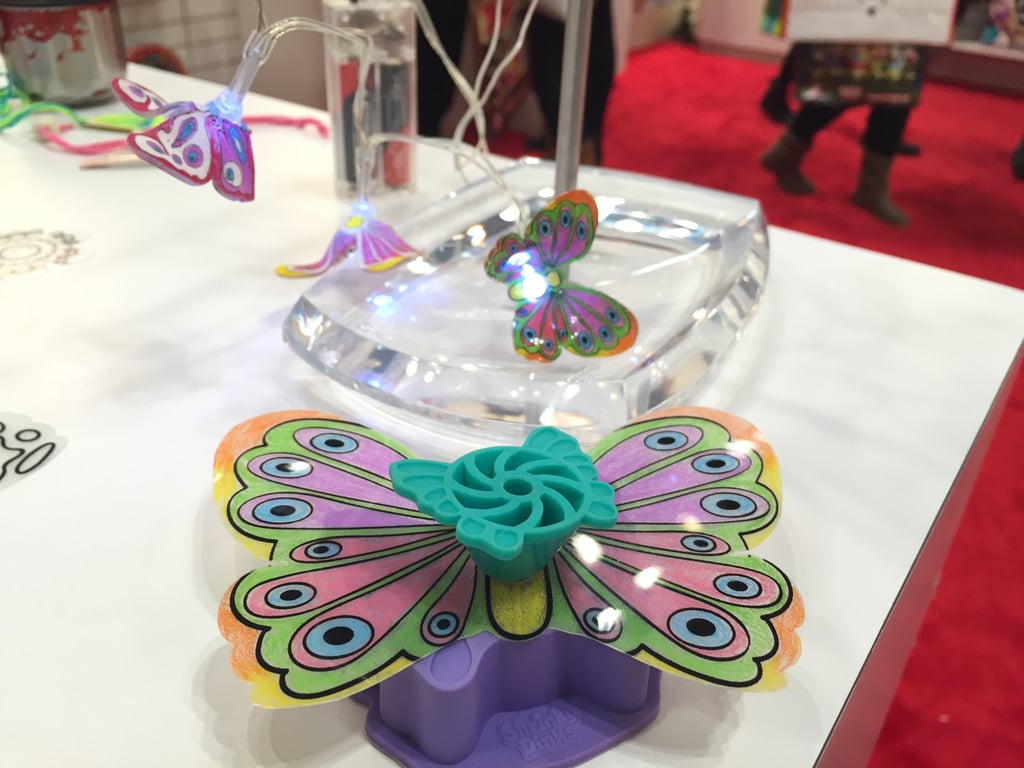 What tween wouldn't want to create these Shrinky Dinks butterflies and attach them to lights for their room?
Thomas & Friends-DC Super Friends Mash-Up Minis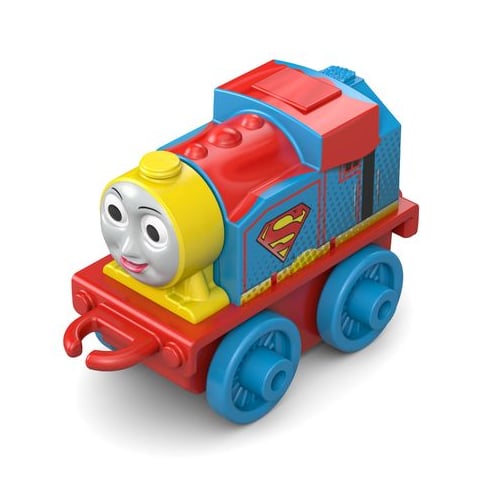 Thomas & Friends will expand its line of Mash-Up Minis to include 36 DC Comics stars, including Supergirl/Rosie.
Kid Galaxy S'mores Food Truck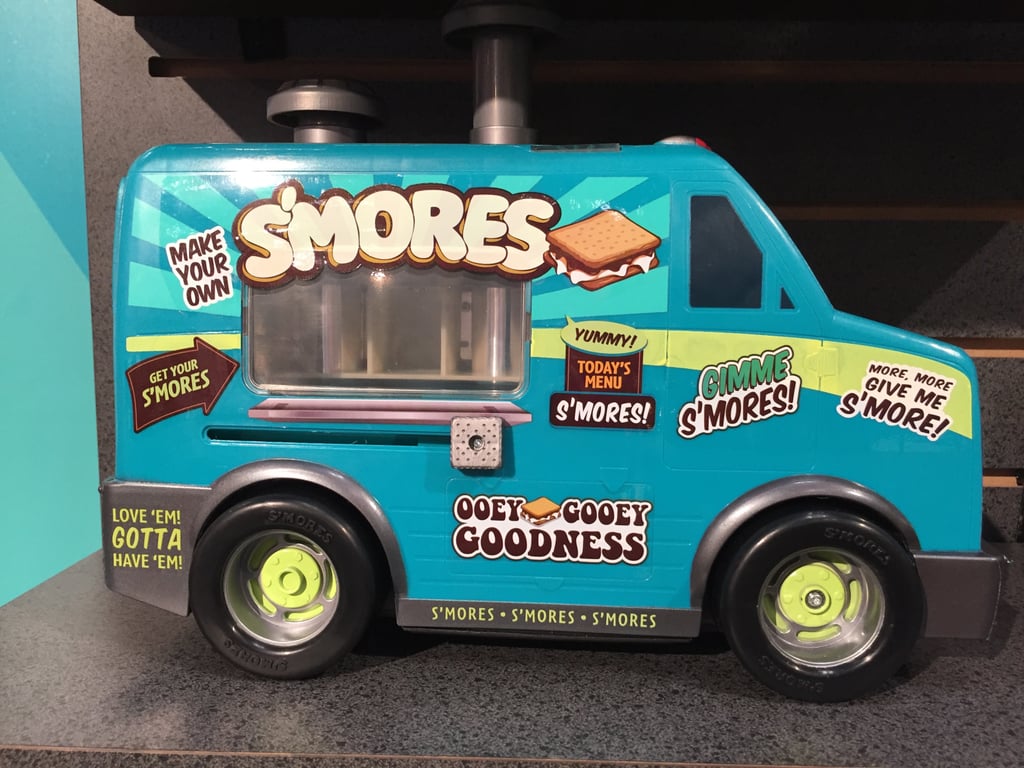 This adorable S'mores Food Truck comes with everything you need bake up some tasty s'mores — a pan, marshmallow packet, chocolate packet, and graham cracker.
Monopoly Ultimate Banking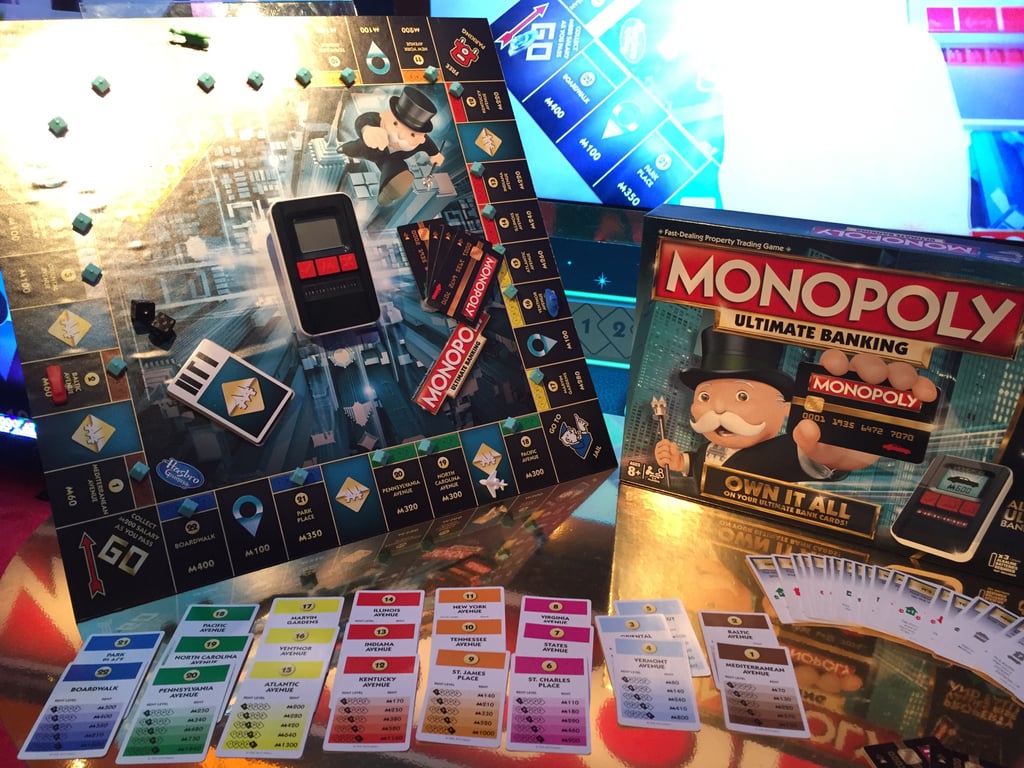 Paper money is a thing of the past in the latest iteration of Monopoly. Monopoly Ultimate Banking uses "bank cards" and credit card machines to keep track of bank accounts.
Betty Spaghetty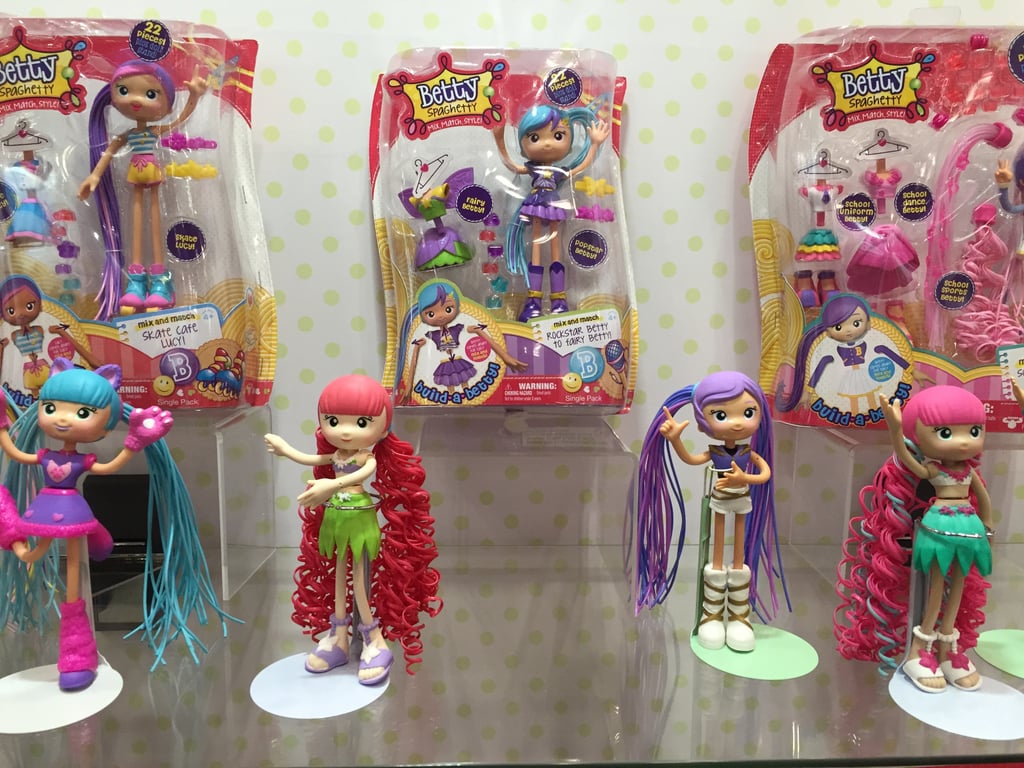 This mix and match "constructible" doll makes changing up Betty Spaghetty's hair and clothes easy for your little one, especially if they have limited dexterity. These approachable dolls will be available in the fall and retail between $13 and $30.
Paper Plane Launcher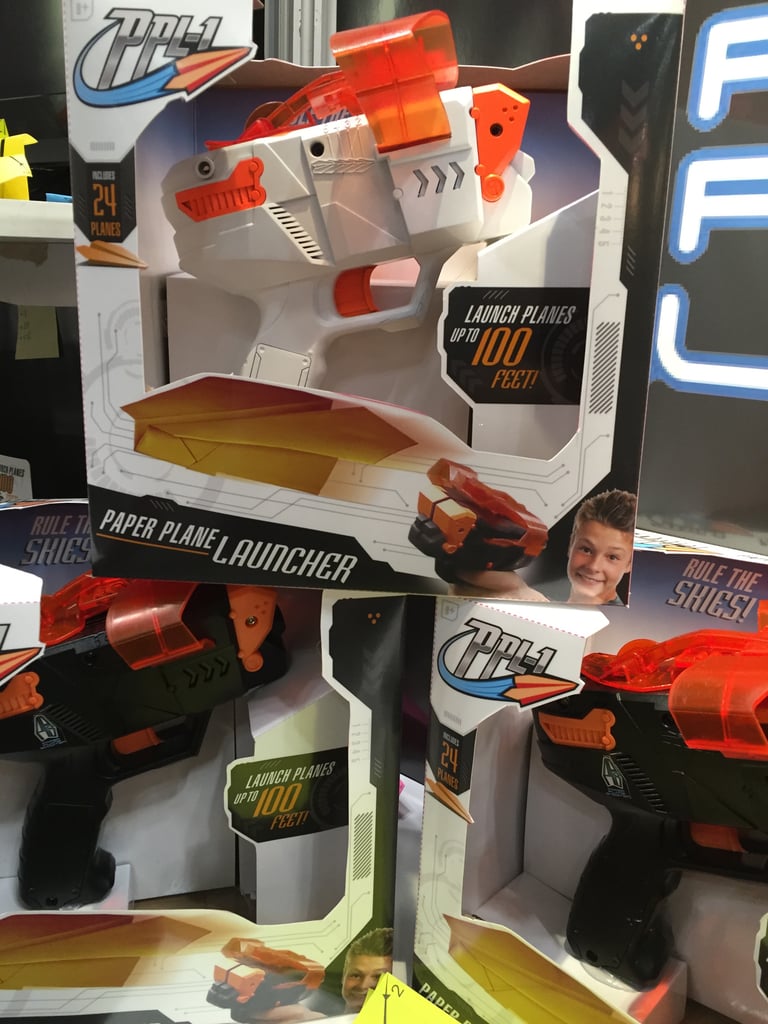 Paper planes just got modernized! Kids can create good ol' fashioned paper planes, but then use this fun launcher to send them flying through the air.
Lego Juniors Batman and Superman vs. Lex Luthor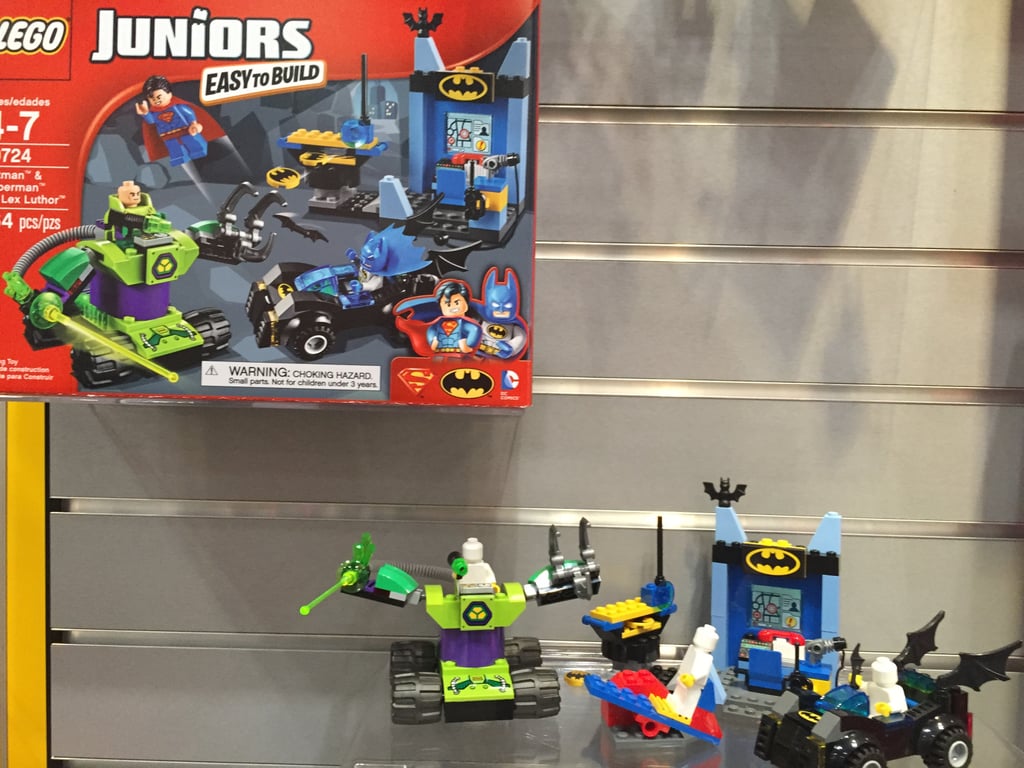 For little ones between Lego Duplo and classic Lego, Lego Juniors sets provide an age-appropriate experience — complete with modular pieces like walls and archways — to help them gain their confidence. Bonus: The Batman [4] and Spiderman vs. Lex Luthor set will be out in time for Batman v Superman: Dawn of Justice!
Disney's Moana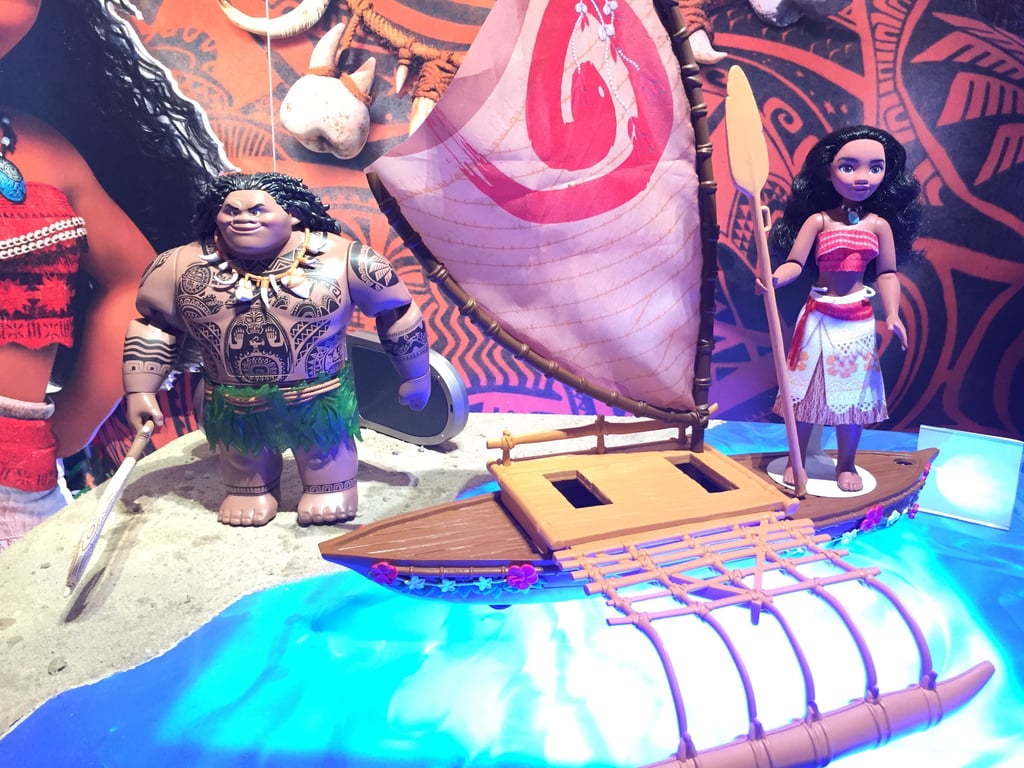 Moana hits the big screen this year and the dolls associated with the flick are sure to be hits — especially Mali (who is voiced by The Rock in the film) and the boat, which projects light onto the wall.
Disney Elena of Avalor and Skylar 2-Pack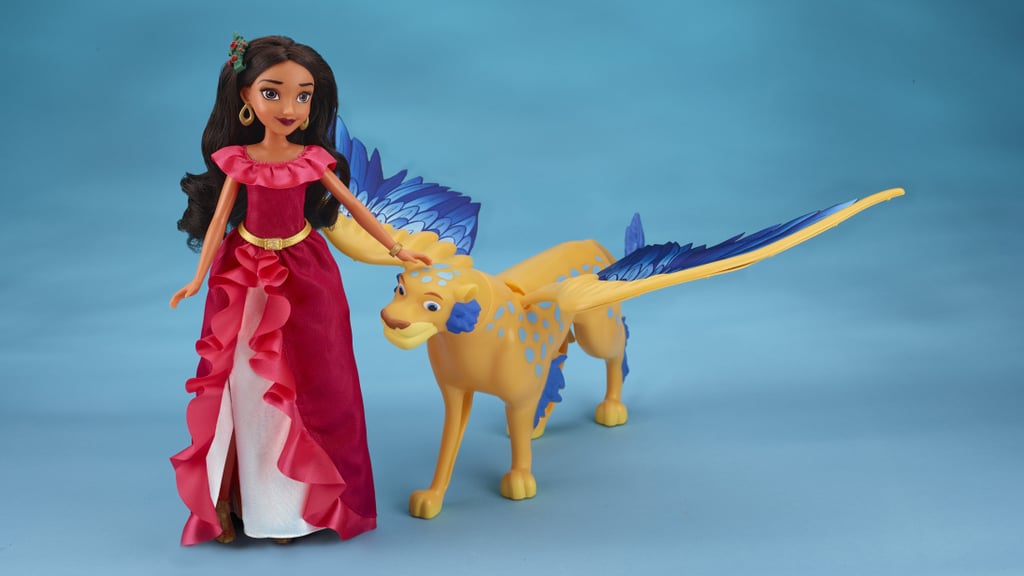 Disney will introduce its latest princess, Elena of Avalor [5], in a new Disney Channel series this Summer, and of course, there are plenty of dolls to accompany her introduction. Elena of Avalor was separated from her parents and kingdom by an evil sorceress. While protecting her little sister and grandparents, Elena was pulled into her amulet — the same amulet that Sophia the First now wears. Sophia the First is tasked with restoring Elena to her human form and to her kingdom.
Among the toys in the collection will be Hasbro's Elena of Avalor and Skylar 2-Pack. When the princess and her loyal friend move, Skylar's wings flap in the wind.
Poppit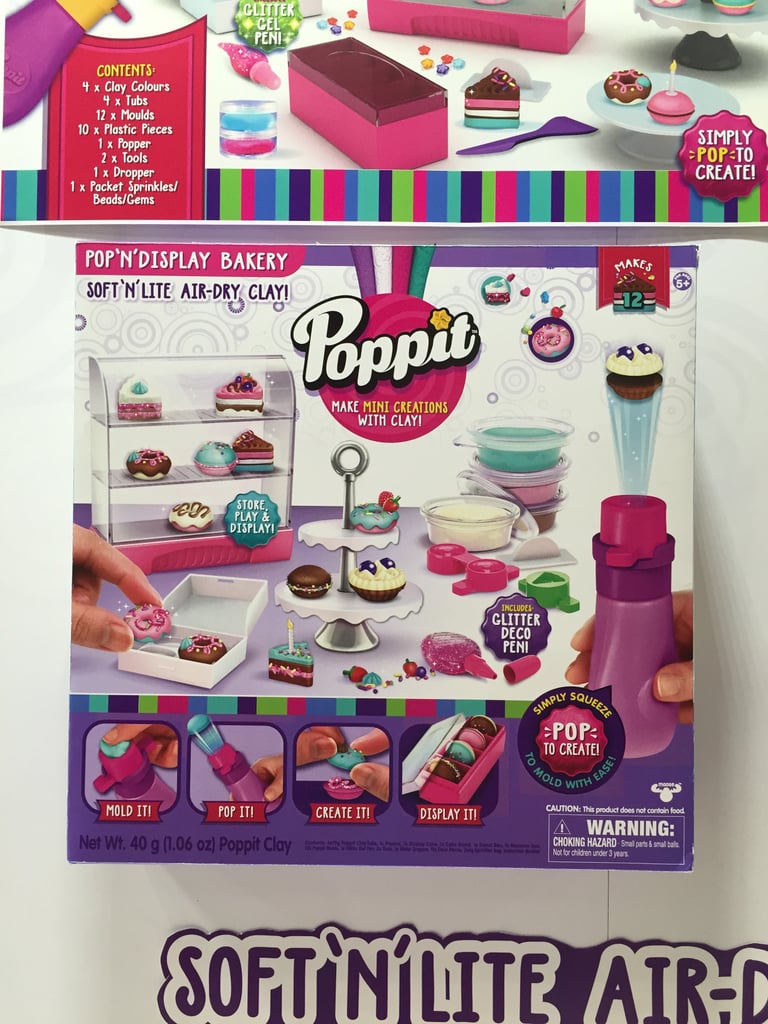 When your little graduates from Play Doh but isn't ready for free-play with clay, they can use Poppit to create pre-molded puppies, desserts, bags, and more that look adorable and harden so that they can be used for playing over and over without getting ruined.
Oyo Team Clubhouse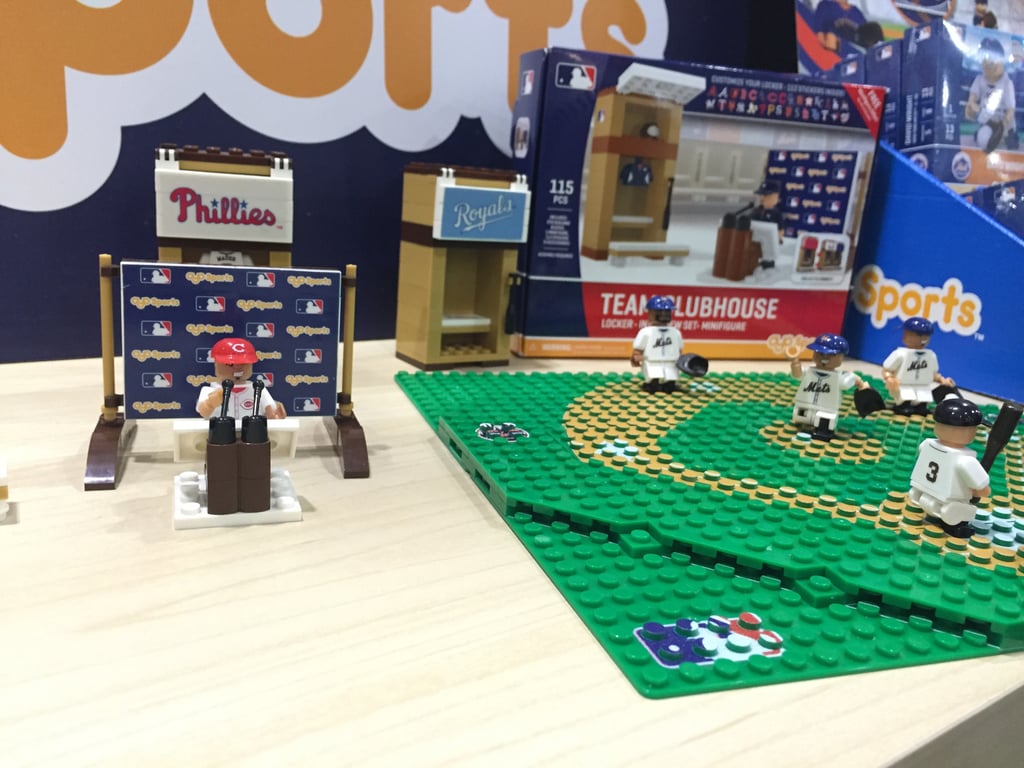 Oyo will expand its line MLB playsets to include a press conference set and a mini locker room. Each set comes with stickers from each MLB team so the clubhouses can be customized.
Playmobil Baby Pool With Slide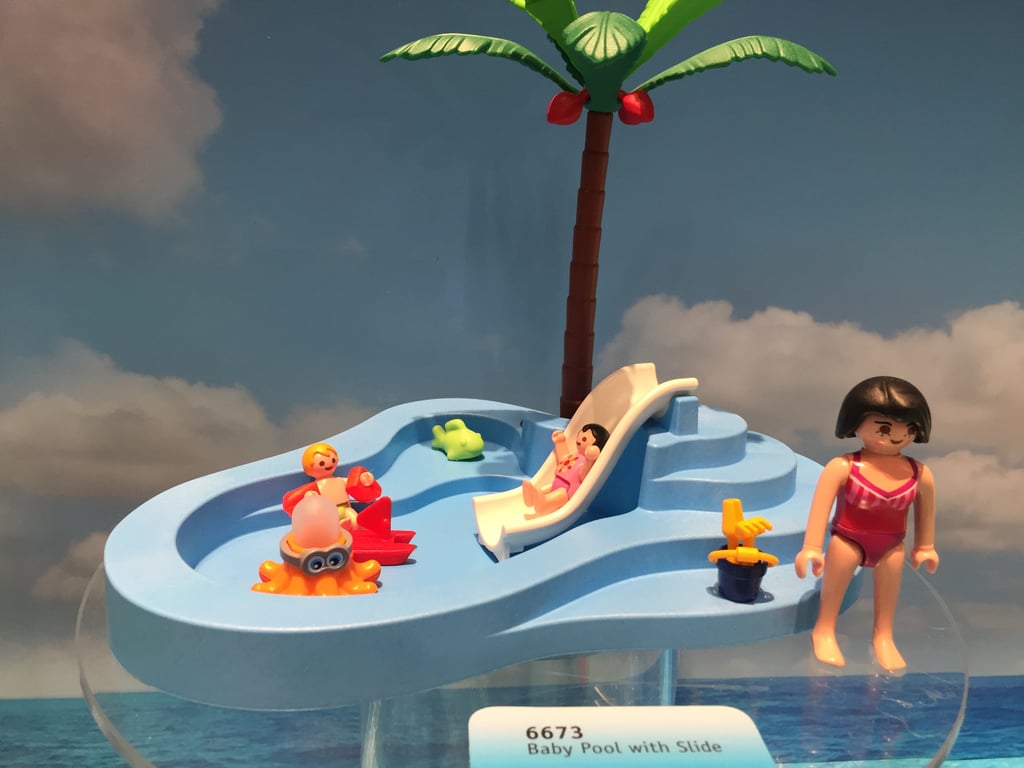 Playmobil's Baby Pool With Slide set comes out in May — just in time for the Summer pool season. And can we talk about how cute the goggled octopus is?!
Thomas & Friends-DC Super Friends Mash-Up Minis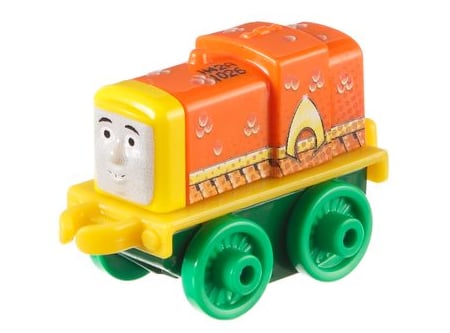 Thomas & Friends will expand its line of Mash-Up Minis to include 36 DC Comics stars, including Aquaman/Salty.
Troll Blind Bag Collectibles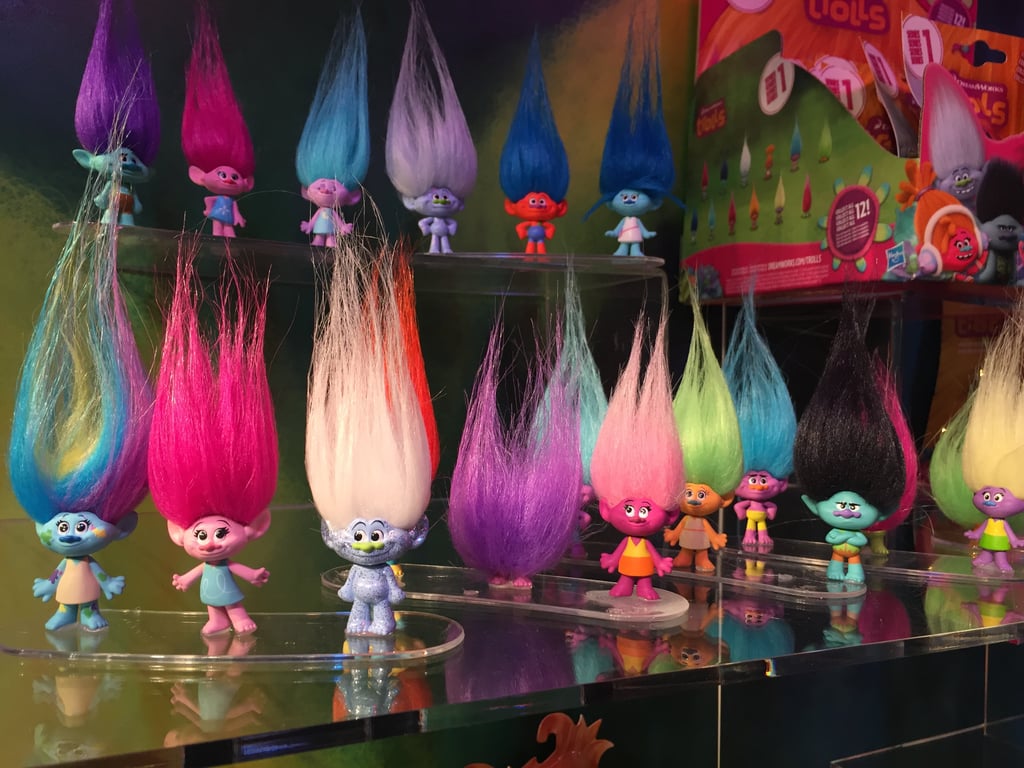 With the Trolls movie due to hit theaters this year, there will be plenty of collectibles out there for tots to collect and trade. Our favorite may be the one who's all hair!
Stinky the Garbage Truck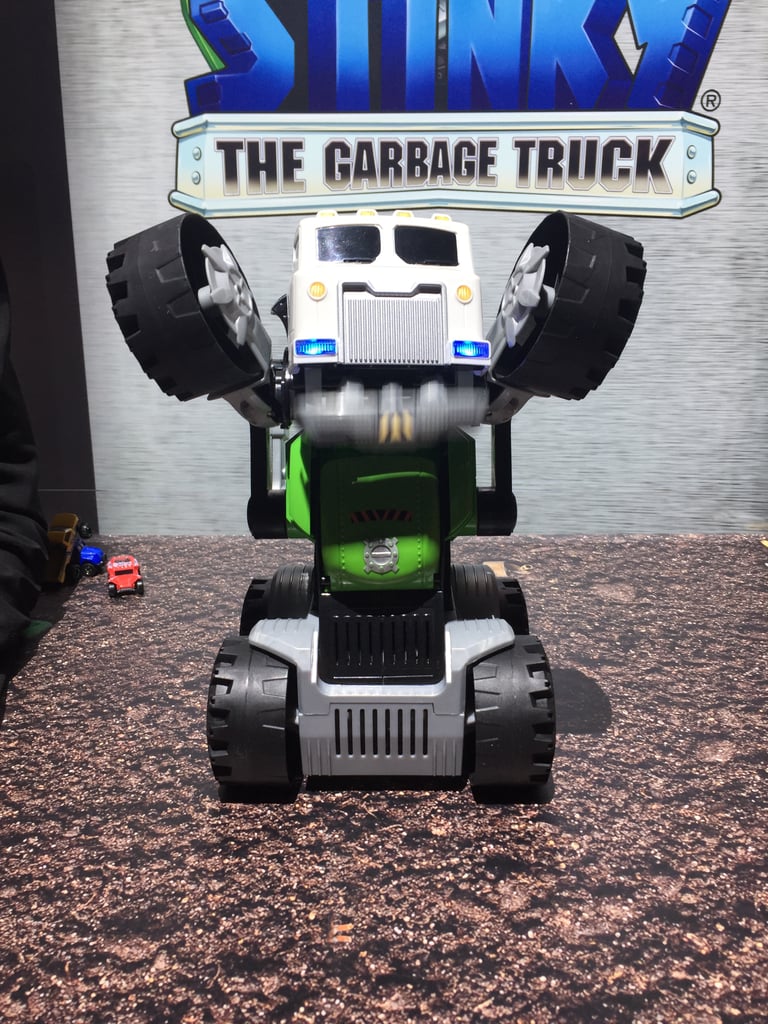 Stinky, though a smelly garbage truck, is an endearing interactive toy that eats toy cars and communicates to your child with over 80 sayings and three silly songs.
Klutz Sew Mini Treats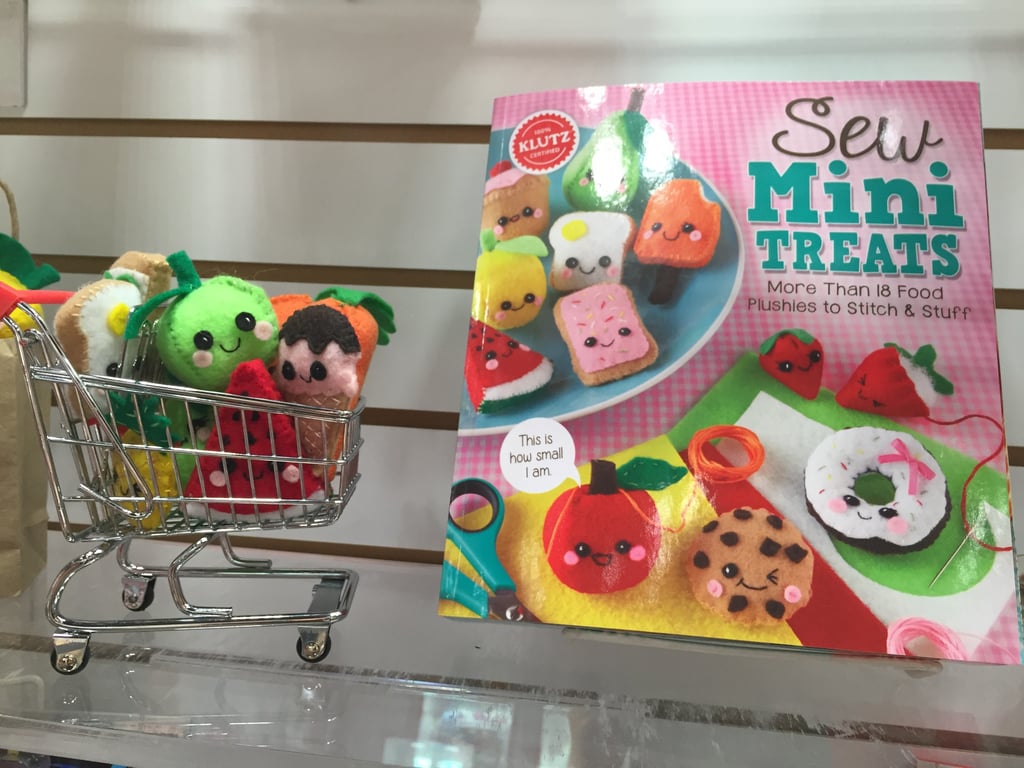 Basic sewing skills are all kids need to complete the adorable projects in Klutz's Sew Mini Treats kit.
Janod Zigolos Bear Stacker and Rocker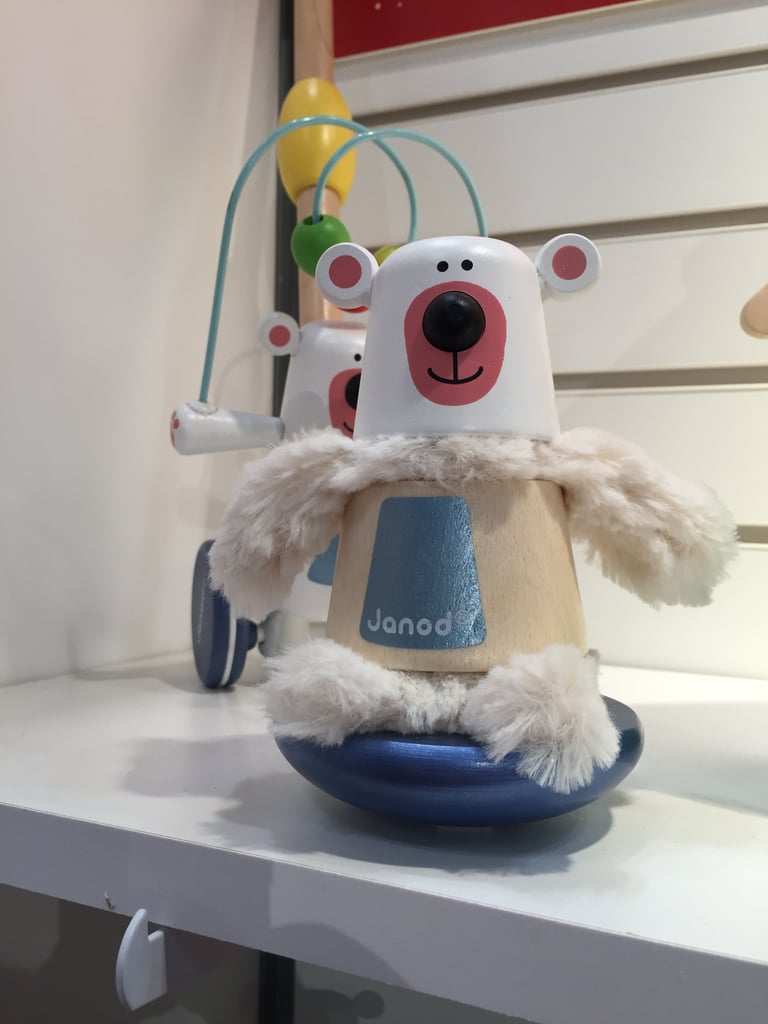 The mix of wooden and fabric pieces makes the Zigolos Bear Stacker and Rocker are adorable addition to your play arsenal — one so cute you won't want to put it away!
Beat Bo Bow Wow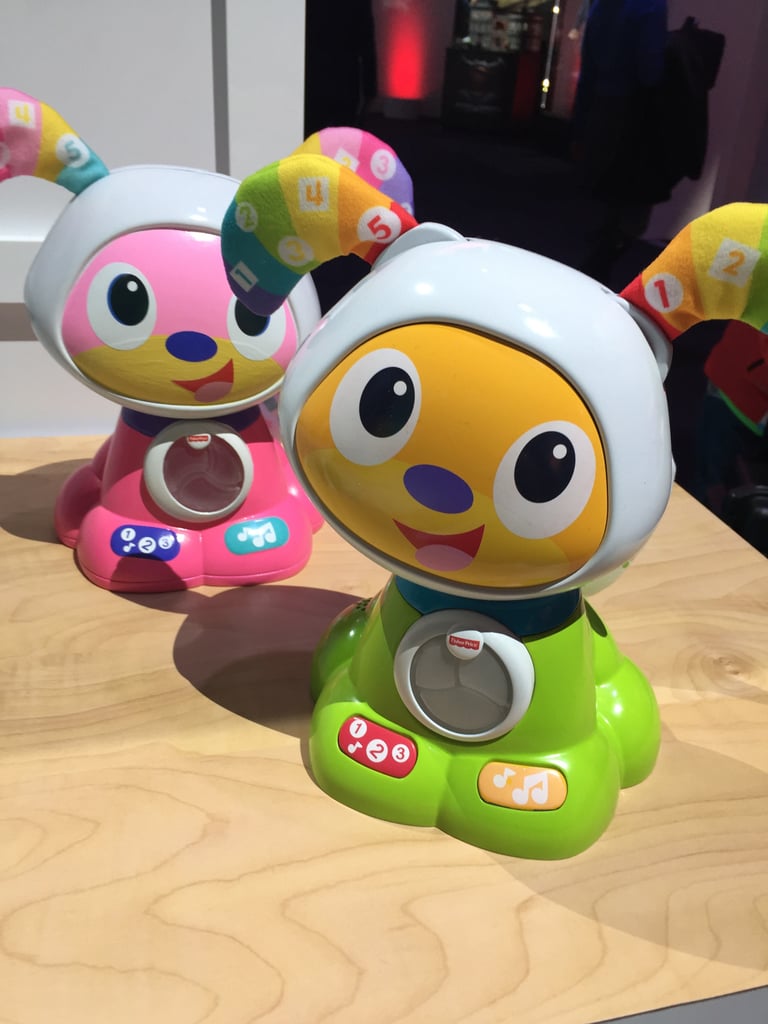 Every child should have a puppy friend to hang out with, and Beat Bo Bow Wow is a puppy that will dance, sing, and teach your child.
Mr. Potato Head Star Wars Mashups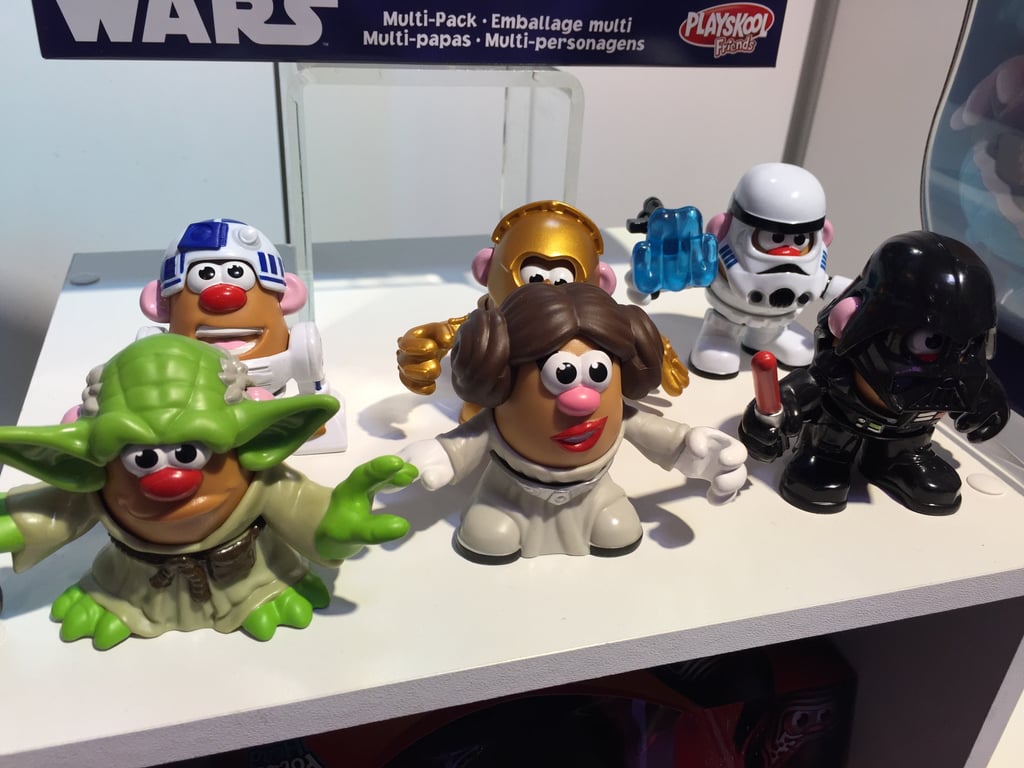 Mr. Potato Head will expand it's line of Mashups to include some of the cutest Star Wars figures we've ever seen.
Fisher-Price Shimmer and Shine Magic Flying Carpet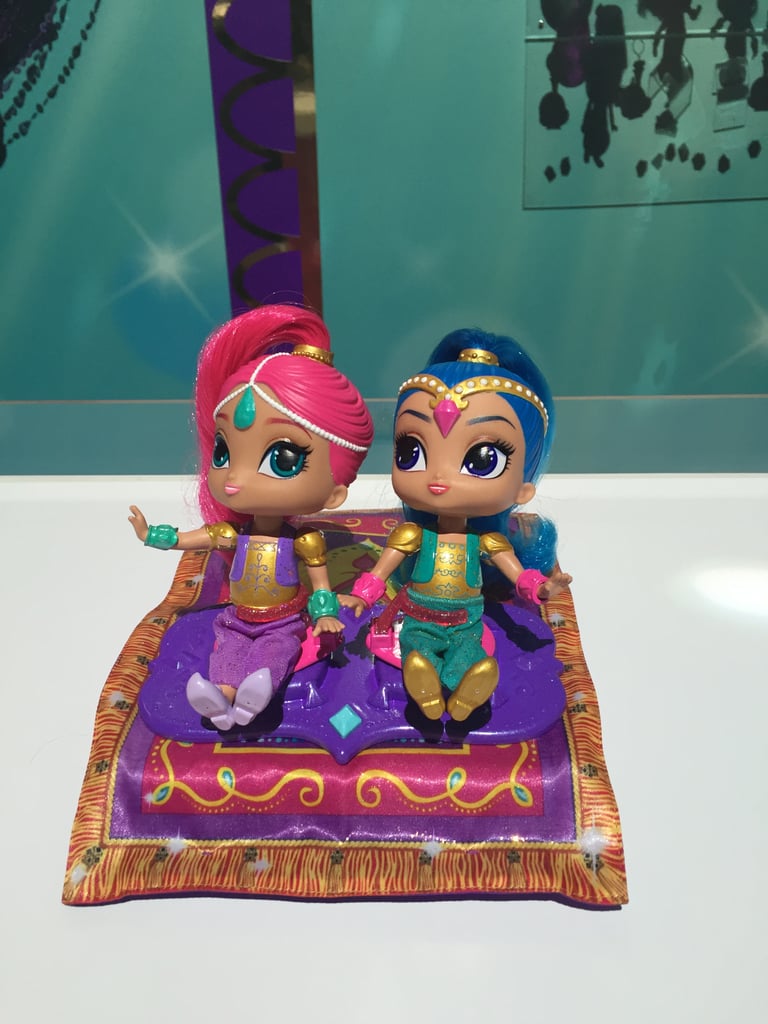 Nickelodeon's Shimmer and Shine show comes to life with the Fisher-Price Shimmer and Shine Magic Flying Carpet this Fall. The motorized flying carpet plays over 40 songs and phrases from the show, while swaying to create a real flying feel. The carpet can also float across the floor.
Thomas & Friends-DC Super Friends Mash-Up Minis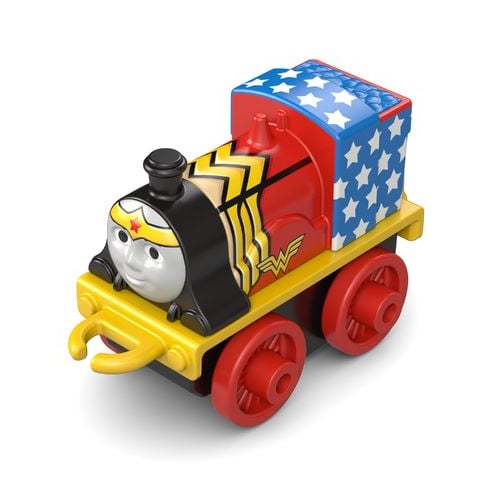 Thomas & Friends will expand its line of Mash-Up Minis to include 36 DC Comics stars, including Wonder Woman/Emily.
Franklin Quikset Basketball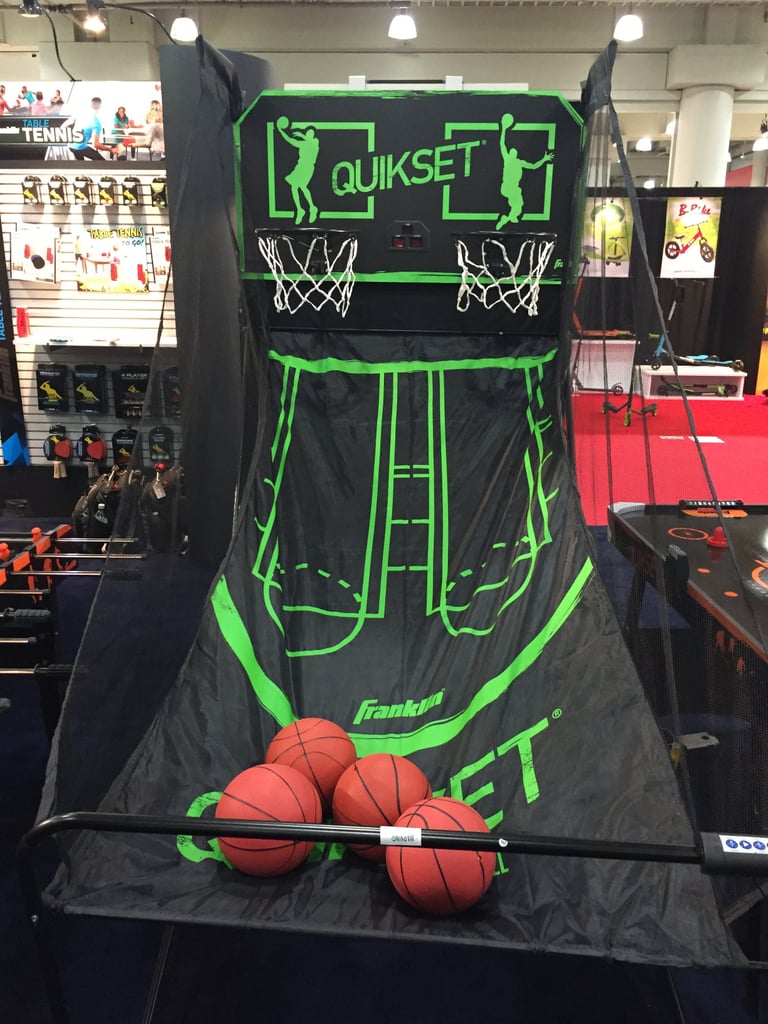 This dual net basketball hoop will set up in minutes and provide kids hours of fun.
Playmobil Children's Hospital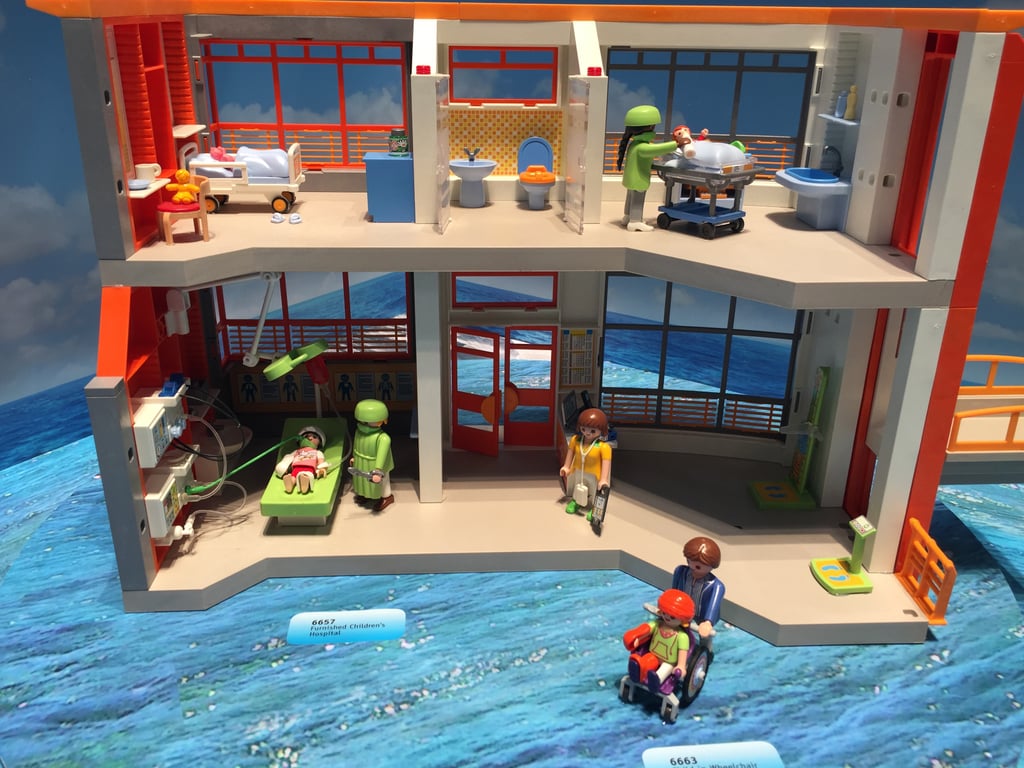 One of the most interesting items we saw at the show was Playmobil's upcoming Children's Hospital playset. The includes figures in various situations including surgery, resting in a hospital room, and a nursery.
Disney Frozen Little Kingdom Magical Rising Castle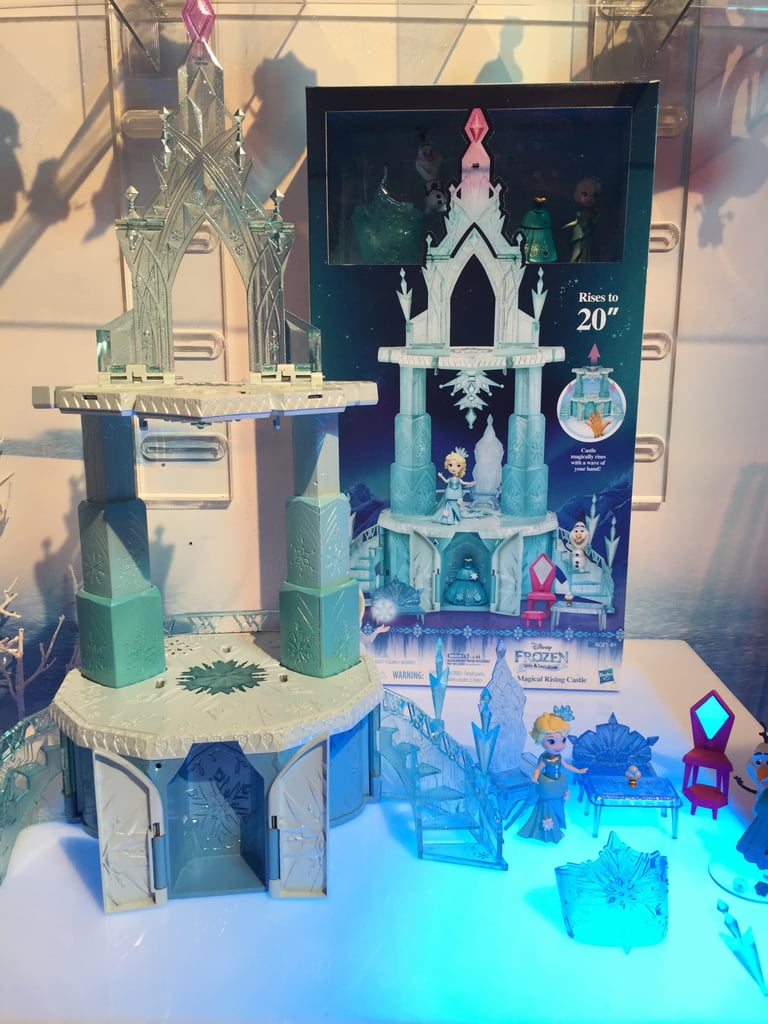 Just like Elsa in Frozen, your little one can soon wave her hands and watch her ice castle rise a full 20-inches before her. Yup, using magic, the castle actually rises.
Scientific Explorer Young Architect City Planner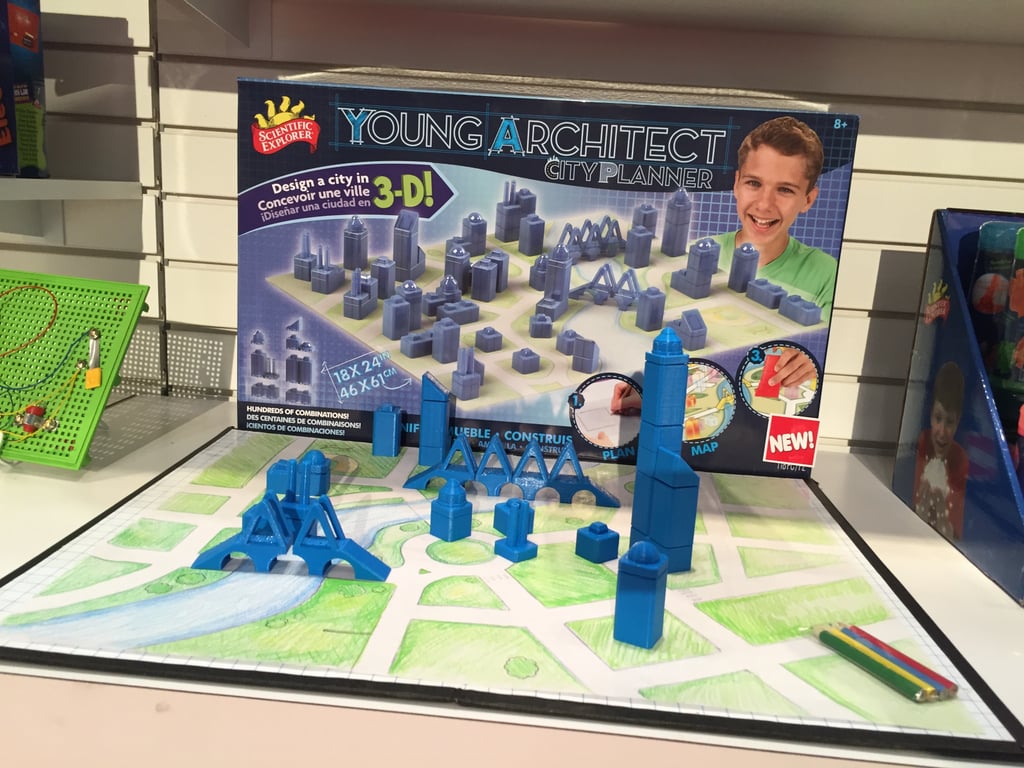 Budding architects can build their skills with the Young Architect City Planner set.
Playmobil Space Theme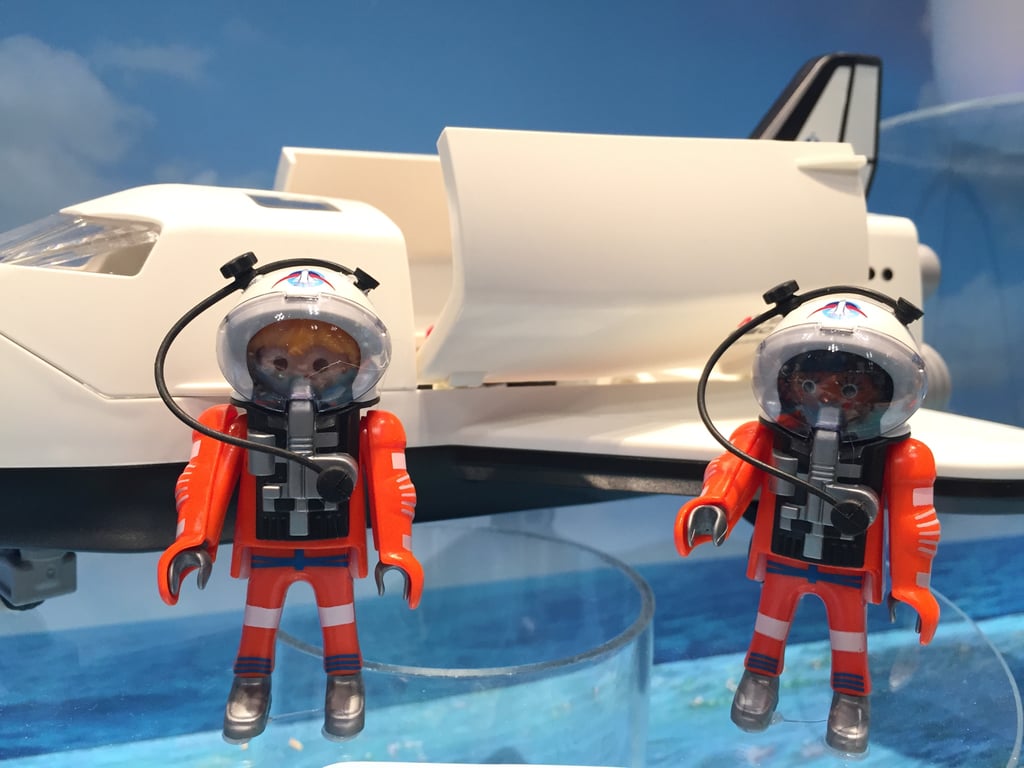 Playmobil joins in the 2016 space trend with these astronauts and their space ship.
Qixels 3D Printer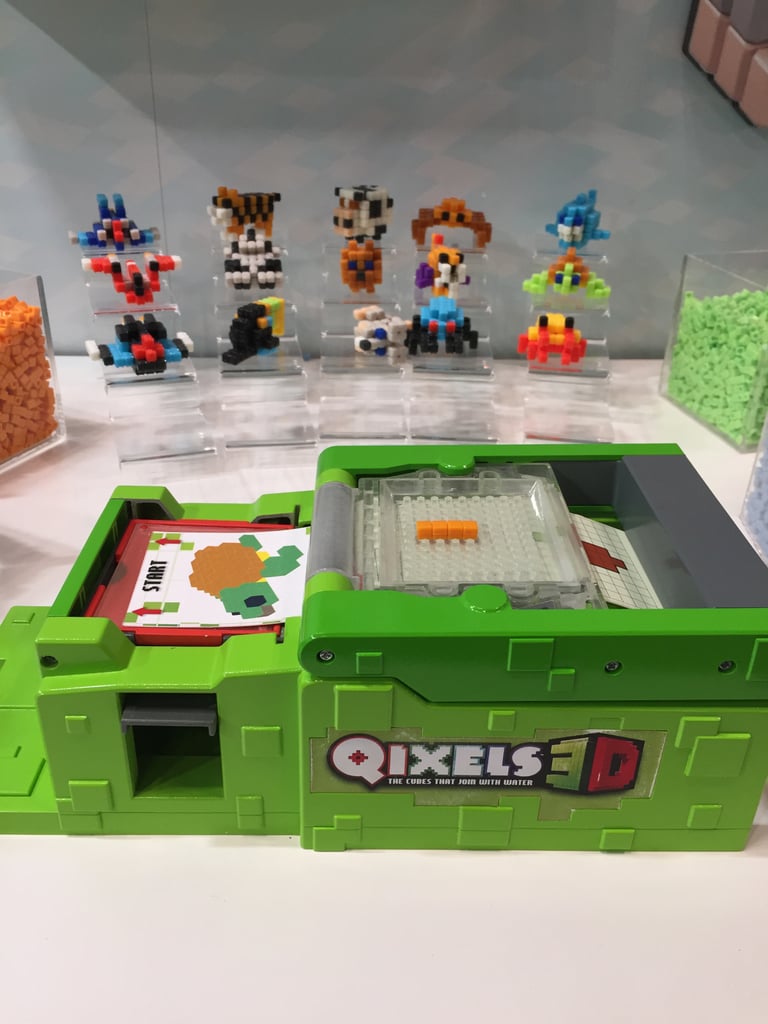 This printer takes the world of Qixels into 3D and allows your littles to create their own characters and learn the science behind 3D printing — plus, there will be refill packs with different themes to keep them loving this printer for a long time.
Barbie Smart Dream House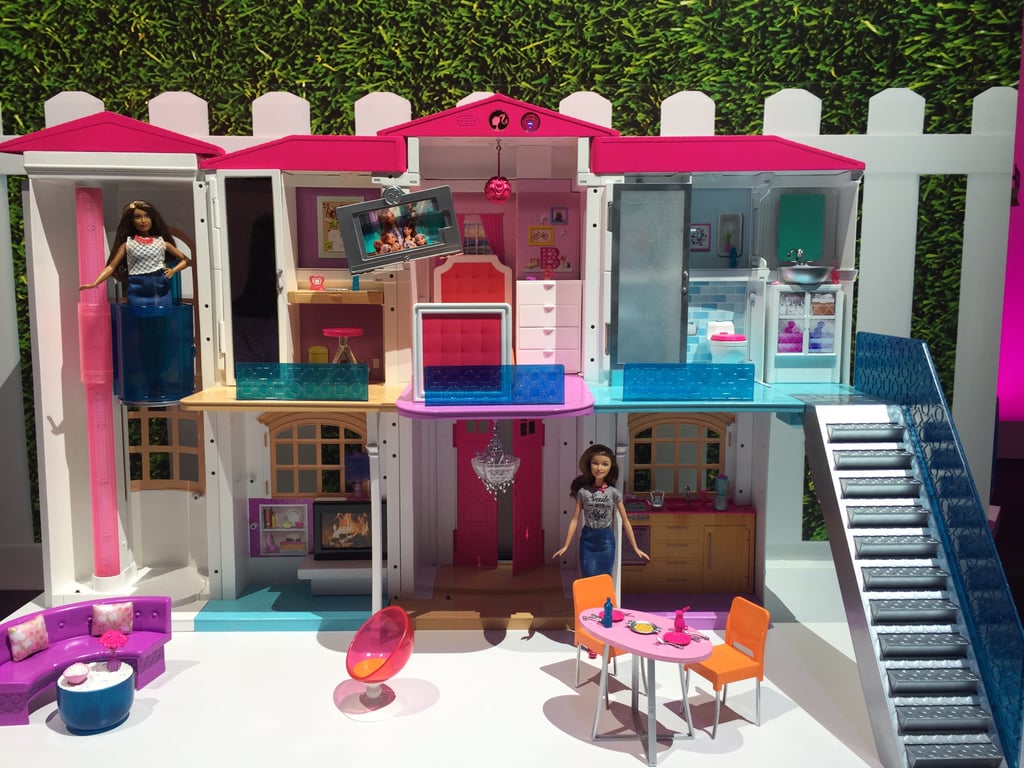 The new Barbie dream house is a "smart" house that can communicate and interact with your child depending on the way they want to play. It features four modes of play — including a superfun dance party mode — and like all the Dream Houses past, it will provide hours and hours of imaginative fun.
Nerf Super Soaker Title Torpedo Bow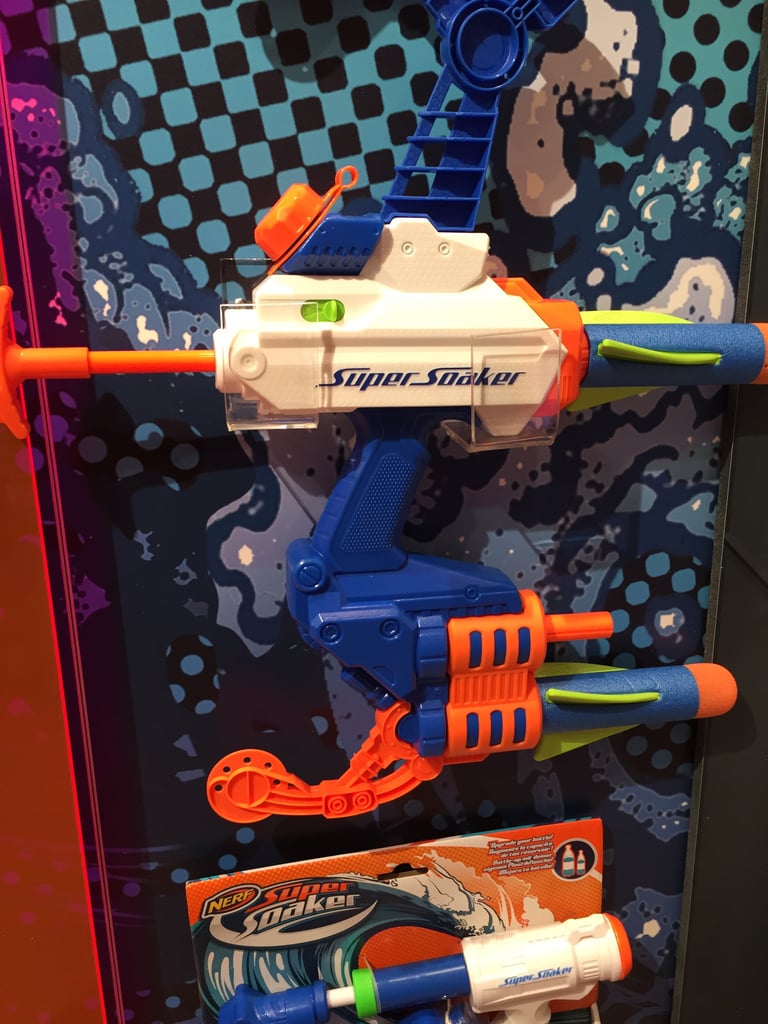 Nerf's Super Soaker Title Torpedo Bow lets kids decided if they want to shoot missiles or water when they play.
Lego Friends Adventure Camp Rafting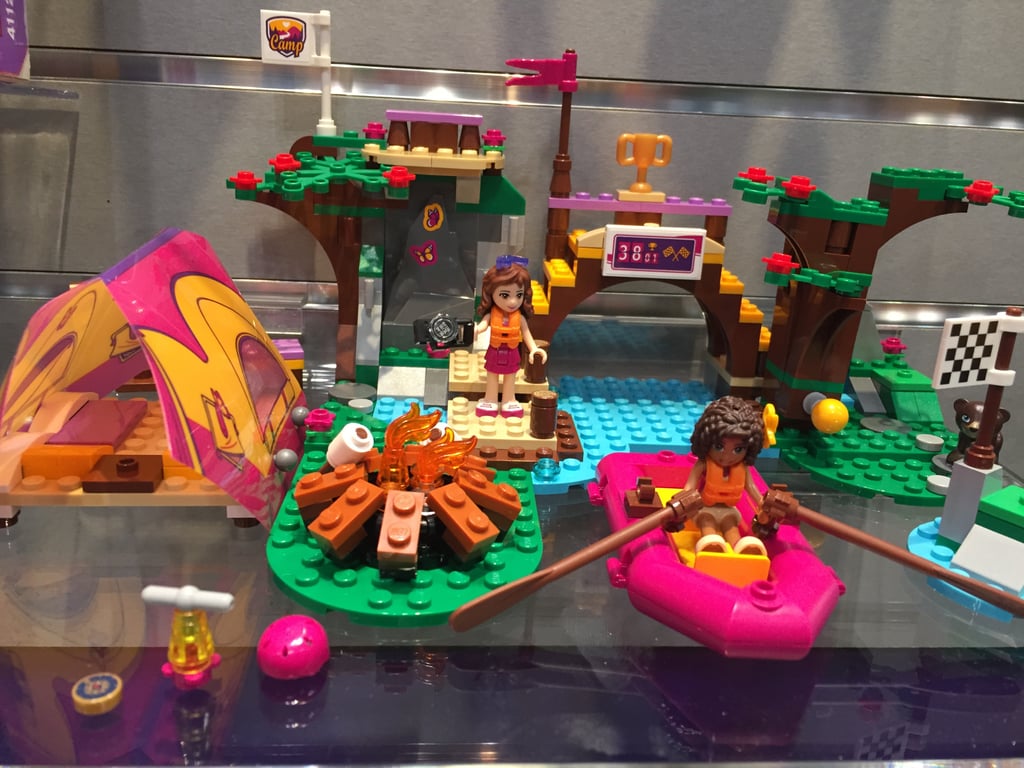 When Olivia and Andrea are sent to sleep-away camp in the woods, they're in for a summer filled with outdoor fun and adventures.
Blue Orange Games Dr. Eureka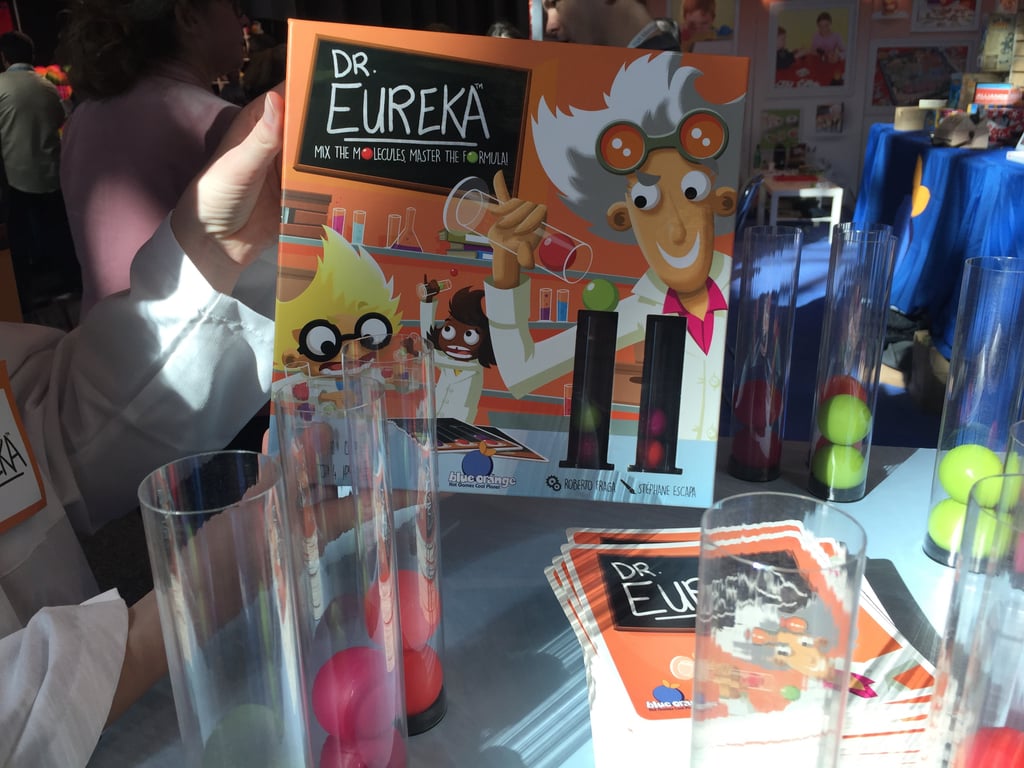 Bue Orange's Dr. Eureka hits stores in March. The game had kids "mixing formulas" by moving marbles from one tube to another without ever touching them with their hands.
Disney Princess Belle Musical Tea Party Cart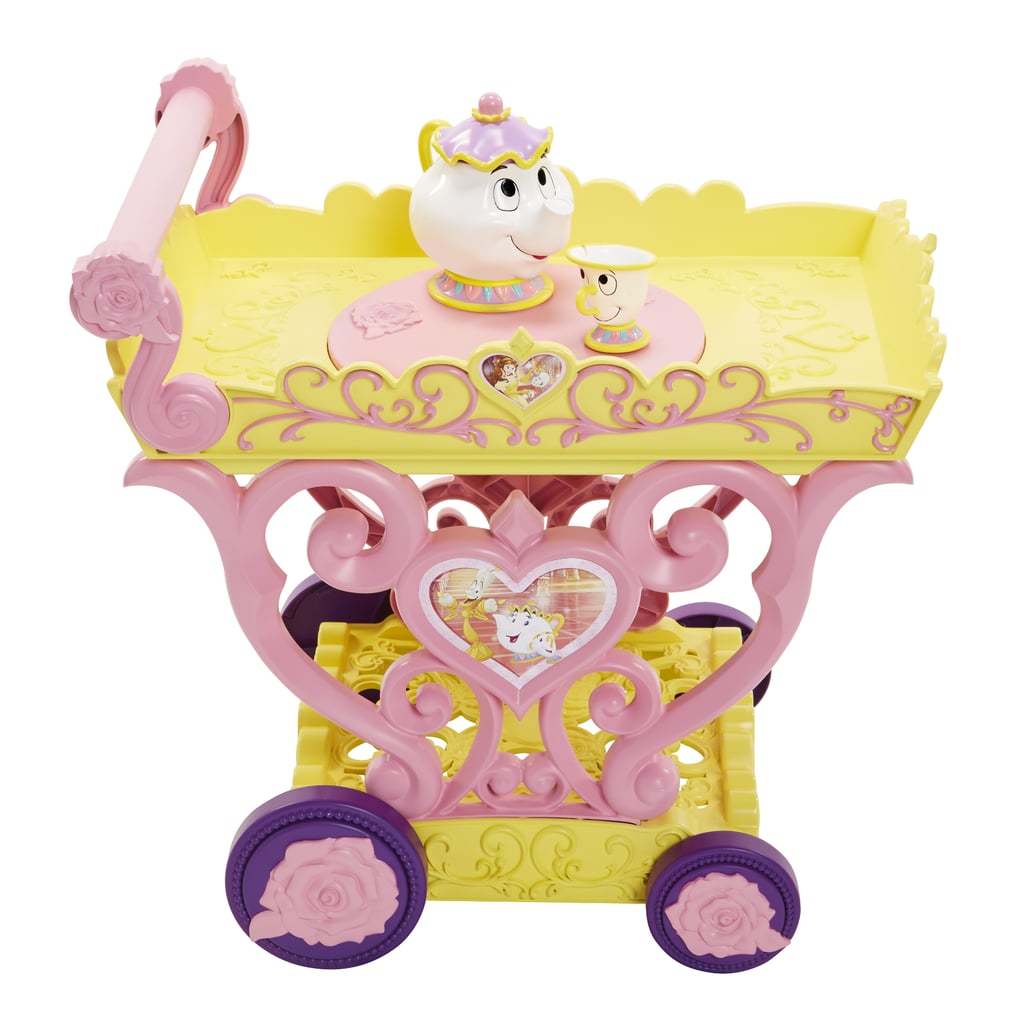 Jakks Pacific's Mrs. Potts and Chip — from Beauty and the Beast — get a fun upgrade with the Disney Princess Belle Musical Tea Party Cart. As the cart is pushed, the teapot and cup spin and play "Be Our Guest."
Little Kids's Candylicious Bubbles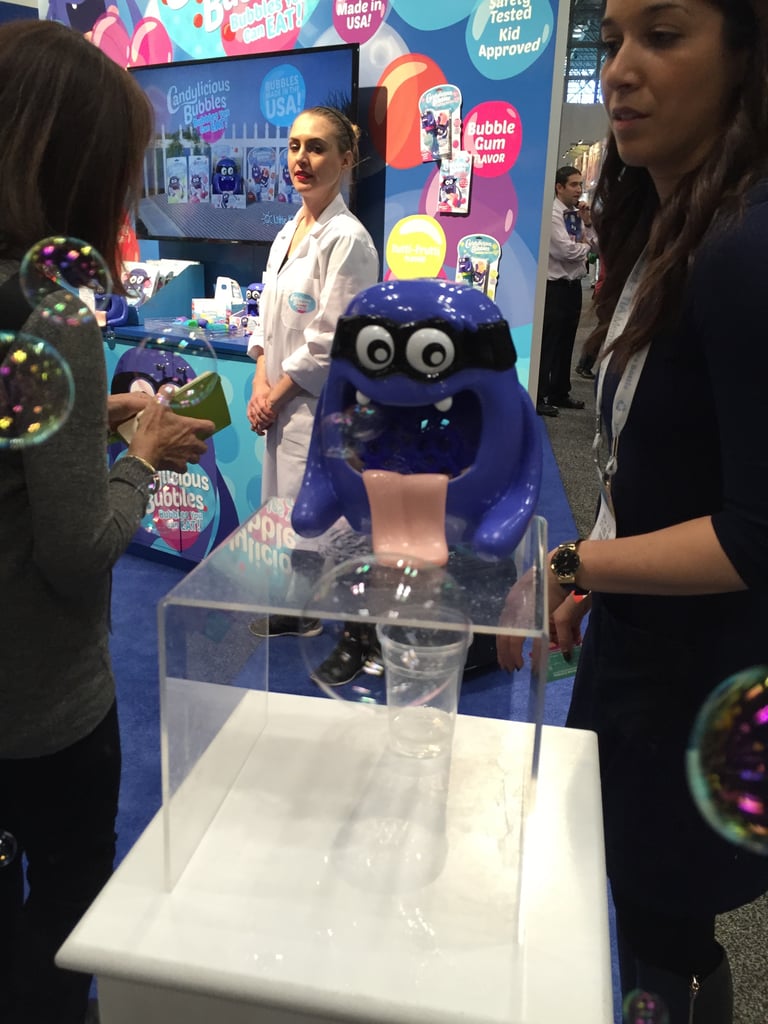 Edible bubbles? Yup, they're a thing and they're delicious! Available in four flavors and made with sucralose so they won't stain or stick to things, the Candylicious are almost too good to be true!
President and Vice President Barbie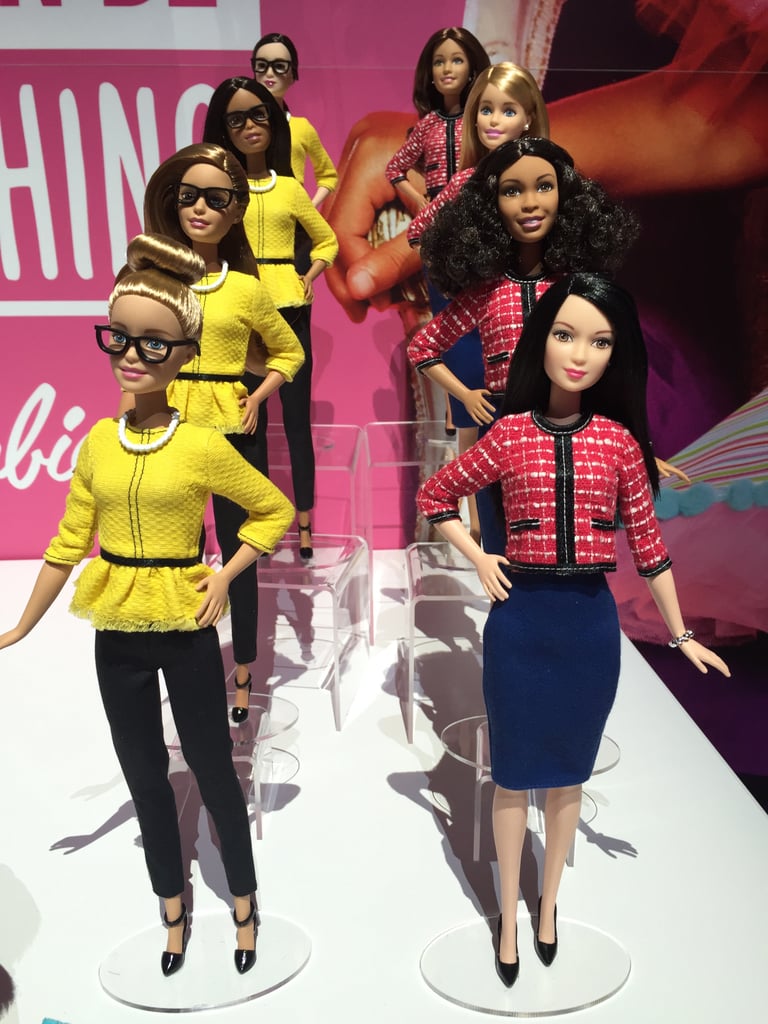 Quite possibly the most stylish Barbies to date, President Barbie is decked out in red, white, and blue, and her right-hand woman, Vice President Barbie, is in an adorable yellow peplum top — with fashion like that, they're totally ready to run the country!
Janod Zigolos Pull Along Drum Elk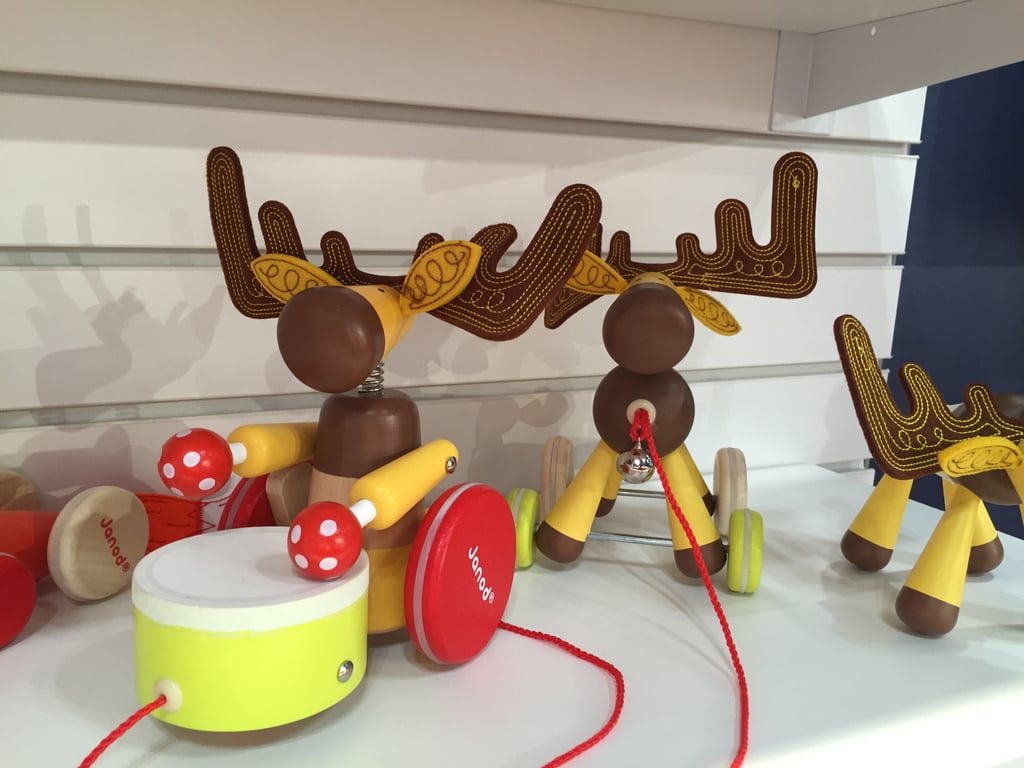 Janod will introduce the Zigolos Pull Along Drum Elk this year — just pull on the string and watch the elk play music as he moves along the floor.
Shimmer and Shine Dolls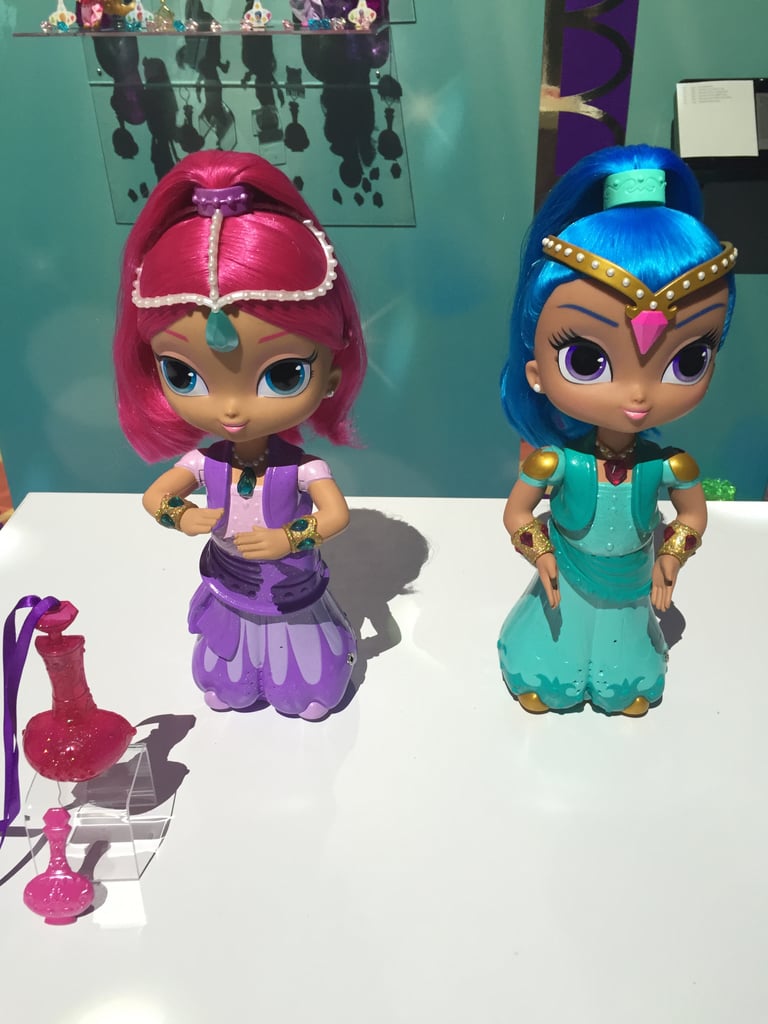 This Fall, Fisher-Price will introduce a line of dolls to accompany Nickelodeon's hit Shimmer and Shine show. The dolls each have a soft ponytail, perfect for styling with the included comb.
Tony Hawk's Loop of Doom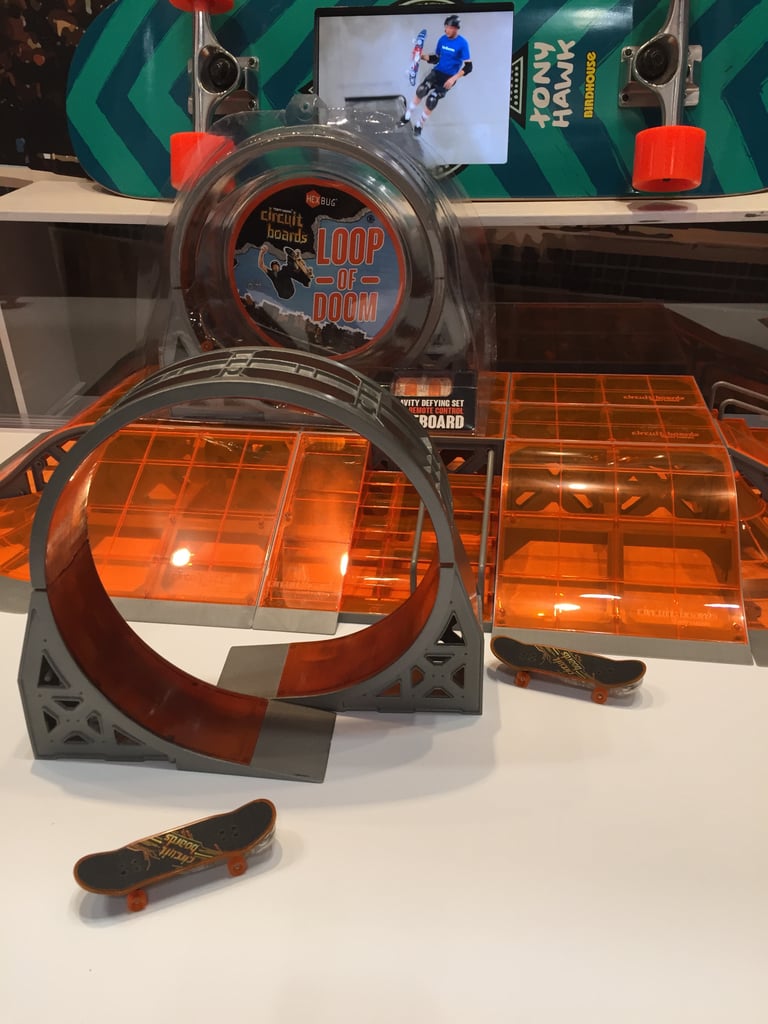 Coming in the fall, your aspiring skateboarder can try the famous Tony Hawk [6]'s Loop of Doom with their mini skateboards.
Shopkins C3 Food Fair Truck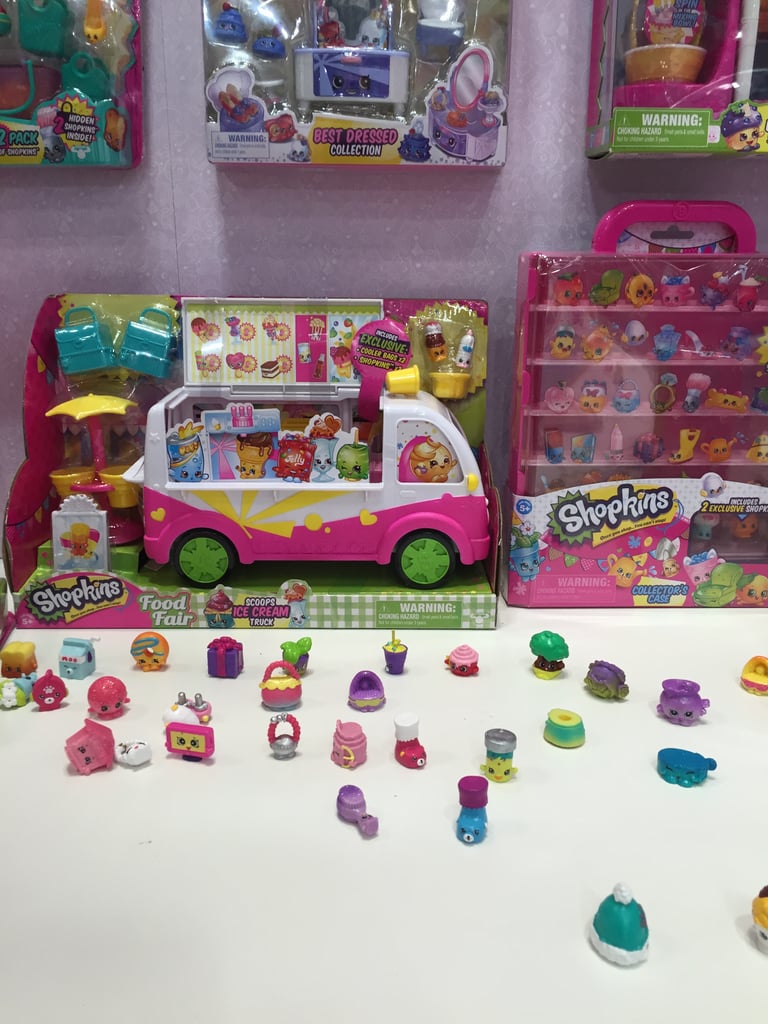 Available in the Fall, the Shopkins Food Fair Truck will give your kiddo's Shopkins characters a fun place to hang out — it comes with the food truck, a mini table and chairs, and four mix and match figures.
My Mini MixieQ's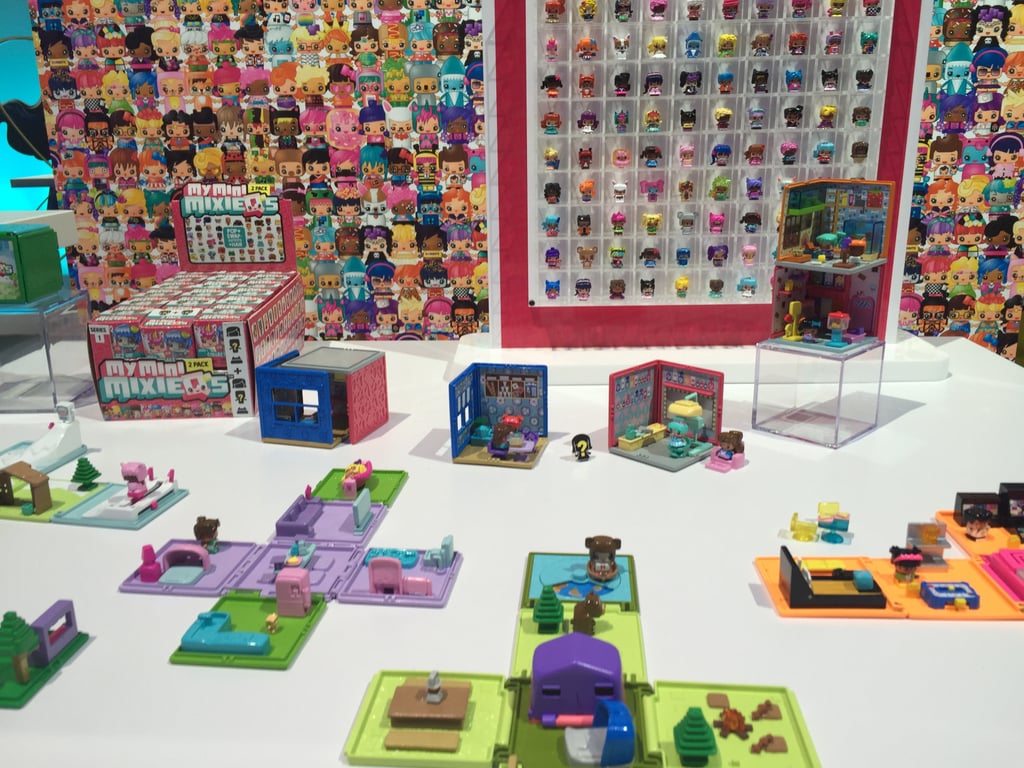 Like a modern Polly Pocket, My Mini MixieQ's are little figure collectibles that come in blind bags, making half of the fun the mystery of the draw!
Elena of Avalor Magical Scepter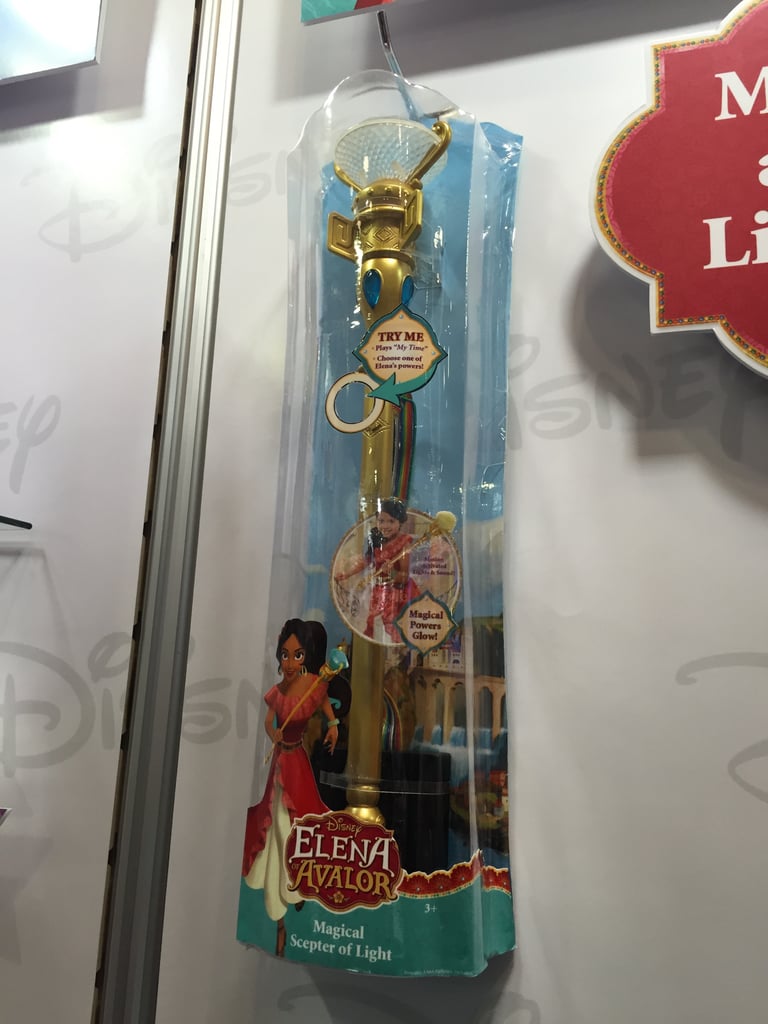 Little Elena of Avalor fans will be able to reenact their favorite scenes with their very own magical scepter.
Janod Magnetic Stackables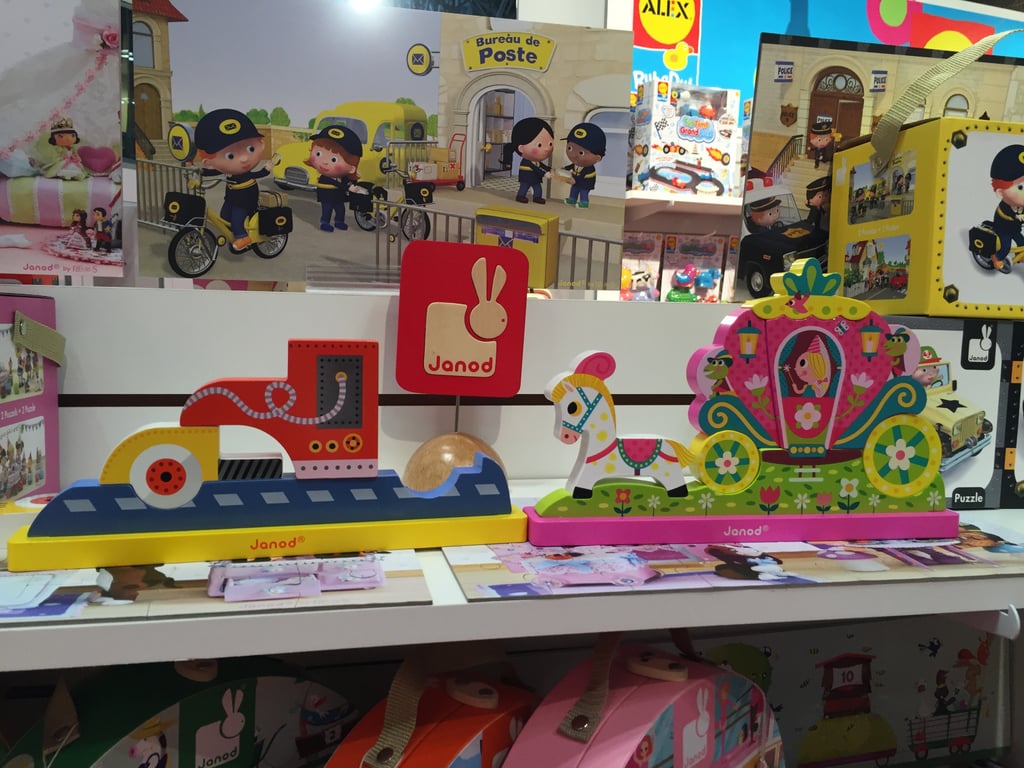 These stackable puzzles are actually magnetic wooden pieces that can be placed in various positions.
Pie Face Showdown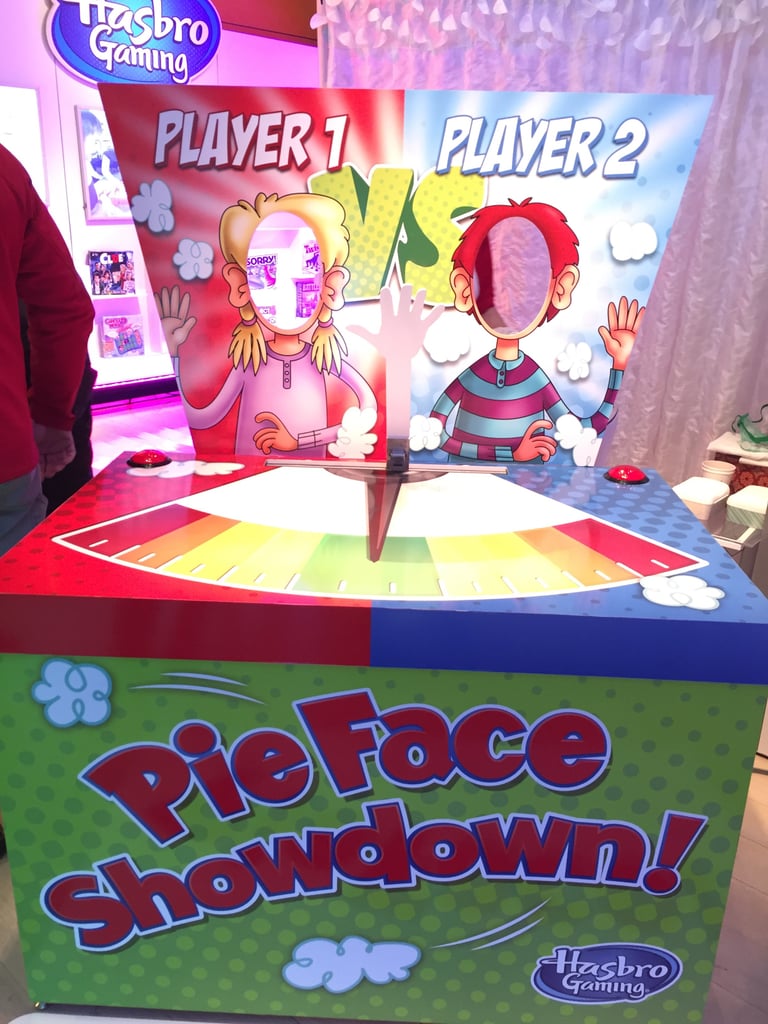 As if the original Pie Face wasn't fun enough on its own, Pie Face Showdown promises to be a blast. Players will compete to move the lever to their opponent's side so he or she is the one hit with whipped cream!
Fisher-Price Code-a-Pillar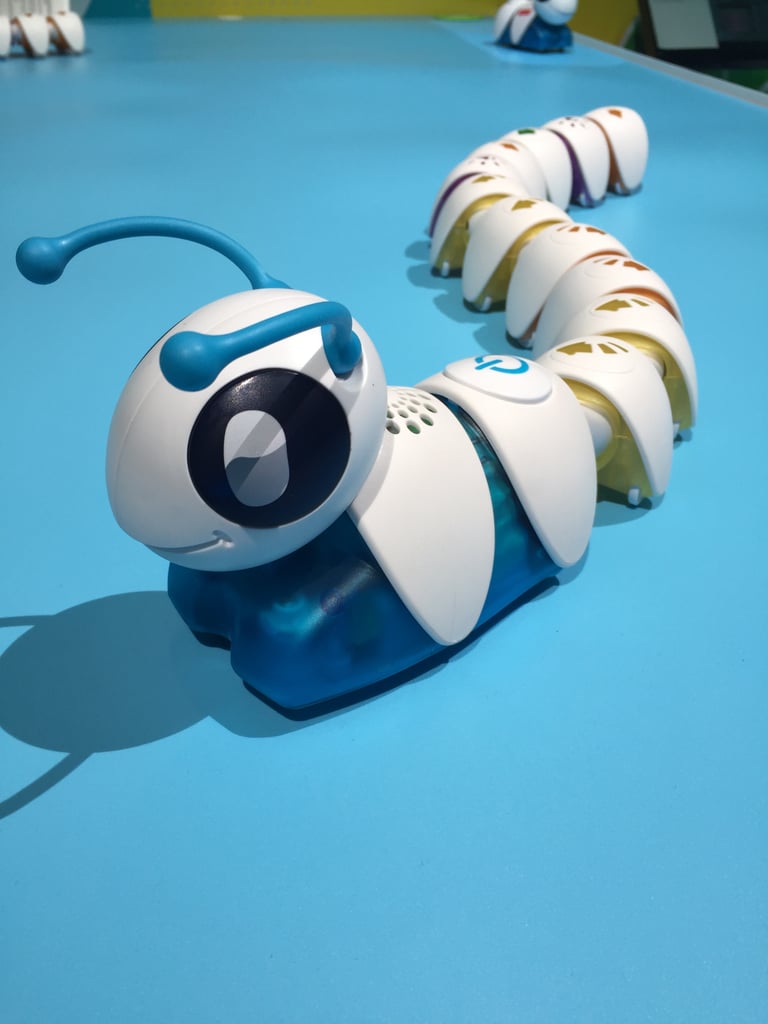 First introduced at Consumer Electronics Show earlier this year, Fisher-Price's Code-a-Pillar will give preschoolers their earliest introduction to coding. Kids control how they want the caterpillar to move and watch as he follows their commands.
Little Live Pets Lil' Mouse Fun Park Trail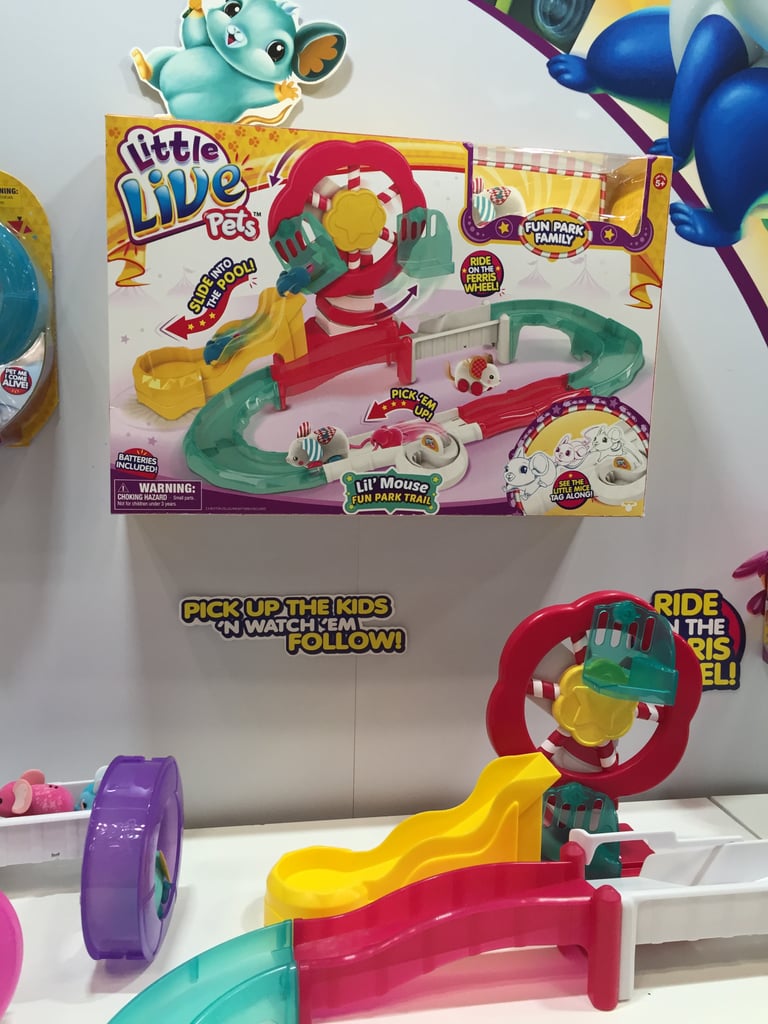 No matter how many Lil' Mouse pets your kiddo has, they will enjoy hours of fun letting their mice run wild through the Fun Park Trail.
Skip Hop Chameleon and Raccoon Backpacks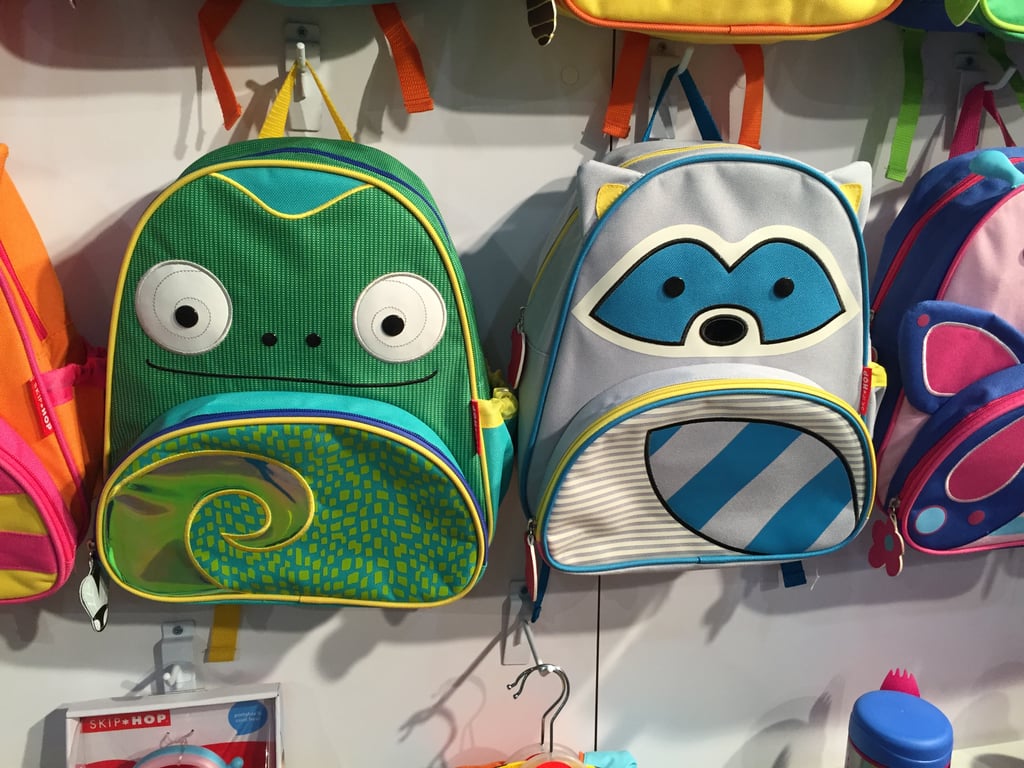 Skip Hop will expand it's adorable backpack line to include a chameleon and a raccoon.
Lego Duplo Big Construction Site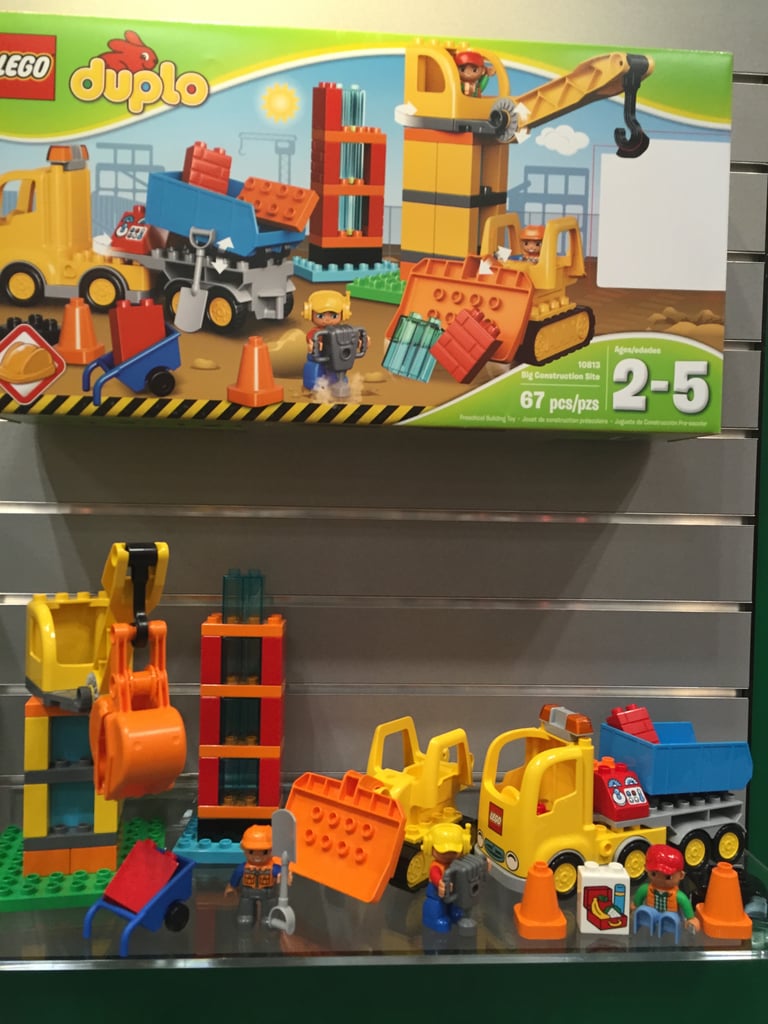 With 67 pieces perfect for smaller hands, this new set encourages creative play in preschoolers ages 2-5.
Teenage Mutant Ninja Turtles Foam Pellets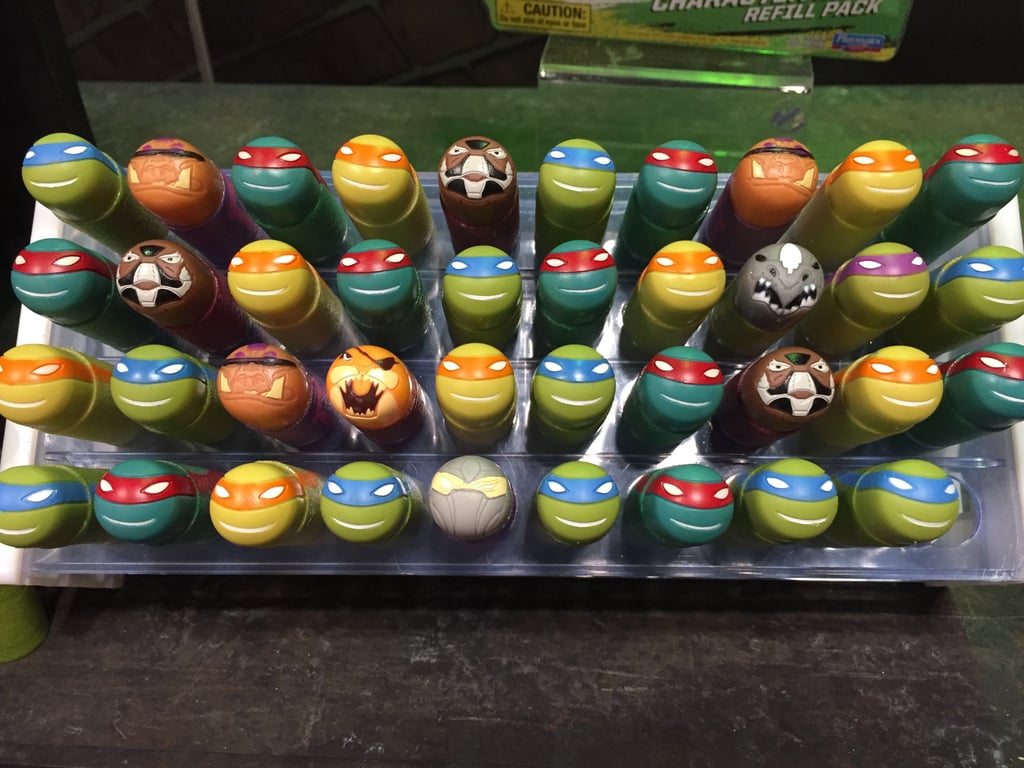 The foam pellets used in the Teenage Mutant Ninja Turtles blasters will feature the characters' familiar faces.
Nerf Super Soaker Modulus Battle Scout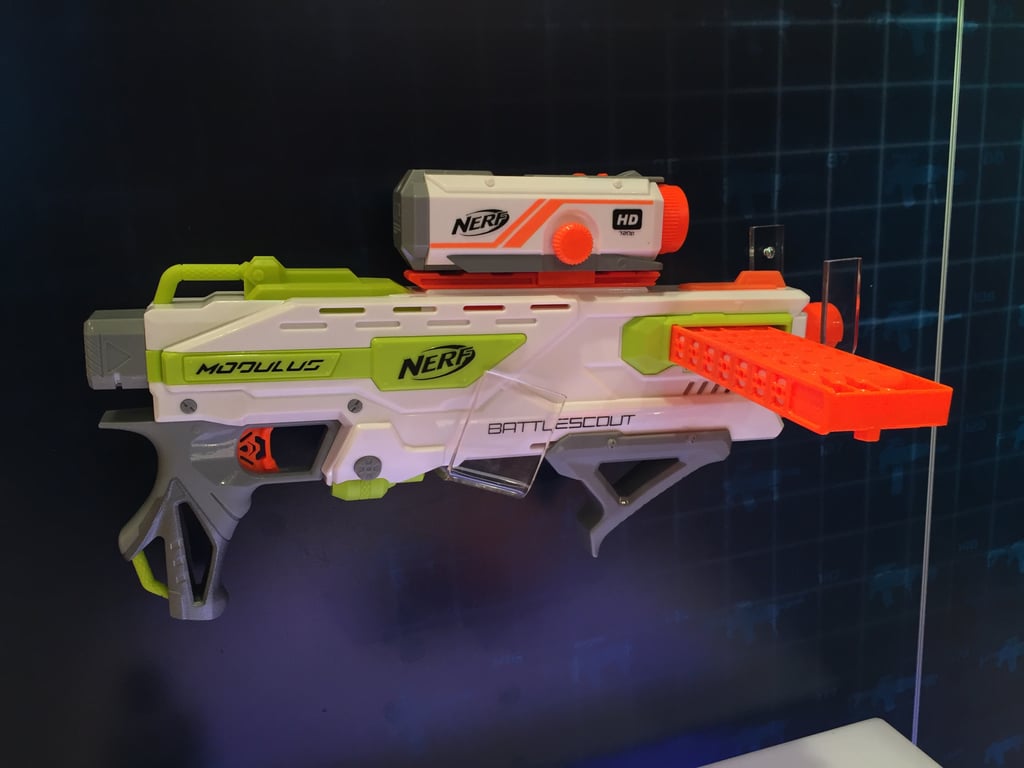 What's better than a Super Soaker? The Nerf Super Soaker Modulus Battle Scout that comes with an attached HD camera that will record your entire battle.
Disney Royal Gown Elena of Avalor Doll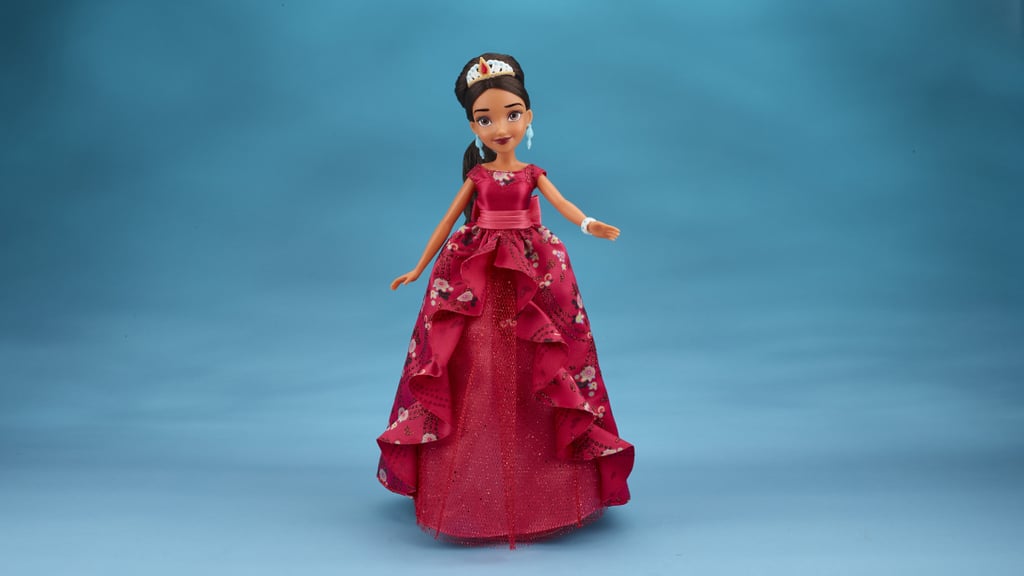 An Elena of Avalor doll dressed for the royal ball will be available this Fall, complete with a glittery dress, tiara, bracelet, and removable shoes.
Infinity Linx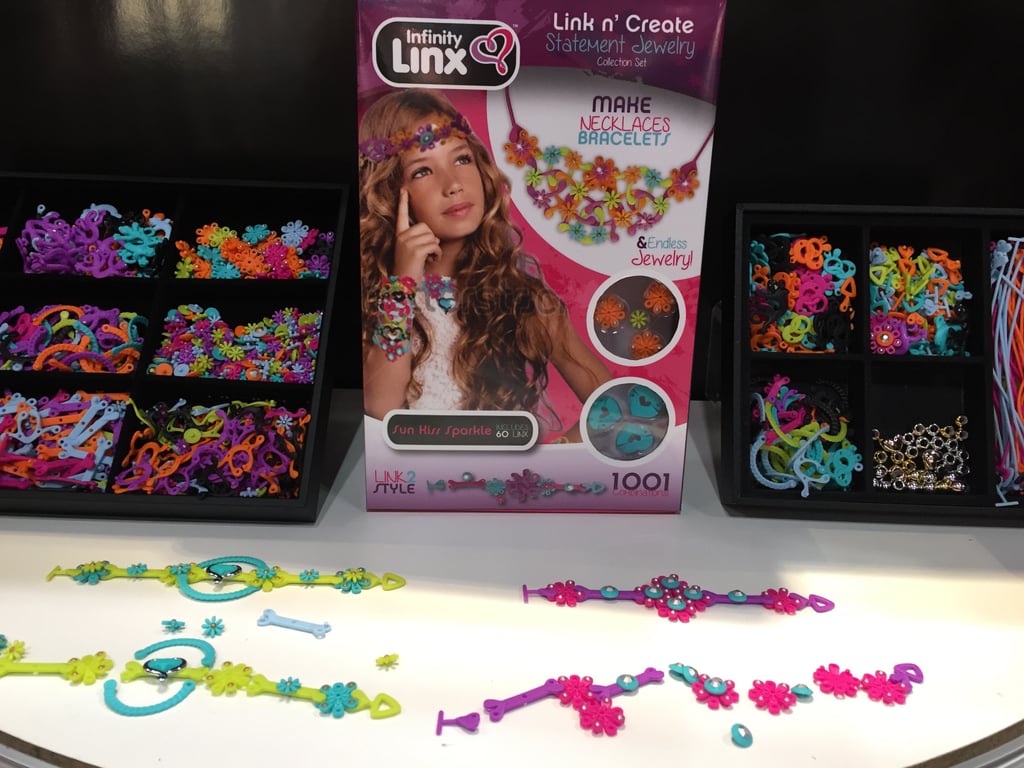 Your creative child can make beautiful jewelry that is easy to snap together and wear with their favorite fashion pieces, but can also be taken apart to build something new when the trends change.
Hasbro Star Wars InteracTech Stormtrooper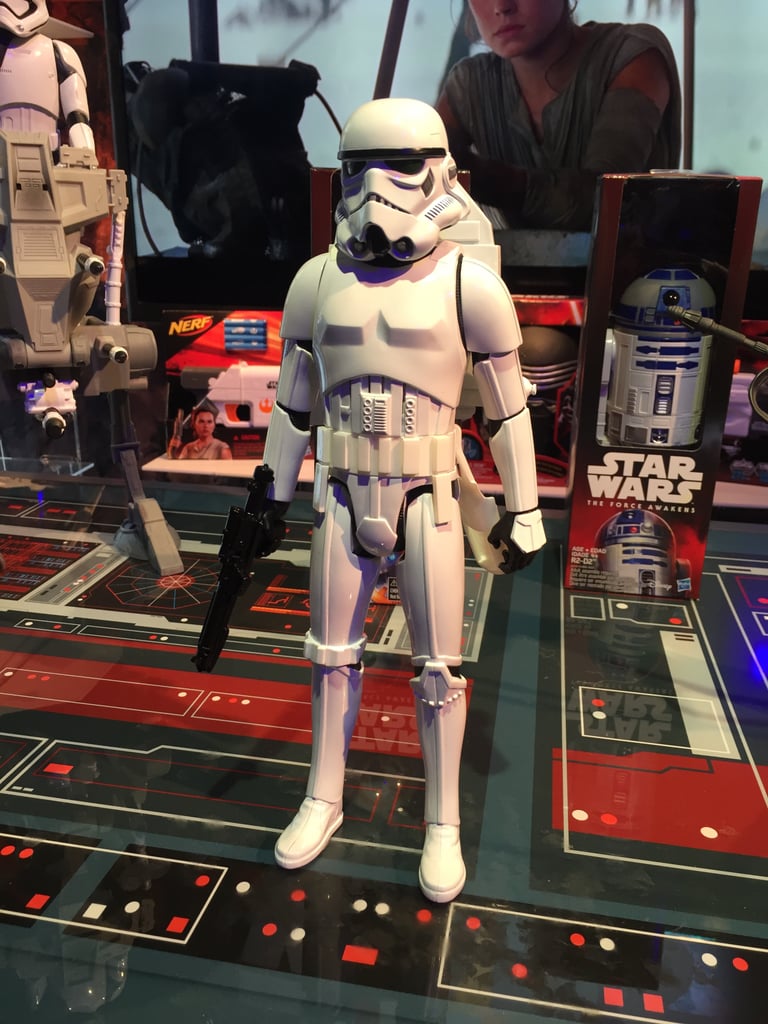 More than just a 12-inch figurine, Hasbro's Star Wars InteracTech Stormtrooper actually reacts to movement with lights and sounds thanks to his built-in motion sensors. He actually talks to tots thanks to 70 sound effects embedded in him, and just wait until you put a blaster in his hands — that's when an Imperial insignia lights up on his chest and he starts making blaster sounds! This is truly one of the coolest toys we saw at the event.
Melissa and Doug's Scoop and Serve Ice Cream Counter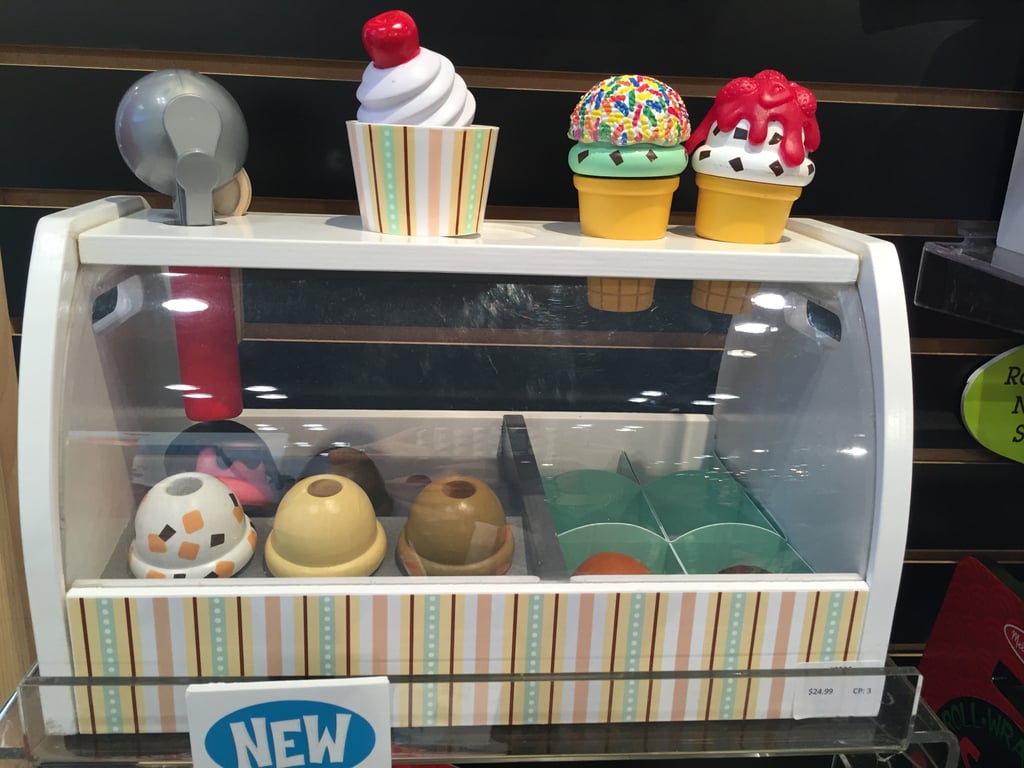 An update to Melissa and Doug's immensely popular ice cream set, this counter will have them scooping out cones for all of their friends.
Hot Wheels Track Builder Stunt Kit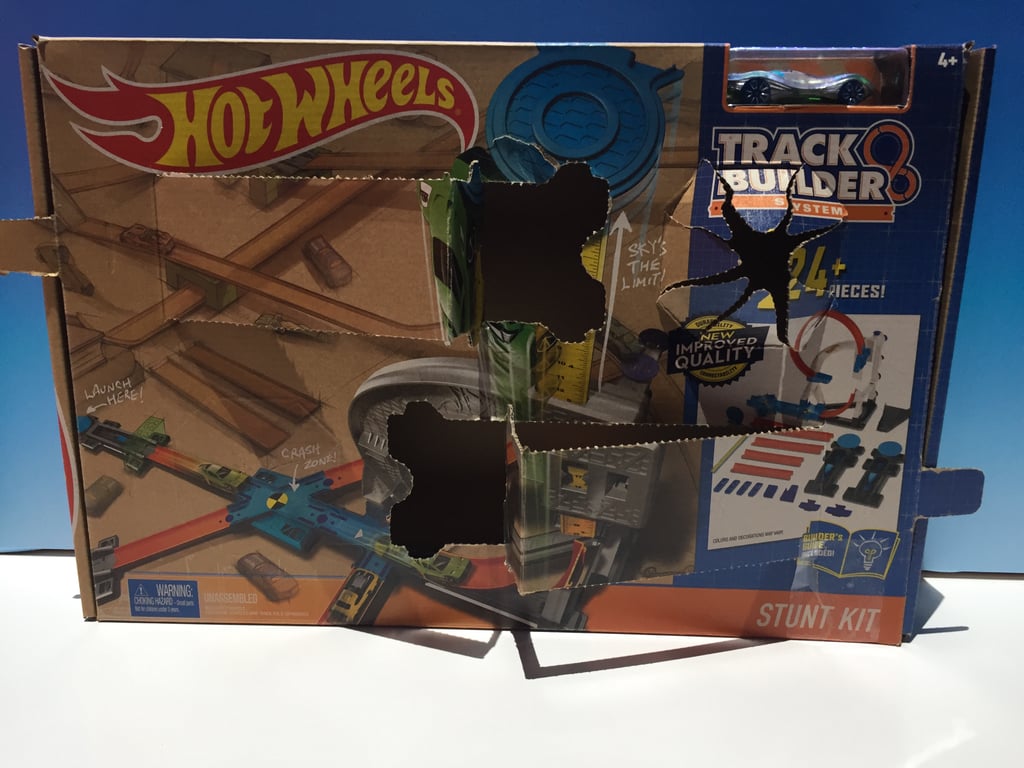 The Hot Wheels Track Builder Stunt Kit allows your little to be creative with their track building, and lets them make spots for cars to crash and jumps to launch off of.
Batman Voice Changing Mask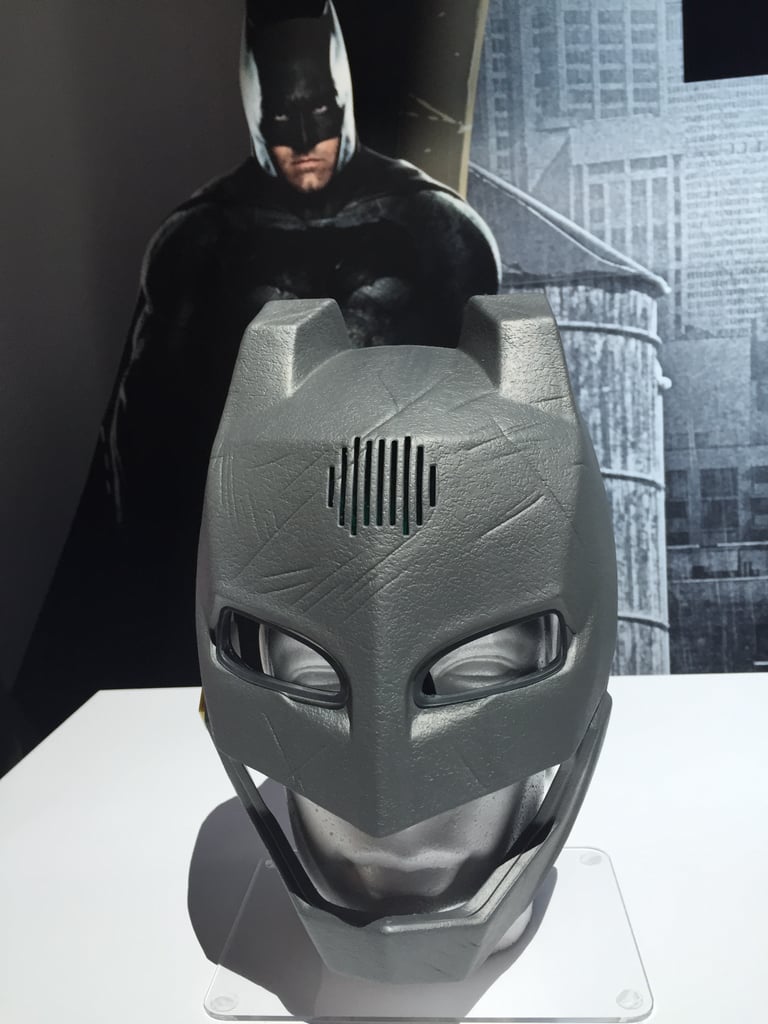 If your little dreams of being just like Batman, this mask will not only make them look like the day-saving hero, they'll sound like him too!
Play Doh Drill and Fill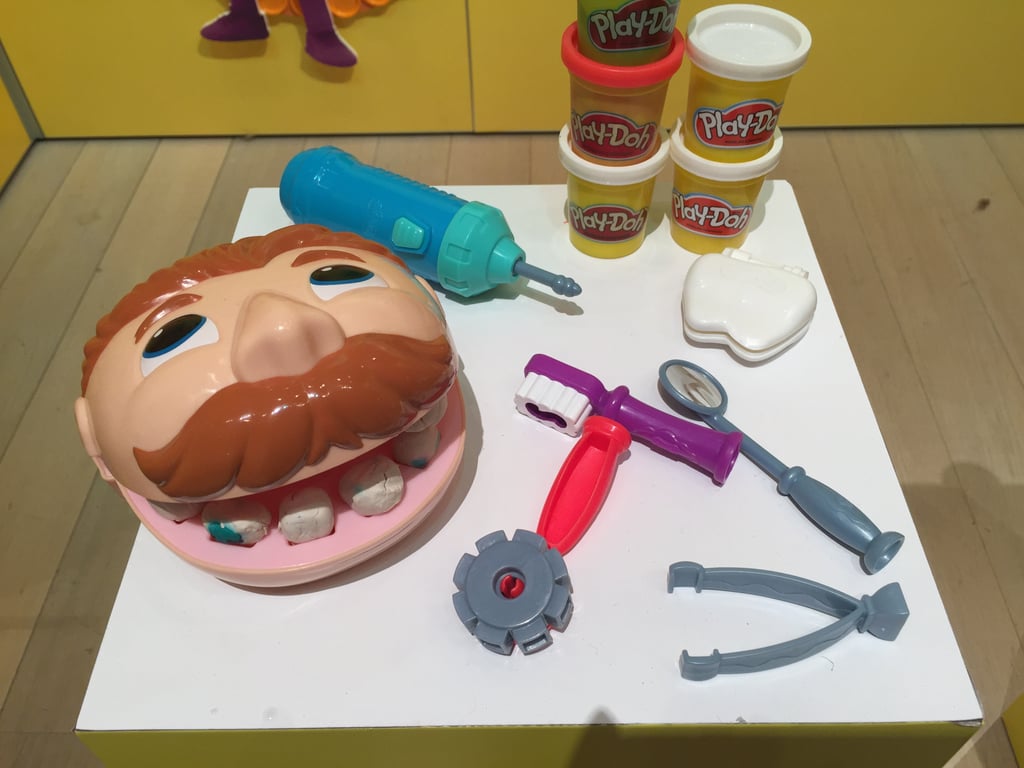 The classic Play Doh Drill and Fill is back in honor of the dough company's 60th birthday!
Lego Duplo Mickey and Friends Beach House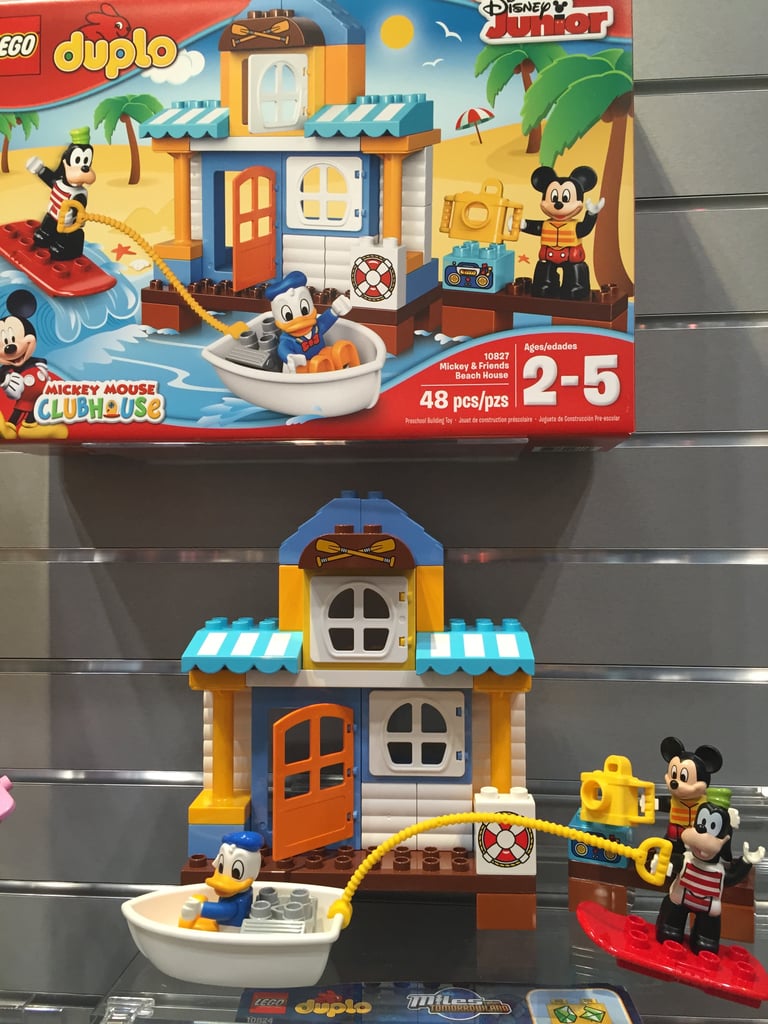 The Mickey and Friends Beach House is the newest addition to Lego's Mickey Mouse Clubhouse line and considering Mickey's newest digs and Goofy's wakeboard skills, everyone will want to come over for some fun in the sun!
Klut Mini Erasers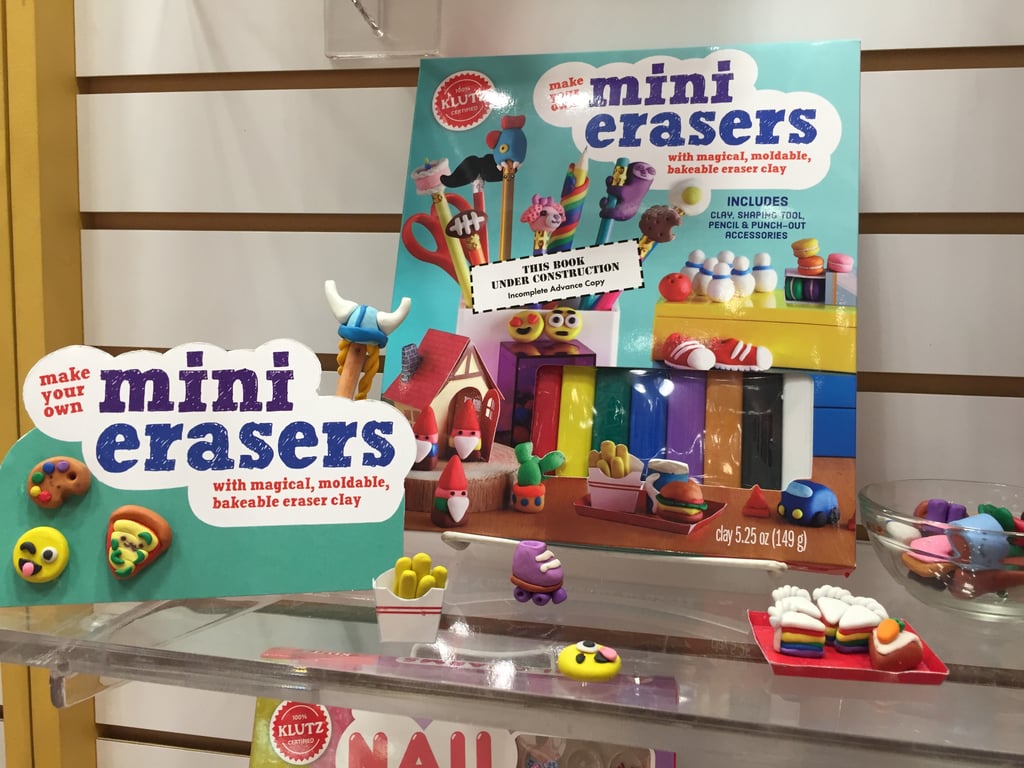 You'll be hard-pressed to find erasers as cute as the ones your kids will create with Klutz's Mini Erasers kit.
Spiderman Play Sets
Batman and Superman aren't the only superheroes getting new playsets this year. Spiderman will have a whole lineup of goods from Hasbro.
Disney Royal Dream's Castle Playset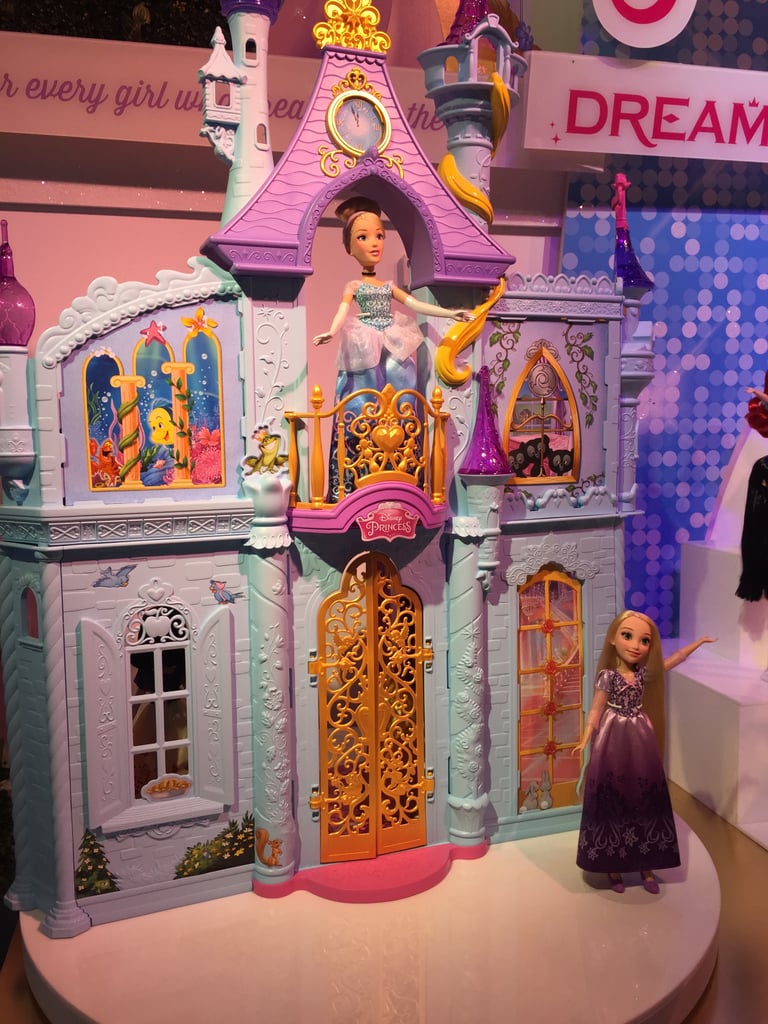 The larger than life Disney Royal Dream's Castle Playset provides tots with 360 degrees of play, but what really makes it unique is that the inside includes a room based on each Disney princess.
My First Crayola Mess-Free Sand Scribbler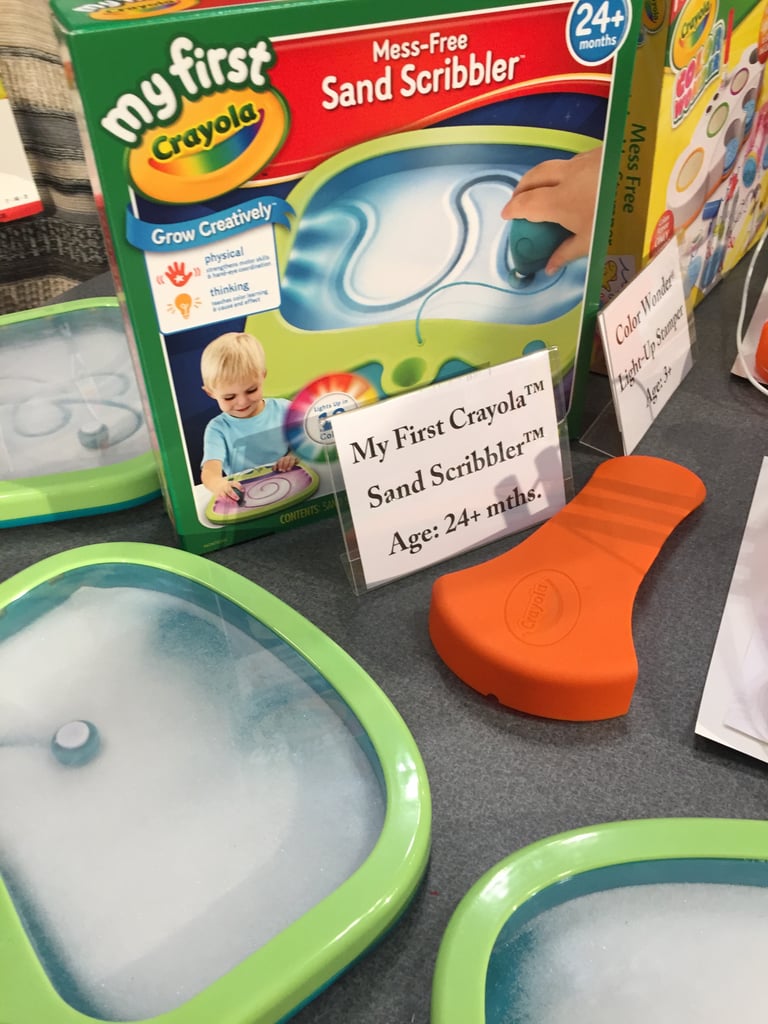 For little ones age two and up, the My First Crayola Mess-Free Sand Scribbler is going to be their newest obsession. This portable board lets your child draw in the sand without the mess. As the background lights change colors your tot can use the magnetic ball to create their own artwork by scribbling in the sand.
VTech Go Go Smart Wheels Enchanted Princess Palace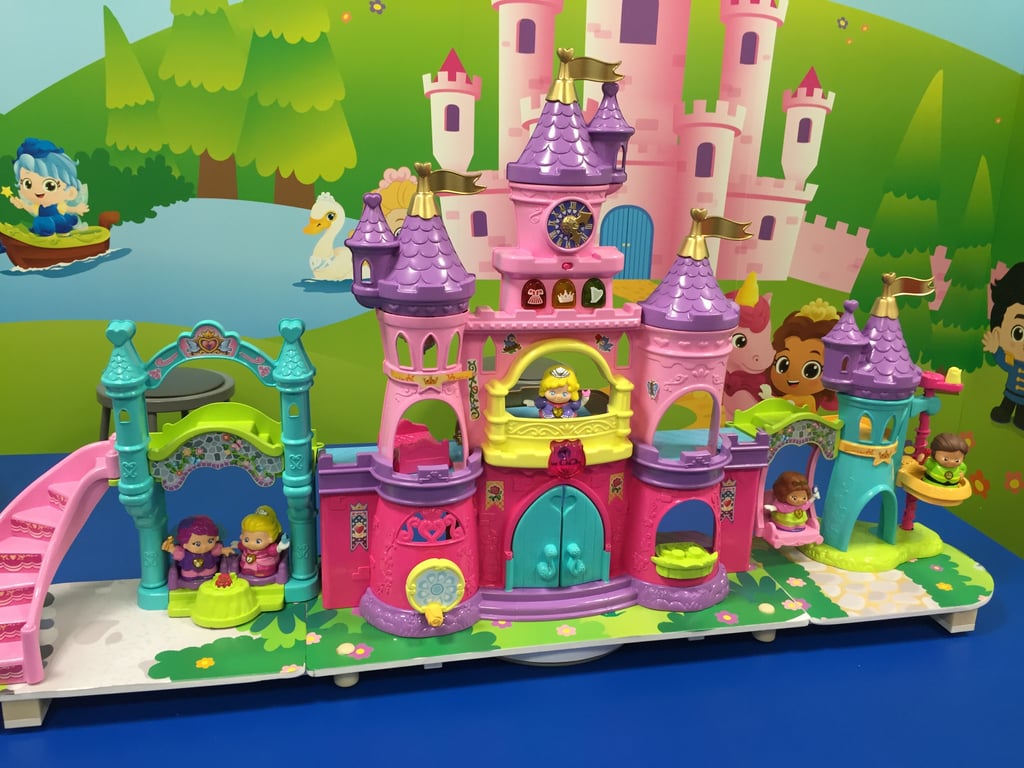 It doesn't get much bigger than VTech's Go Go Smart Wheels Enchanted Princess Palace! The four foot long palace has a ballroom, music room, kitchen, bedroom and observation tower with five MagicPoint locations for Princess Darla to interact with kids.
Alex Skills For Life Crocheting Kit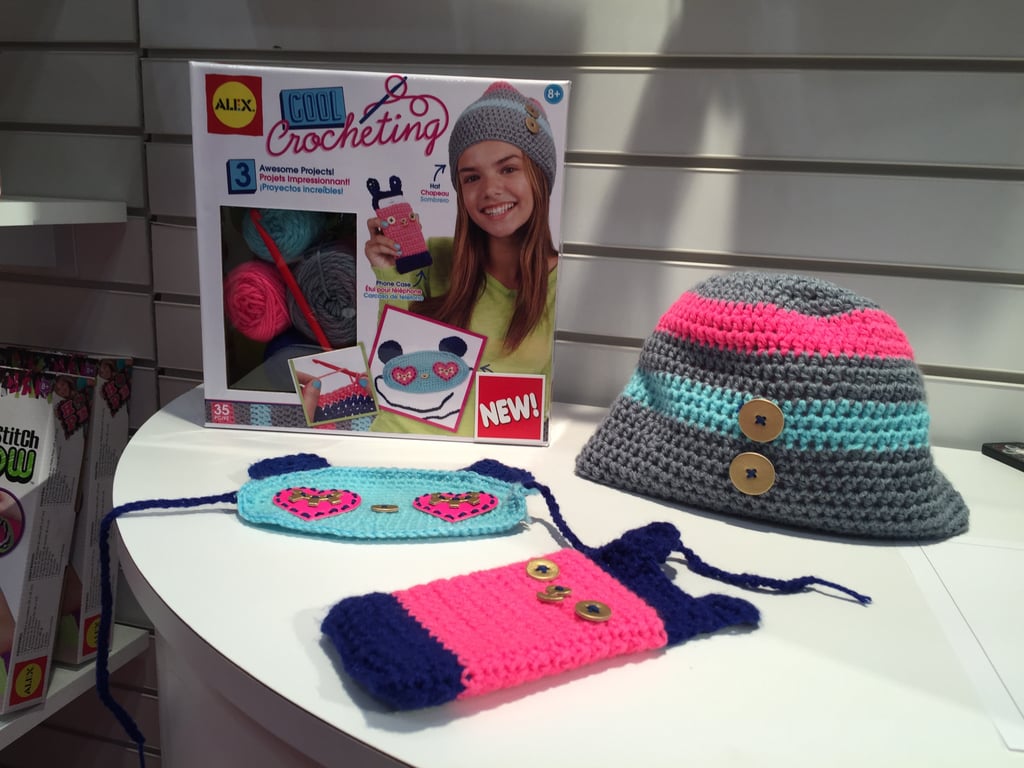 The Skills For Life line expands to include crocheting with some cute (and wearable!) projects.
My Little Pony Baby Flurry Heart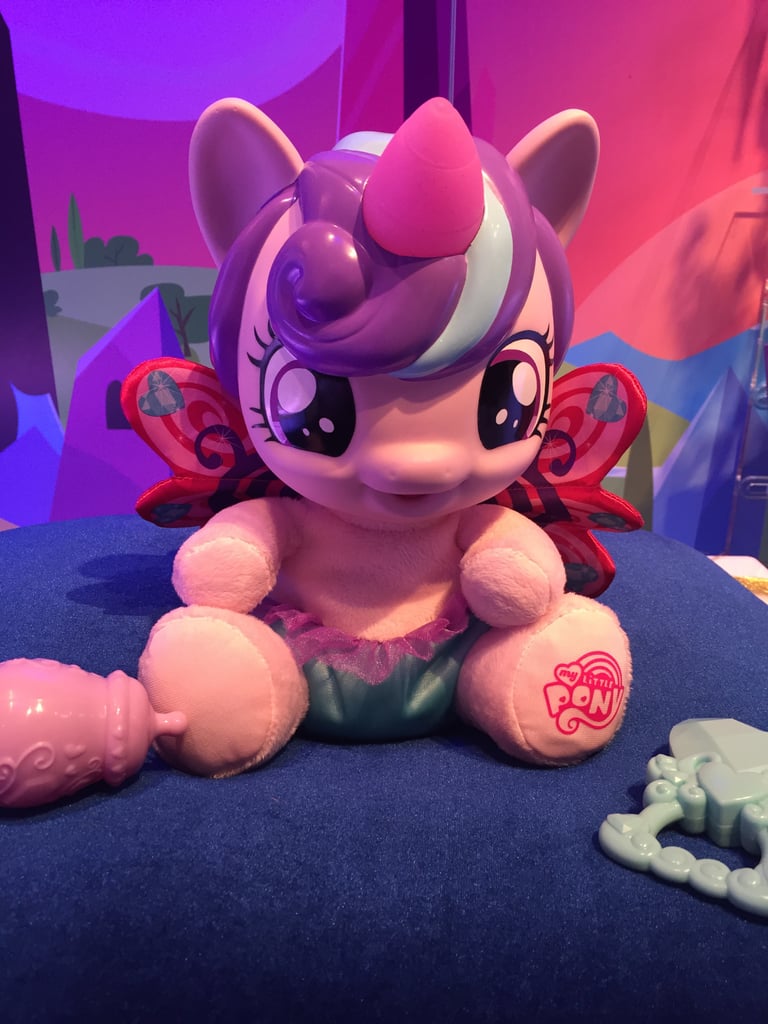 My Little Pony's newest character — Baby Flurry Heart — has a color changing horn that reflects how she's feeling.
Hasbro Elena of Avalor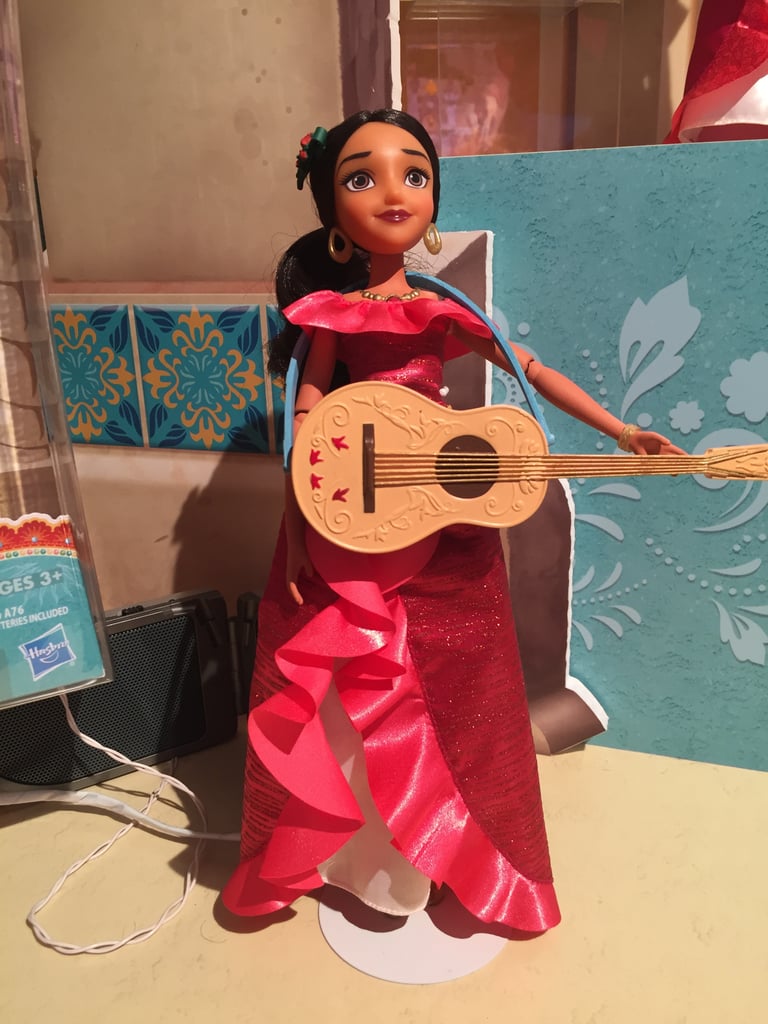 The Elena of Avalor doll collection will include one with a storytime guitar.
Thomas and Friends Work Bench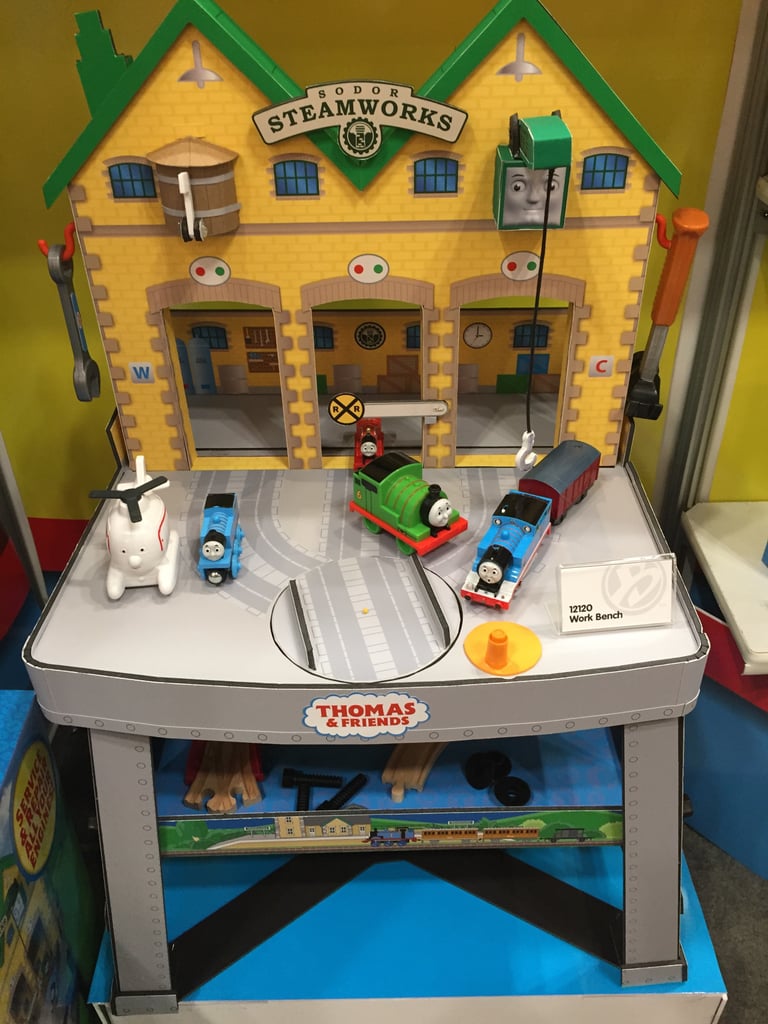 This Thomas and Friends work bench is perfect for playing with and storing all of your child's favorite trains and track pieces.
Disgusting Anatomy Heart and Brain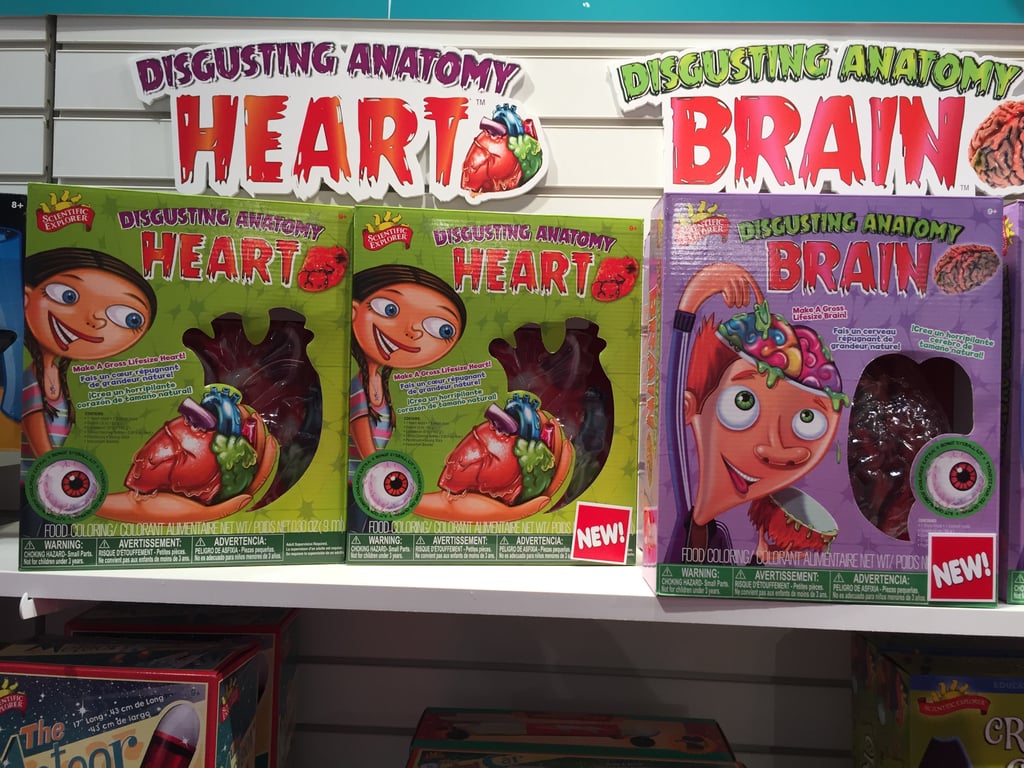 Disgusting Anatomy will expand its line to include gummy hearts and brains while teaching kids about how their bodies work.
Love 2 Learn Elmo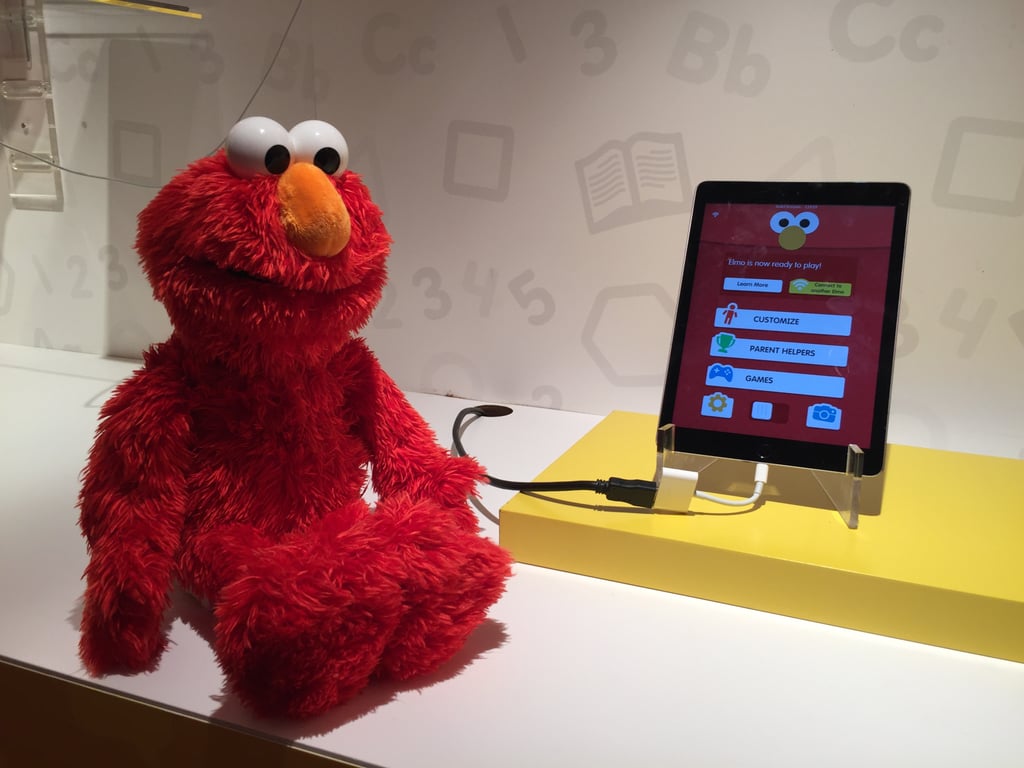 Elmo goes digital this year with the Love 2 Learn Elmo doll. After downloading the companion app, parents can "teach" Elmo their little ones' name and his or her favorite things so he can interact with them. Hold Elmo's hand and he'll sing songs. Tickle his belly and he'll laugh. He'll even tell your tot what day of the week it is.
Hasbro Kylo Ren Lightsaber
It will cost close to $200, but Hasbro's new Kylo Ren Lightsaber may be the closest thing to the real one you've ever seen. It lights up just like the one in the movies, but even better are the sound effects that are taken straight from the flick.
Little Live Pets Lil' Puppy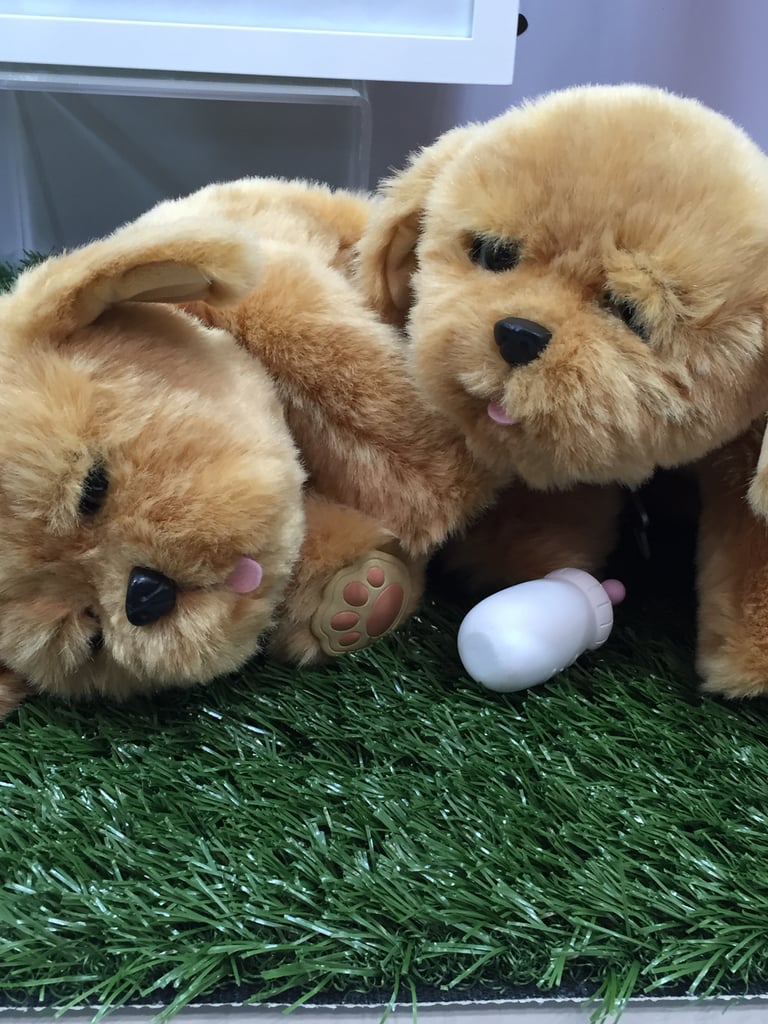 Lil' Puppy moves and sounds just like a real puppy. He's light and soft for snuggling with, and interacts with your little to make it seem like they have a real-life puppy to care for and love (which will help you put off getting them an actual puppy before they're ready — win).
Lite Brite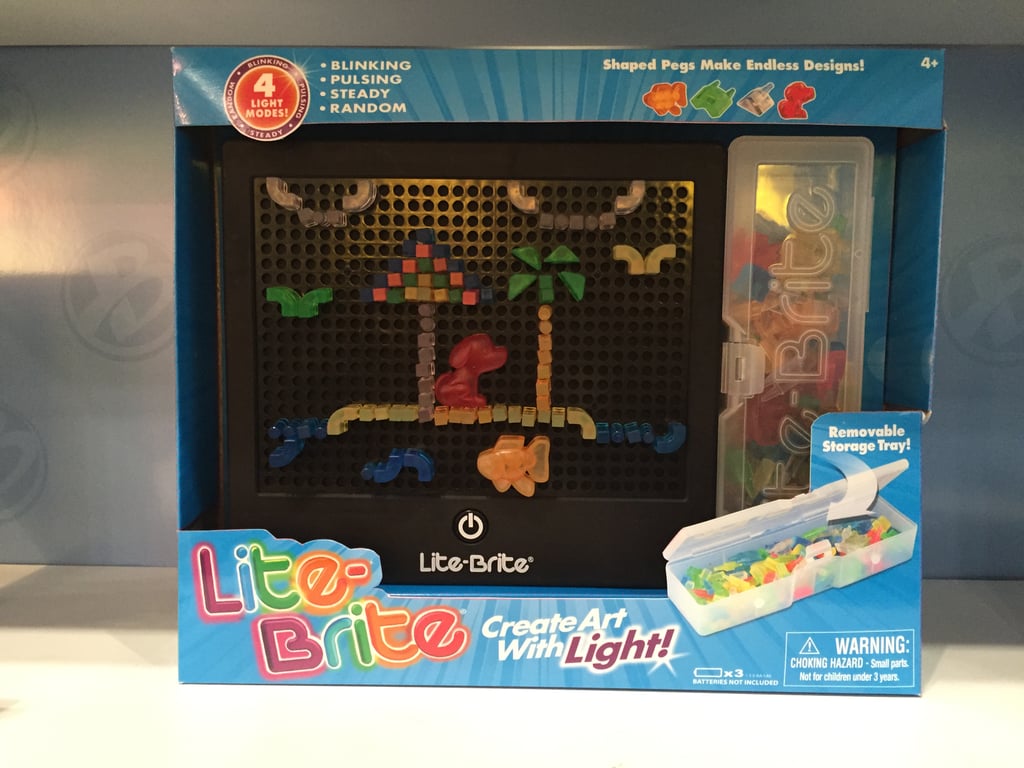 Lite Brite is getting a makeover! The new set comes with new piece shapes — including elbows, triangles, and fish — four light modes, a translucent carrying case to make finding pieces easier (especially on-the-go).
Nerf Star Wars Rey Blaster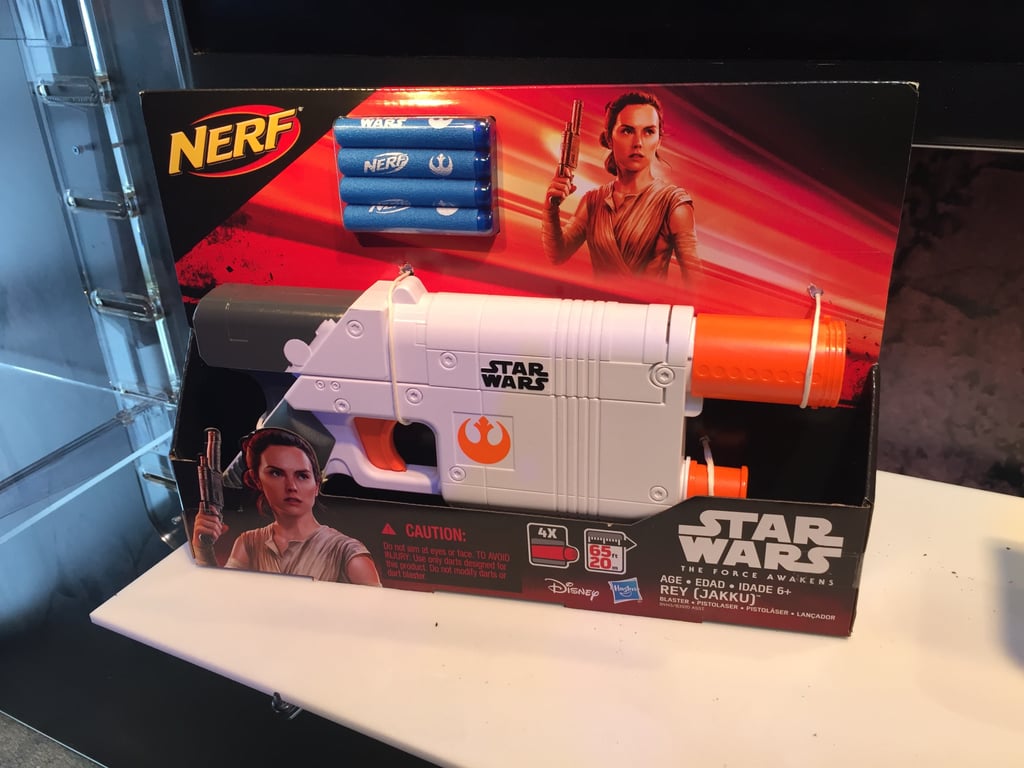 Nerf is getting in on the Star Wars: The Force Awakens fun with a Rey-themed blaster.
Beat Bo Mat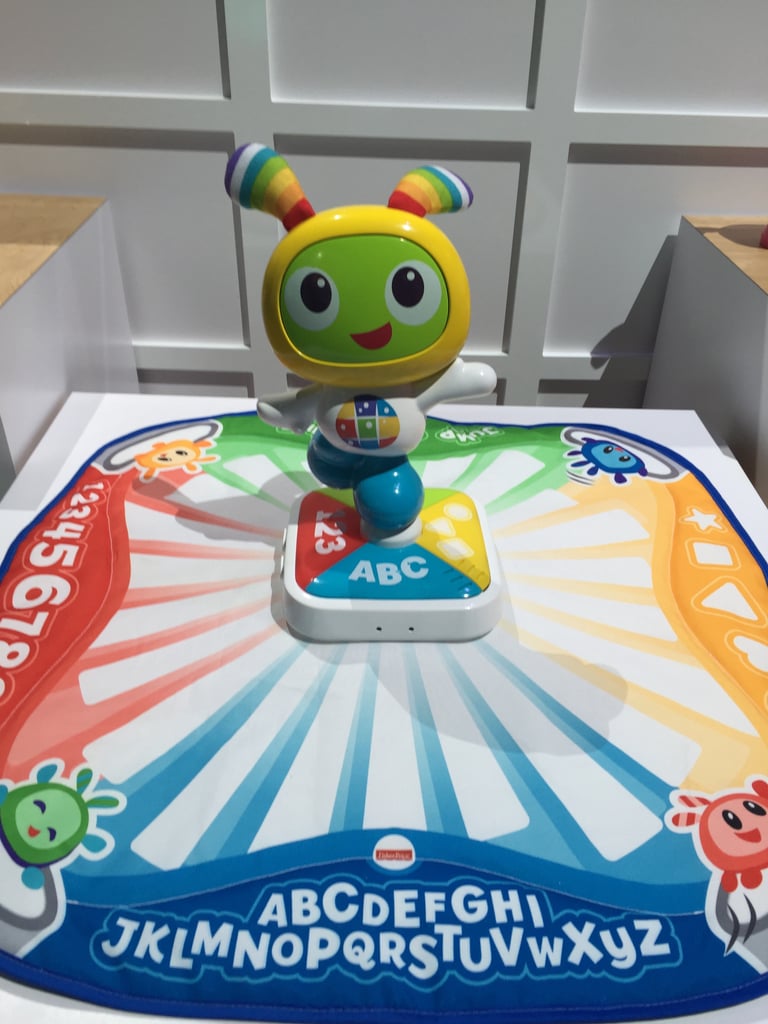 Beat Bo is back and now he comes on a fun play mat that grows with your child and teaches shapes, numbers, colors, letters, and more — all while dancing and singing just like the original!
The Little Prince Figureines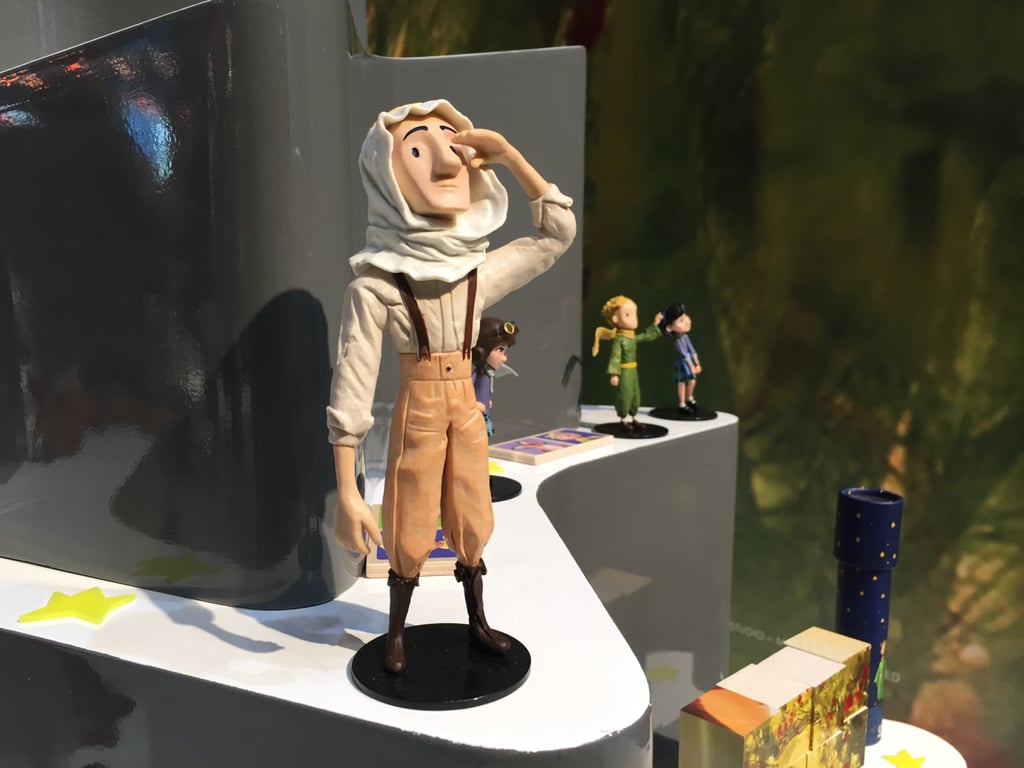 Hape has the exclusive on toys tied to The Little Prince movie's release.
Playskool Friends Pinkie Pie Slide and Ride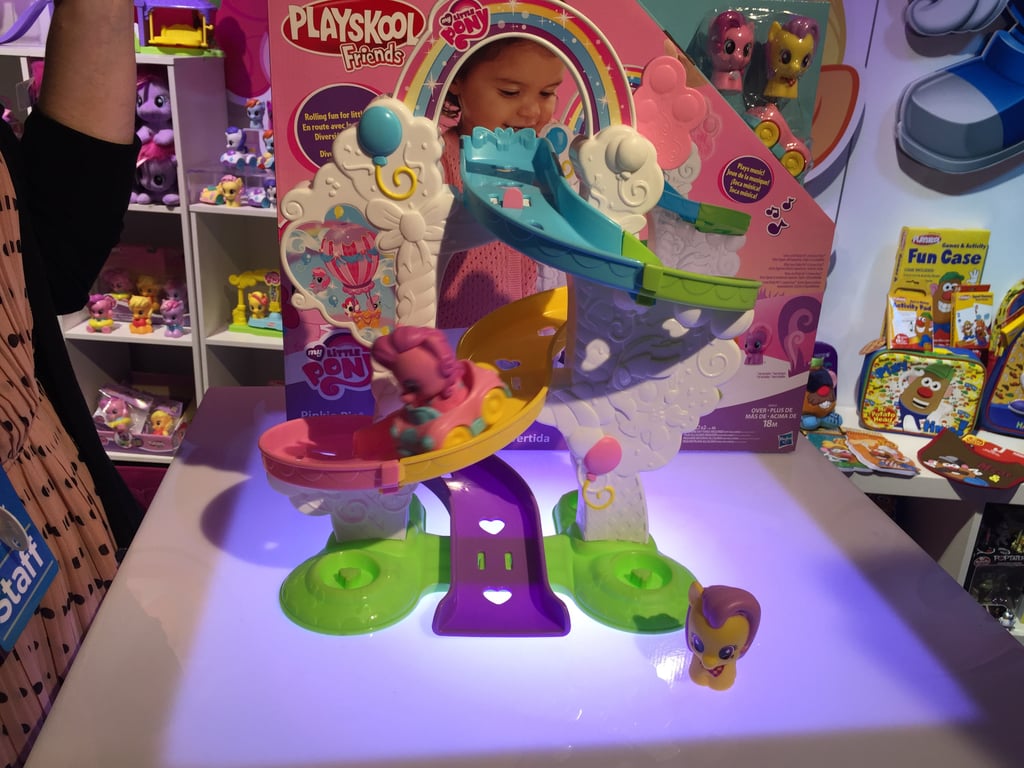 My Little Pony's characters go for a fun little ride on the toddler-friendly Pinkie Pie Slide and Ride.
Play Doh Olaf Set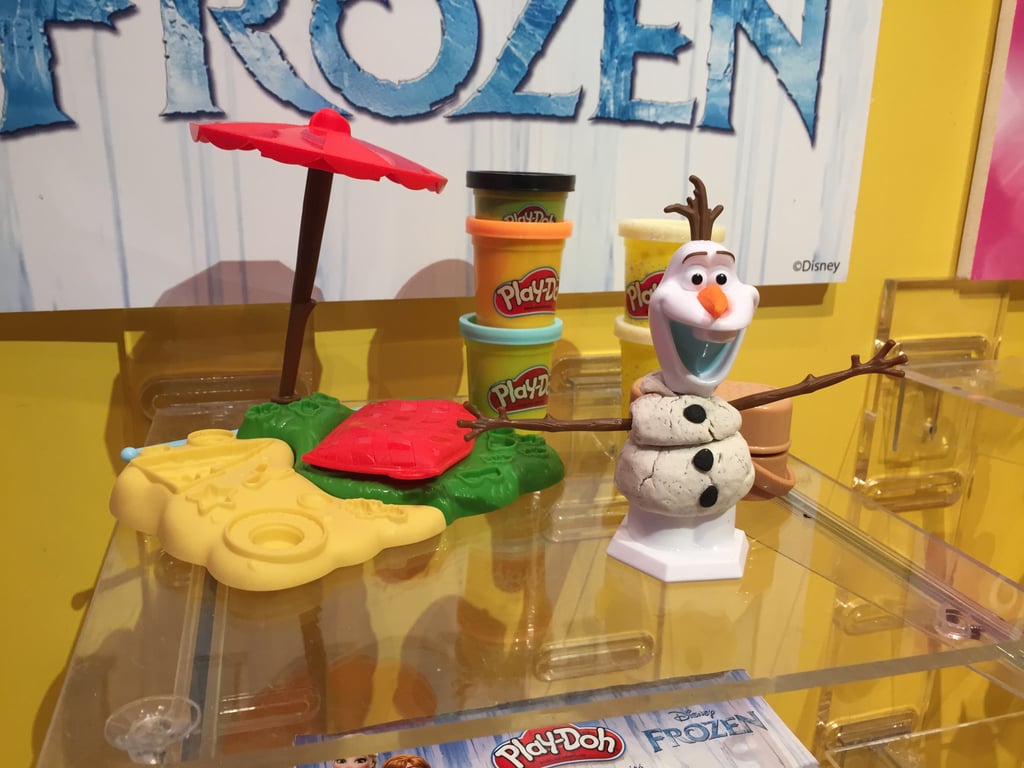 This Spring, Play Doh will introduce this adorable Olaf set!
Skip Hop Silver Lining Cloud Musical Gym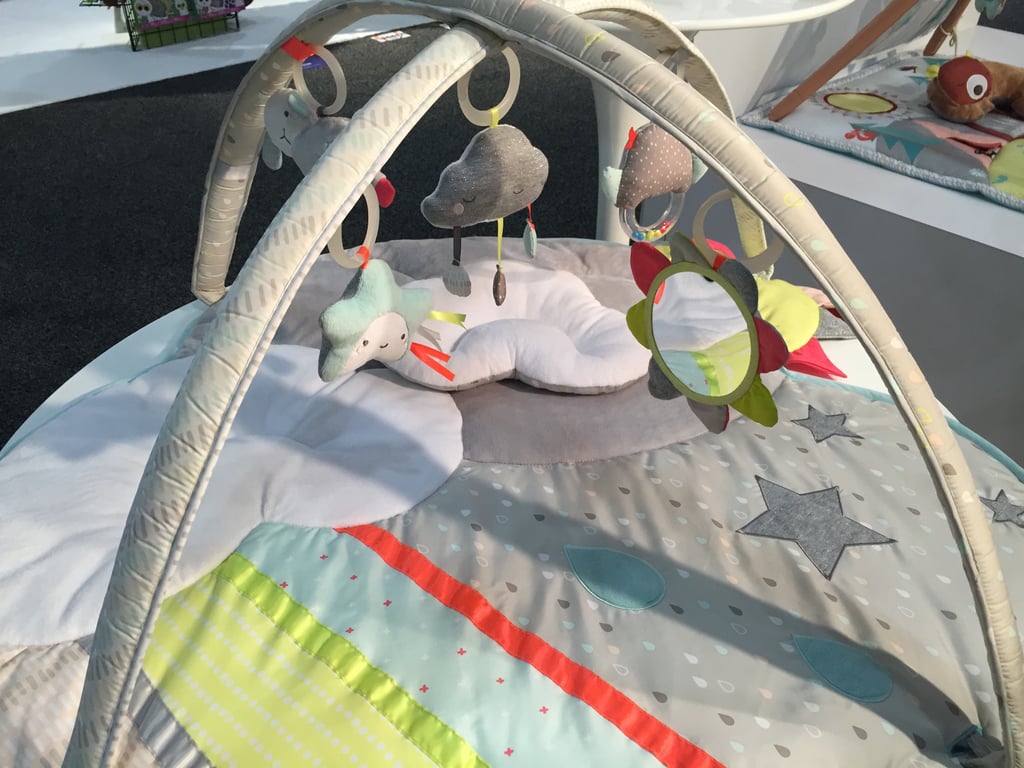 Available in July, the Silver Lining Cloud Musical Gym is one of the softest play gyms we've ever felt. The removable toys – a cloud, a star, the sun — are sure to mesmerize the smallest tots.
Paddle Bubble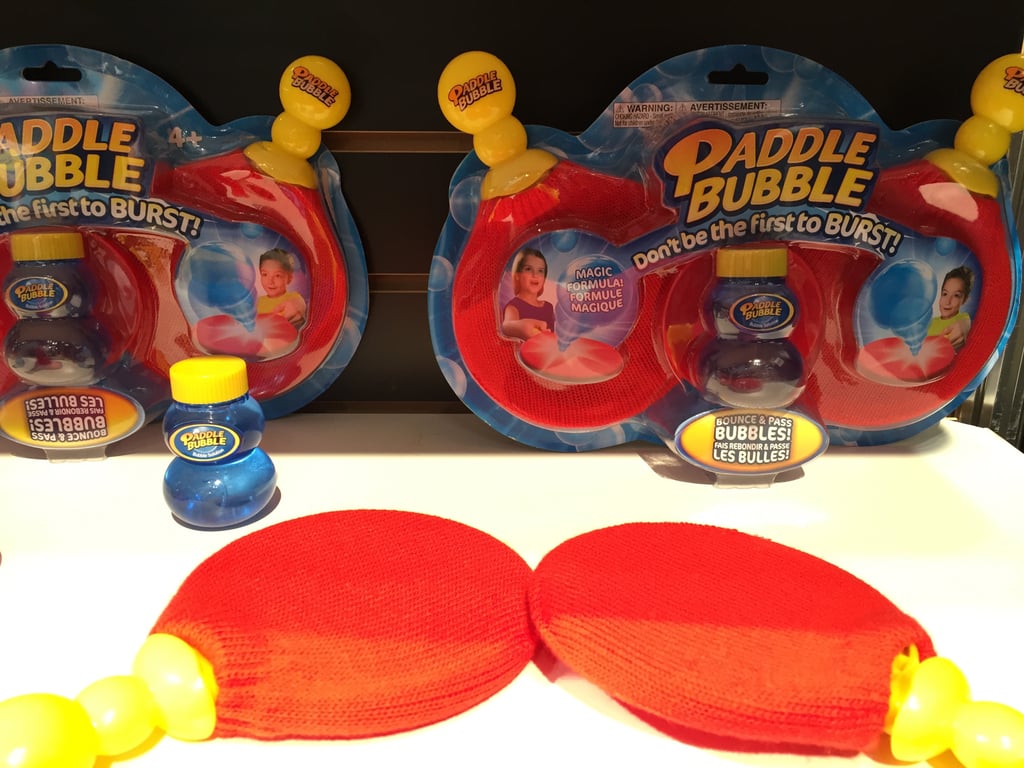 Paddle Bubble is a sensitive version of ping pong, in that your kiddo and his playmate will be paddling bubbles back and forth to each other instead of balls!
OYO Sports Gametime Sets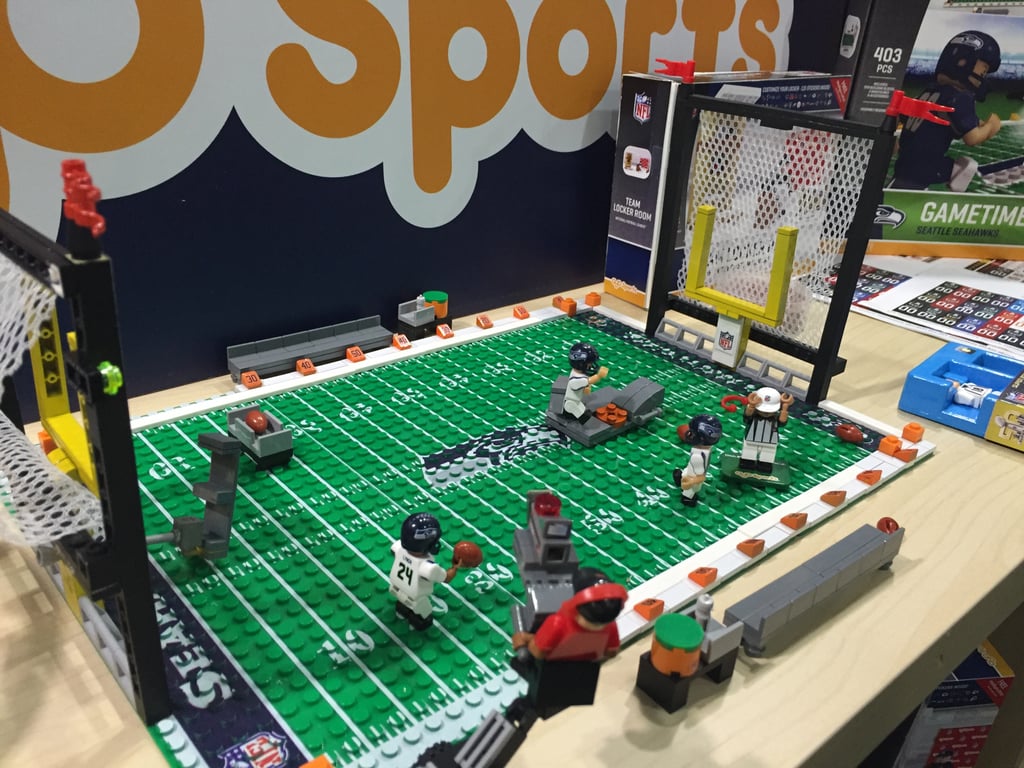 OYO will update their Gametime sets to include new end zones and actionable kickers.
Lego Star Wars 2016 Advent Calendar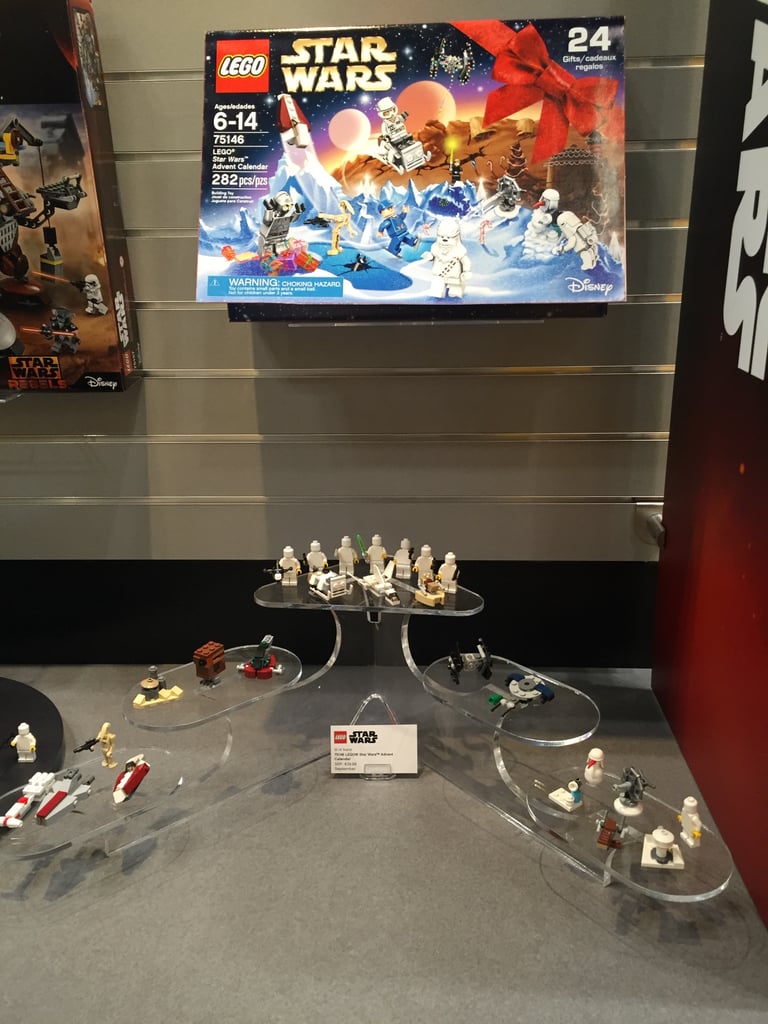 The annual Lego Star Wars Advent Calendar will be released later this year to help your kiddo celebrate the days leading up to Christmas with some awesome Star Wars minifigures and sets.
Melissa and Doug's Makeup Mirror and Hair Accessories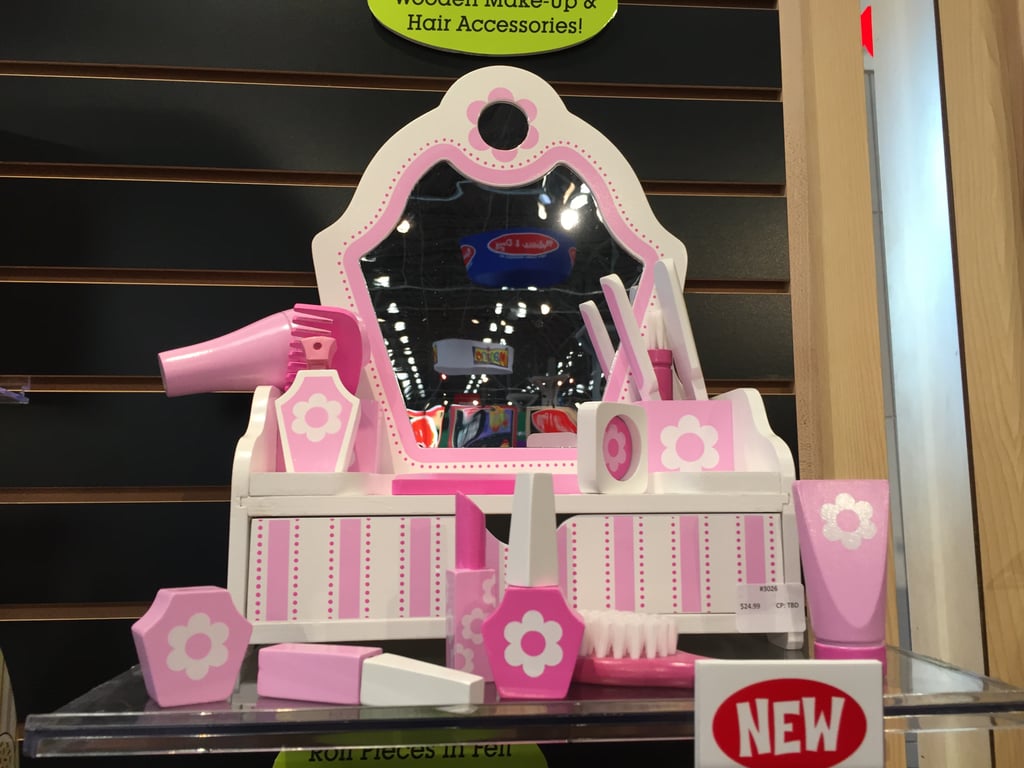 Melissa and Doug will introduce a wooden makeup mirror and hair accessories kit later this year.
Hyper Toss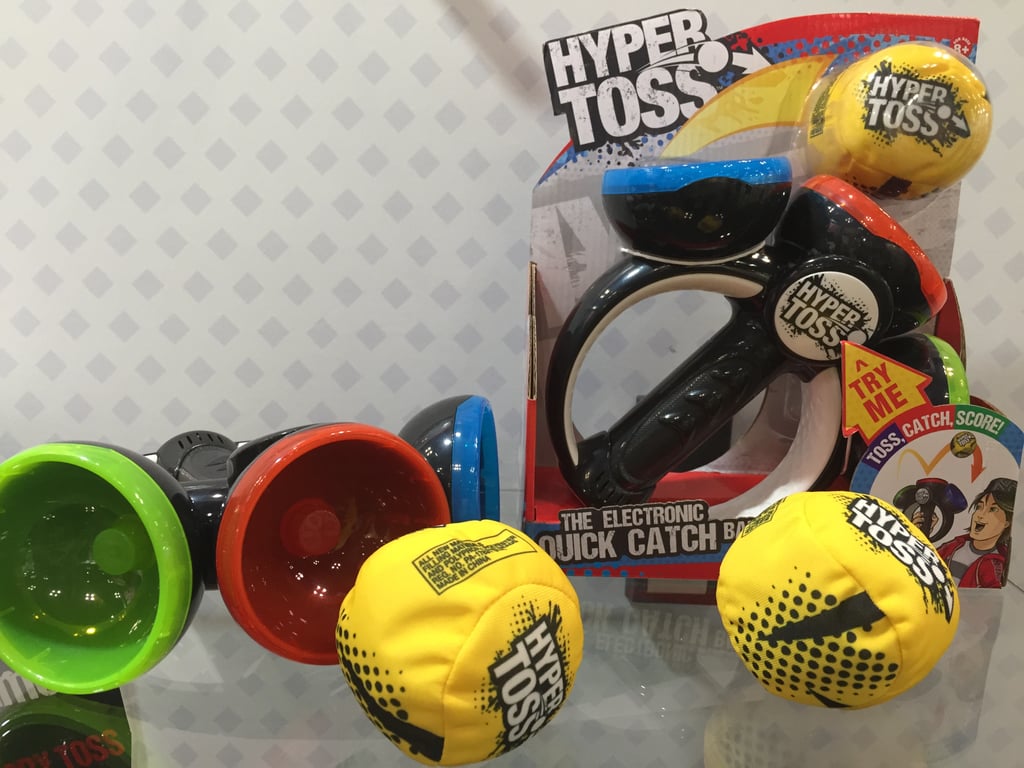 Basically a more challenging version of Bop It!, Hyper Toss requires kids to toss the ball from one color to another, which helps with motor skills and provides hours of engaging independent play — unless of course, they want to play with a friend, in which case they could have healthy competitions to see who can create the longest sequence!
Project Mc2 Lie Detector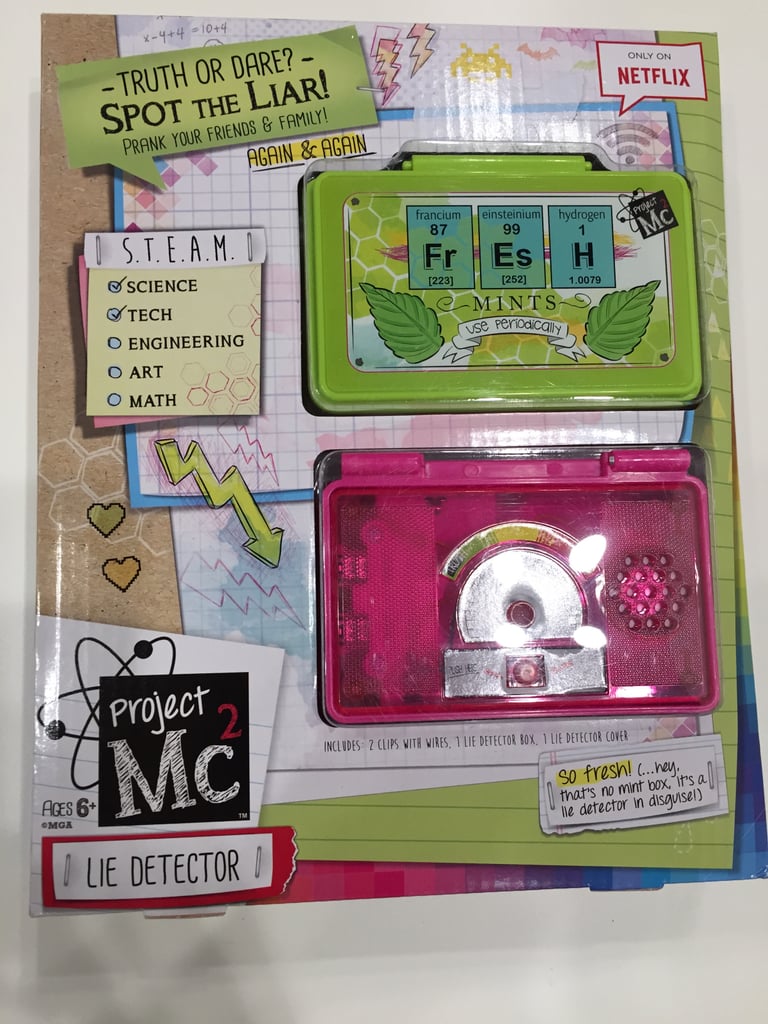 Bryden Bandweth isn't the only one who can figure out who is telling the truth! Disguised as a mint box, the Project Mc2 Lie Detector is exactly what your little tech genius needs to uncover the truth.
Lego Minecraft The Iron Golem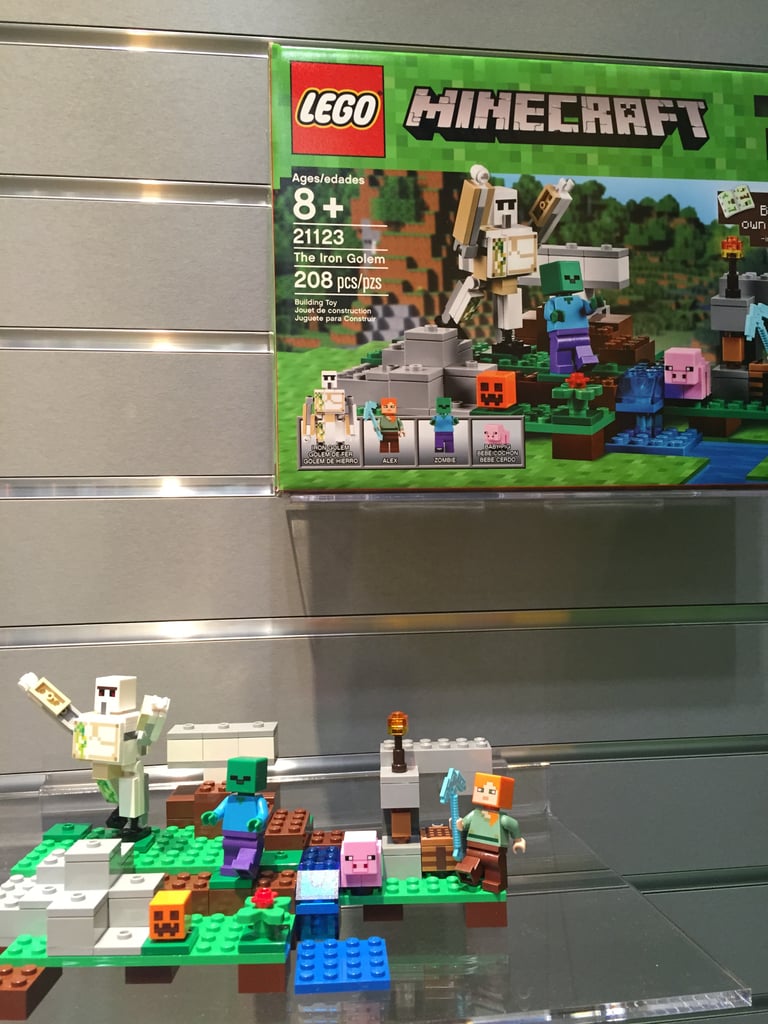 Bring your child's favorite virtual game to physical play with five new Minecraft sets that include key biomes and characters from the online universe.
Doh Vinci Trolls Set
The Doh Vinci continues to expand with character sets like this one tied to the Trolls movie.
Barbie Fashionistas Line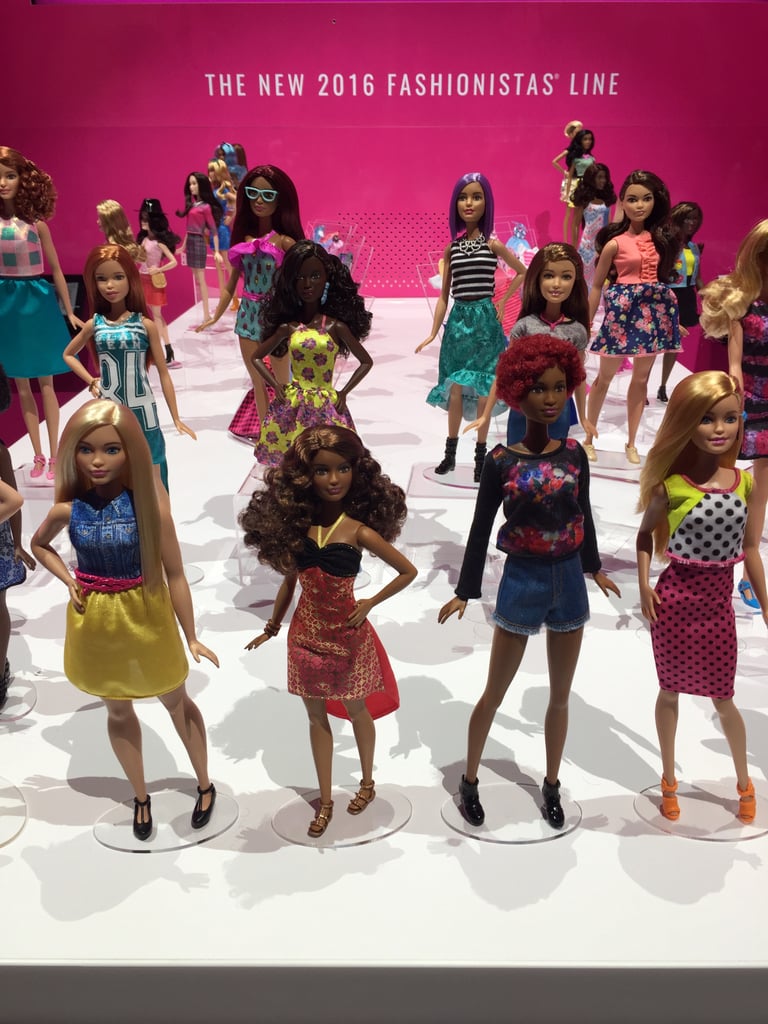 The new Barbie Fashionistas Line [7] features Barbies with different skin tones, body types, eye colors, and hair styles to give your kiddo infinite ways to play with a Barbie that looks a bit more like herself and the girls and women in her own life.
Lego City Airport VIP Service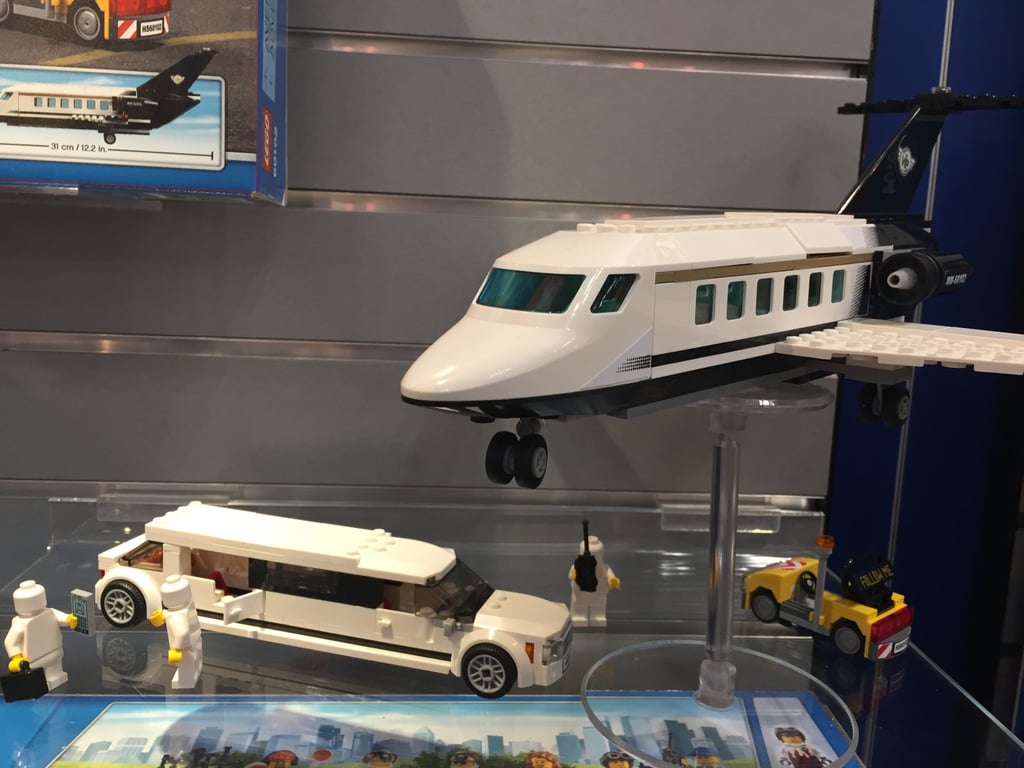 If your kiddo's minifigures like riding in style, they'll need the Airport VIP Service set to transport their Lego limo around the world.
Kaloo Rouge Collection
It's quite possible that Kaloo's Rouge Collection bears are the softest stuffed animals on the market.
Crayola Crayon Factory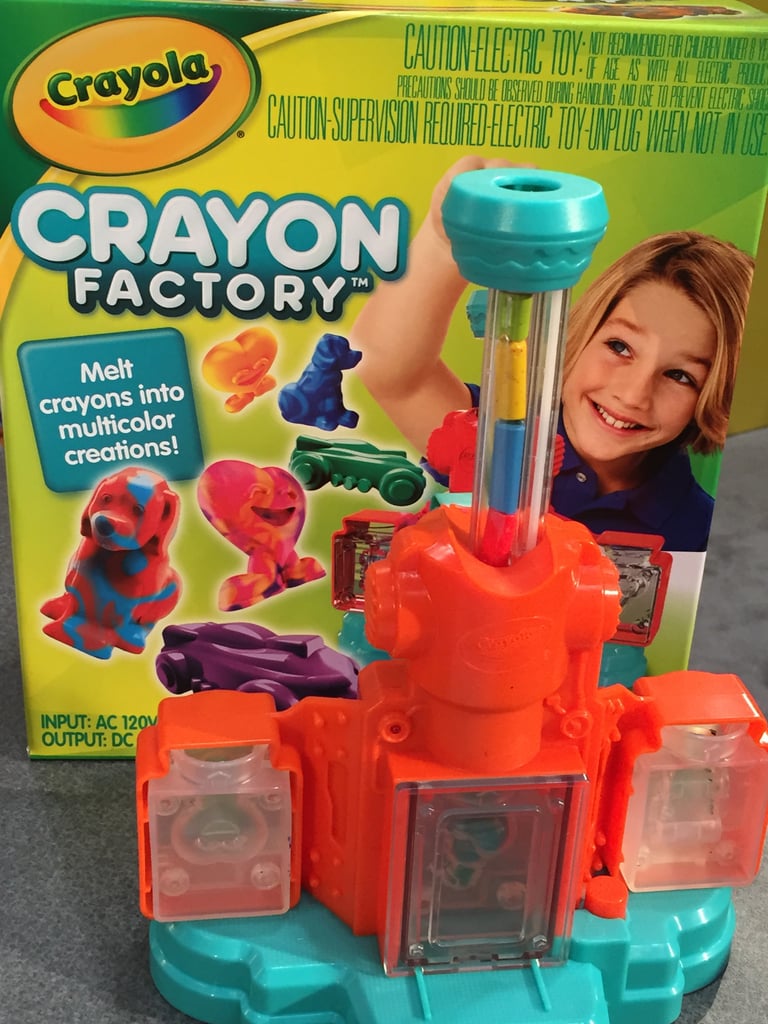 Recycle old crayon bits or mix in new color options and watch them transform into customized creations. The newly-molded car, heart, or puppy crayons give new life to your old art supplies, and make coloring more fun.
Lego Creator Vacation Getaways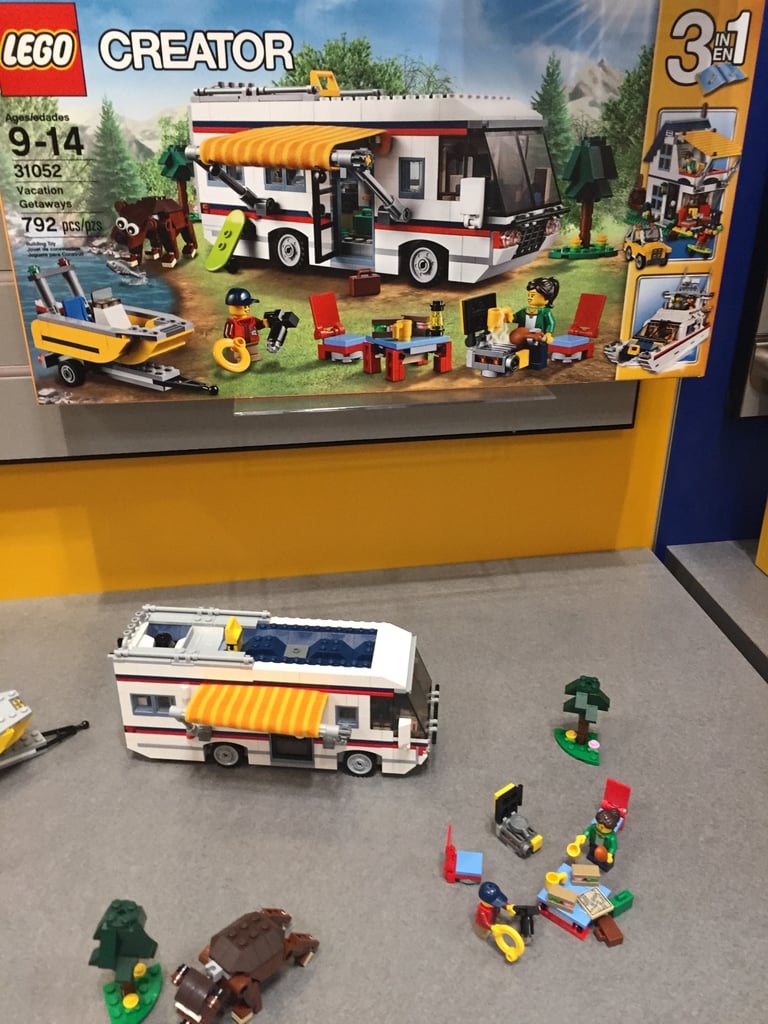 Not only does the new Lego Creator Vacation Getaways set come with 792 pieces, but it is a 3-in-1 kit that offers the ability to create and rewind the building experience — not just transform. Utilizing the same pieces, the vacation camper can be built into a house or a boat.
Thomas & Friends-DC Super Friends Mash-Up Minis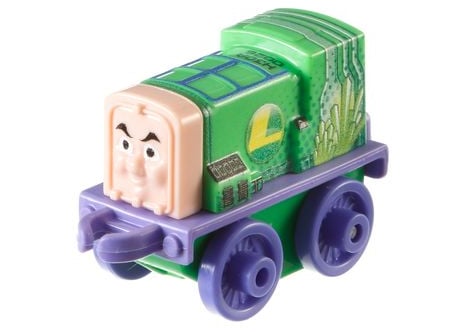 Thomas & Friends will expand its line of Mash-Up Minis to include 36 DC Comics stars, including Lex Luther/Paxton, in advance of the Batman v Superman: Dawn of Justice movie release.
Crayola Air Marker Sprayer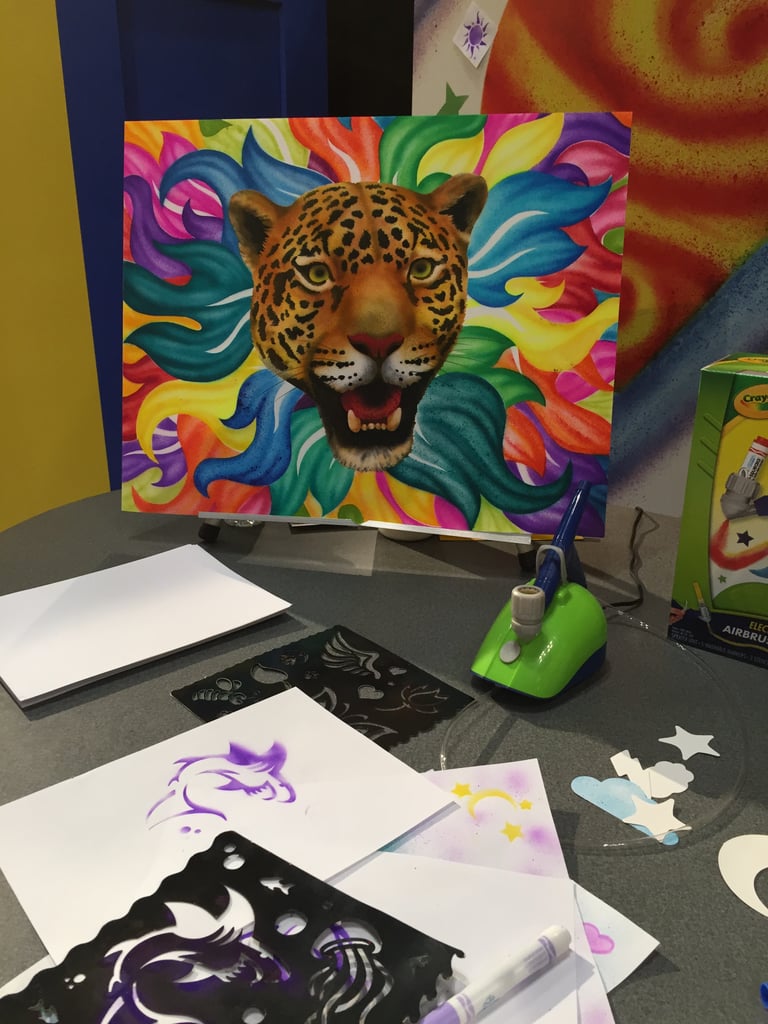 A reboot of the old marker airbrush set (remember having to pump it to make the colors flow?), the Crayola Air Marker Sprayer allows kids to create airbrushed works of art with a continuous spray — no more pumping — and without the mess of paint.
Hexbug Battle Ground Fight With Light Bunker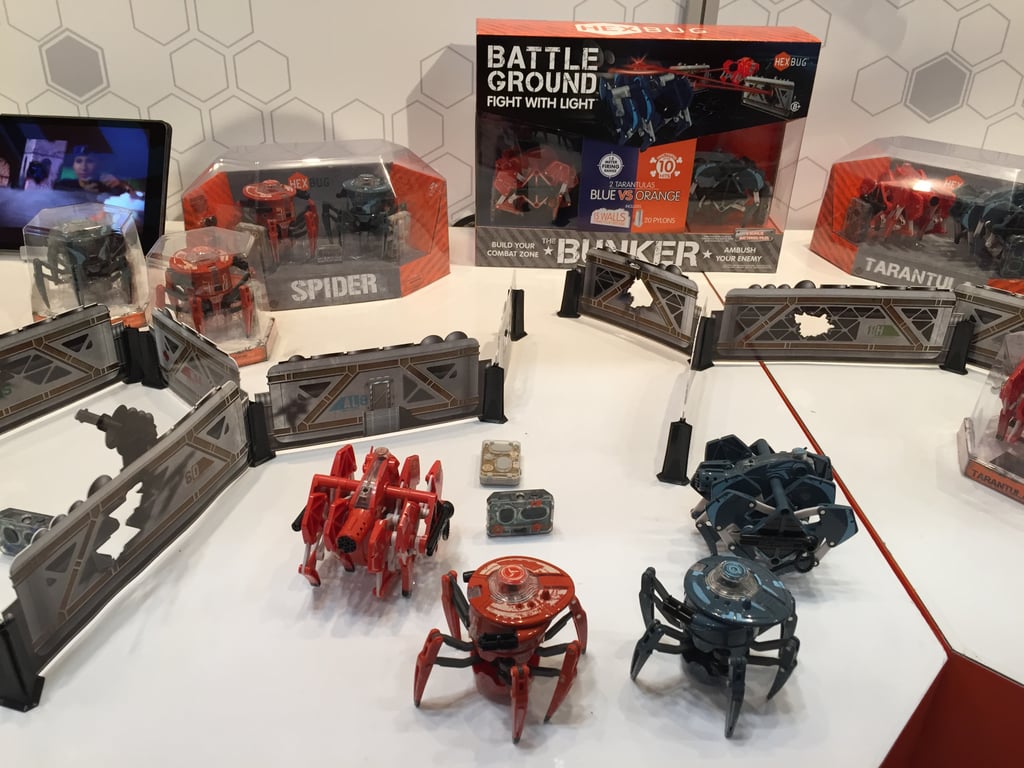 Hexbug's spiders and tarantulas can compete in the Battle Ground Fight With Light Bunker, which is like a much cooler version of laser tag.
Fisher Price Batman vs. Superman Playset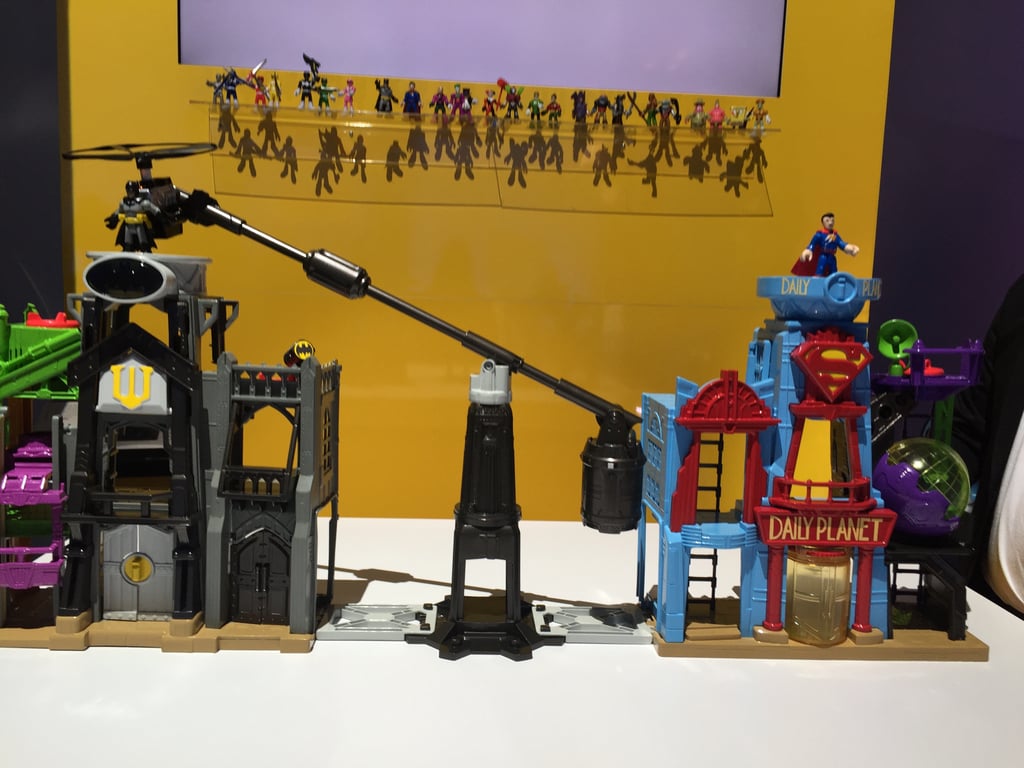 With this play set Batman and Superman go head-to-head to find out which superhero will stand strong! Bonus: Batman can actually fly!
Franklin Sports Superman and Batman Balls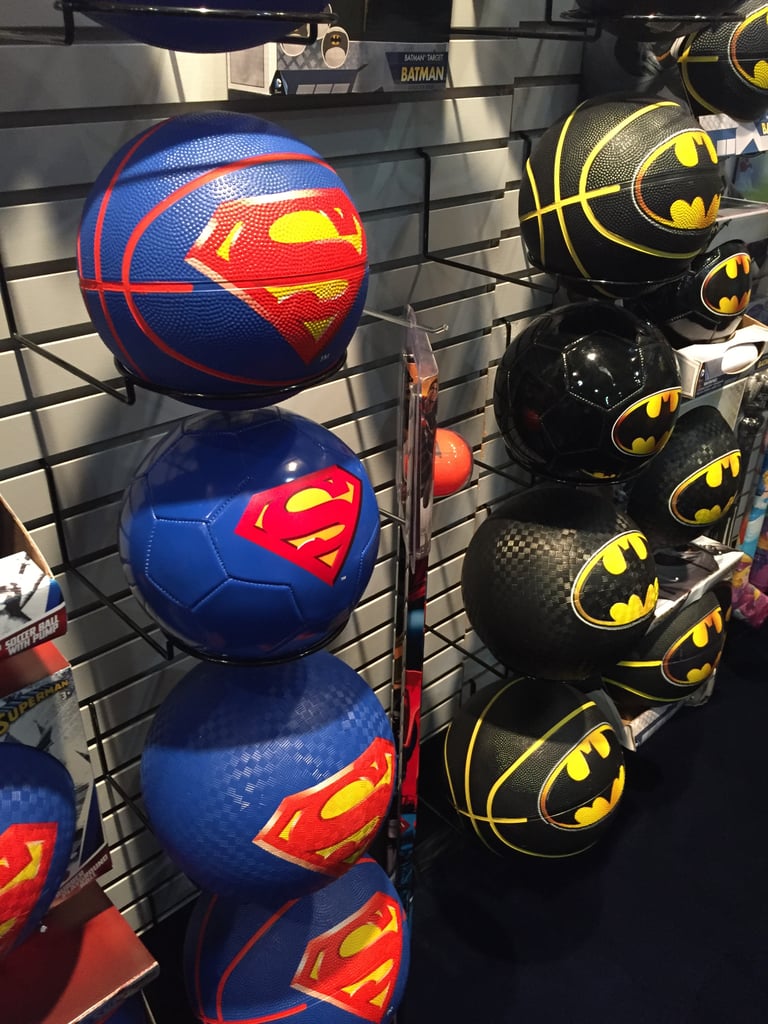 Franklin Sports will get in on the Superman and Batman fun with basketballs, soccer balls, footballs, and more.
Disney Descendants Neon Lights Ball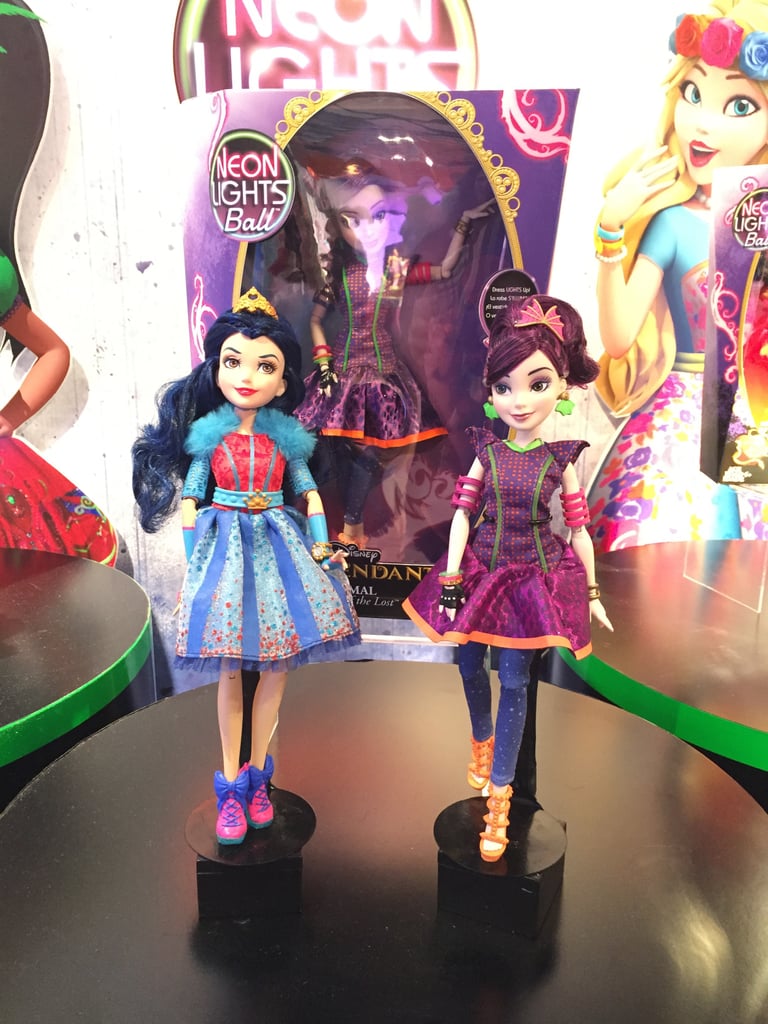 Disney will debut an animated version of the popular Descendants movie that includes a Neon Lights Ball. These dolls — based on the series — wear light up dresses.
Teenage Mutant Ninja Turtles Talk to Me Mikey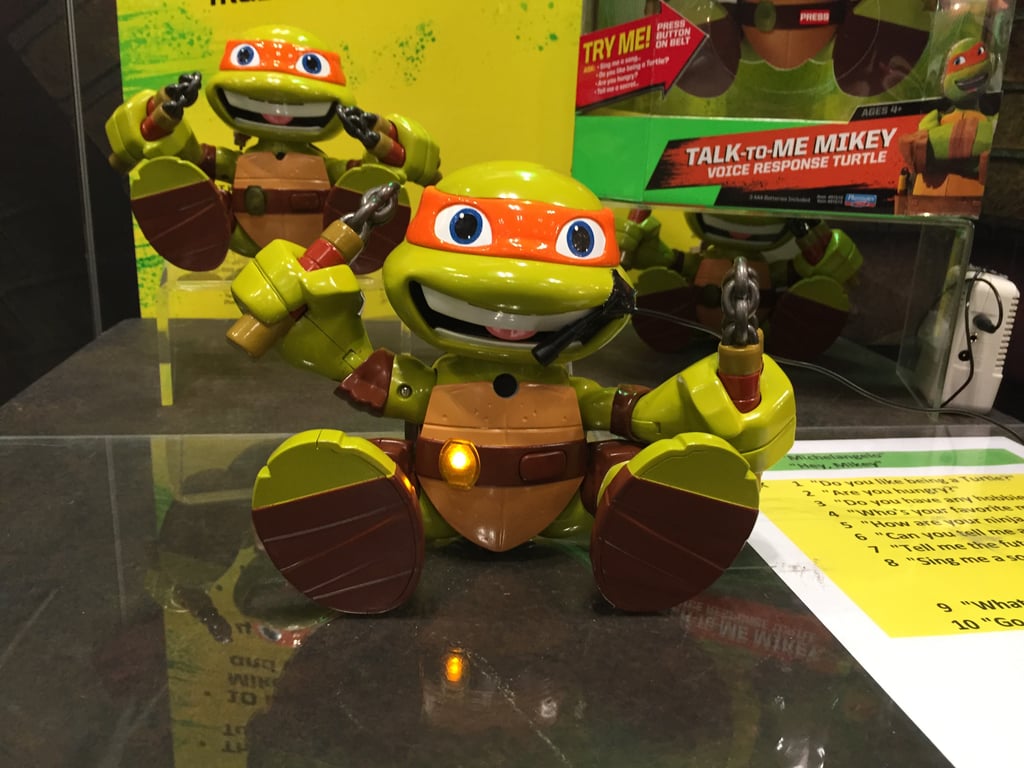 Consider Talk to Me Mikey to be the first-ever voice response turtle — and he's programmed with some fun phrases!
Thomas & Friends-SpongeBob SquarePants Mash-Up Minis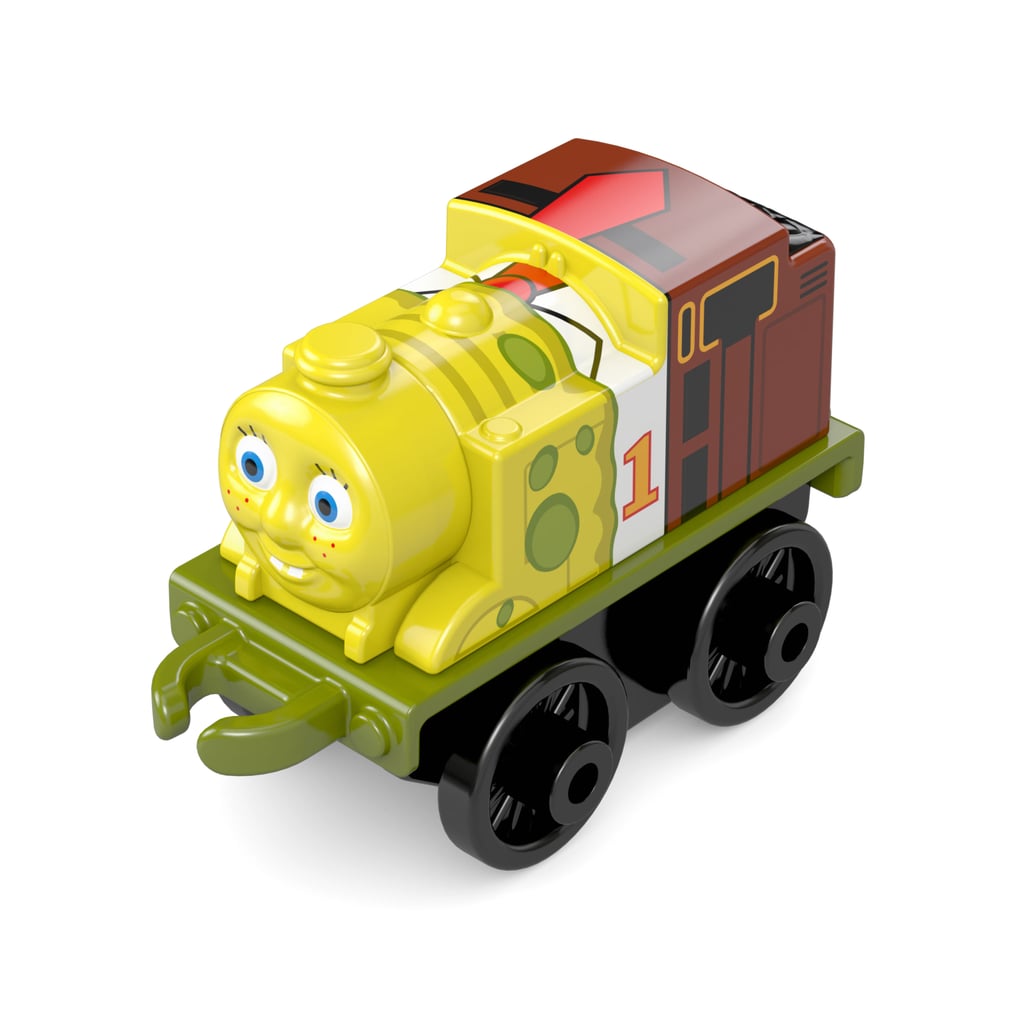 Thomas & Friends will expand its line of Mash-Up Minis with everyone's favorite guy who lives in a pineapple under the sea — SpongeBob SquarePants. The collaboration will include 13 characters ready to chug their way through town — including, of course, SpongeBob mashed with Thomas!
Hot Wheels Skyshock RC
The Skyshock RC goes from a race car on land to an air racer with the help of a handy remote and some pop-out wings.
Play Doh Play Town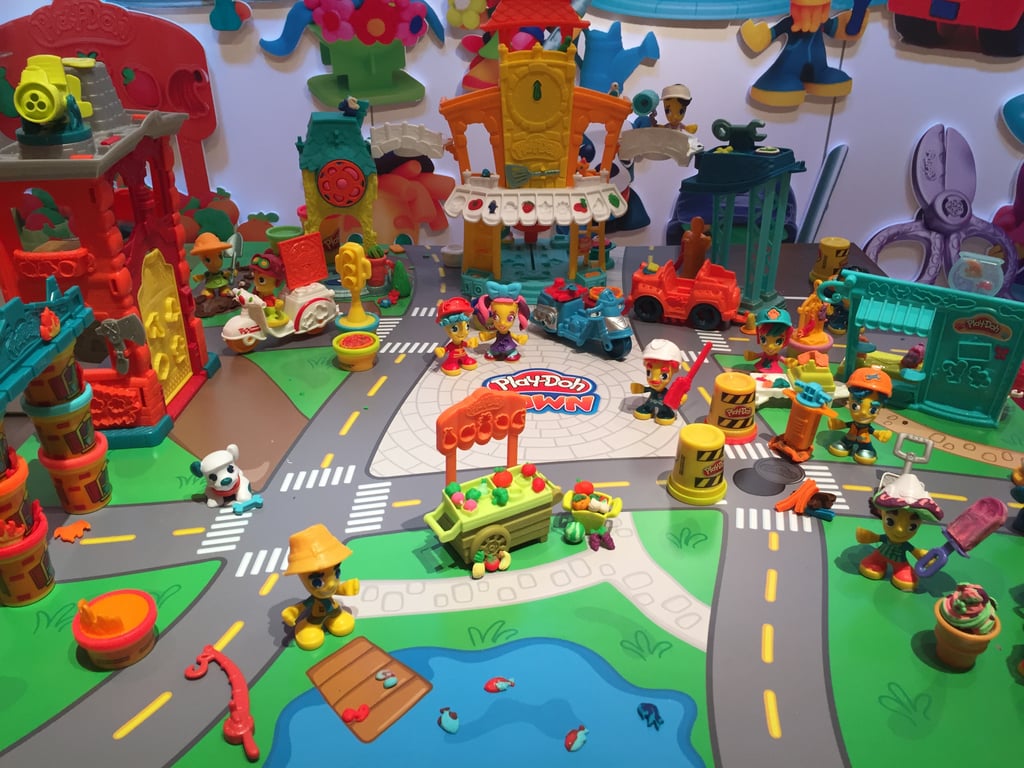 Play Doh is introducing 17 city-based kits starting this Spring. All of the sets are interchangeable with other sets and are packed with hidden surprises like half molds and beards for the figures.
Playmobil Porche Dealership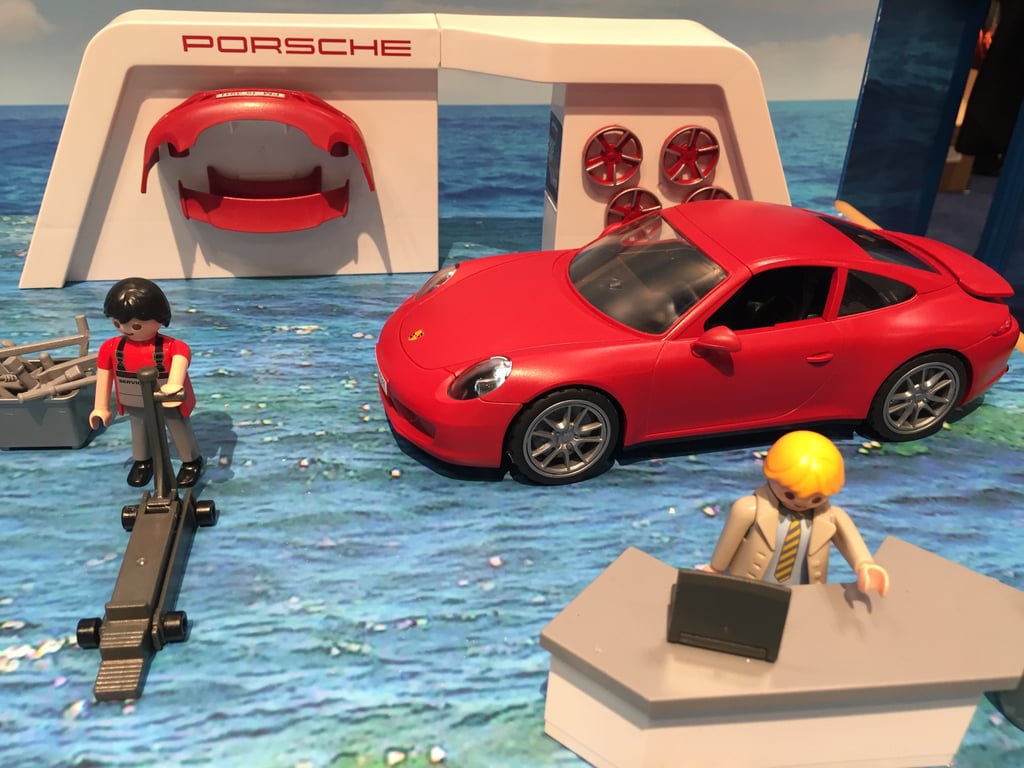 The Playmobil Porche Dealership playset features a lifelike Porche 911 Carrera with working lights — both on the exterior and on the dashboard.
Alex DIY For Guys SK8 Deck
Alex Toys will add to their DIY [8] For Guys line with this decorative SK8 Deck set.
Lego City Fun in the Park — City People Pack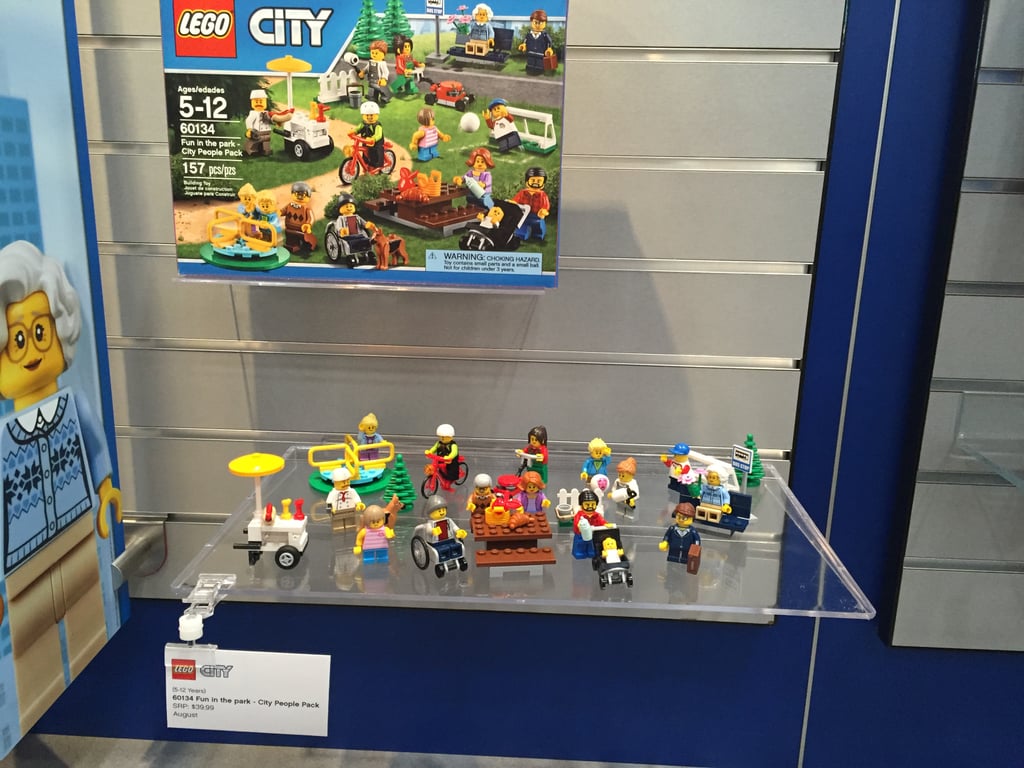 Each Lego City set comes with a minifigure or two, but this City People Pack allows your child to bring more minifigures in on the fun. Our favorites include the dad pushing the stroller — with the tiniest little baby minifigure! — and the boy in the wheelchair, which actually moves!
Playskool Heroes Rescue Bots Fire House Headquarters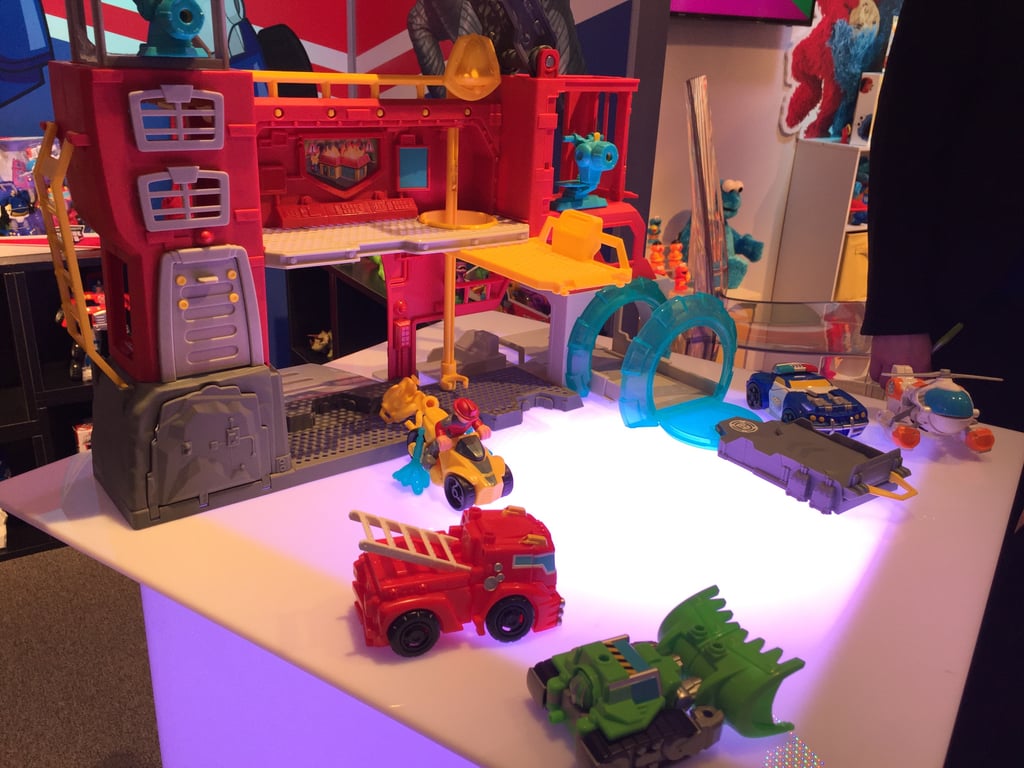 The Rescue Bots's newest playset will look very familiar to fans of the show. The Fire House Headquarters is an exact replica of the one on TV.
Beat Bo Belle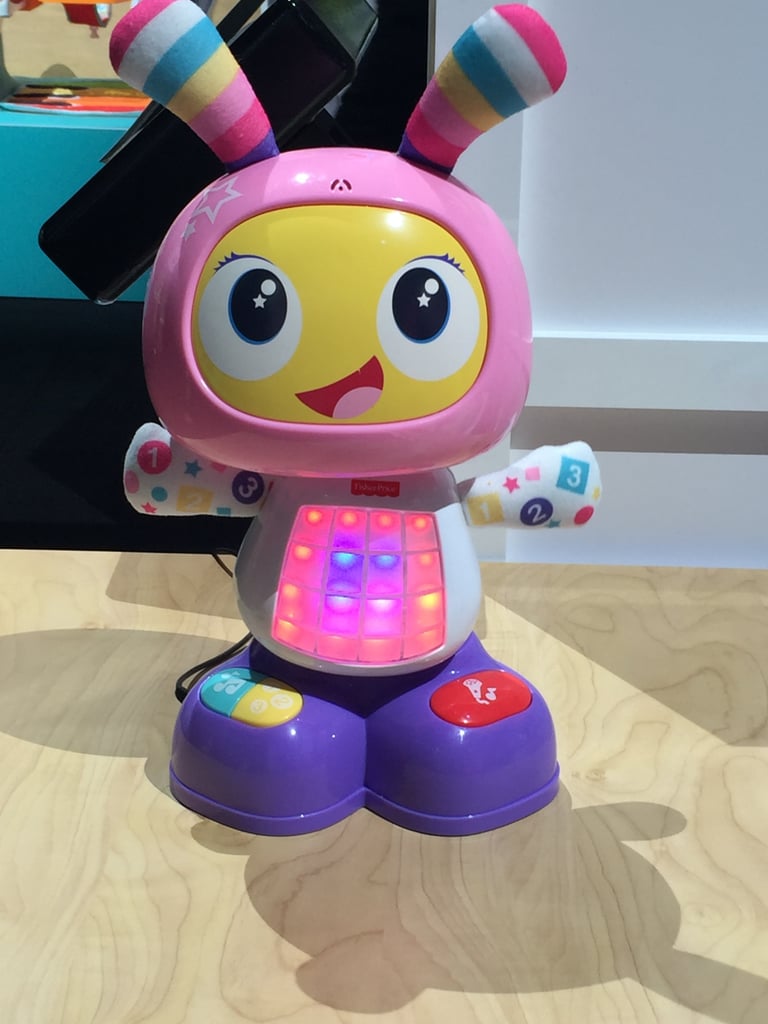 Beat Bo's sister Beat Bo Belle is ready to dance and party with your kiddo, and features fun songs, motions, and lights, just like her brother.
Nerf Rebelle Platinum Bow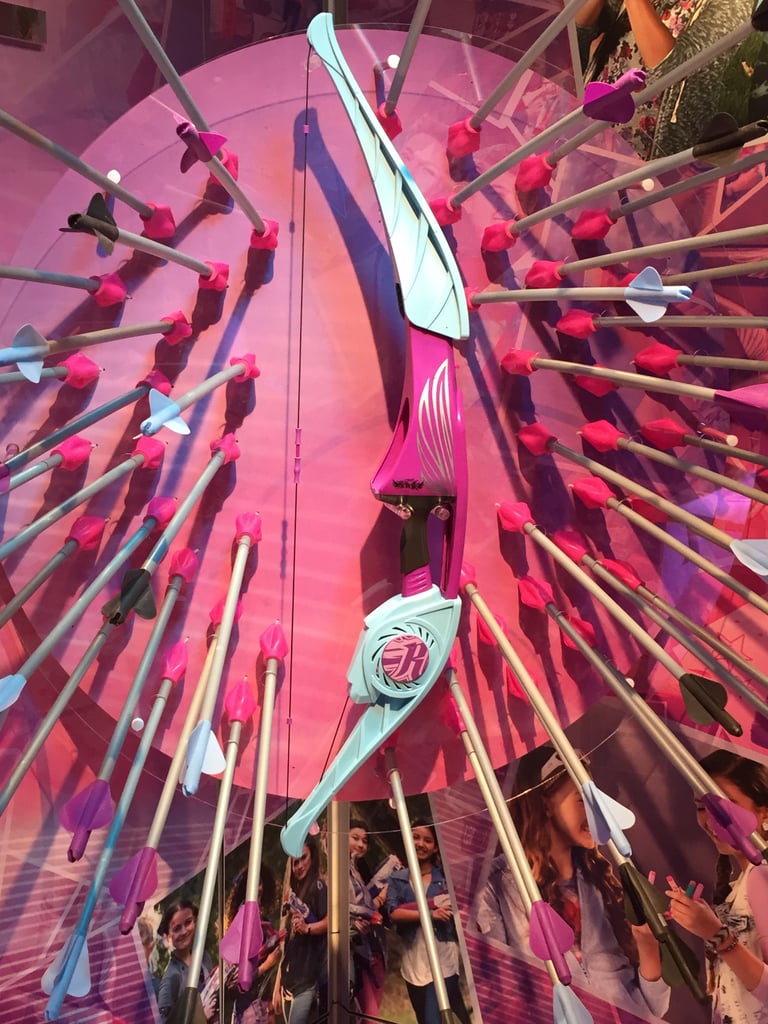 Nerf will introduce it's largest Rebelle bow ever — the Platinum Bow — that is as large as a traditional one.
Splashlings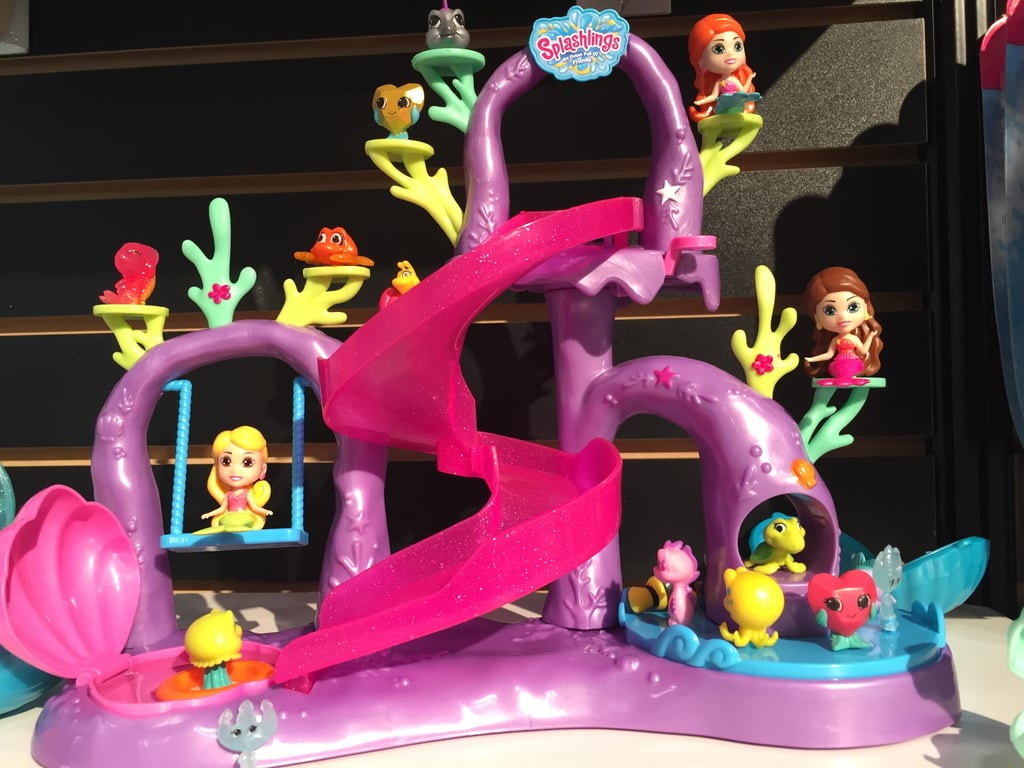 A new line of blind bag collectibles is coming in the form of Splashlings — adorable little mermaids, fish, and shells that can be played with solo or with a play set (pictured) that is sold separately.
Star Wars: The Force Awakens Stormtrooper Super Soaker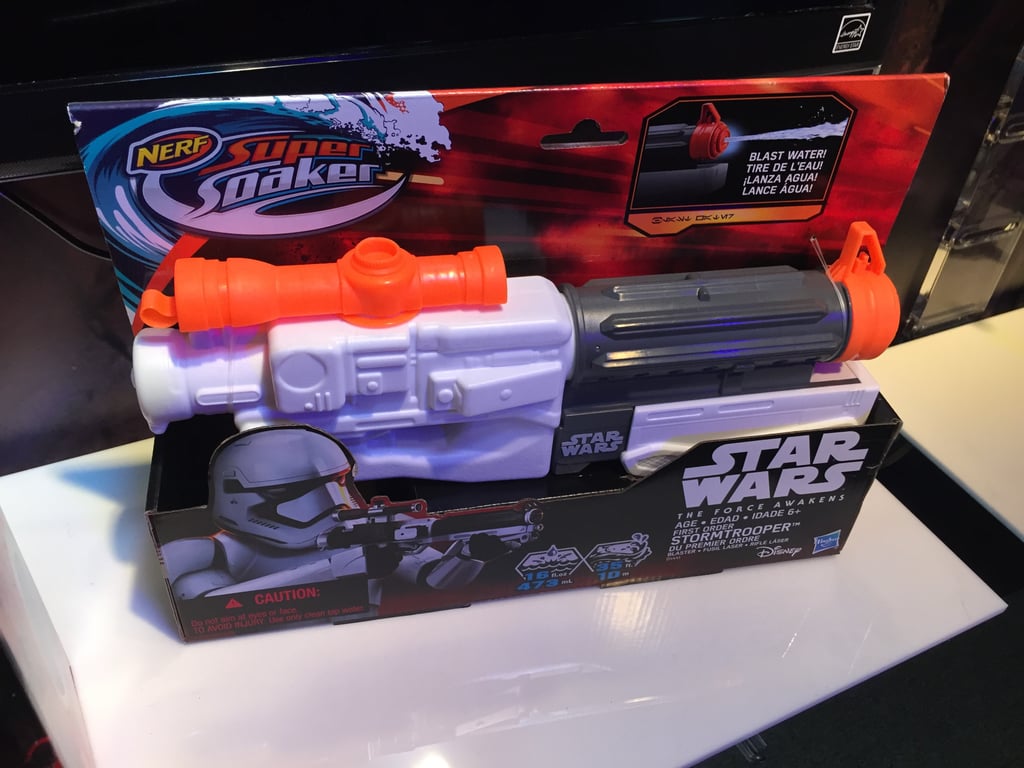 Because what stormtrooper doesn't need a Super Soaker to get him through those hot Summer days.
My Little Pony Crystal Empire Castle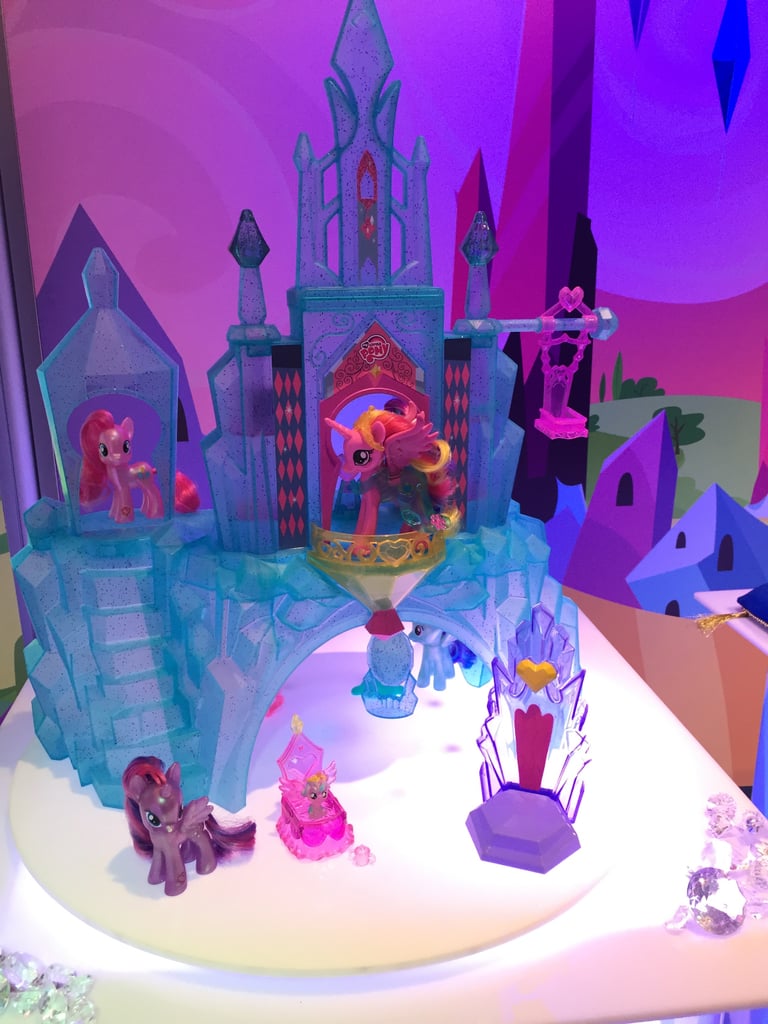 My Little Pony fans get a play castle of their own with the Crystal Empire Castle that comes with baby Flurry Heart in the set.
Crayola Color Spinout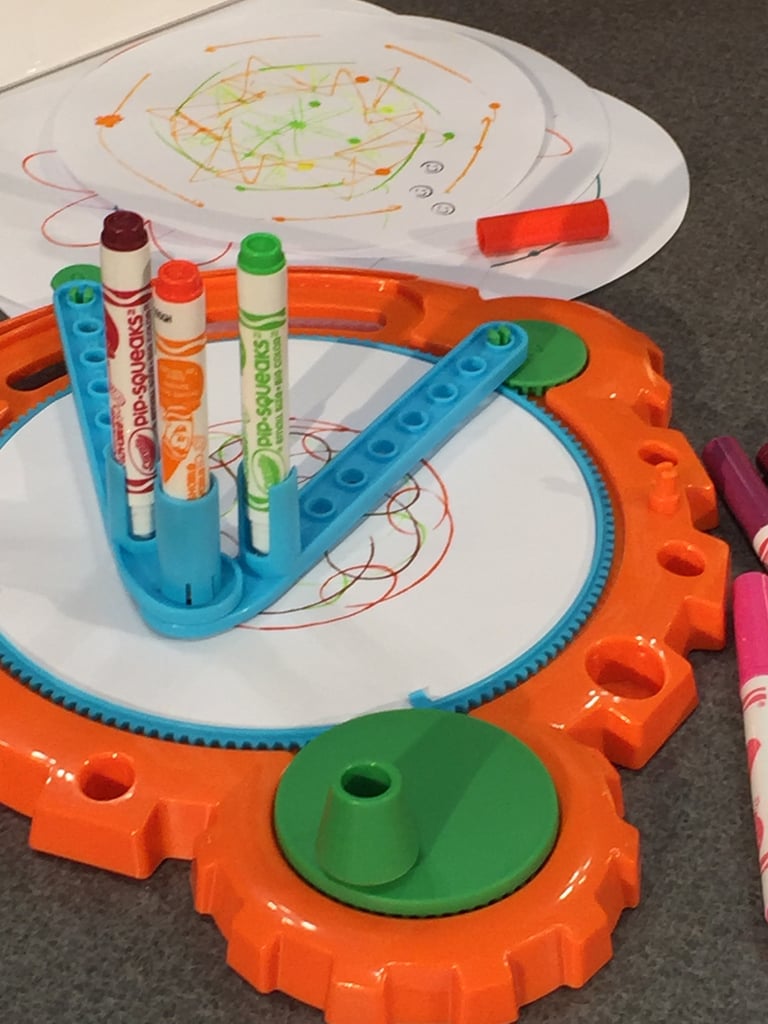 Whether your kiddo follows the design guide and adjusts the handle to designated mathematical degrees (working on geometry and art at the same time!), or opts to pick their own colors and angles for unique patterns, the Crayola Color Spinout will crank out memorizing works of art.
Fisher-Price Spell & Speak Turtle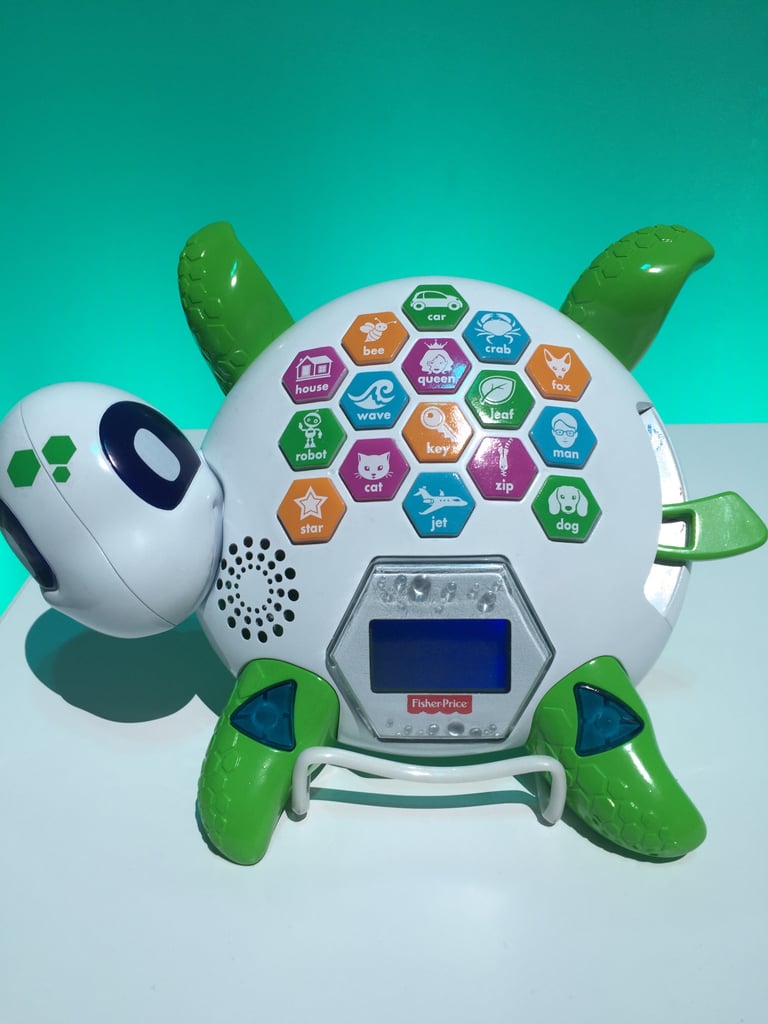 Fisher-Price will get preschoolers spelling in no time, with their fun new Spell & Speak Turtle game, which focuses on spelling and rhyming.
Innovative Kids's Sweet Petites Mix and Match Stackers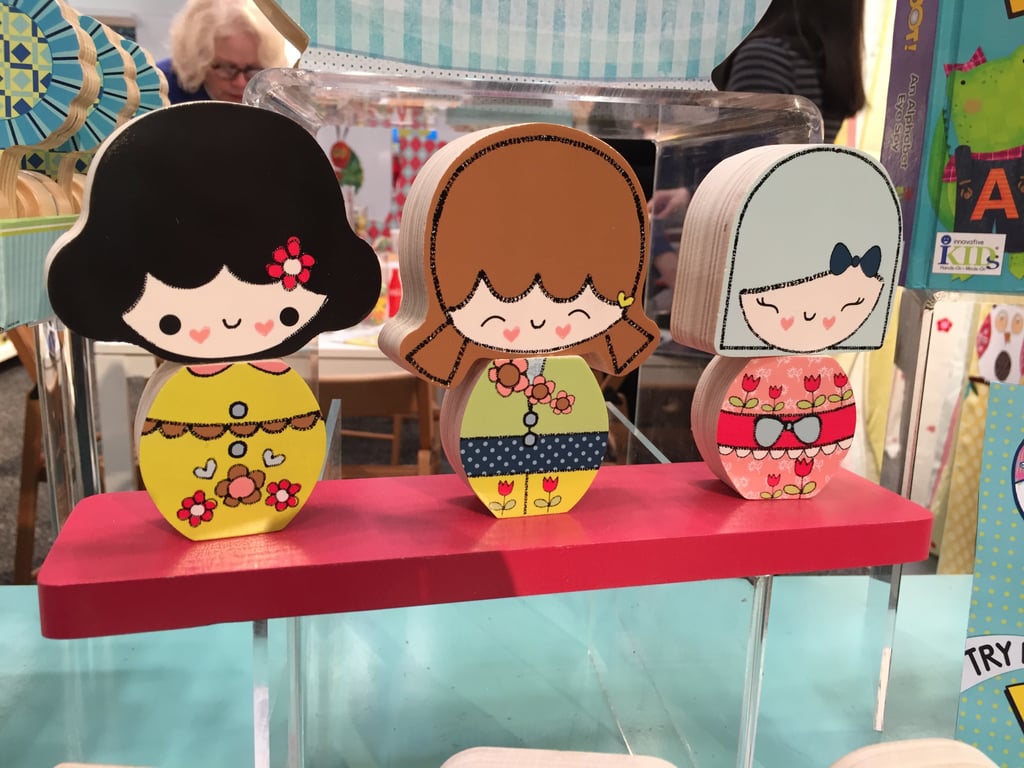 These adorable stacking puzzles are almost too cute to take apart!
Melissa and Doug Stack and Toss Deli Center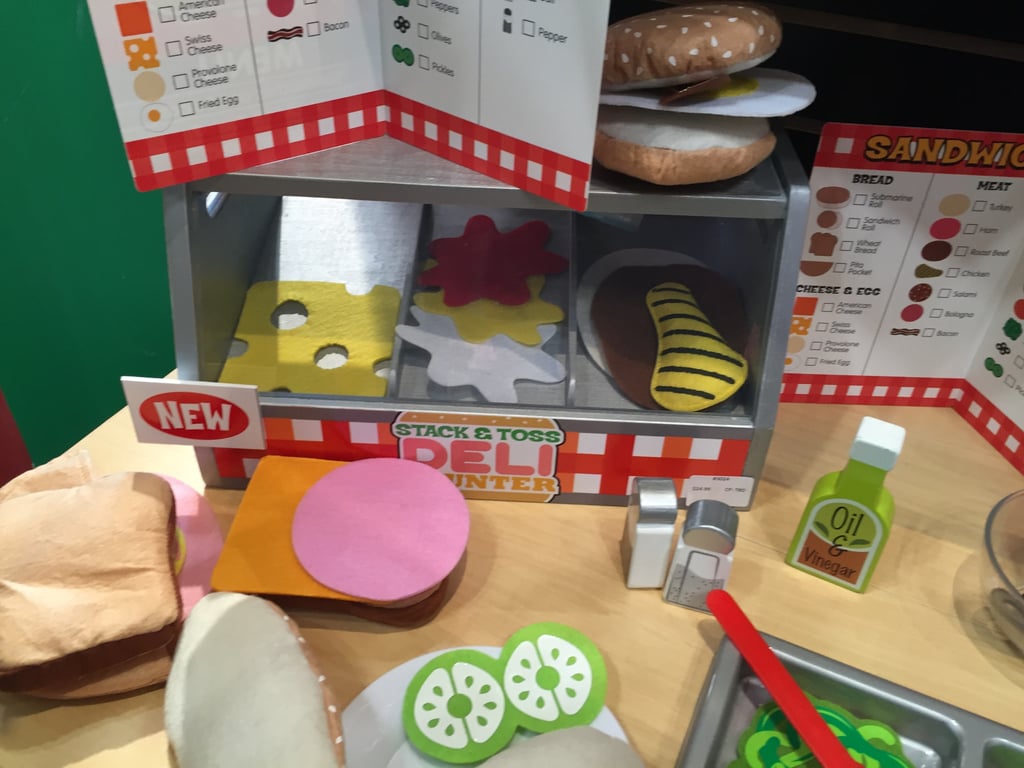 We can't wait to see the funny sandwich creations kids come up with when they play with Melissa and Doug's Stack and Toss Deli Center later this year.
Melissa and Doug's Thirst Quencher
Because you can never have enough cold drinks, Melissa and Doug's Thirst Quencher teaches kids exactly how to make them — while also showing them cause and effect. Kids place the cubes in the top and watch them come out the bottom.
Lego Star Wars Clone Turbo Tank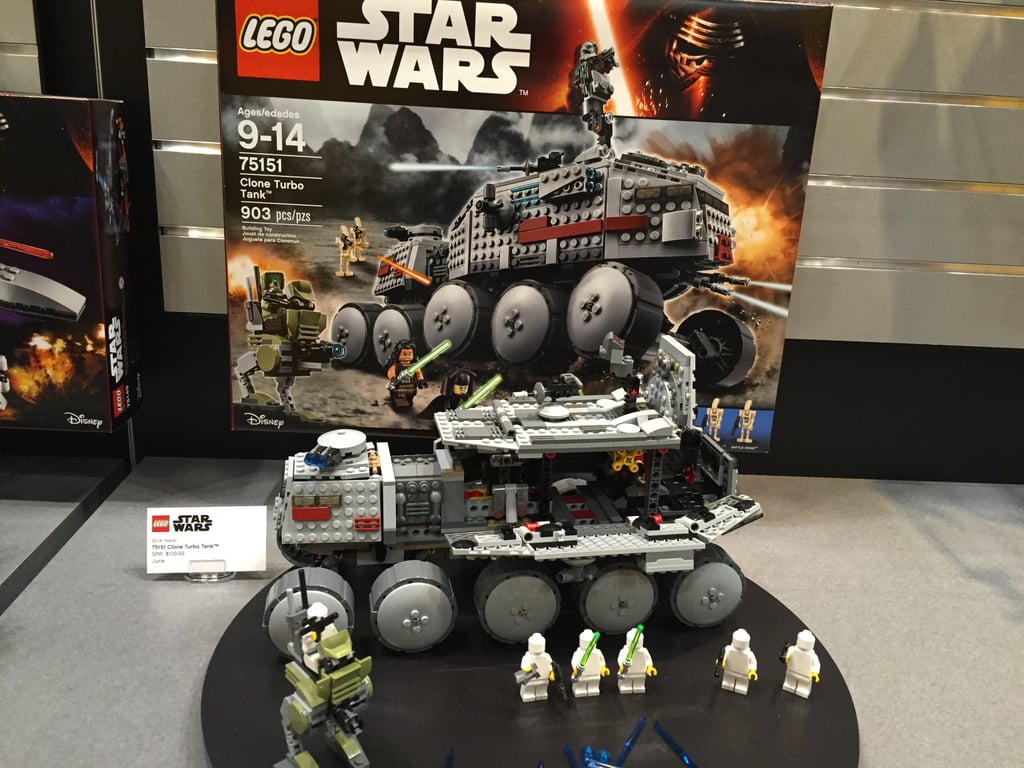 For little Star Wars lovers Lego is adding 25 new sets in 2016 that are inspired by classic Star Wars films, the new animated TV series, and Star Wars: The Force Awakens — plus a few scenes from the newest movie, Star Wars: Rogue One.