New Winter Diaper Bags
9 Chic Diaper Bags For On-the-Move Moms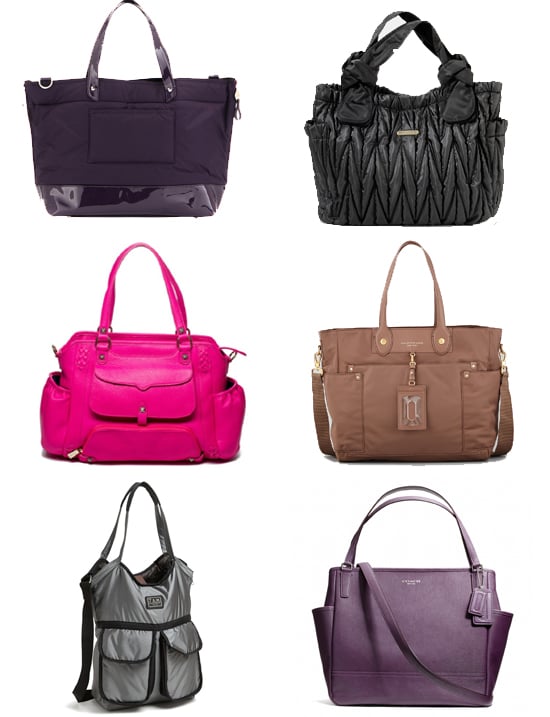 If a new diaper bag is on your holiday wish list, you don't need to sacrifice your style for sensibility. There are plenty of posh picks for moms whose goal is to get out and about with baby (and bag) without missing a style beat. Whether you're more likely to opt for bold pops of color or to keep things classic, there's an option for every mom's preferences and needs. Here, nine of our favorite new diaper bags of the year.
Coach Baby Bag Tote in Saffiano Leather
Especially appropriate for the working mom, Coach's Baby Bag Tote ($398) employs durable saffiano leather as a luxe alternative to the typical nylon tote. It comes in rich black violet (shown here), festive scarlet, or classic black.
Storksak Colorblock Diaper Bag
A subtle nod to the ongoing colorblocking trend, Storksak's Colorblock Diaper Bag ($132) comes in crisp navy and orange or sophisticated hot pink and brown. It includes an insulated bottle pocket and padded changing table for on-the-go diaper duty.
Keep reading for seven more of our favorite diaper bags!
Marc by Marc Jacobs Eliz-A-Baby Nylon Bag in Jungle Green
Marc by Marc Jacobs's Eliz-A-Baby Bag ($298) has long been on our list of favorites. This punchy new jungle green and blue print is great for year-round use, and the removable crossbody strap makes it extra versatile.
Rebecca Minkoff Jade Baby Bag
Not for the faint of heart, Rebecca Minkoff's Jade Baby Bag ($550) comes in shocking pink pebbled leather and includes a changing pad, water-resistant lining, and plenty of pockets. Even if you're not with baby, this is one gorgeous bag.
Timi & Leslie Marie Antoinette Diaper Bag
Timi & Leslie's Marie Antoinette Diaper Bag ($170) is super lightweight and available in a range of rich jewel tones and classic black.
Danzo Baby Nylon Diaper Bag
Combining casual and dressier fabrications, Danzo's Nylon Diaper Bag ($185) works with whatever you're wearing. This rich plum color is perfect for cool Winter months, or opt for cobalt blue or black instead.
7 A.M. Enfant Barcelona Diaper Bag
The sleek and sporty look of 7 A.M. Enfant's Barcelona Bag ($84) makes it a great pick for the busy mom who needs a lightweight stash for all of her gear. Twin straps allow for easy stroller attachment, and the bag comes with a lunch box and changing pad too!
Storksak Bailey Weekender
This new design from Storsak is so new that it isn't even for sale yet. The Bailey Weekender ($240) will hit shelves in mid-January and features plenty of extra space for overnight getaways or just a day of running around. It comes with a coordinating lunch bag and changing pad, and will be available in navy (shown here) or coral.
Marc by Marc Jacobs Preppy Nylon Eliz-A-Baby Diaper Bag in Rootbeer
If neutrals are your "bag" (pun intended!), Marc by Marc Jacobs's Preppy Nylon Eliz-A-Baby Bag ($348) in rich Rootbeer just may be your perfect pick. Made of nylon with leather trim and gold hardware, it's got a casual vibe that you won't tire of till long after your little one's outgrown the diaper phase!