Nick Lachey Interview on Fatherhood
Nick Lachey Talks Fatherhood, Lullabies For Baby Camden, and More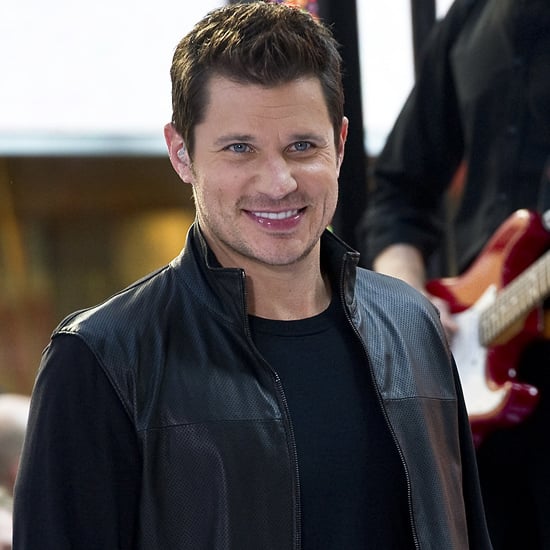 New dad Nick Lachey has a lot on his plate — he's just released a new solo album, A Father's Lullaby, 98 Degrees has a new CD (and subsequent tour) launching next month, and most importantly, there's 7-month-old baby Camden, his son with wife Vanessa Minnillo Lachey. We were lucky enough to chat with the very talented (and all-around nice) dad and learn more about what it's like to write music for his own child.
POPSUGAR: Congratulations on your new album and new baby! At what point did you decide you want to record A Father's Lullaby?
Nick Lachey: It was pretty early on in Vanessa's pregnancy. I had so many emotions running through my head, and music has always been my way of expressing that. I hadn't heard of any guys with lullaby albums, so I decided to go for it. It was really an inspiring time in my life. I started to write the melodies when she was pregnant, then waited on the lyrics until the baby was here and I could get to know him.
PS: Of the album's 12 songs, you wrote four yourself, and the rest are more classic lullabies. How'd you decide what you were going to include?
NL: Some of the songs are ones that I had a personal connection to. I've always loved "Godspeed (Sweet Dreams)," and my grandfather used to sing "You Are My Sunshine" to me as a child. The others are classic lullabies to give the album some context — like "Brahms' Lullaby" and "When You Wish Upon a Star."
PS: What's been the most surprising thing about fatherhood thus far?
NL: How it affects absolutely everything. It completely turns your schedule upside down, and your priorities change — definitely for the better, but it's a huge change.
PS: What's the best thing about being a dad?
NL: It's getting up with Camden first thing in the morning — going in to get him out of out of his crib around 7:30 and seeing him smile. That's our bonding time. I give him his first bottle, and I sing to him every morning.
PS: 7:30? That's not bad!
NL: Yeah, he's really a great kid. He sleeps very well. He's sitting up on his own now, and rocking. Crawling is just around the corner. He's becoming more and more expressive. It's a lot of fun.
Keeping reading to hear about Nick's plans to bring baby Camden along on his 98 Degrees tour and more!
PS: Do you and Vanessa have plans for more kids down the road?
NL: Definitely at least one more. Not yet, though — we're enjoying our time with Camden.
PS: 98 Degrees has a new album coming out in May — tell me more about that.
NL: We do — it's called 2.0. We're going to be going on tour with New Kids on the Block and Boyz II Men. Getting back in the studio with the guys has been a blast. It's like no time has passed. Just like riding a bike.
PS: Will Vanessa and Camden be joining you on tour, or staying home?
NL: They'll be with me for at least the first part of the tour. It's too long of a time to be away from him . . . watching him grow and change. I'd miss it — and him — too much. So they'll be joining me. The other guys have kids too — my brother [and bandmate, Drew Lachey] has two kids, and Jeff [Timmons] has five, so it'll be a whole family affair. We've traveled with Camden before, but never on a bus!
PS: What's Vanessa like as a mom?
NL: She's a great mom. It's a lot of fun to watch the woman you love evolve into motherhood.
PS: What's your advice for soon-to-be-parents? Anything you wish your friends had told you?
NL: Take a babymoon — a vacation that's all about the two of you for one last time. Do it in the second trimester, after the morning sickness is over but before she's too uncomfortable. It should just be about you as a couple.
PS: And finally, what are you looking forward to most as Camden grows up?
NL: I'm big into sports, so I'm excited to really be able to play with him. I can't wait to take him to his first baseball game. They become real little people so quickly. It's amazing to watch them grow. It's a wild ride!