Nightlights for Kids Bathrooms
LavNav Nightlight: Kid Friendly or Are You Kidding?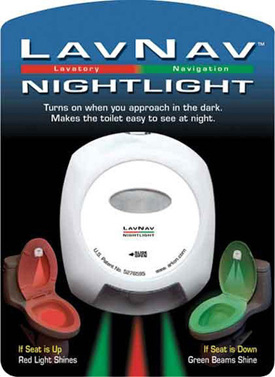 Keeping the path to the bathroom well lit and free of obstacles is key to night training a toddler. Once they are able to get up and out of bed in time to make it to the lavatory, the next thing a mama worries about is keeping it clean. While there are plenty of night-lights available to brighten the room without waking your tot completely, the LavNav ($22) takes it a step further. In addition to a motion activated sensor that turns on when your lil one enters the room, it is also equipped with red and green lights giving a sleepwalking bathroom user a hint about whether the seat is up or down. A neat lil trick that will prevent small tushes from falling into the toilet.
Would you buy the LavNav for your kids' bathroom?