Nookcolor Kids Details
B&N Nook Ereader Gets Interactive With Nook Kids
The iPad may be the tablet of choice for celebribabies and everyday parents alike, but Barnes & Noble is trying to get in on some of the tablet action with its new Nookcolor.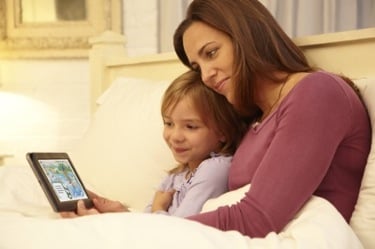 Coming with a nice 7-inch touchscreen, the Nookcolor is a fraction of the cost of a pricey iPad at $249, so it's a great choice for budget-minded parents and still allows you and your little ones to read together, even letting them interact with the pictures on the screen — something you can't get with a traditional paperback.
Alongside its new ereader, Barnes & Noble also launched Nook Kids yesterday, a virtual bookstore filled with children's classics, new favorites, and picture books that will come to life with a touch of your hand. Find out why you (and your kids) will love this new feature when you read more.
Barnes & Noble has revamped a number of children's titles with its patent-pending AliveTouch technology to add a layer of interactivity to your favorite picture books — touch the pictures on the screen and the book comes alive with quacking ducks, animated backgrounds, and lots more. Not only that, but your tots can choose to read by themselves, or have the Nookcolor read to them. Kinda like those Disney Take-Along sets from the '80s, but of course, much more efficient. Top off the Nookcolor with a kid-friendly screen protector and you're good to go!